Table of content
Employee Scheduling Software is a digital solution meticulously designed to tackle the intricate puzzle of aligning employee availability with organizational needs. It simplifies the complex task of creating schedules, enabling businesses to assign shifts, manage work hours, and maintain compliance effortlessly.
As we delve into 2023, the importance of this software transcends mere convenience. It becomes a strategic asset, helping businesses adapt to evolving work dynamics, meet customer demands, and enhance employee satisfaction. The agile capabilities of Employee Scheduling Software not only reduce labor costs but also foster a conducive work environment that nurtures employee well-being and work-life balance.
Understanding the Basics of Employee Scheduling
Imagine you're a new hire at a company, handed a project without a defined schedule. In this scenario, completing the project can take one of two routes. You might rush through it, disregarding work hours and risking burnout, or you could drag it out, potentially missing critical deadlines.
In the former case, the quality of work might suffer due to the self-imposed time crunch, while in the latter, company goals could be jeopardized if essential projects are delayed. This underscores the pivotal role of scheduling. But what exactly is employee scheduling, and why is it essential in 2023?
What is Employee Scheduling?
Employee scheduling is the strategic art of organizing, optimizing, and managing employee schedules to ensure projects and company objectives are met promptly. However, its scope extends far beyond this simple definition, adapting to the intricacies of modern work culture.
Employee scheduling includes:
Efficient Work Allocation: Scheduling strategically aligns work assignments with project timelines, labor costs, regulatory compliance, and various constraints, ensuring resources are utilized optimally.
Leave Management: It involves handling employee requests for time off, and ensuring that staffing remains adequate even when team members are on leave.
Productivity Optimization: Scheduling aims to maximize employee productivity by crafting schedules that accommodate individual needs and preferences while maintaining operational efficiency.
Moreover, the extent of scheduling varies depending on the organization's size and complexity. Smaller companies may require a single schedule, while larger enterprises may rely on employee scheduling to coordinate projects across multiple teams and departments.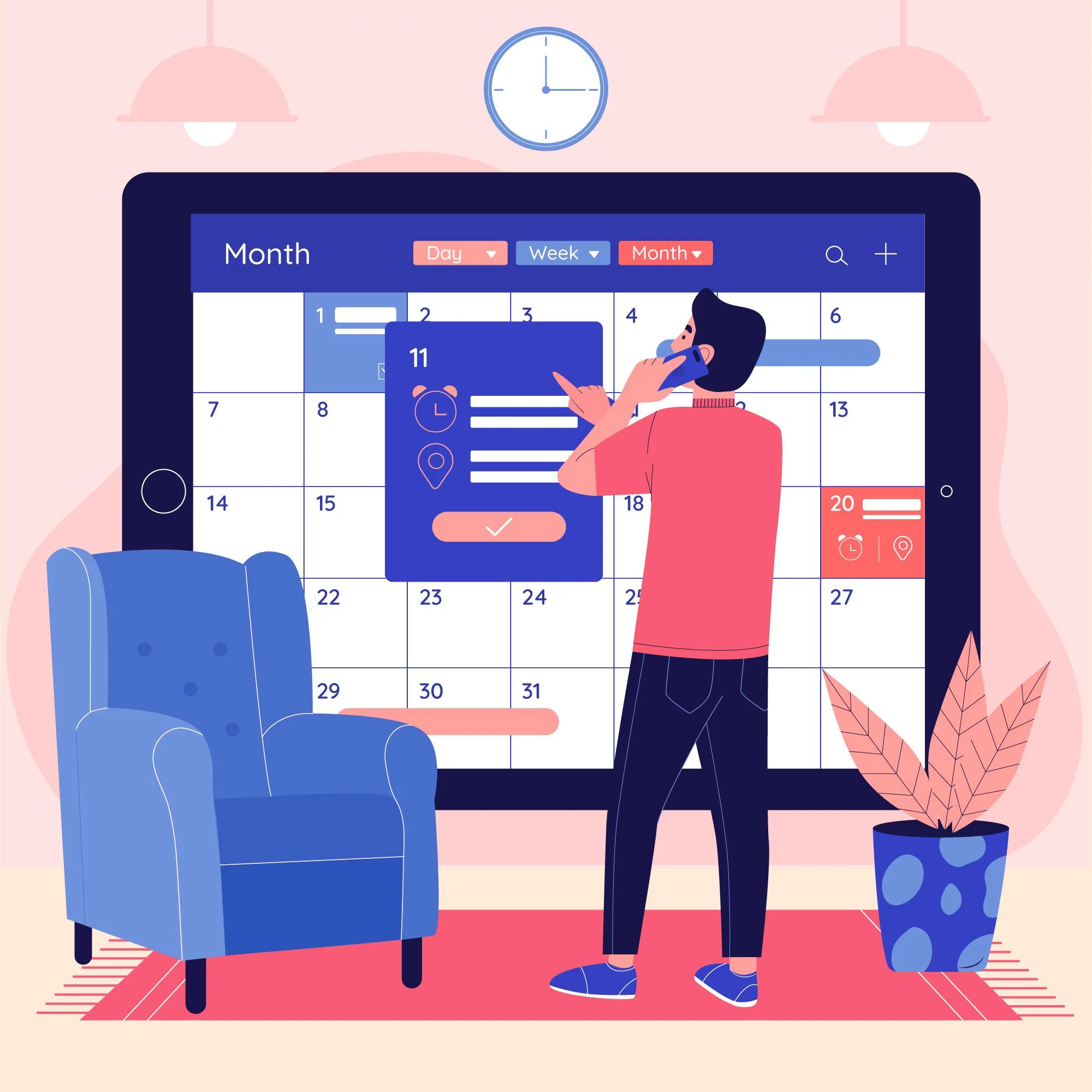 The Importance and Benefits of Employee Scheduling:
Employee scheduling is not merely a logistical task; it's a critical component of modern workforce management. In 2023, companies must pay heed to it for several compelling reasons:
Efficiency and Timeliness:

Proper scheduling ensures that projects are completed on time, enhancing operational efficiency and meeting customer expectations.

Resource Optimization:

It allows organizations to allocate resources judiciously, controlling labor costs and ensuring that the right people are working on the right tasks.

Compliance:

Employee scheduling helps maintain compliance with labor laws and regulations, minimizing the risk of legal issues

Employee Well-being:

Thoughtful scheduling takes into account employee work-life balance, reducing burnout and enhancing job satisfaction.
In essence, employee scheduling is the linchpin that harmonizes employee needs, business objectives, and project timelines. In our exploration of the top 5 free and open-source Employee Scheduling Software options for 2023, we'll delve deeper into how these tools can revolutionize your workforce management and empower your business to thrive in an ever-evolving work landscape.
Top 5 Free and Open Source Employee Scheduling Software in 2023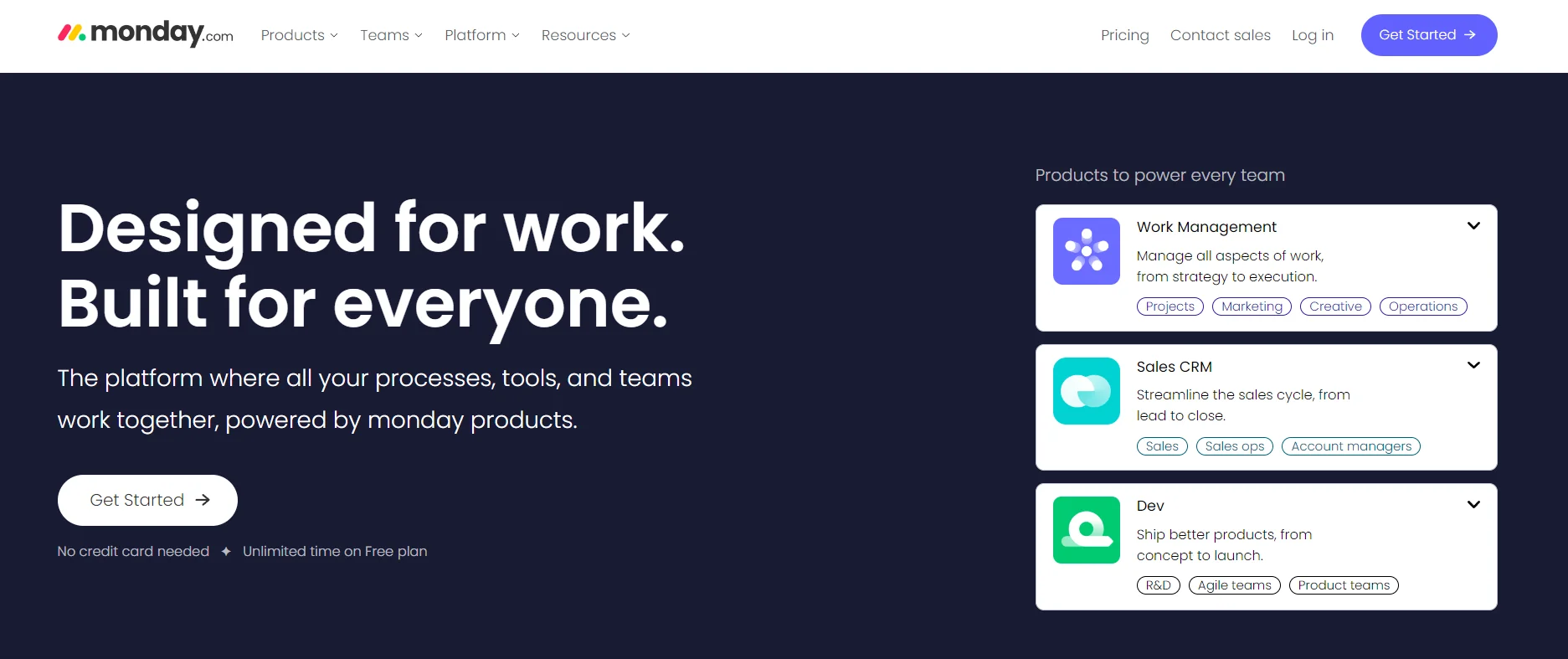 Monday.com, a versatile Work OS system, reigns supreme when it comes to revolutionizing employee scheduling in 2023. Its user-friendly platform empowers businesses to effortlessly organize, track, and visualize various processes, including employee schedules, through customized data dashboards. Let's delve into how Monday.com excels in the realm of employee scheduling.
Unique Features and Benefits:
Template Galore:

With over 200 templates at your disposal, Monday.com caters to diverse business needs. Among them, you'll find the invaluable weekly work schedule template, ready to be adapted to your specific requirements.

Visualize with Ease:

Monday.com simplifies data visualization with a variety of formats at your fingertips. Switch effortlessly between calendar views and Gantt chart formats to gain a comprehensive perspective on your employee schedules.

Automated Notifications:

Stay ahead of schedule changes with automation that notifies your staff as soon as a new schedule is posted. This real-time communication keeps everyone on the same page.

Data Security:

Share schedules in "read-only" mode to prevent unwanted changes, ensuring data integrity.

Developer Tools:

For adventurous users, Monday.com offers a Developer tool that enables the creation of customized processes within the system. You can choose to keep your app design private, make it public, or share it in the Monday apps marketplace.

Integration Power:

Seamlessly integrate with popular communication and productivity tools like Excel, Google Calendar, Slack, Microsoft Teams, Outlook, Zapier, and more. This ensures that your scheduling efforts align with your existing workflows.

Flexible Pricing:

Monday.com offers flexible pricing starting at $8 per user per month. Additionally, you can explore its platform with a 14-day free trial or opt for the free forever plan, suitable for a maximum of two users, albeit with limited features.
In summary, Monday.com emerges as an exceptional choice for businesses seeking efficient employee scheduling solutions in 2023. With its extensive template library, intuitive data visualization, and seamless integrations, Monday.com empowers organizations to craft schedules that optimize resources, enhance communication, and meet project deadlines with precision.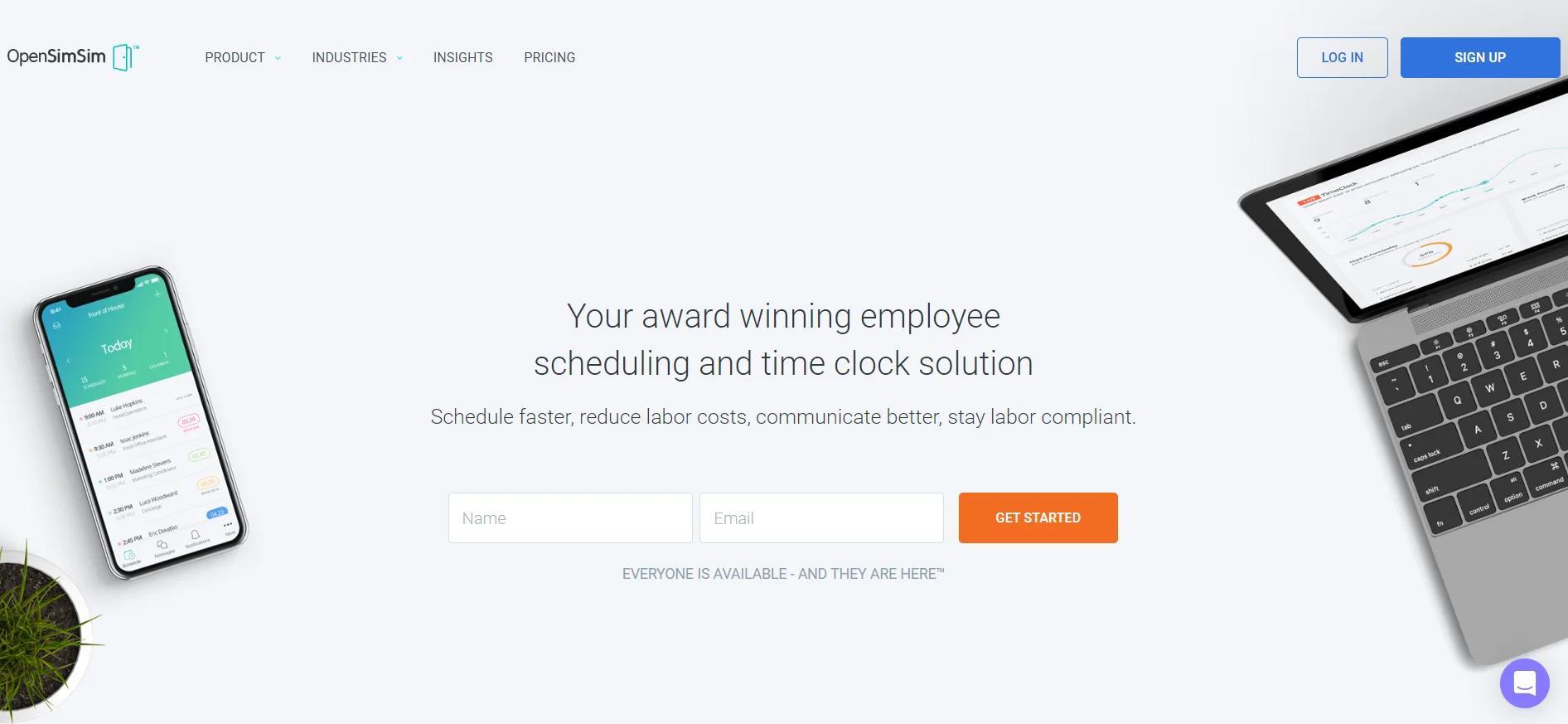 Particularly designed for businesses operating with a single location, one department, and up to 10 scheduled workers, this program offers a completely free solution, making it a cost-effective and efficient tool. Let's explore the unique features and benefits that make OpenSimSim a standout in employee scheduling.
Unique Features and Benefits:
Time Management Excellence:

OpenSimSim provides essential time management features, including a Time Clock, Kiosk Functionality, and Timecards. These tools help you track employee work hours accurately, ensuring transparency and compliance.

Seamless Communication:

With In-App Messaging, OpenSimSim facilitates easy and real-time communication among employees and supervisors. Whether in the workplace or on the go, employees can drop shifts, swap schedules, and message colleagues with utmost convenience.

Availability Monitoring:

The program offers Availability Monitoring, allowing you to assess employee availability effortlessly. This feature ensures that you schedule shifts with employees who are ready and willing to work.

Efficient Time-Off Management:

Managing time-off requests becomes hassle-free with OpenSimSim. You can streamline the process, ensuring that employees' requests are processed efficiently while maintaining scheduling continuity.

SocialSchedules Integration:

OpenSimSim incorporates SocialSchedules as its staff scheduling feature. This module boasts a stellar rating of 4.5 out of 5 stars and has garnered 552 reviews on Capterra, attesting to its effectiveness and user satisfaction.
User Feedback:
Pros of OpenSimSim include its user-friendly interface, both on desktop and mobile apps, making it easy for employees to manage their schedules and communicate with peers and supervisors. However, there is room for improvement in employee tutorials, as some functions are better covered from the employer's perspective than the employee's, which can be a challenge for new users.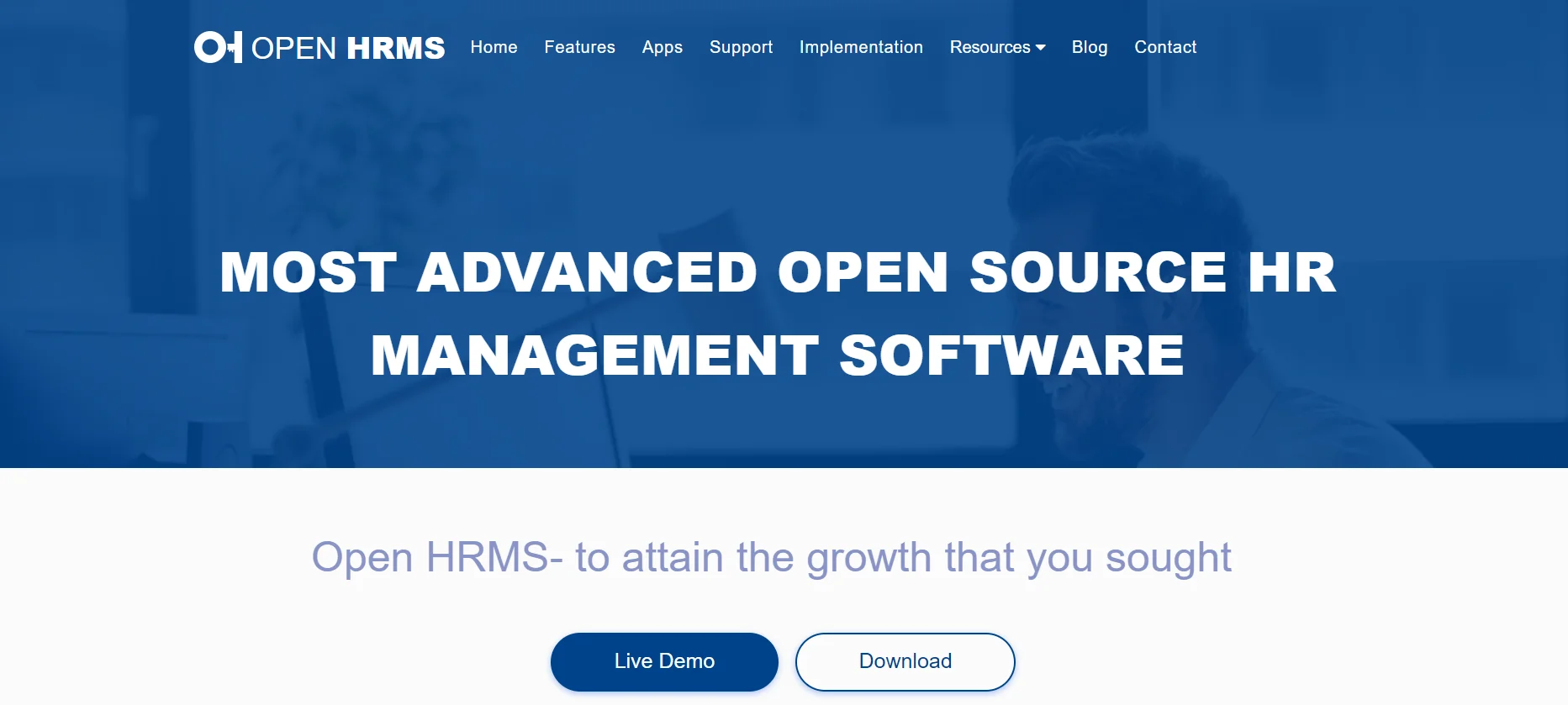 Open HRMS emerges as a powerful open-source software tailored to meet all your HR processes and requirements. With its comprehensive suite of features, it simplifies HR operations and takes employee scheduling to the next level in 2023. Here's a closer look at the unique features and advantages that make Open HRMS a standout in the world of HR management and employee scheduling.
Unique Features and Benefits:
Attendance Tracking:

Open HRMS boasts an advanced attendance tracking feature, enabling precise time and attendance monitoring that seamlessly integrates with your payroll system. Whether it's mobile time clocks, on-site kiosks, or biometric devices, Open HRMS accommodates multiple resources, ensuring that employees are compensated accurately for their hours worked.

Flexible Scheduling:

For companies dealing with large workforces or multiple departments, scheduling can often be a daunting task. Open HRMS addresses this challenge with a comprehensive scheduling feature that simplifies the creation of different shifts based on employee work hours. This streamlines scheduling processes, making HR officials' lives significantly easier.

Effortless Communication:

Open HRMS facilitates seamless communication by notifying employees about their new schedules promptly. This proactive approach not only keeps employees informed but also allows for feedback, ensuring that schedules align with employee needs and preferences.

Leave Management:

The software offers an efficient leave management feature, simplifying the process of receiving and managing leave requests. HR professionals can factor in approved leaves when creating schedules, ensuring that workforce planning remains accurate and responsive to staffing needs.
Open HRMS proves to be a game-changer in HR management and employee scheduling for businesses in 2023. Its integrated features, from attendance tracking to scheduling and leave management, streamline HR operations and empower organizations to foster a more efficient and productive work environment. With Open HRMS, managing human resources and employee schedules has never been more straightforward and effective.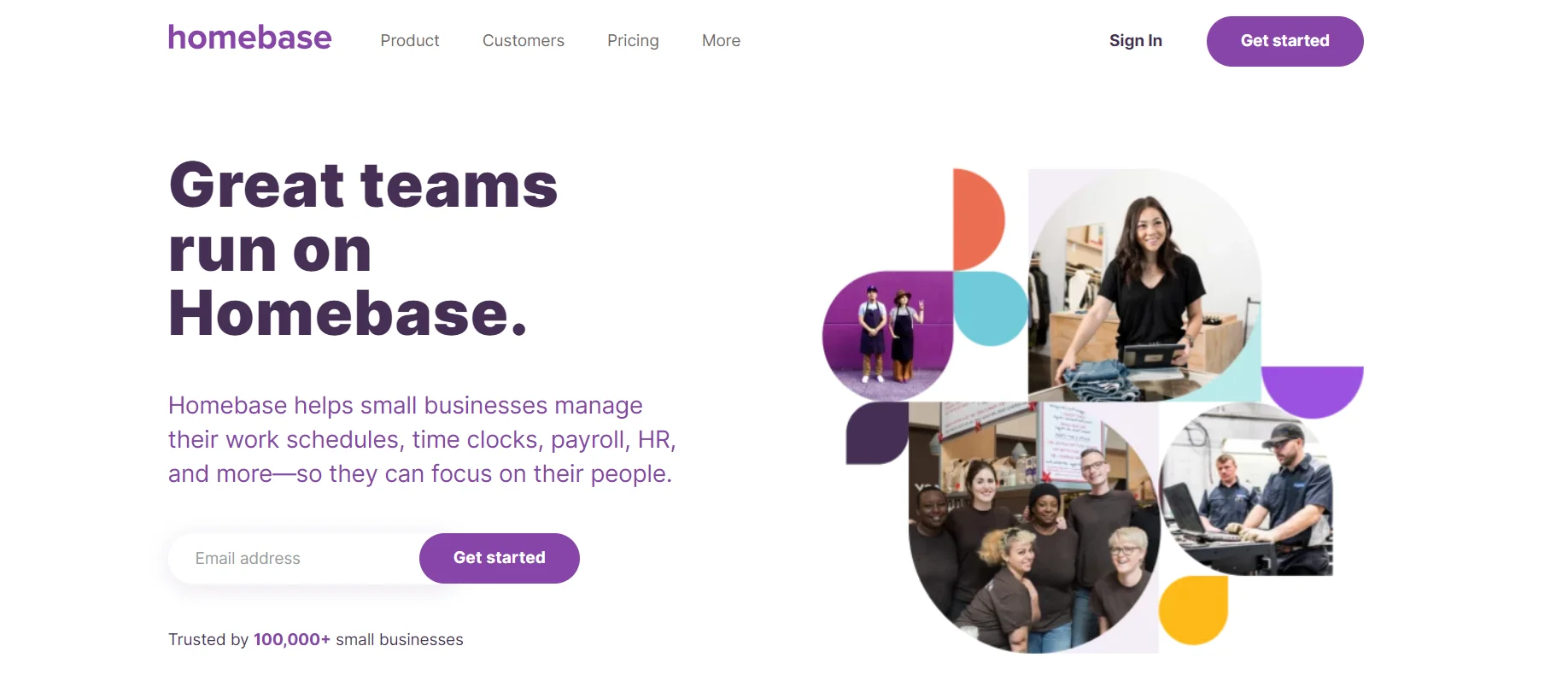 HomeBase Employee Scheduling Software stands out as an indispensable solution for small and medium-sized businesses, offering an efficient way to streamline scheduling processes and elevate workforce management in 2023. Designed to enhance staff management, productivity, cost-efficiency, and customer satisfaction, HomeBase is a game-changer for businesses seeking to optimize their scheduling operations. Let's dive into the unique features and benefits that make HomeBase an invaluable addition to your organization.
Unique Features and Benefits:
Simplified Staff Management:

HomeBase simplifies the intricate task of managing staff by enabling businesses to create schedules well in advance. It empowers managers to assign shifts based on employees' skill sets, availability, and other essential criteria. This strategic approach ensures that you have the right employees for the job, a critical factor in achieving company success.

Absence Management:

With HomeBase, absence management becomes a breeze. You can effortlessly track and manage employee absences, ensuring that your workforce remains adequately staffed at all times.

Integration Capabilities:

HomeBase offers seamless integration with various systems and tools, enhancing your workflow and ensuring that your scheduling efforts align with your existing processes.

Advanced Reporting and Analytics:

Gain valuable insights into your scheduling processes and workforce efficiency with HomeBase's robust reporting and analytics tools. Data-driven decision-making becomes second nature, helping you optimize your staffing strategies.

Effective Schedule Management:

HomeBase equips you with the tools to create and manage schedules effectively. Assign shifts, allocate resources, and maintain scheduling accuracy to meet your business goals.

Shift Management:

Efficiently manage shifts, ensuring that the right employees are in place at the right times. This minimizes operational disruptions and maximizes productivity.

Time Management:

Time is money, and HomeBase understands that. The software enables precise time management, allowing you to track employee hours accurately and reduce overtime costs.

Streamlined Payroll Tracking:

Keep your payroll processes on track with HomeBase's payroll tracking capabilities. It ensures accurate compensation for your staff, reducing errors and discrepancies.
HomeBase Employee Scheduling Software offers a holistic solution for businesses seeking to simplify scheduling, enhance staff management, and boost overall operational efficiency. By aligning staffing with skill sets and availability, tracking absences, and providing robust reporting and analytics, HomeBase empowers small and medium-sized businesses to thrive in a competitive landscape.
Calendly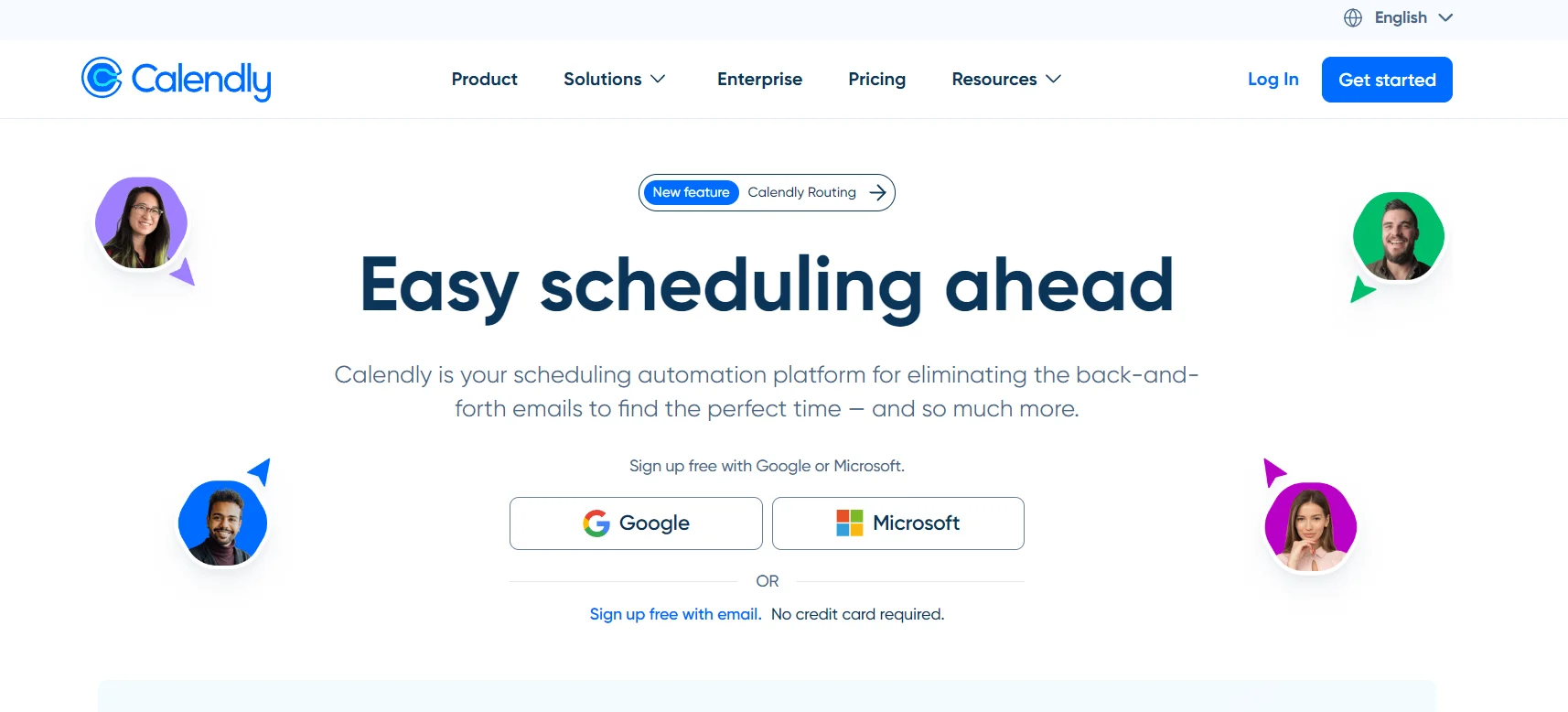 Calendly as an Employee Scheduling Software has earned its reputation as the go-to-meeting scheduler for good reasons. It's a reliable, user-friendly platform that offers a robust free plan suitable for various tech stacks. Let's explore what makes Calendly stand out in the realm of meeting scheduling and organization.
Effortless Meeting Scheduling:

Calendly simplifies the process of scheduling meetings for both organizers and invitees. Users can set up a personalized booking page where invitees can effortlessly select from a range of meeting types, view availability, and book meetings with ease. This feature is especially valuable for individuals who receive a high volume of meeting requests and need a straightforward response mechanism.

Seamless Calendar Integration:

When you sign up for Calendly, it seamlessly integrates with your preferred calendar platform, whether it's Google Calendar, iCal, Microsoft Office 365, Exchange, or Outlook. This integration allows Calendly to access your availability and ensures that your scheduled events are synchronized across calendars.

Customizable Meeting Options:

Calendly enables you to create various meeting options tailored to your specific needs, such as "30-minute phone interview" or "initial client intake meeting." You have the flexibility to add detailed information to each meeting type, including the option to create intake forms. With a premium plan, you can unlock advanced features like automated reminders, SMS messaging, and feedback surveys to streamline your workflow.

Efficient Meeting Requests:

Once your meeting types are configured, Calendly provides you with a shareable link that you can send to individuals who need to schedule meetings with you. Invitees can easily check your availability and request meetings at their convenience. While the free plan supports one type of meeting, premium plans allow you to create multiple meeting types to cater to various scenarios.

Enhanced Connectivity:

Calendly excels in scheduling meetings within organizations and connecting with external clients, customers, and colleagues. Its custom events and outgoing links make it an ideal choice for reaching out to a broader audience. Moreover, Calendly offers advanced features like Routing, which uses logic to guide form-fillers to the appropriate booking page based on their needs.

Integration Capabilities:

Calendly's integration options extend its functionality to popular tools like Salesforce, HubSpot, Zoom, GoToMeeting, and Zapier. While some features require a paid subscription, these integrations enhance productivity and enable seamless data sharing.

Customizable Automation with Zapier:

By connecting Calendly to Zapier, you can create custom workflows, such as generating new Zoom meetings when a meeting is scheduled or adding new meeting attendees to your email marketing list. This flexibility allows you to tailor Calendly to your specific workflow requirements.

User-Friendly Interface:

Calendly prides itself on its minimalist yet intuitive interface, catering to both users and invitees. Its quick setup process ensures reliable meeting scheduling with minimal effort on your part.
Whether coordinating within your organization or reaching out to external contacts, Calendly's versatility and integrations ensure efficient and hassle-free scheduling. While the free plan offers essential features, the paid plans unlock additional capabilities, making Calendly a versatile choice for businesses of all sizes.
Wrapping Up!
As we navigate the complexities of modern work environments in 2023, Employee Scheduling Software has emerged as an invaluable asset. It goes beyond mere convenience, becoming a strategic tool for businesses to adapt, excel, and thrive. Efficient scheduling is no longer just about assigning shifts; it's a comprehensive approach that optimizes resources, ensures compliance, and prioritizes employee well-being.
Our exploration of the top 5 free and open-source Employee Scheduling Software options for 2023 has highlighted the diversity of tools available, each offering unique features to meet specific organizational needs. From versatile platforms like Monday.com and Open HRMS to user-friendly solutions like OpenSimSim, HomeBase, and Calendly, these software options empower businesses to streamline processes, enhance productivity, and foster a more agile and responsive work environment.