Table of content
In today's fast-paced world, staying organized and efficient is essential for any successful venture. Whether you're managing a small startup or running a large corporation, effective project management is the key to achieving your goals. That's where project management tools come into play, and let me tell you, they can be a game-changer. Project management tools are like the trusty Swiss Army knives of the business world. They streamline tasks, enhance collaboration, and keep your projects on track. From planning and scheduling to tracking progress and communicating with your team, these tools do it all.
Now, I know what you might be thinking: "With so many options out there, which project management tool is the best fit for my business?" Well, fear not! We've got your back. In this blog, we'll dive into the 10 best project management tools that can take your business to the next level. So, buckle up, because your journey to enhanced productivity and success begins right here!
Benefits of Using A Good Project Management Tool At A Glance
Streamline tasks and boost team productivity effortlessly.

Stay organized with centralized project data and documentation.

Enhance collaboration among team members, no matter where they are.

Track project progress in real-time for better decision-making.

Ensure deadlines are met consistently and efficiently.

Reduce project risks and enhance overall project success rates.

Easily allocate resources and manage workloads for optimal results.

Foster transparent communication and eliminate email overload.

Access critical project information from any device, anywhere.

Improve client satisfaction with timely and well-managed deliverables.
5 Best Project Management Tools for Your Business in 2023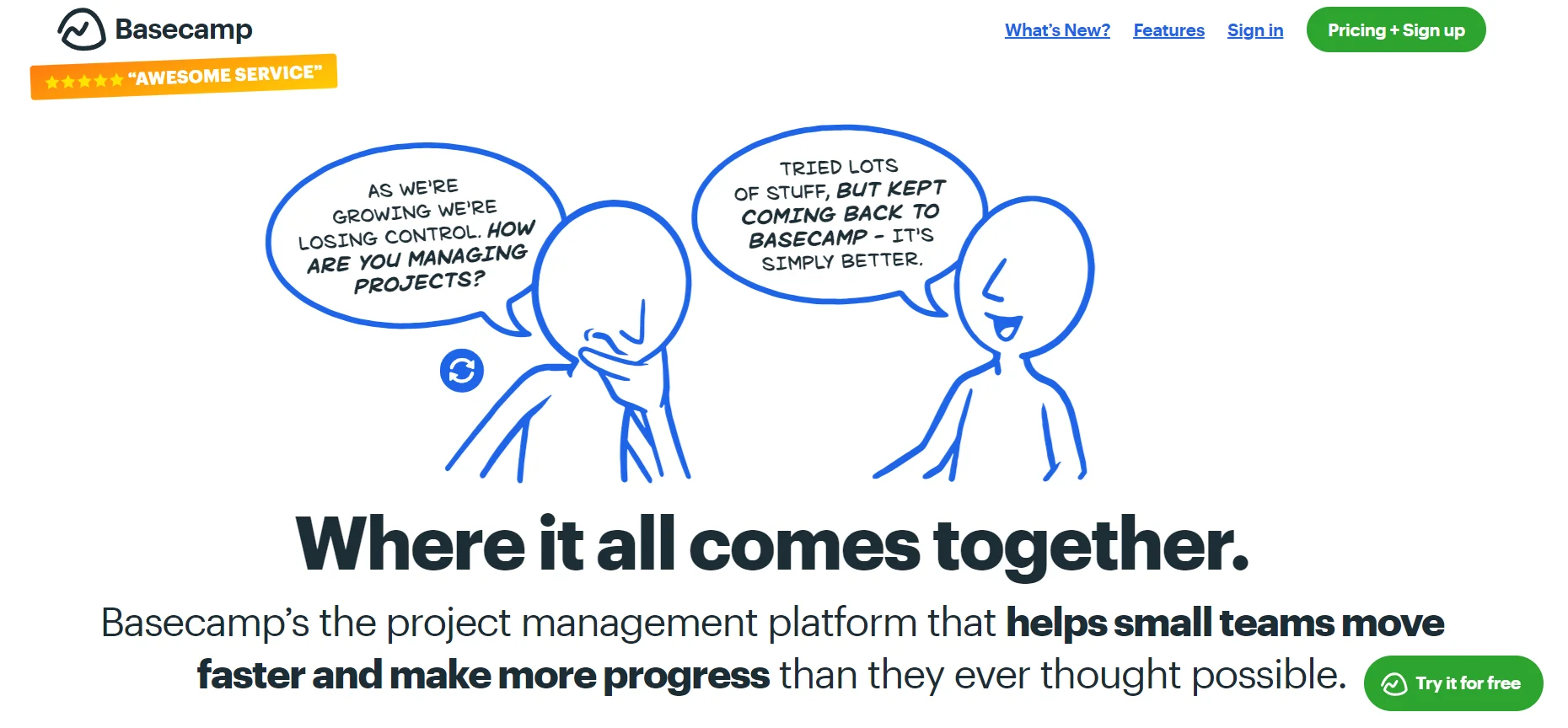 Basecamp: Streamlined Simplicity for Effective Collaboration
Are you tired of drowning in the complexity of some project management tools? Enter Basecamp, a breath of fresh air in the world of project management. Here's why it stands out:
Unparalleled Simplicity:

Basecamp takes a minimalist approach to project management. Unlike other powerful yet complex apps, it keeps things refreshingly simple. You don't need a manual to get started.

Project-Centric Organization:

Basecamp divides your work into neat projects, each equipped with essential features like to-do lists, calendars, group chats, and message boards. This intuitive layout keeps your projects organized and accessible.

Document Management:

Store documents, spreadsheets, images, and external files with ease. Everything you need for your projects is in one place, eliminating the hassle of searching through countless folders.

Automatic Check-Ins:

Basecamp introduces a game-changer with automatic check-ins. These recurring questions prompt team members to report their progress, significantly reducing the need for lengthy meetings. Efficiency at its finest!

Hill Charts for Progress:

Ever wished you could visualize project progress effortlessly? Basecamp's Hill Charts do just that. They display your project's to-do lists in a unique curve resembling a hill, making it easy to track your journey to success.
Pros of Basecamp:
User-Friendly: It's easy for anyone to get started, making onboarding a breeze.
Document Management: Convenient cloud-based storage for your files.
Enhanced Visibility: You'll always know where your projects stand.
Client-Specific Projects: Create tailored experiences for your clients.
Responsive Support: Basecamp provides top-notch customer support.
Affordable: Pricing is favorable for businesses of all sizes.
Effective Communication: Robust features for team collaboration.
Dedicated Discussion Area: Users can easily comment in specific discussion areas, and updates can be sent via email.
Cons of Basecamp:
Task Deadlines: It's not possible to set deadlines for individual tasks.
Pricing:
30-Day Free Trial: Try it out before committing.
Flat Fee: $99 per month after the trial.
Free for Students and Educators: Great for educational use.
Nonprofit Discount: Enjoy a 10% discount if you're a nonprofit organization.
Free Personal Version: Limited users, projects, and storage for personal use.
Platform Compatibility:
Android

iOS

Mac

Windows

Web
Basecamp's simplicity and powerful features make it a standout choice for those seeking effective project management tools without the headache of a steep learning curve. Give it a try, and you'll see why it's a favorite among professionals worldwide.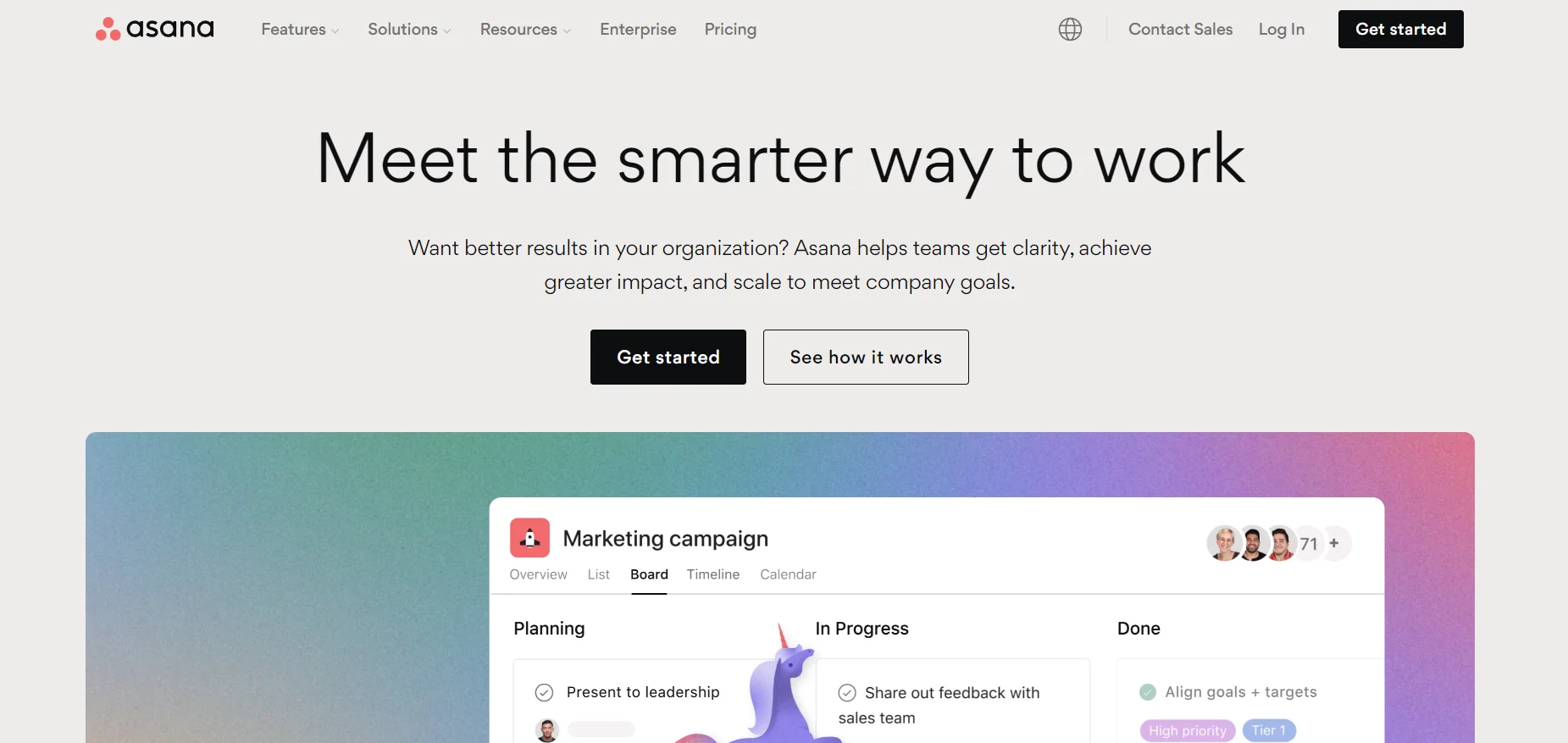 ASANA: Visualize and Collaborate Like Never Before
When it comes to the top project management tools, ASANA stands tall as one of the best in the business. What makes it so special? Let's dive in:
Visualization Options:

ASANA empowers you with a plethora of visualization options. Whether you're a visual thinker or a data-driven planner, ASANA has you covered.

Dashboards and Conversations:

ASANA offers dashboards that provide a clear snapshot of your project's progress. Conversations keep your team connected, ensuring everyone is on the same page.

Team Pages:

Share messages with your entire team using Team Pages. Communication is key, and ASANA makes it seamless.

Smart Notifications:

ASANA understands the importance of focus. Its Smart Box feature filters notifications, showing only what's crucial to each team member. No more information overload!

Multiple Views:

ASANA offers diverse project views, including List, Board, Calendar, and Timeline. You can choose the view that suits your project best, making planning a breeze.

Seamless Integrations:

Integration with data sources like Google Drive, Github, Dropbox, and more means you can keep all your project resources in one place, enhancing efficiency.
Pros of ASANA:
User-Friendly Interface: ASANA's intuitive design ensures easy navigation.
Extensive Integrations: Connect with popular apps like Google Drive, Slack, and Microsoft Teams.
Collaborative: Invite team members to your digital workspace for effective collaboration.
Efficient Task Management: Stay organized and prioritize tasks with real-time information.
Free Plan: A free plan with basic features is available for small teams (up to 15 people).
Cons of ASANA:
Tracking Limitations: Some users may find ASANA lacks advanced tracking features.
Learning Curve: It can be challenging for newcomers to project management.
Feature Rich: The abundance of features might overwhelm users for simpler tasks.
Single Assignment: Only one user can be assigned to a task at a time, limiting flexibility.
Pricing:
Basic Plan: Free for teams of up to 15 people.
Premium Plan: $10.99 per user per month, offering advanced features like timeline view and templates.
Platform Compatibility:
ASANA's combination of visual flexibility, collaboration tools, and seamless integrations makes it a strong contender in the world of project management. Whether you're a small team or an enterprise, ASANA's versatility can help you streamline your projects with ease. Give it a try and experience project management like never before!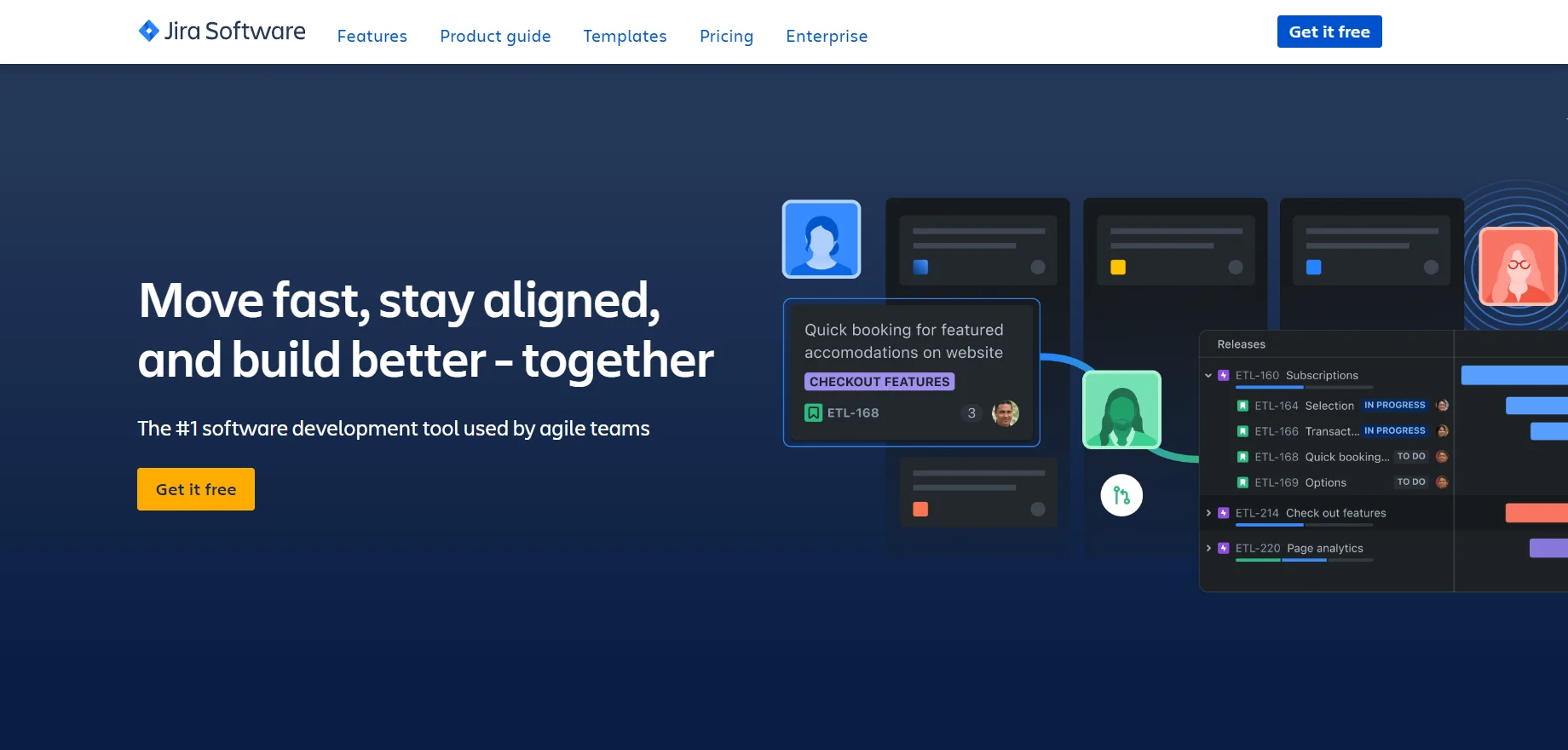 JIRA: Agile Excellence for Streamlined Project Management
When it comes to project management tailored for the Agile Software Development Life Cycle (SDLC), JIRA takes center stage. Here's what sets it apart:
Agile Work Management:

JIRA is the undisputed champion for Agile teams. It seamlessly integrates with Scrum and Kanban methodologies, offering unparalleled flexibility in project management.

Roadmap Alignment:

Stay in sync with JIRA's roadmaps. They allow teams and organizations to roll up work from the team level to company-wide initiatives, ensuring everyone is on the same page.

Ready-Made Dashboards and Reports:

JIRA doesn't leave you guessing. It provides ready-to-use dashboards and reports, ensuring that you have quick access to essential project insights.

Real-Time Reporting:

Keep a finger on the pulse of your projects with real-time reporting. It's a game-changer for making informed decisions on the fly.

DevOps Visibility:

For software development teams, JIRA offers invaluable visibility into the DevOps process, making collaboration between development and operations smoother than ever.

Bug Tracking:

Tracking and resolving bugs is a breeze with JIRA. It ensures that no issue falls through the cracks, maintaining the quality of your software.

Issues at the Core:

In JIRA, issues are the heart of your project. You can effortlessly organize your issues into a backlog, ensuring a clear and prioritized roadmap.
Pros of JIRA:
Agile Expertise: Ideal for Agile Scrum and Kanban practices.
Roadmap Alignment: Keep everyone on track with JIRA's roadmaps.
Pre-Built Dashboards: Access critical insights with ease.
Real-Time Reporting: Stay informed and make timely decisions.
DevOps Integration: Perfect for development and operations collaboration.
Bug Tracking: Comprehensive bug tracking and resolution.
Cons of JIRA:
Limited Cost Management: Lacks features for managing project costs and assessing risks.
Learning Curve: Setting up JIRA can be challenging for newcomers.
Communication Tools: It lacks a built-in tool for sending messages directly from JIRA.
Complexity: Building a complete suite of solutions can be confusing.
Pricing:
Free Basic Plan: For up to 10 users (limited features).
$7/month per user: Teams of 11–100 users.
Discounts: Available for larger teams.
Self-Hosted Version: Provides flexibility for hosting on your infrastructure.
Platform Compatibility:
Android

iOS

Mac

Windows

Linux

Web
JIRA's deep integration with Agile principles, robust bug tracking, and real-time reporting make it a powerhouse for software development teams. While it may have a learning curve, the insights, and efficiency it brings to Agile project management are second to none. Give it a try and elevate your Agile game to the next level!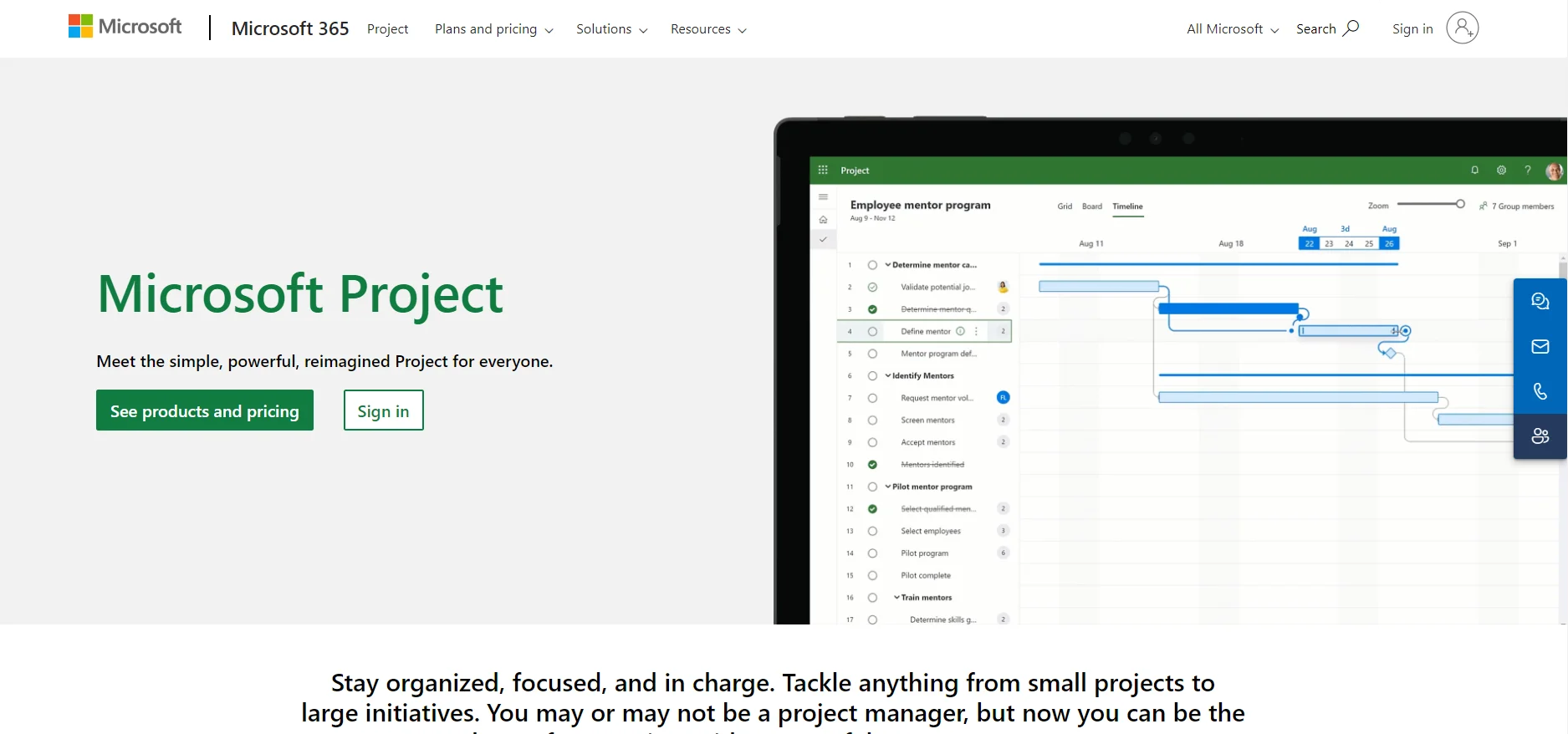 Microsoft Project Management Software: Your Guide to Time-Tested Excellence
In the ever-evolving world of project management, Microsoft Project Management Software, often referred to as MS Project is a venerable giant that has stood the test of time for nearly three decades. Let's explore why it remains a top choice, especially for complex projects:
Reporting Mastery:

Microsoft Project shines with its robust reporting capabilities. It allows you to create both built-in and customized reports, which can be seamlessly extracted into PowerPoint slides for effective presentations.

Integration Galore:

As part of the Microsoft 365 Office suite, MS Project integrates seamlessly with a suite of Microsoft tools like Skype, Microsoft Teams, Power BI, and SharePoint. This interconnected ecosystem ensures you're always in sync with your team.

Proven Dependability:

With its initial release dating back to 1984, Microsoft Project has established itself as a pioneer among project management tools. It's a name you can trust.

Reliable Support:

Microsoft Project doesn't leave you hanging. It offers robust support to its users, ensuring you have the assistance you need when tackling complex projects.

Versatile Use:

While it excels as a project management tool, Microsoft Project can also serve as a road mapping tool or financial management solution, adding flexibility to its capabilities.

Deployment Options:

Choose between on-premise and cloud-based deployment to align with your organization's specific needs and preferences.
Pros of Microsoft Project Management Software:
Seamless Integration: Works harmoniously with Microsoft's suite of productivity tools.
Proven Track Record: Decades of experience make it a trusted choice.
Reliable Support: Count on assistance when navigating complex projects.
Flexible Use: Beyond project management, it can serve various purposes.
Deployment Choices: Opt for on-premise or cloud-based deployment.
Cons of Microsoft Project Management Software:
Training Required: It may require training to utilize its full potential.
Cost Constraints: Depending on your needs, pricing can be a factor.
File Compatibility: Files saved in a proprietary format may pose compatibility issues for those without the program.
Pricing:
One-Month Free Trial: Test the waters before committing.
Project Plan 1: ₹720 per user/month
Project Plan 3: ₹2,160 per user/month
Project Plan 5: ₹3,960 per user/month
Platform Compatibility:
Microsoft Project Management Software's enduring legacy and comprehensive features make it a preferred choice for organizations dealing with intricate and large-scale projects. While it may require some training, the benefits of seamless integration and reliability more than compensate. Consider it for your project management needs, especially if you're operating within the Microsoft ecosystem.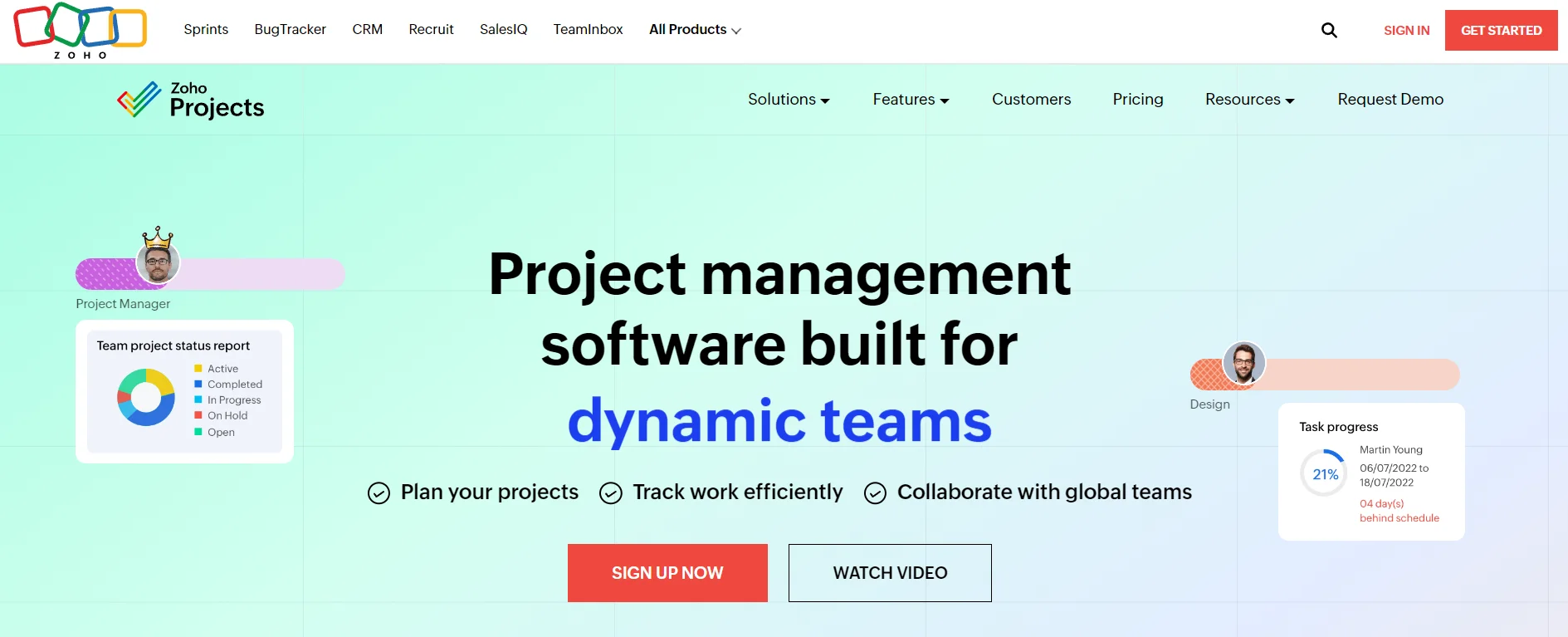 Zoho Projects: Your Essential Free Project Management App
In the realm of project management, Zoho Projects emerges as a valuable and cost-effective option, especially for midsize organizations. Here's what sets it apart:
Gantt Charts and Integration:

Zoho Projects empowers you with Gantt charts, providing a visual representation of project timelines. It also boasts seamless integration with other platforms, making data sharing and collaboration effortless.

Basic Tracking System:

While it may not have all the bells and whistles of premium alternatives, Zoho Projects features a basic built-in tracking system that gets the job done effectively.

Reporting Abilities:

Zoho Projects offers basic reporting abilities, allowing you to keep tabs on your project's progress and key metrics.

Cloud-Based Convenience:

This free task management app operates in the cloud, offering accessibility and scalability that works particularly well for midsize organizations.
Pros of Zoho Projects:
Reliable Uptime: Downtime is a rare occurrence, ensuring your projects keep moving forward.

Billing and Time Tracking: Comes equipped with robust billing and time-tracking functionalities.

Effective Communication: Facilitates easy communication among team members, fostering collaboration.

Progress Tracking: Easily track the progress of tasks and projects, keeping everyone informed.

Responsive Support: Zoho Projects offers highly responsive customer support.
Cons of Zoho Projects:
Task Search Improvement: Task search functionality could be more efficient.

Bug Reporting: Some users find the bug reporting process less than ideal.

Dashboard Limitations: The dashboard functionality is considered poor by some users, as it lacks the ability to easily include client contact information or arrange client names alphabetically.

Learning Curve: Like many robust tools, Zoho Projects may have a steeper learning curve.
Pricing:
Free Plan: Suitable for up to 3 users.

Premium Plan: ₹350/user/month, accommodating up to 50 users.

Enterprise Plan: ₹700/user/month with no upper limit for users.
Platform Compatibility:
Zoho Projects brings a combination of reliability, essential features, and cost-effectiveness to the table. While it may require some time to fully harness its capabilities and lacks some advanced features, it remains a solid choice for organizations looking for an efficient project management solution without breaking the bank. Give it a try and see how it can streamline your project workflows.
Wrapping Up!
In the fast-paced world of business, effective project management is the linchpin of success. We've explored five stellar project management tools, each with its unique strengths. From ASANA's visual prowess to JIRA's Agile expertise, from Basecamp's simplicity to Microsoft Project's legacy, and finally to Zoho Projects' cost-effective reliability, the choice is yours. Tailor your selection to your organization's needs, size, and workflow. These tools aren't just about managing projects; they're about elevating productivity, fostering collaboration, and driving success. So, choose wisely, harness their power, and propel your business toward a brighter future.