Table of content
Gone is the time when one had to set up an office to start his business, today we live in a digital world and it's more important to have a digital presence apart from having a physical office. Businesses, startups, and
enterprises are realizing the potential of digital products and developing web and mobile applications for their businesses. There are a large number of mobile app development companies in the UK which are catering to the
business needs of clients. London being the capital headquarters of most of the top mobile app development companies in the UK while some of them have their offices spread across other countries as well. From a small business
owner to a large enterprise owner, everyone is going digital and with it, mobile app development companies in the UK are growing rapidly. Today, top mobile app development companies in the UK are doing a greater good by helping
businesses, startups to grow and generate more and more revenue. This way mobile app development companies in the UK are boosting their business as well along with others. If you are looking for top mobile app development
companies in the UK for the digital transformation of your business then you are at the right place. In this blog, we are going to list the top 10 mobile app development companies in the UK. The top mobile app development
companies in the UK companies have been chosen on various factors like foundation year, average hourly rate key clients, team size, services, portfolio, and verified client reviews. There isn't any bias attached to this. So go
through this listicle blog and find the company which is the best for you. We understand that different project has different requirements and no one company can be the best for all so here are the top 10 mobile app development
companies in the UK:
List of the Top Software Development Companies in UK
1.
Rantmedia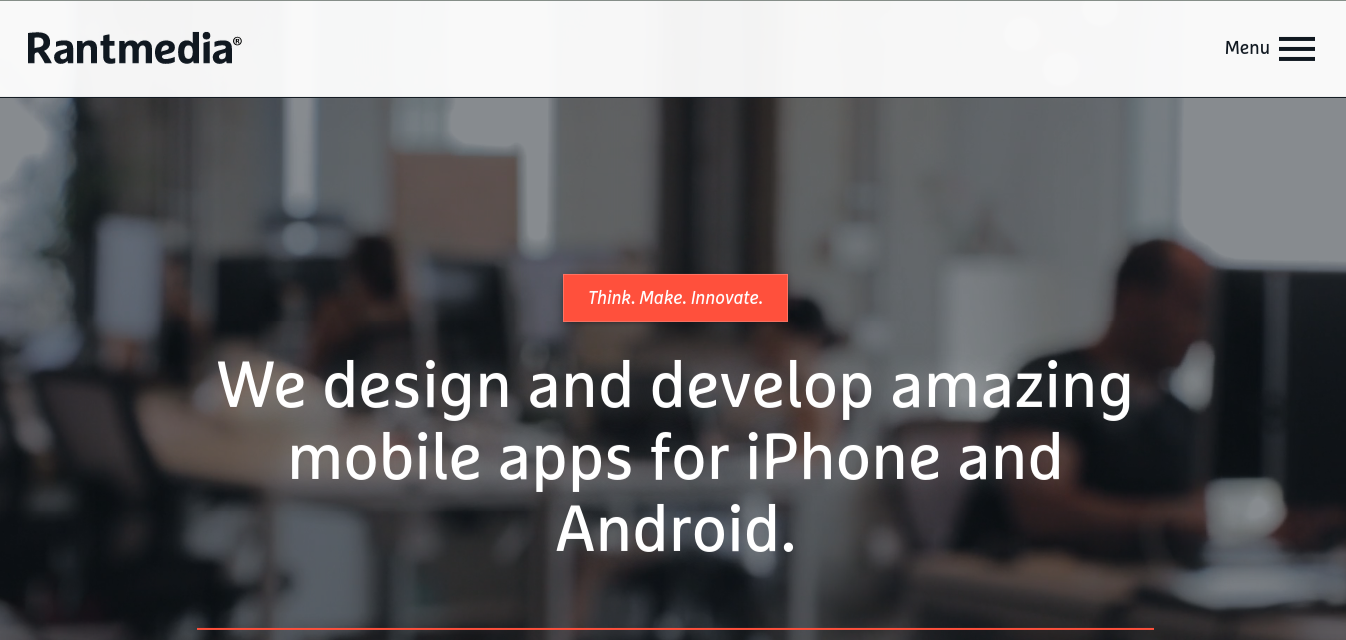 Founded in 2003, Rantmedia is boosting businesses with its outstanding mobile apps for iOS and Android which get featured on the App store. Based in Cardiff, United Kingdom, it is a multi BAFTA award-winning digital studio and
they design and develop amazing mobile apps for both iOS and Android. If you also want to get your app featured on the App Store, Rantmedia is an expert mobile app development company to reach out to. Rantmedia's portfolio
speaks volumes about their work and services. It includes clients like BBC, NHS, Jaguar Land Rover, Admiral Insurance, RSPB and Principality Building Society, Stryker, Sonovate, Project AWARE, Confused.com. They are a fantastic
team that works on your raw ideas to convert it into polished digital products that set your brand apart. They are a team of 10-49 people working at $50 – $99/ hour to deliver genuinely wonderful products. They are also known
for building cross-platform games, both for mobile and smart TV. Working on an agile model, Rantmedia allows its clients to affordably tackle big challenges by automating and this is one of the reasons why big clients prefer
Rantmedia over other app development companies in the UK.
"They're just nice, genuine people, who are extremely intelligent and competent at the same time. The platform successfully differentiates stakeholders from competitors. The site has garnered positive attention from users,
especially regarding its accessibility. Rantmedia offered valuable insight into the feasibility of different features. Their consistent communication style was a highlight." –
Ben Marrin, Director, Wedding Booker

2. Waracle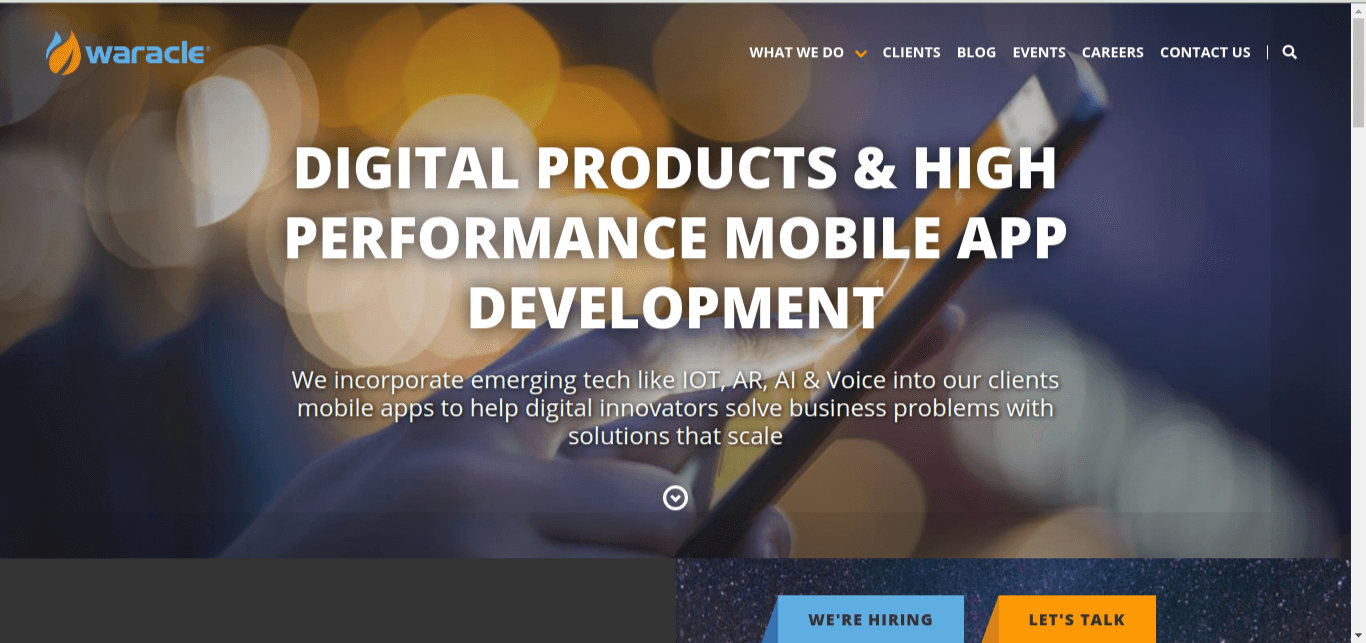 Waracle is combining innovative technologies like IoT, AR, AI & Voice with mobile apps to provide digital solutions to the clients. Their focus lies in bringing digital innovations to make a scalable product that drives
lasting value. Waracle actively works across a broad range of industries including; Financial Services, Digital Health, Energy, Oil and Gas, Transport and Logistics, and Real Estate. Founded in 2004, they've around 50-249
employees with an hourly rate of $150-$199. Clydesdale & Yorkshire Banking Group ScottishPower Sainsbury's Bank Royal London RBS NHS Gap Group Hire Solutions AG Barr Jones Lang Lasalle Workplace MidCounties Co-Operative
Scottish Rail Imperial College London Edrington Group are in their portfolio. From building an app to taking care of it, Waracle does it all. They don't just aim to deliver result-driven mobile applications but later, also
maintaining them so that they work well. This makes Waracle different from any other Web & Mobile App development company in the UK. Obviously, if you just want them to build your App and leave then they will, but most of
the clients prefer to use the company's expertise once the App is live. Waracle is our recommended mobile app development company in the UK which will help you throughout your product cycle.
"They do what they say they're going to do. The new apps have drawn 14,000 customers with high ratings on the Apple Store and Google Play. Waracle is a responsive team with a flexible development process. Their broad
knowledge base makes a difference in their projects." – Struan Robertson, Head of Digital, Royal London Group

3. Sided Cube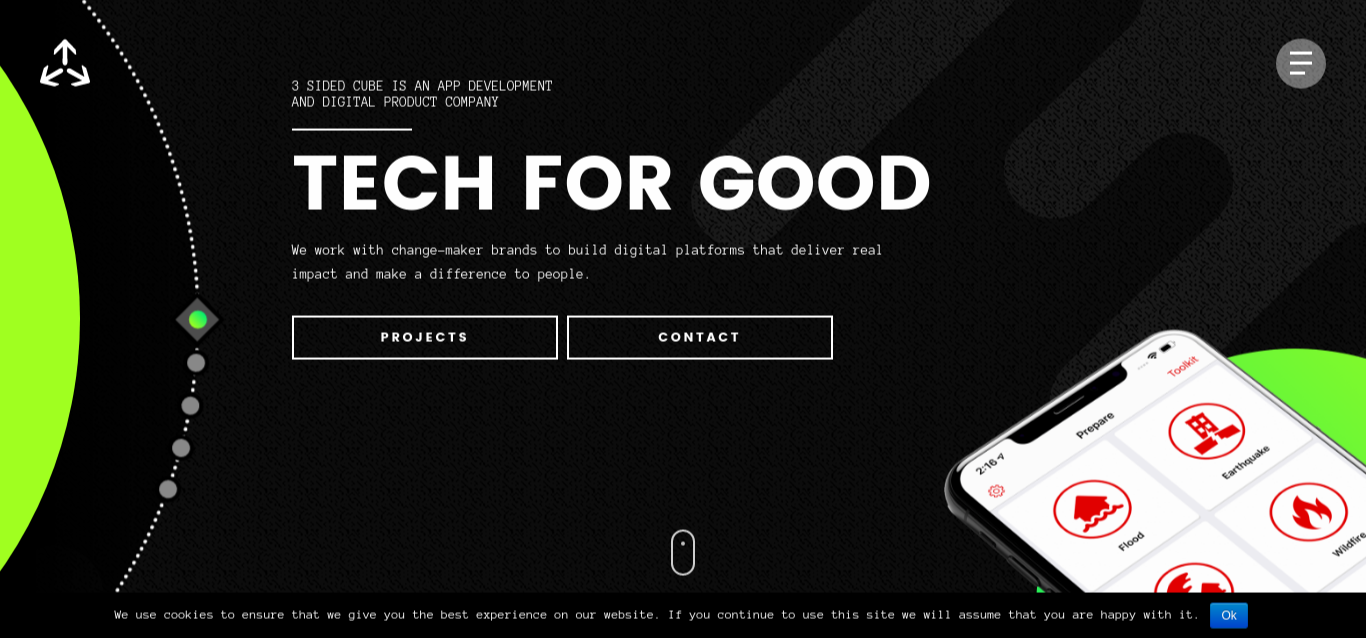 They're app builders who have built 200+ apps in 90+ countries. They focus on delivering impactful digital platforms. Founded in 2009, they were awarded the 'UK Agency of the Year' (2017) at the UK App Awards and 'Most
Innovative Agency' at the UK Agency Awards. It was founded in 2009 and since then it has been marking its position as a top app development company in the UK. Their hourly rate is $100-$149. With a team of around 50 people, they
succeeded in getting American Red Cross, ASPCA, Boots, British Red Cross, Global Disaster Preparedness Centre, Global Forest Watch, Lloyds Banking Group, LUSH, Mind, Nordstrom, O2, RNLI, RSPB, as their clients. 3 SIDED CUBE is a
reputed app development company in the UK who have collaborated with international organizations and budding startups to fight disasters, deforestation and help to reduce the impact of plastic pollution. Using technology to do
something good, to bring changes in the lives of people is what 3 Sided Cube believes in and it's what they do.
"They have enthusiasm, deliver at a steady pace, and are an all-around great team of people to work with. The prototype of the app was delivered in a timely manner and met the expectations of the internal team. 3 SIDED CUBE
is open and collaborative, facilitating an effective workflow. The team is hard-working, personable, and professional." –
Kris Askew, Head of Digital Excellence, iSupplyEnergy

4. Brightec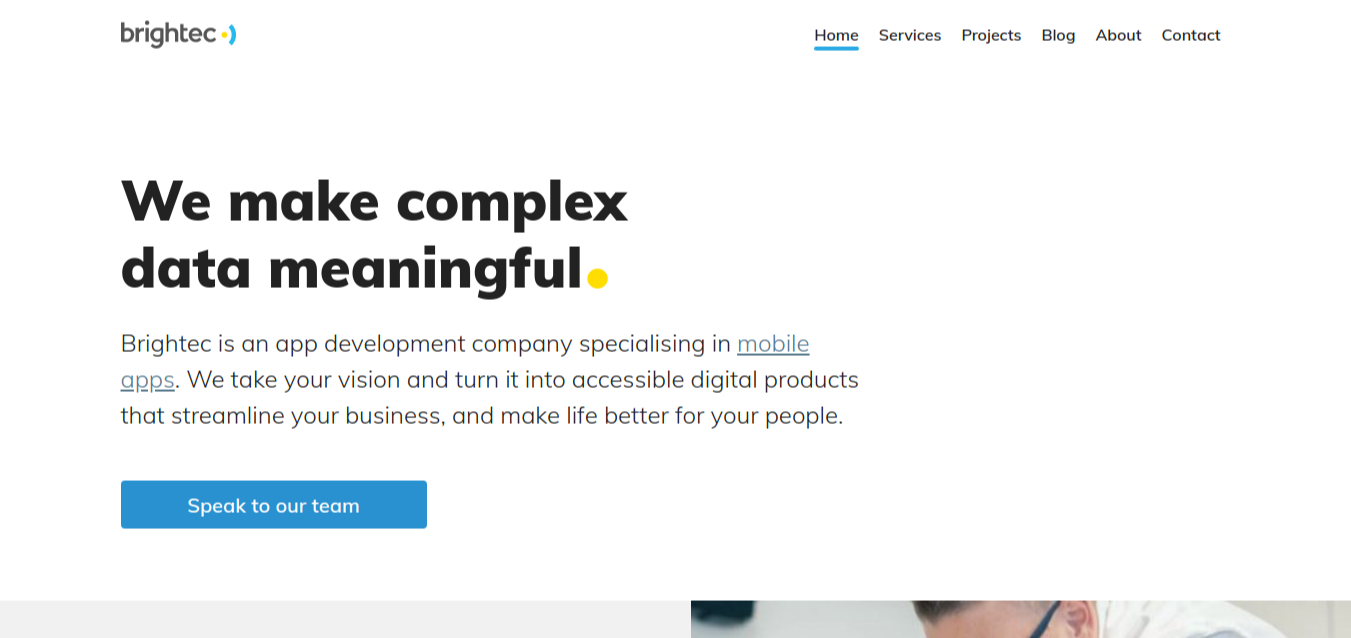 A Brighton-based company specializing in mobile apps is a multi-award-winning mobile and web app development company in the UK founded in 2006. Working $100 – $149 /hr, they build meaningful technology with a people-first
approach. They're driven by the value of doing business with meaning and connection; human to human. With an expert team of around 10 – 49 people, they create a high-quality mobile app that simplifies complex data. They are a
team of agile app developers in the UK who build, test, and deliver web and mobile applications to the highest possible standards. We care about every detail in the process, constantly refining throughout. They're rated 4.9/5 by
Clutch. Their clients include market leaders such as Jaguar Land Rover, Morrisons Supermarkets, Willis Towers Watson, Ziffit, KitchenCraft, TrainSplit, The Children's Commissioner, The Caravan Club, Roche Pharmaceuticals, Surrey
& Sussex Probation Service, Brighton Marathon and many more. Delivering the best mobile apps, the best services to the clients, and creating a happy and productive environment to work are the values by which Brightec lives.
They often make their clients recurring clients and gain repeat business by gaining customer loyalty. Keeping user experience at the heart of their business, they make sure to develop smarter and friendlier UI for mobile
applications. The company doesn't believe in settling for client's expectations but they strive to achieve extraordinary results. The company's pride lies in building long-term relationships with clients and helping them in
achieving their business objectives.
"They demonstrated empathy as well as affiliation with our values and purpose. By guiding the business towards a deeper understanding of itself, Brightec succeeded in positioning the brand to align with its core values. The
team worked with the client to produce messaging that resonates. They demonstrated both empathy and professionalism, so the engagement was delightful." – Alistair Wickens, Chief Executive, Goscombe Homes Limited

5. Zudu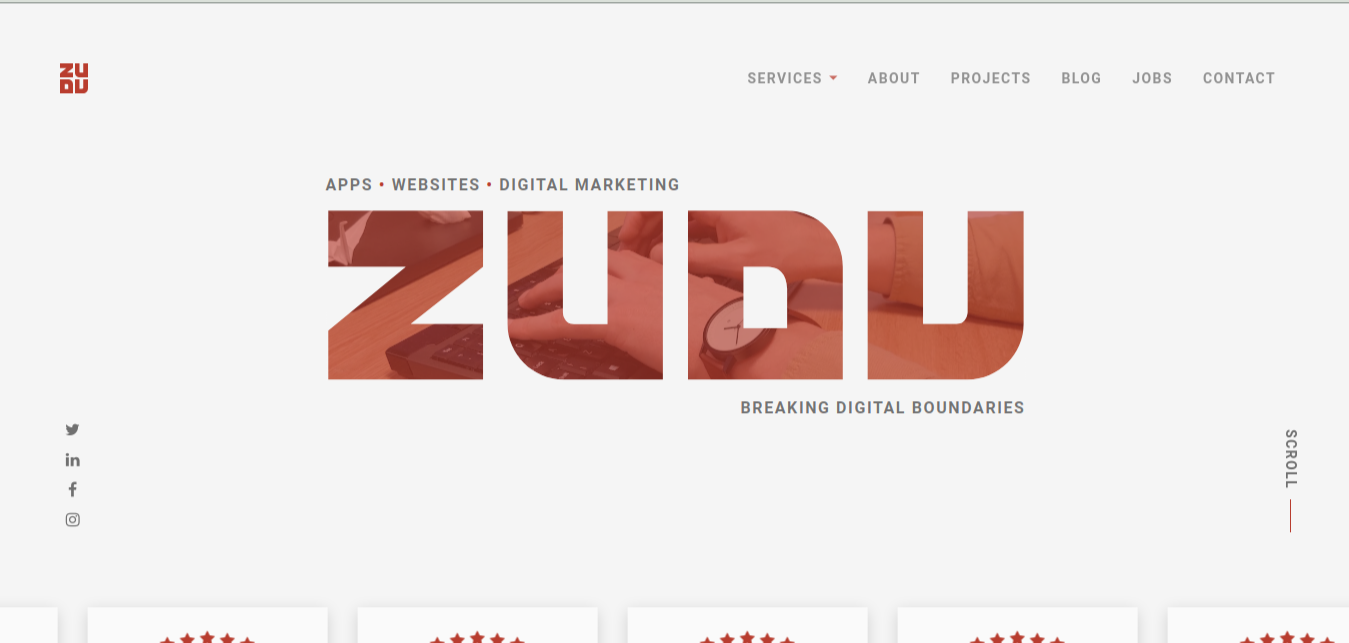 Driven by values like culture, people, integrity, innovation, clients, and equal opportunities, Zudu is an award-winning agency focussed in the UK and China. They specialize in Custom Software, Web Design/Development/Apps,
Mobile Apps, eCommerce Systems, Research, Data Insight, Conceptualising, Digital Strategy and known for their excellent product delivery. They have a friendly staff of 11-50 persons. Founded in 2014, with a vision to bring the
world's markets closer together by breaking digital boundaries, Zudu has come a long way in excelling in the industry. Their passion for building amazing digital products like web and mobile applications makes them a
trustable app development company
in the UK. The company believes in working with a shared vision to make it a success. Their mission is to help companies in reaching their full potential with the digital products built by them.
"The depth of thought and attention Zudu has put toward our project is obvious from the results. The website has yet to launch, but the early feedback from stakeholders is overwhelmingly positive. Zudu maintains open lines
of communication with staff, making for an easygoing engagement. They have proven to be knowledgeable and dedicated to providing quality solutions." – Lisa Tait, Marketing Manager, Cellexus

6. Hedgehog Lab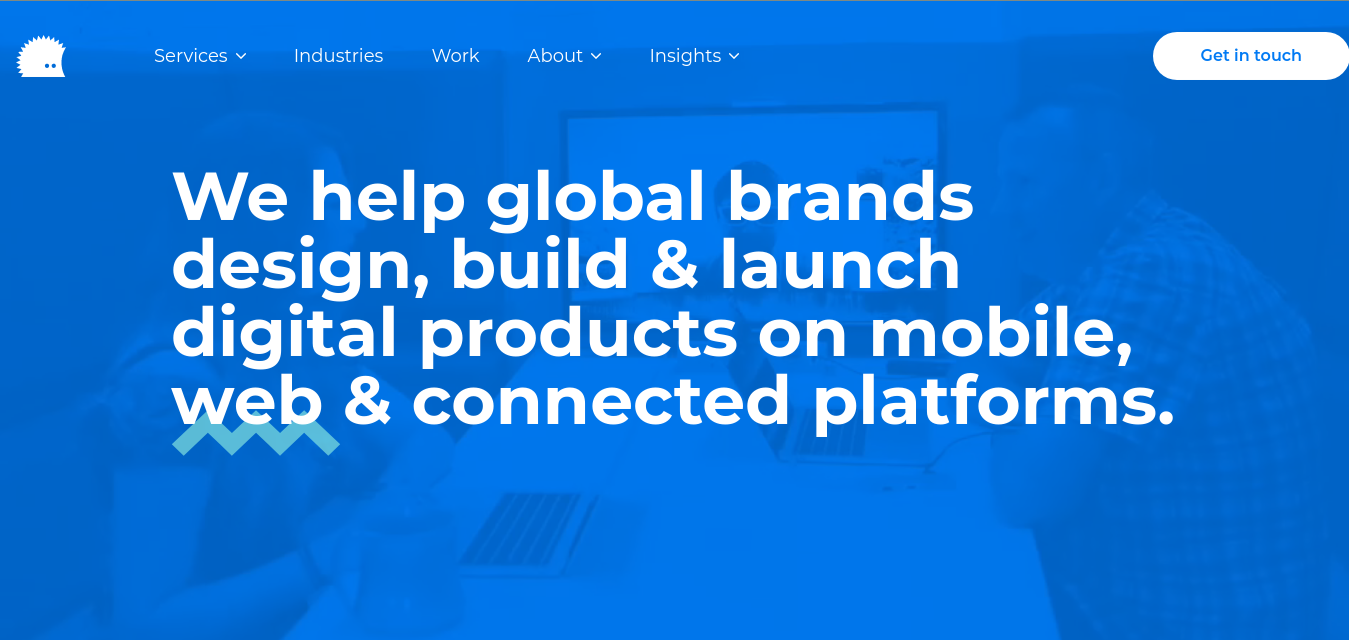 Hedgehog Lab, founded in 2007, is a global app development company headquartered in Newcastle upon Tyne, with additional offices in London, the US, and India. They specialize in app design & development, AR/VR, and
Innovation. As of 2019, they had 120 employees and an hourly rate of  $100 – $149. The team is growing rapidly by delivering great post-PC experiences to clients across the world. The team focuses on delivering great post-PC
experiences and campaigns to clients across the UK & abroad. Their notable clients are News International, Channel 4, Financial Times, Booths, Societe Bic, East Coast Trains, AkzoNobel, B&M, Mitsubishi, CBRE, England
Rugby, NESN, Northumbrian Water, Camping and Caravanning Club, HULT, Thinking Digital and Grainger plc. They are led by the motto of helping global brands harness the power of mobile. Hedgehog lab is a top app development
company in the UK and they have been helping brands & enterprises in growing their market share by a digital presence in this digital world.
"They always give genuine feedback. They want the app to do well, and they've been super involved. Feedback from user acceptance testing has been positive so far, and they plan to continue the development process. Although
their timelines were a bit unrealistic, hedgehog lab works efficiently and communicates weekly. They're accommodating and committed to project success." –
Bradley Gottemoeller, Operations Assistant, Continental Express, Inc.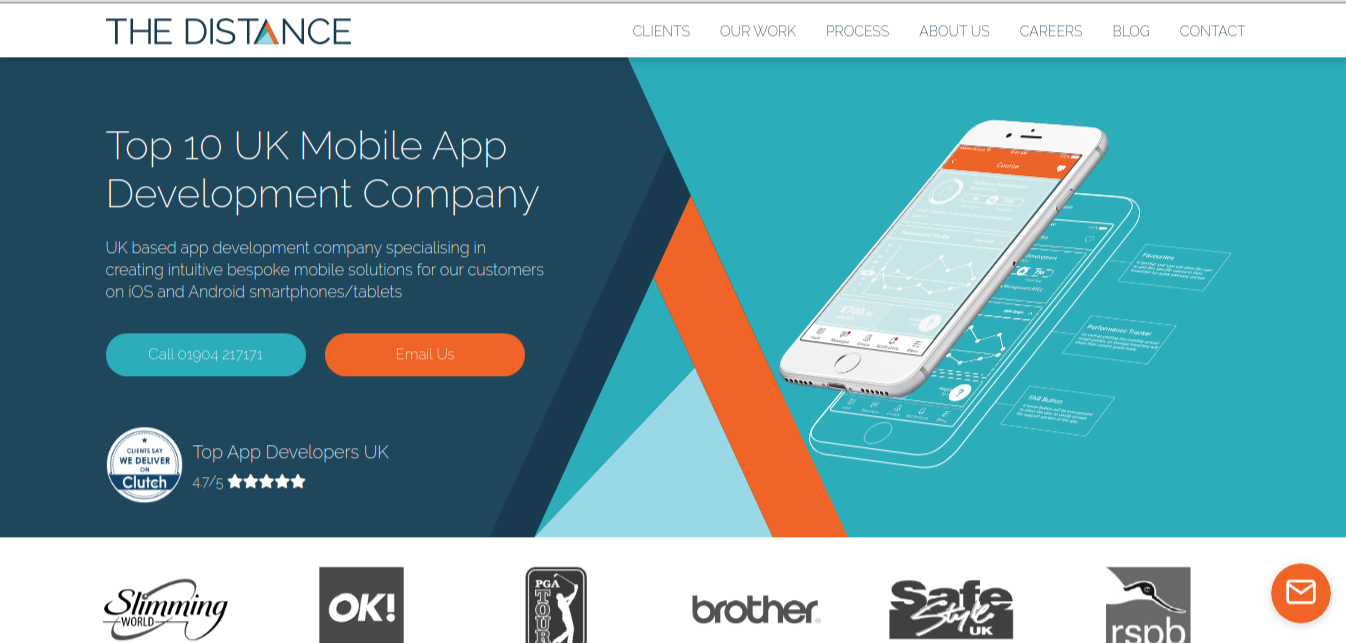 Founded in 2009, it is one of the longest-serving UK app developers and has been crafting apps since the first iPhone launched. They have a highly specialized staff (around 50) whose skill sets guarantee quality and excellence
at the heart of each project. They work at $100 – $149 / hr to deliver great services to their customers. Their portfolio includes clients like Virgin Trains East Coast NHS Adidas EDF Energy Slimming World Camden Market
SafeStyle UK AstraZeneca Bentley Motors Brother Public Health England Network Rail RSPB PGA Golf OK Magazine View. Distance App Development company in the UK is known for developing native mobile app solutions for iOS and
Android platforms for a huge client base spread across the UK and abroad for businesses, public, and retail. The highest priority of Distance App Development lies in maintaining long term relationships with their clients; it is
what defines them, hence 'The Distance'. Whether you need to create an app for iOS, Android, Windows Mobile, or build a cross-platform one, Distance App Development can do it all.
"They did it all really smoothly. We're very happy with them. The build was completed very quickly. The Distance App Developers' efforts resulted in impressive reviews and generated more users than expected. The work was
completed efficiently and the project management was good. Their team was well-structured and highly engaging." – Guy Wilcox, Project Delivery Officer, Down Syndrome Association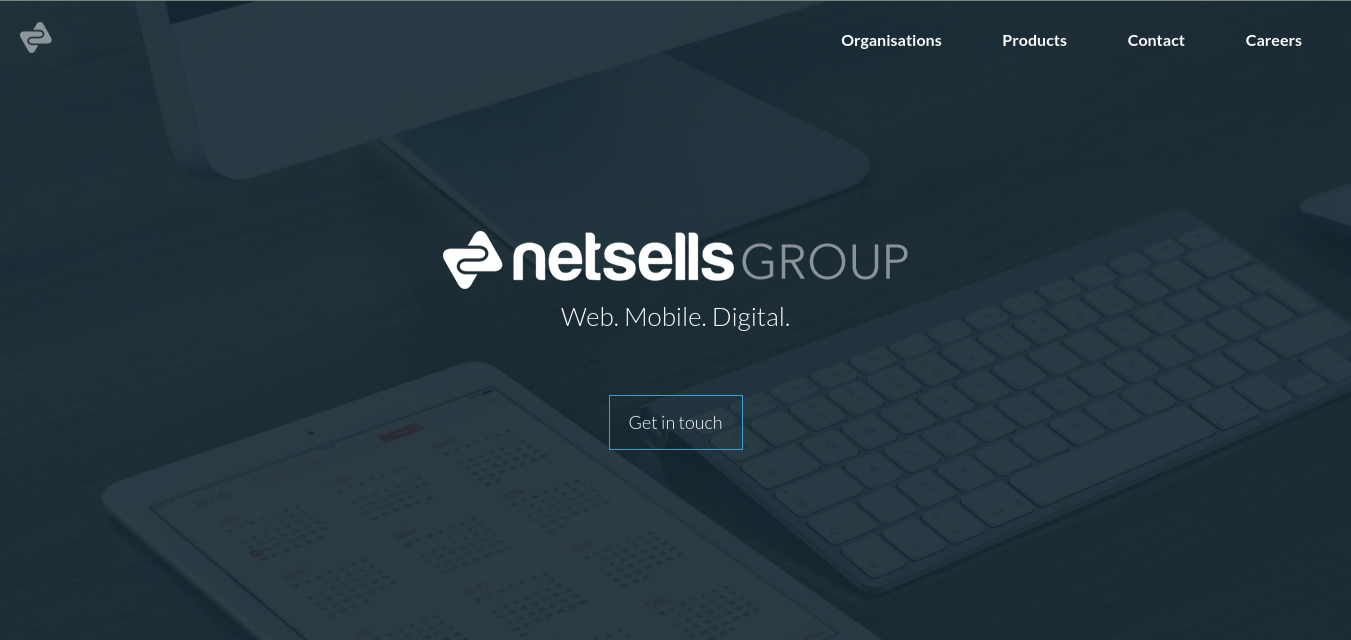 It is one of the leading UK-based digital agencies and technology consultancy that have expertise in native (iOS and Android) and cross-platform mobile app development. Founded in 2009, some of its top clients are Hiscox, Uber,
Trainline, and Capita. They are known for delivering more than the bare minimum against a brief. They work with you to plan and develop sustainable, long-term solutions. If you are seeking to build a scalable product, Netsells
Group is a really good choice. Working at $100 – $149 / hr, a team of 51-200 employees works towards the goal to achieve their motto 'building something better'. Netsells Group not only delivers you awesome products but they are
like your tech partners in your business. From developing a mobile application to maintaining it, Netsells Group takes care of it all. If you want a bare minimum mobile application against a brief, then Netsells isn't for you.
As they take time to plan and develop sustainable, long-term solutions. Netsells are one of the leading app developers in the UK specializing in intuitive mobile application development, Laravel Web Development, and bespoke
APIs. Netsells have clients spread across 40 countries and have numerous feathers of successes in their cap. In a decade, Netsells has positioned itself as one of the top app development companies in the UK. Netsells as a mobile
app development company ensures that your product is in safe hands and is nurtured very well.
"The functionalities work as expected and the design is exceptional. The app works well and looks better than the designs envisioned. The partnership is effective and benefits from the team's strong communication skills.
Netsells Group is a responsive and flexible partner. They accommodated workflow preferences to implement at a timely release cycle." – James Wood, Product Manager, CPP Group UK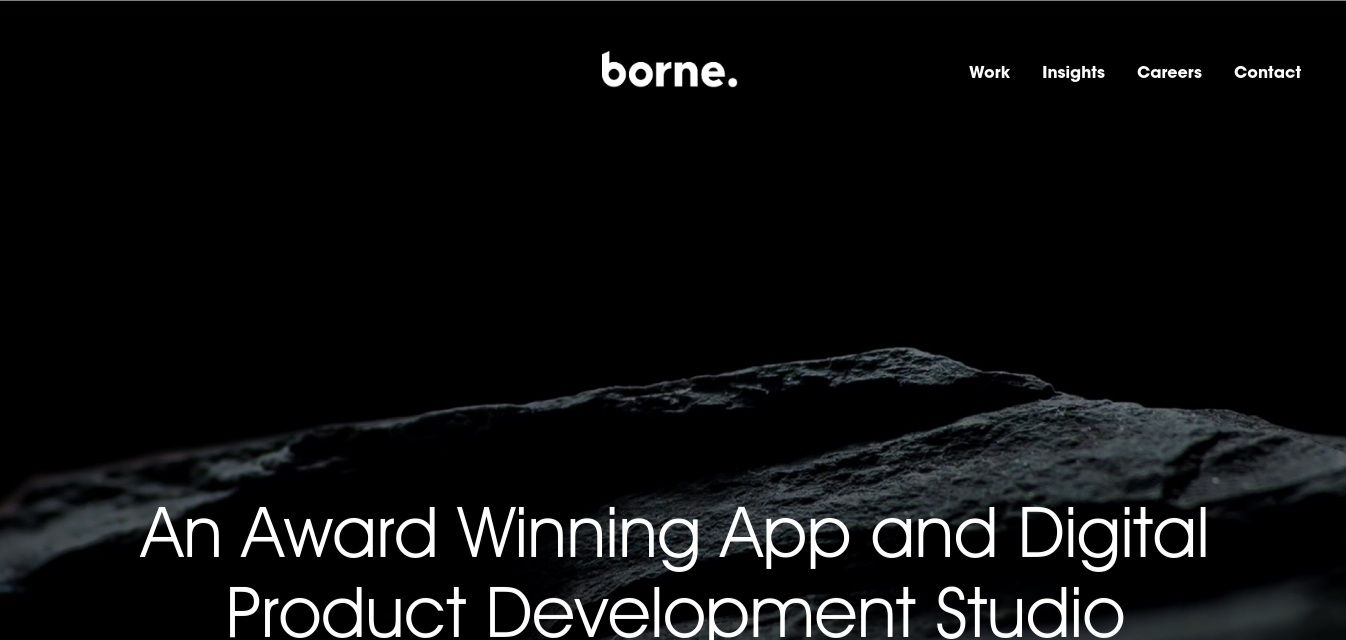 It is a leading web and mobile app development company in the UK, founded in 2013 and based in London, UK. At Borne, they create meaningful products that both reflect and enhance your business. They are known for partnering with
companies of all sizes, from startups to enterprises, to create problems with their digital products. The average hourly rate is $50 – $99 / hr and employee size is between 50-250. They are a team of passionate people working to
bring a change and innovate. Shell – British Army – Xendpay – BuzzHIre are their top clients. Borne Digital ensures client satisfaction by providing them with excellent services in the right budget and time. The company's
expertise lies in crafting customer engaging products that set the brand apart and helps businesses/ startups in achieving their objectives. They believe that products and brands are interlinked and they strive to create
meaningful products that both reflect and enhance one's business. The company aims to solve problems for businesses and startups with its digital products. If you are interested in building a
web software
or a mobile application then Borne Digital is a reliable app development company in the UK.
"They had a brilliant understanding of what I wanted to build and how I wanted it to look and delivered it to a tee. The platform has received positive feedback from people of all ages and lifestyles. Borne Digital
establishes a seamless workflow and ensures both teams are on the same page throughout the process. The team is helpful, understanding, and hard-working." – Tara Ferry, Founder, Blue Sky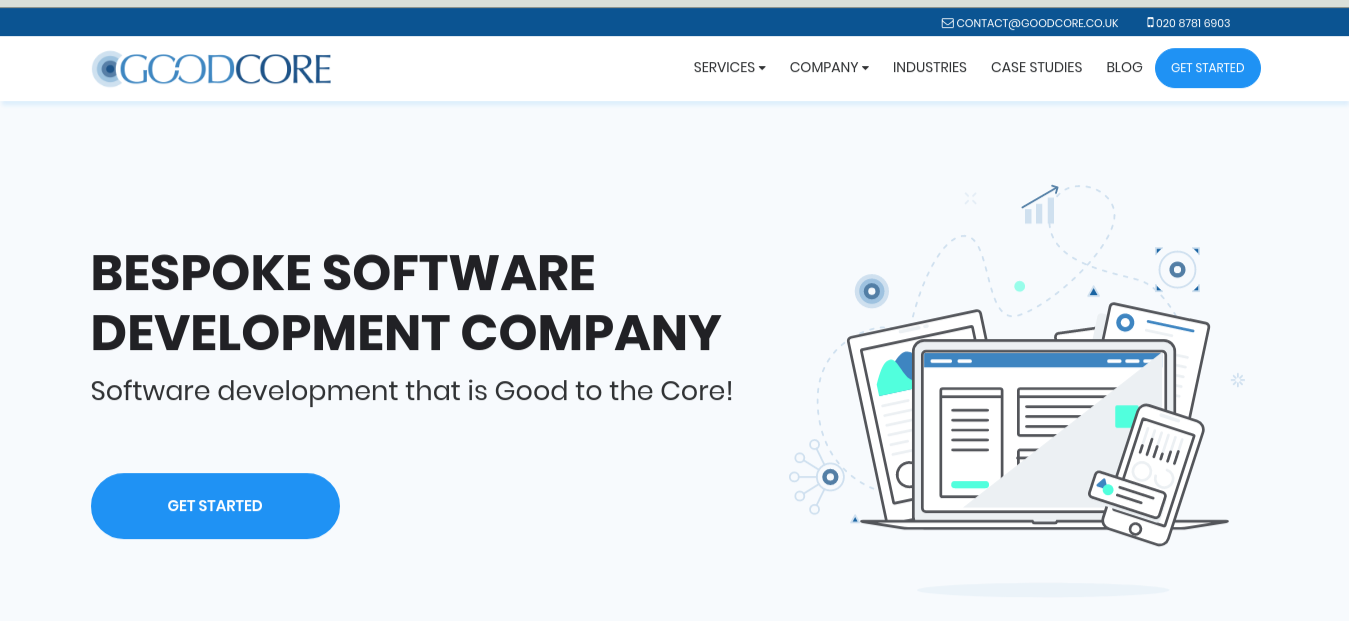 As the name suggests, it is a renowned software company that is good at its core. It was established back in 2005 and today, they are one of the leading companies in the UK, having clientele like Winchester University, Fintech
Startups, SWIFT, OKAY.com, Pharma Company, Electric Utility Company, Ministry of Tourism, Local Councils, Securities Commission, Domain Name Registrar, Post Office, InHouse Relocation. The average hourly rate is $25 – $49 / hr
and employee size are between 50 – 249. The expert needs analysis, Visual Prototyping, Protection of Intellectual Property rights, Application Support, and Cost-effectiveness are few reasons to choose GoodCore for your project.
They are one of the leading app development companies in the UK, serving a wide range of clients locally and globally. With their user-friendly and engaging mobile applications, they have impressed an overseas clientele. The
team follows agile practices and helps the clients at every stage of their product cycle. GoodCore houses a team of robust engineers who build robust mobile applications for startups and established enterprises. If you want to
get your mobile app built from the core, GoodCore Software is a highly recommended app development company in the UK.
"I was happy across the board, from A to Z. The development exceeded the expectations of the internal team. GoodCore Software establishes a smooth workflow, addressing any arising issues in a timely manner. The team utilizes
its technical expertise and innovative spirit to produce high-quality results." –
Mike Hayes, Founder, GolfCatch
We at Supersourcing
match clients with the right tech partner based on their project requirements and have delivered successful products to the clients. If you are also planning to develop your own web or
mobile app or some other kind of software then find
the best IT agency for you. We also have an expert team that is experienced in delivering user-friendly
mobile apps and software which are loved by the customers. We have been developing mobile apps
and providing IT solutions to a wide range of clients across India and abroad. Our
mobile app developers

can help you convert your idea into beautiful software. Since we have been delivering IT solutions to a wide range of clients, we know what are the errors that come in the way and how to solve them. If you have an idea and
want to discuss it, feel free to

reach out to us. To read more blogs and success stories, visit our website.