Table of content

There are more than 100 companies around the world that develop mobile
apps. Some of them are excellent and some of them are just scam. In this
article, we have tried our best to enlist 5 top app development
companies based on their reviews, ratings and feedback from their
existing clients.

People always ask me to recommend great app developers. The problem is that
I don't know great developers until I've worked with them for a while.
Usually, the companies that stand out are the ones whose work sticks out.
Most of us assume that having a good-looking website is enough to win
customers. While this may be true sometimes, it isn't true in most cases.
Here are 5 popular app development companies along with their customer
satisfaction ratings.

Top 5 App Development Companies List- Based on Customer Reviews
1. Mercury-development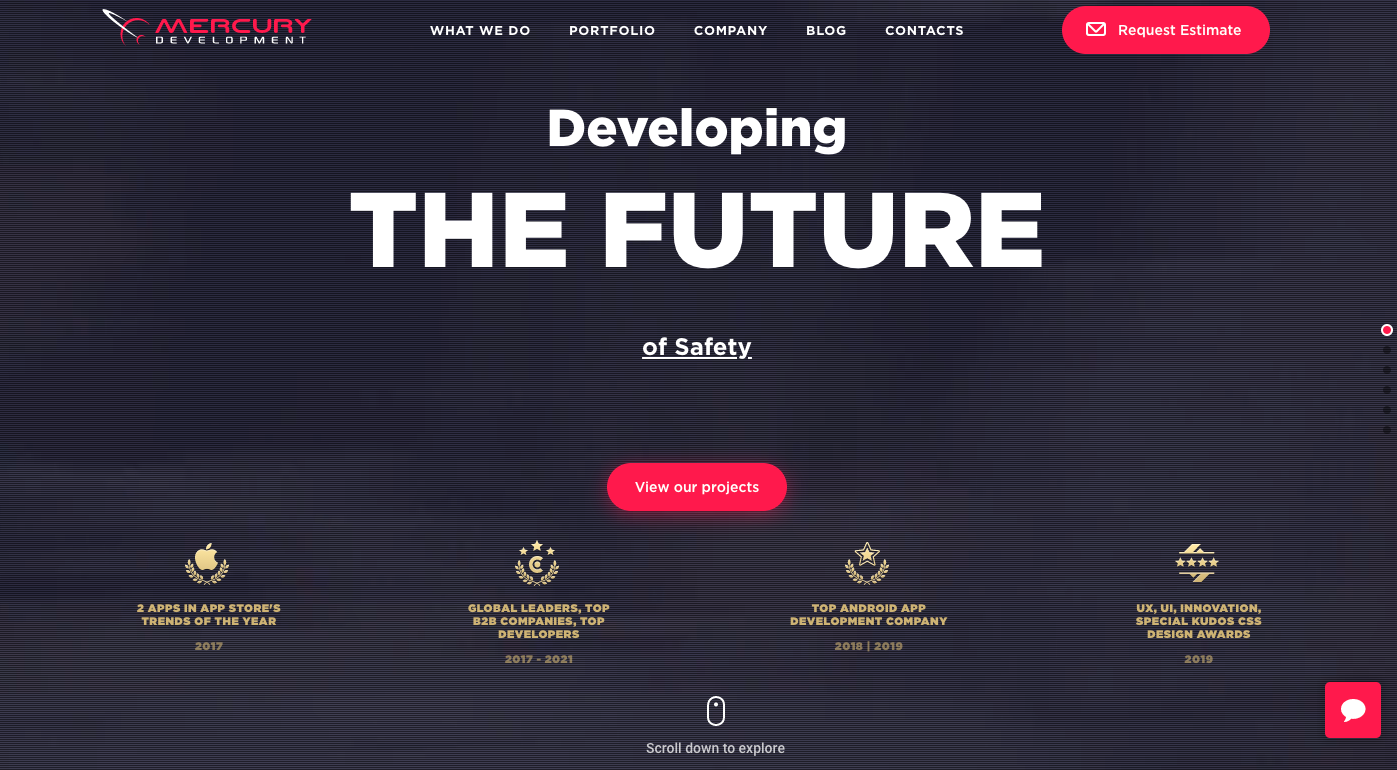 If you are looking for experienced mobile developers or mobile app
developers, look no further than Mercury Development. The team had the
knowledge and talent to build mobile applications that give your business
an edge. With more than 10 years experience in iOS and Android mobile app
development platforms. The team knows how to build apps that are optimized
to work seamlessly across all devices and operating systems. Whether you
are looking for experienced developers capable of building enterprise apps
or looking for agile, high-quality mobile app development services to help
companies that are transitioning to using mobile applications to improve
business performance and efficiency, Mercury Development has the skills
needed to deliver solutions that best meet your business needs. following
are the reasons of why we put in Top 5 App Development Companies list.
Key Clients:
DOW, HSBC, Thompson Reuters, Grainger, SAP, HP, Symantec, Kensington,
Miami Children's Hospital, and many more.
Reviews:

a) iOS Development | $1,000,000 – $9,999,999 | June 2009 – Ongoing |
Verified

Mercury's efforts have increased the platform's user base exponentially
within a few years. Adaptable and flexible with a significant talent
pool, the team scales as necessary, offers continuous feedback and
addresses challenges seamlessly in order to ensure the project maintains
forward momentum.

b) Custom Software Development for Medical Device Company
Quality: 5.0 | Schedule: 5.0 | Cost: 5.0 | Willing to refer 5.

Mercury Development's high-level expertise endows internal
stakeholders with confidence that the software will be developed
successfully. In addition to handling development, they provide
actionable insights and recommendations. Their experience developing
medical devices is a value-add.

CEO, Aurios Medical
---
2. 3Advance Apps

Starting Price $25,000+
Hourly Rates: $100 – $149/hr.
Team Size: 10 – 49
Founded 2010
Location: Washington, DC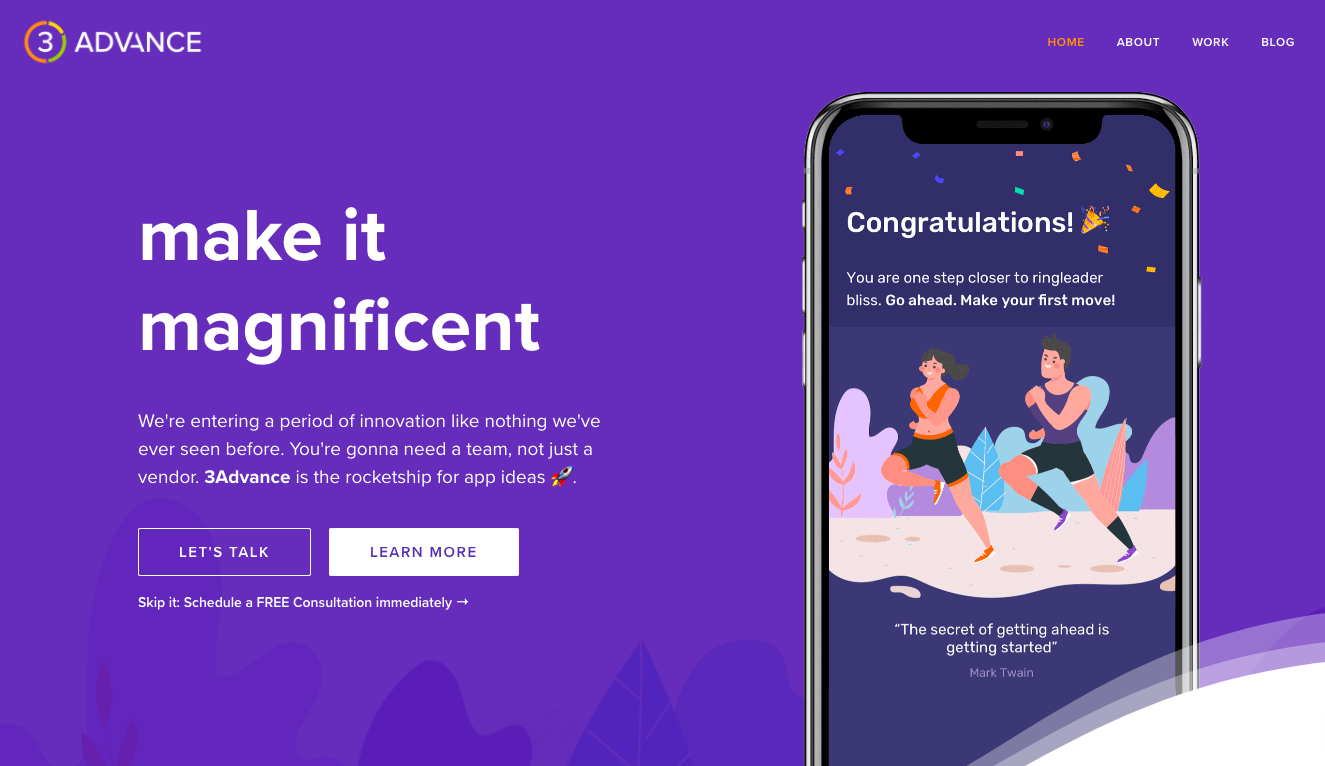 3Advance is a dedicated team of app developers that brings clients new
products to life. Whether you're a non-techie founder or your in-house
team needs additional expertise, the efficient team makes it possible
and easier for its clients. The company specializes in converting their
clients vision into an app that provides your customers with value.
Following are the reasons of why we put in Top 5 App Development
Companies list.
Key Clients:
NPR, AARP, Special Olympics International, The Newseum, Octagon, The
Newseum, Politifact, NNEDV, Ben's Chili Bowl and a host of DC Tech
Startups including Upside Travel, TwentyTables, Fanamana, Eyrus and
HSA Coach.
Client Focus:
Midmarket ($10M – $1B)
Small Business (<$10M)
iOS & Android App Dev for Live Streaming Service
Mobile App Development,  $50,000 to $199,999, Dec. 2018 – Aug. 2020

Project Summary: 3Advance Apps rewrote a sports
streaming technology company's apps, moving in two phases. In the
first, they worked with a Wowza-based SDK, and the second involved a
Softvelum-based SDK.

Reviews:


Because the internal team fully scoped out the project specs,
3Advance Apps primarily focused on executing the apps and
providing additional post support. The revamped apps went live to
a few user issues and bugs, which was a testament to their coding
skills.
Founder, Live Streaming Service
Quality: 5.0, Schedule:5.0, Cost: 4.5, Willing to refer: 5.0
---
3. KitelyTech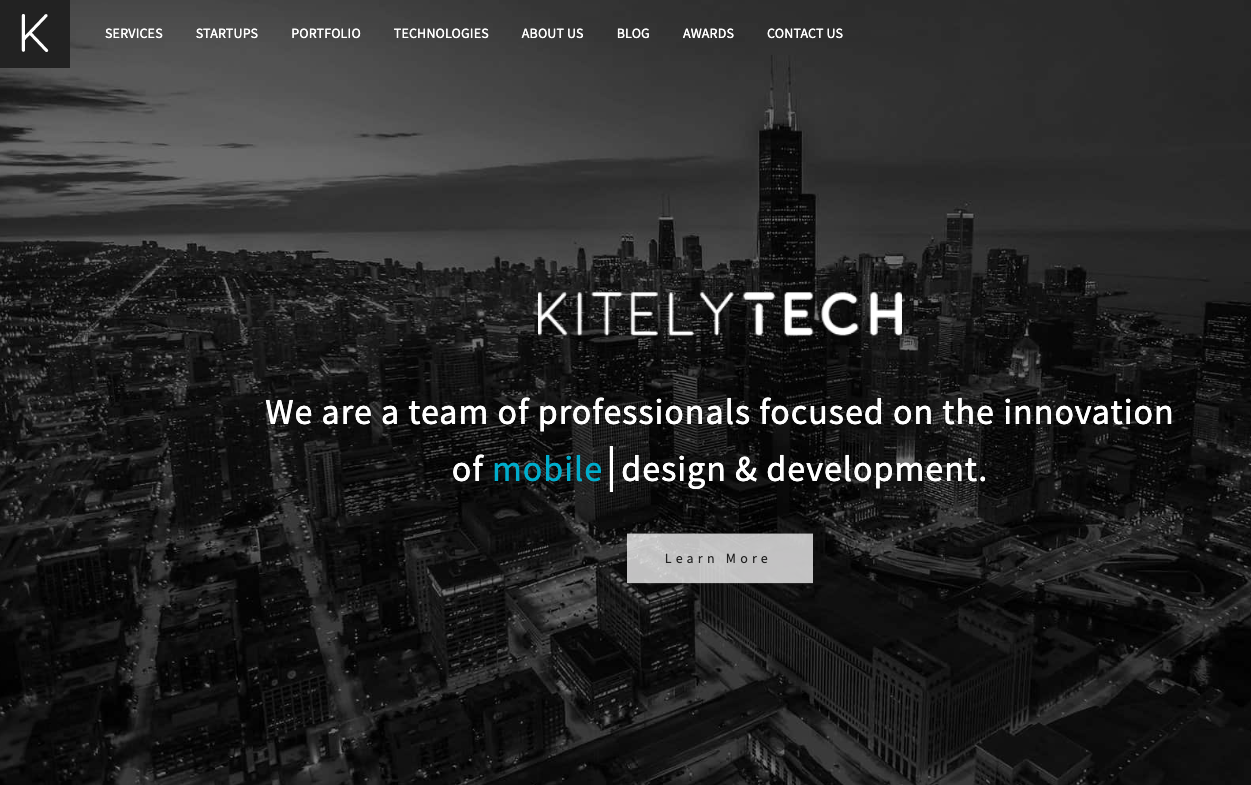 KitelyTech is a full-service technology consulting, design &
development firm with offices in downtown Chicago, New York City, Atlanta,
Detroit, Austin, Charlotte, Phoenix, and Miami. Founded by two veteran web
design/development professionals, who offer a variety of IT solutions for
businesses large and small. The team takes pride on being well-versed in
every aspect of revolutionary web technologies, combined with unparalleled
design capabilities. Apart from that, KitelyTech's mission is simple: set
industry standards in web design, web development, branding, mobile
application development, custom software, and SEO services. They strive to
bring each project to life for their clients' with unique content &
design sensibilities. The company ensures to treat every client equally,
so that they love every moment spent working with them. Here are the
following reasons why we put KitelyTech in Top 5 App Development Companies
list.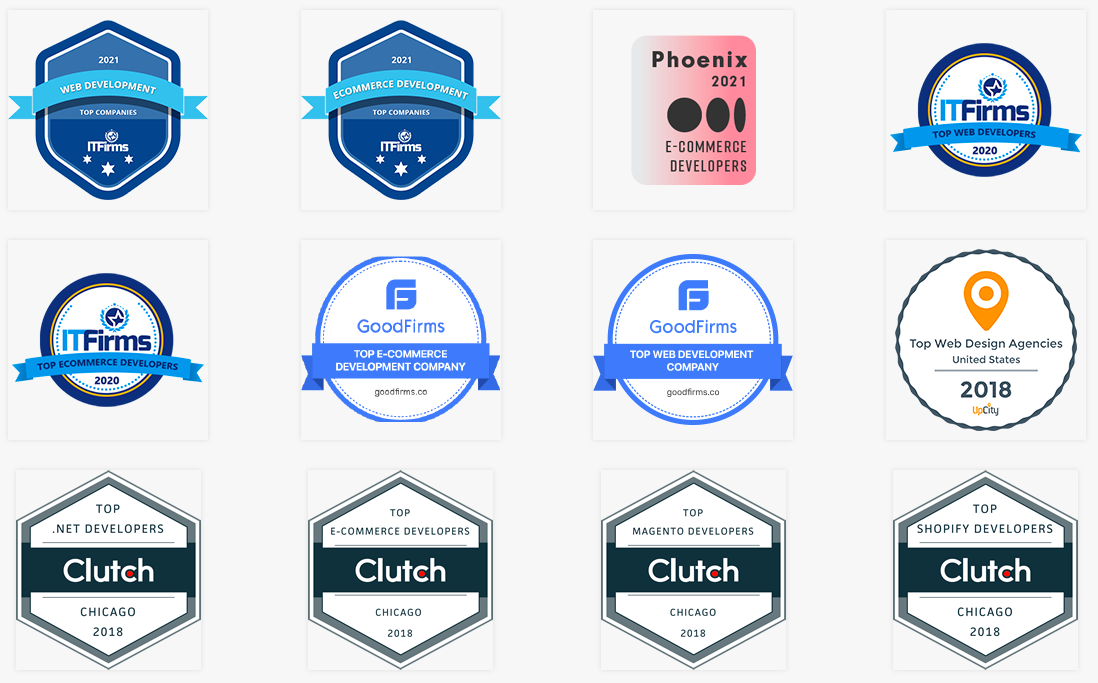 Key Clients:
Clients ranging from Startups & SMB's to Fortune 500's
Projects & Reviews:
Web Dev & Social Media Marketing for Security Company
$10,000 to $49,999

a) Project Summary: KitelyTech managed full-stack
development of a website to modernize a web presence for a security
network company. They created content and direct social media marketing
campaigns to improve online visibility.

Review:

KitelyTech delivered a superior website and effective social media
initiatives that successfully increased the number of website visitors.
The team is knowledgeable and provides insight into processes, which
guides the engagement. They are flexible and produce valuable
deliverables.
iOS App Dev for Job Application
Startup $50,000 to $199,999

b) Project summary:
KitelyTech managed full-stack development of web and iOS apps for a
job application platform. They built features including chat functions
and an admin panel. They adapted a website to integrate with the app.

Review:
KitelyTech delivered an impressive platform that exceeded the
expectations of internal stakeholders. The team was accessible and
ensured transparency by offering tools that provided visibility into
the product's progress. Additionaly, their flexibility and
responsiveness enable continued collaboration.
---
4. Blue Label Labs


Blue Label Labs is a 64-person digital product strategy, design and
development agency based in New York City, Seattle and San Francisco. They
partner with ambitious companies, brands, and founders to build over 350
products across a multitude of devices. Founded in 2010, and had assembled
an award-winning team of designers, developers, product managers and
marketers. With their collective experience, expertise and deep level of
understanding across multiple industry verticals. As a result, they are
continually pushing the boundaries of digital product development to push
physical boundaries. Along with that they have learned a lot by focusing
on WHY something is fun and entertaining can it grow exponentially.
Knowing WHY is important because in order to make something fun, something
has to be made fun first.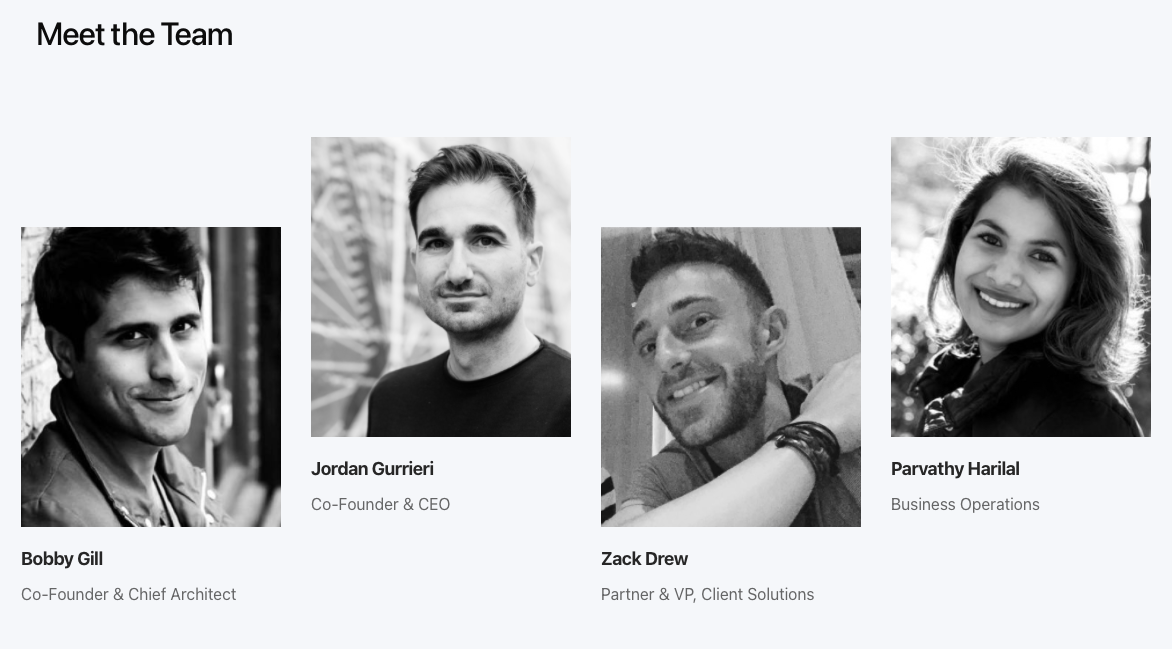 "In addition to delivering a top-notch product, Blue Label Labs is
very proactive and organized when it comes to managing projects.
However, apart from
software development they've provided invaluable business development
support– a welcomed surprise from a vendor in their industry." Jeff
Lyman, Founder & CEO @ Tonquin
Project Starting: $75,000+
Hourly Rate: $100 – $149/hr.
Team Size: 50 – 249
Founded: 2009
New York, NY
Bloomberg News; Microsoft; Google/Alphabet; Fender; PayPal; United
Nations; iHeart Media; Major League Baseball Player's
Association; El Dorado Airport; Hello Sitter; Magic
Money; Muncheez; HowUdish
---
5. TechAhead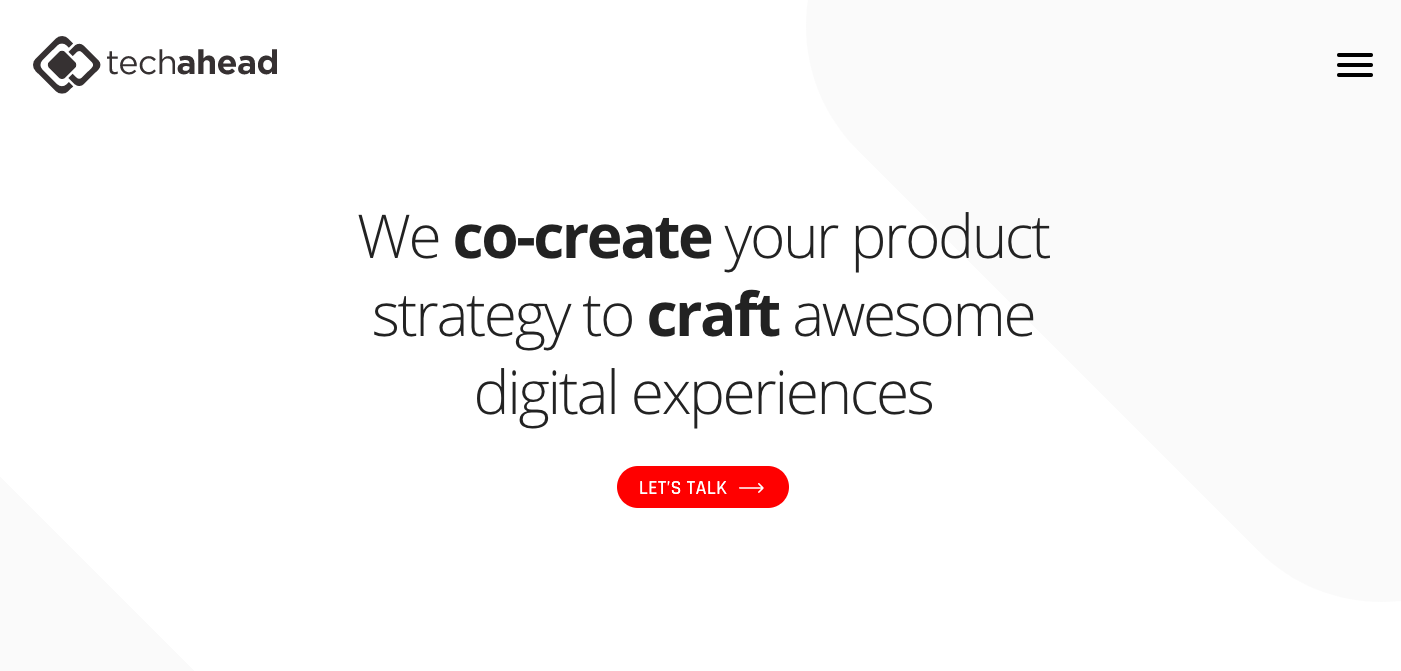 TechAhead is your partner in Mobile App Development that is trusted
by Fortune 500 companies to Startups. Founded in 2009, and is a team
of 150 people spread across two locations (Agoura Hills, California
and New Delhi, India). However, the team is effectively working with
a decade-long proven track record in engineering innovative, robust,
and scalable apps at speed. Being an early-stage company with an
interest in technology, they bring insights derived from experience
across the industry. Thus, it allows them to build a high-quality
applications for Accounts Receivable, Import/Export, CRM, Payroll,
eCommerce and other departments. Their whole team works hand in hand
with clients and provide solutions that address their business
issues.

Key Services:

Strategy and Discovery. User Experience Design. Scalable
Architecture Design. Native and Cross-Platform App Development.
React Native and Flutter App Development. Custom Backend
Development. Responsive and Progressive Web App Development.
Application Security. Performance Engineering. Analytics.
Maintenance.
IoT (Alexa. Google Home. Home Kit. IFTTT. BLE.
iBeacons. Wearable Apps. Raspberry Pi. Arduino)
Cloud (Serverless Architecture. Cloud Monitoring
and Maintenance. Managed support for Azure and AWS. Cloud Migration.
DevOps)
Partnerships:
Greater Conejo Valley Chamber of Commerce. Microsoft Gold. AWS.
Xamarin Consulting. Google Developer Agency.
Clients:
LafargeHolcim. Audi. AXA. Allianz. Disney. American Express.
International Cricket Council. The Healthy Mummy. CDR. Volatiles.
Heatmiser. Rosy Blue. Rapnet. PikMyKid.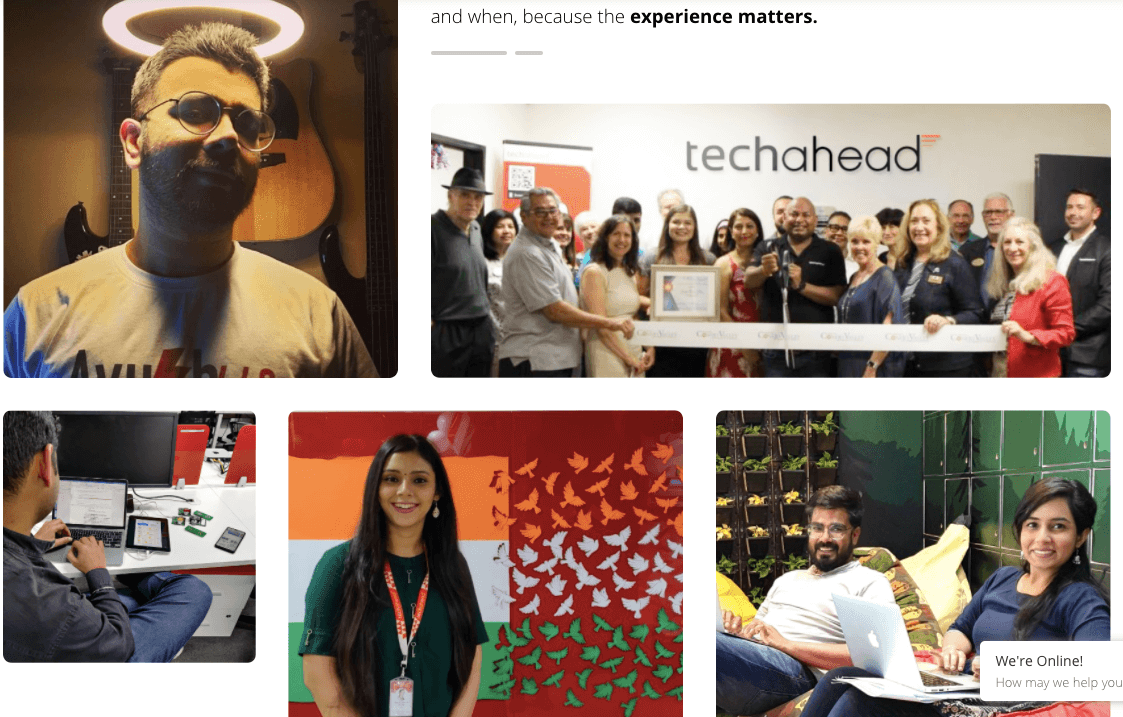 AXA, Allianz, American Express,
Disney, AUDI, RosyBlue, LafargeHolcim, The Times Internet
Group, ESPN F1, The Healthy Mummy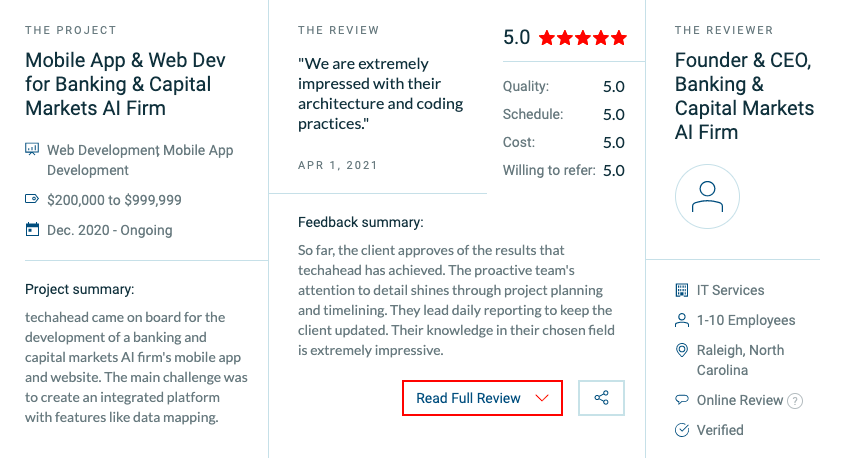 ---
6. Cubix
Cubix is a leading mobile app, games and enterprise software
development company! They create innovative mobile products
& software solutions, customizing them for clients'
needs. Whether you're looking for a highly successful app
that has been downloaded millions of times across the globe,
or a simple game that would do wonders to your family time,
the team can help you achieve anything great. The company is
based in New York City with offices all over the world.
Therefore, with their quality work and customer services,
they became one of top 5 app development companies based on
their customer reviews.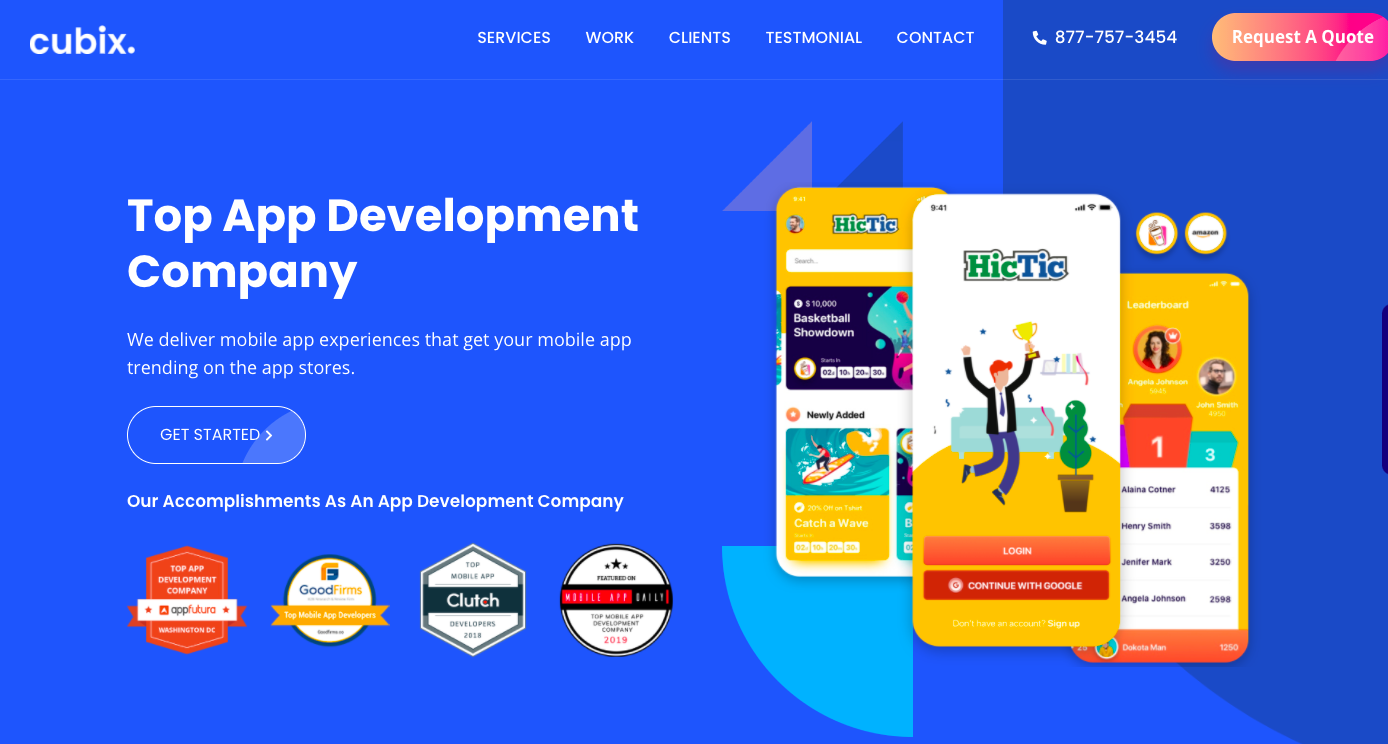 Services:

Mobile Product Strategy
Native iOS and Android App Development
React Native Cross Platform App Development
Mobile 2D and 3D Game Development
Augmented and Virtual Reality
Artificial Intelligence and Machine Learning
Web and SAAS platform Development
E-Learning Solutions
UI and Front-End Development
Testing and Quality Assurance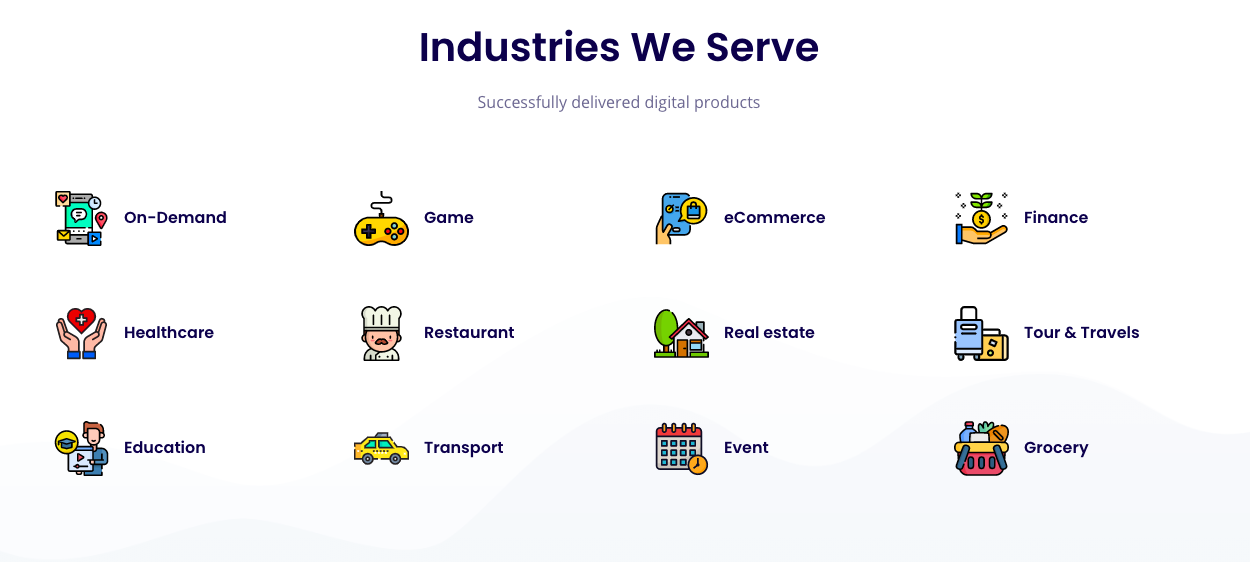 Key Clients:
Some of their key clients are Politico, Wallmart, Tissot,
Sapient, Dreamworks, Canon, Data stream, Artizone, White
castle, Suzuki, Sony, Paypal, Quaker, Rayban.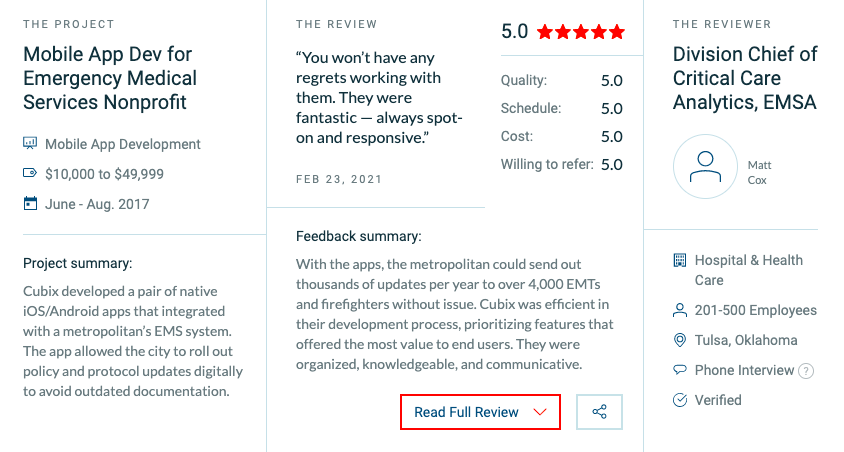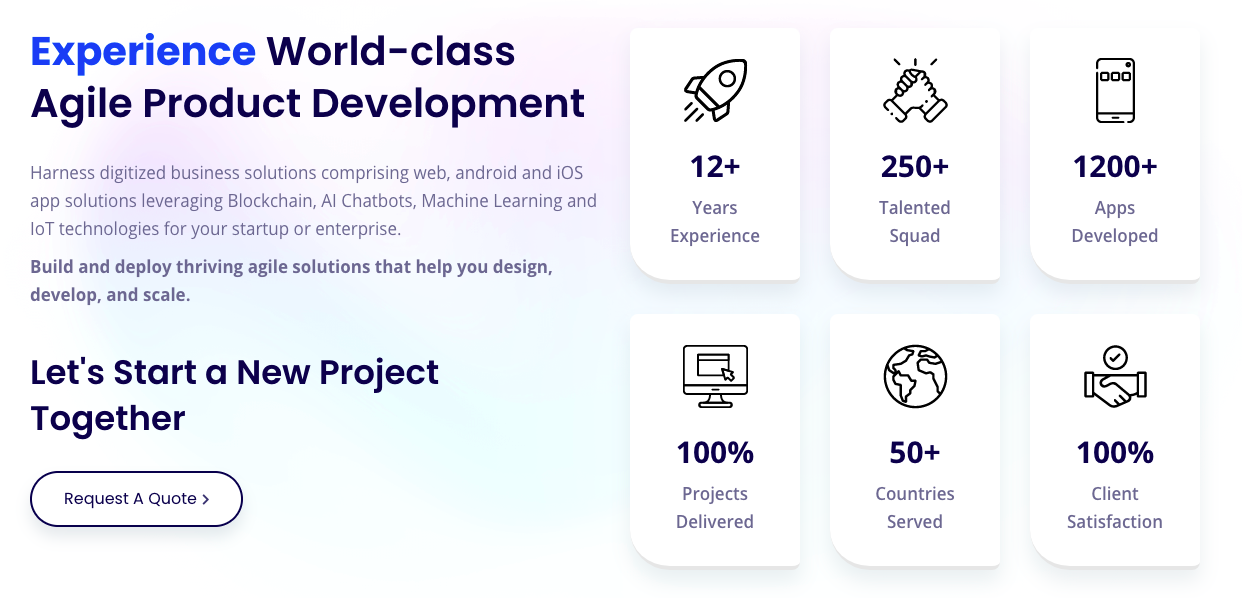 ---
Conclusion
Hope the list yields results for you and ease your search
process for the best
app development companies
in your area or globally. Thus, Supersourcing prepared this
list based on the companies clients/customer reviews to
provide you with the genuine and reliable details mentioned
by the clients themselves.

However, all these companies believe in covering all
aspects of work in their report to find and place the
best app developers
the clients can choose from. The companies listed above as
the top app development companies offer persistent,
attractive, and robust application development solutions
to consumers worldwide.