Table of content
It is never easy for a customer to look for an IT company that will fulfill all their IT related specifications exactly how they want. Most of the customers seeking information about such firms are left disheartened in the initial stages itself. Budgetary restraints and bad insufficient quality of work happen to be the top reasons responsible as deal-breakers for the customers.
At Supersourcing, we recently conducted a research to find out the most trustworthy mobile app development companies of USA. Before proceeding further with the thoroughly researched article, please note that this is an independent research and Supersourcing is not associated with any company mentions here. Supersourcing.com is an idea exclusively designed to help customers find the right service providers for all of their IT solutions.
We shortlisted the following 15 companies, as these were amongst the top featured mobile app development companies according to the leading platforms Clutch and Goodfirms.
We went through various attributes of data like- customer reviews, prices and budget, Glassdoor employee satisfaction, portfolios, etc. We even downloaded the mobile apps developed by them and checked their UI/UX and design quality, read about the app reviews, and more. The idea behind this research was to find the best mobile app development company for- Customers, who want to outsource IT solutions and work, and Employees, looking for a stern career growth.
Without taking much of your time, we introduce you to the leading mobile application development company- WillowTree!
---
WillowTree
1. About WillowTree:
WillowTree is an enterprise mobile app development company that creates beautiful digital products engineered to drive growth for the world's leading brands. However, if you are a startup company with a low budget, they are not the right company to approach.
Minimum Budget

$ 100,000+

Prices (per hour)

$50 – $99

Total Employees

50-249

Founded in

2007

Headquarters

Charlottesville, USA
At WillowTree, we bring our clients' ideas to life — digitally.
Back in 2008, WillowTree started with three members who built mobile apps for customers. Today, they have 420+ full-time team members working in various domains. They have developed over 600 apps, web projects, in IoT and bots for leading companies around the world! Mobile apps developed by them impact millions of users. WillowTree ensures that the userbase of their clients experience the best. They design & develop products to enhance people's lives. They foster a collaborative environment, taking continuous feedback.
WillowTree focuses on continuous learning, improvement and big opportunities to have a meaningful impact. And of course, they write a lot of code! They are the experts when it comes to stage-wise product creation. The result is a great digital and user experience. At WillowTree, there's always something new and exciting to work on, and the results of their efforts get shipped to users' devices every day.
2. Clients of WillowTree:
WillowTree's major customers are enterprises having 100Mn-Billions of revenue!
3. Customers Reviews for WillowTree:
"WillowTree is a great partner and brings a lot of mobile expertise to the table. They are truly committed to the success of the project and work closely with our team."
– CTO, BabyCenter LLC, Johnson & Johnson
"I really enjoy working with the WillowTree team – they are flexible, proactive, and most importantly committed to our joint success.  They have helped us take the Wyndham Rewards App to the next level."
– Director, Mobility and Personalization, Wyndham Hotel Group
"Our audience expects high standards…solid technology, design, and creativity. We needed a mobile partner who could do more than simply implement what we communicated – we found that in WillowTree."
– Chief Product Officer, Vox Media
---
4. Service Offerings:
Product Strategy
Prototyping & Concept Development
Product Design
iOS App Development
Android App Development
Web App Development
Bot and Conversational Interface Development
Interactive TV Development
Xamarin Development
SAP Development
Quality Assurance & Testing
Mobile Backend Engineering
Security & Compliance
App Analytics and Marketing
---
5. An Excerpt from the Portfolio:
Client 1: Locushealth:
Bridging the Gap Between Hospitals and Home.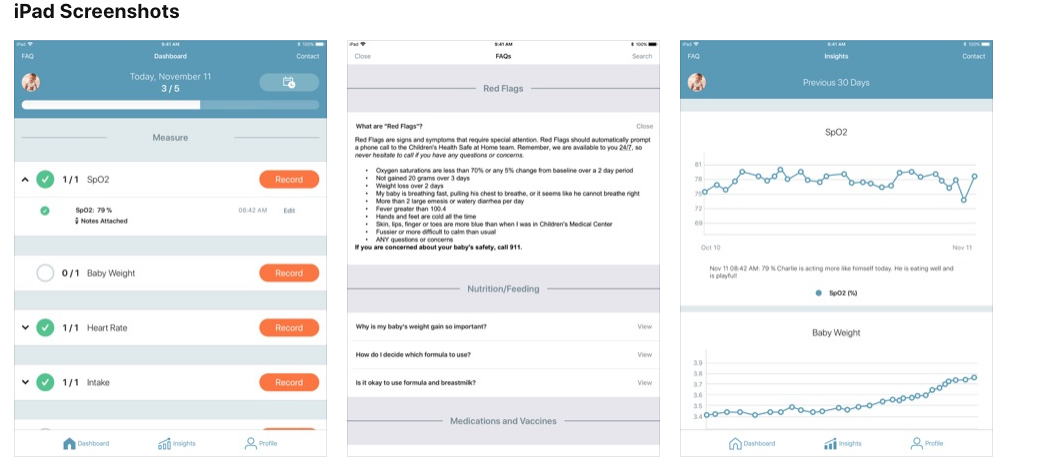 Locus provides a tailored remote monitoring and engagement platform that creates a meaningful connection between patients and their clinical care teams. WiloowTree partnered with health systems from initial consultation to implementation and deployment, making the promise of care management at home an affordable reality.
Willowtree converted their web dashboard to iOS App and iPad App.

IMPRINT is a tablet-based remote care communications platform designed to improve the home monitoring of medically complex populations, and the engagement of their caregivers when these patients are at their most vulnerable.
A. Key Features of LotusHealth-
Patient submission of condition-specific data via self-reporting
Flexible task creation for patient engagement
Secure dashboard views of real-time patient trends for patients and clinicians
Educational content and Frequently Asked Questions (FAQ) tailored to the patient's condition
HIPAA compliant, secure connection
B. Client's Testimonial by LotusHealth-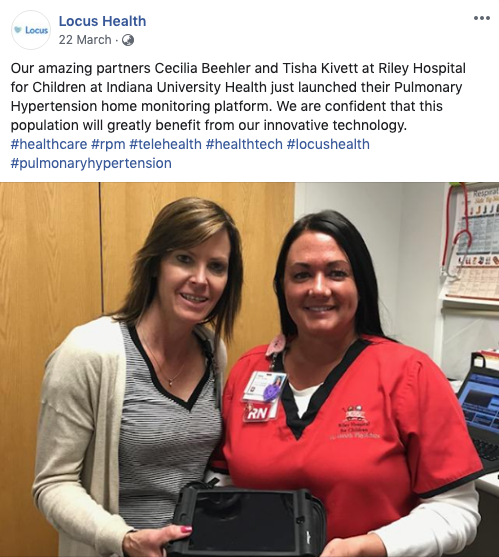 C. Version Updates of LotusHealth-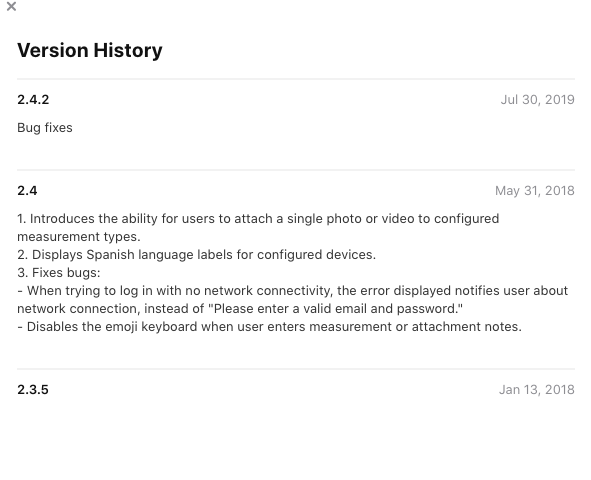 ---
Client 2: Helping UK Based Retailers to Enter in USA Market:
Based on this case study available on their website, they created a web and mobile presence for their client. It took them almost 2 years building the product and optimizing to make it ready to scale. Meanwhile, the client opened 75 stores and grew exponentially. Of course, WillowTree's team was backing them entirely.
---
6. Awards:
WillowTree was recognized by Inc. 5000 as one of America's fastest-growing private companies for an 8th consecutive year! Check out the link here- 2019 Inc. 5000: The Most Successful Companies in America
They have also been recognized by Fortune for the second year in a row!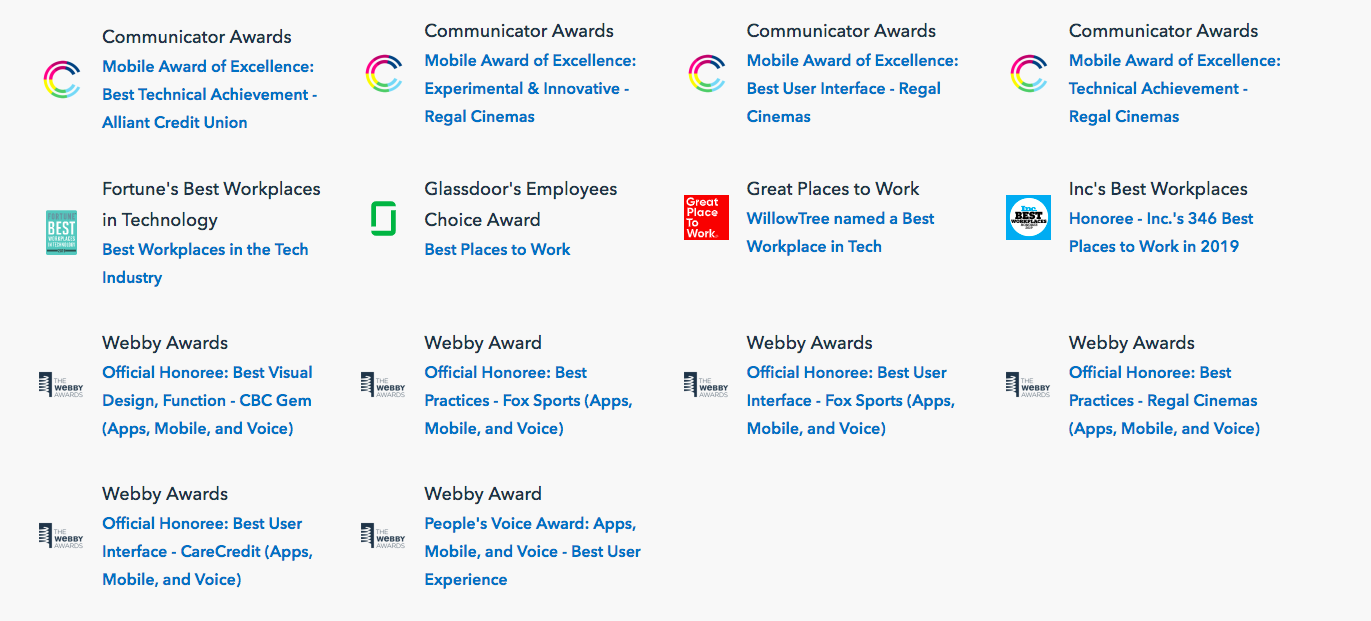 ---
7. Interviews: Video Testimonials
If you looking to Join WillowTree, these 2 videos can help you make your decision. You can also contact the employees directly depending on their personal capacities to answer. Amongst the team, some 384 people are there on Linkedin.
Michael Prichard, Founder of WillowTree:
---
The Employees at WillowTree
---
Summing up..
When the product and pricing are perfect and a company wants to scale, tech is where they'll be needing most of their support. Without a great product, all marketing efforts go to waste. Meanwhile, a great product with great marketing gives exponential results.
WillowTree is one such company that caters to all the aspects to the development of a web/app product. If you liked this review by Supersourcing.com and would want us to do more, please let us know in the comments sections.
---
Recommended Reading-
---