We have articulated this article on the top web development companies in the USA, after thorough research from various credible sources. There is probably no industry or business left by now that haven't yet figured out a way to take their business to a new height with modern marketing and business ventures. Profit-making models include digital marketing, automation, e-commerce, subscriptions, and many more. But the number one requirement of any business to explore online ventures is- building a website.
Why Do You Need To Be Careful While Looking For Web Development Companies?
Did you know that there were 1,518,207,412 websites in the world as of January 2020? If you wish to take your business to the next level, an MVP won't cut it. As this huge industry is continuing to grow, the competition will get tougher as more companies will emerge. According to
Hosting Tribunal, the number of web developers in the US in 2018 was already 23 million! As a customer, when you have a lot of options, even then it sometimes gets difficult to pick the company that will suit your needs the best.
The statistics are quite scary too.
The figure indicating losses per year due to a slow-loading website is quite shocking. It's $2.6 billion! And guess what, a slow loading website happens to be just one of the reasons why your business might face losses. There's a lot more technicalities involved in the IT industry. If you want your website to stand out from all the others, you will have to bring the 'wow' factor in. A lot of digital projects fail due to an agency's lack of understanding of the business model and value proposition. Web development companies should always look for a way to mitigate the risks by placing focus on the client and his business over money and technology.
And this is exactly why we have come up with the curation of this list with 2020's Top 10 Web Development Companies in the USA.
We have curated this information from a bunch of trusted sources- Clutch, Linkedin, Wikipedia, Google, Crunchbase, etc. The thorough discovery process will enable you to review the business plan while presenting relevant research and grasping your brand before we identify the most suitable solutions to problems. Ultimately, this will allow us to answer strategic questions concerning your product vision, target market and more.
Let us take a look at the curated list of the 2020's Top 10 Web Development Companies in the USA
In 2008, the three founders began building mobile apps the day the iOS SDK was released. Today, the 300+ full-time team members have launched over 500 apps, websites and bots. They are driven by a simple goal: amaze the clients by delivering high quality digital products that solve their business needs, and ensuring that the projects run smoothly, strategically and predictably.

| | |
| --- | --- |
| Number of Employees | 251-500 |
| Headquarters | East Coast, Southern US |
| Founding Year | 2007 |
| Founders: | Michael Prichard, Tobias Dengel |
| Locations: | Durham, Brooklyn and Charlottesville |
Today, they have the highest team satisfaction in the web development companies industry, independent analyst recognition, and an ever-growing list of delighted clients who work with them again and again, supported by an industry-leading, independently-verified Net Promoter Score of 77% (vs scores below 20% for many of the competitors in the same study).
The Silicon Valley mindset of rapid prototyping combined with user research and iteration to achieve breakthrough results in short engagements. While the clients define their north star metrics for acquisition, retention, conversion and customer lifecycle value — WillowTree helps align the technology, customer data capture and marketing execution. The modern web isn't just for static websites and content. It's the most open, flexible, and immediately accessible application runtime available today. Their mobile strategy is to dive into the business model, market challenges, and product positioning while helping their customers create a product that delivers a very unique value.
For product design, their team cares for the user's experience over the entire customer journey. Their development teams stay lean and rapidly deploy customized solutions for each client while constantly learning from and challenging each other. They even have a Growth Marketing strategy because they believe that their users deserve brand engagements as unique as they are.
WillowTree has won dozens of awards since 2011. Naming some of them here- Mobile Award of Excellence: Best Technical Achievement by  Alliant Credit Union, 3 Mobile Awards of Excellence for- Experimental & Innovative, Best User Interface and Technical Achievement by Regal Cinemas, Fortune's Best Workplaces in Technology, Glassdoor's Employees Choice Award for Best Places to Work, Honoree – Inc.'s 346 Best Places to Work in 2020 and multiple Webby Awards over the years.
Client Testimonials-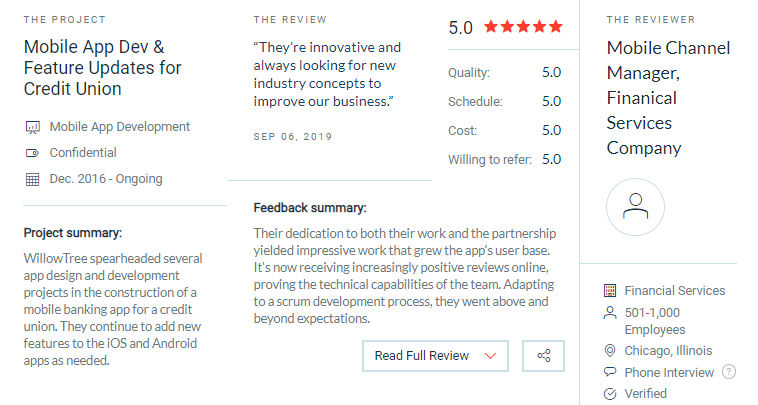 Contact WillowTree-
Website:

www.willowtreeapps.com

Facebook: View on Facebook
Twitter: View on Twitter
Contact Email: info@willowtreeapps.com
Phone Number: (888)329-9875
Rightpoint is an independent customer experience agency with technology at its core. They create impactful digital experiences driven by insight, strategy, design, and technology to help clients succeed at the speed of innovation. Rightpoint currently serves more than 250 Fortune 1,000 companies and has been named one of Crain's 50 Fastest Growing Companies in Chicago for four consecutive years! Rightpoint is a huge independent agency with 400+ employees across their 10 offices- Atlanta, Boston, Chicago HQ, Dallas, Denver, Detroit, Jaipur, Los Angeles, New York and Oakland.

Number of Employees
251-500
Headquarters
Greater Chicago Area, Great Lakes, Midwestern US
Founding Year
2007
Founders:
Brad Schneider, Ross Freedman
Location:
Atlanta, Boston, Chicago HQ, Dallas, Denver, Detroit, Jaipur, Los Angeles,
New York and Oakland
Their focus is on digital transformation since technology is driving exponential growth in consumer expectations and most organizations can't keep up. Right Point helps their clients thrive in their market by leveraging data to inform strategy, adopting agile processes to increase speed to market, approaching customer and employee experiences like a product that is forever beta. They excel in customer engagement, commerce, digital workplace experience, mobile application development, healthcare and medicine, innovation and emerging technology and digital operations.
Their capabilities as a full service digital agency are immense. Right Point uniquely provides their clients with integrated multidisciplinary teams across these five areas-
Insights:

Data & Analytics Strategy, Data Management, Data Science & Advanced Analytics and Information Governance.

Strategy:

Brand Strategy, Digital Transformation Road-maps, Change Enablement and Competitive Bench-marking.

Design:

Concept Prototyping, Experience Design, Experience Mapping and Information Architecture.

Content:

Content Audit and Analysis, Content Modeling and Migration, Content Optimization and SEO, Contextual Content and Personalization.

Engineering:

AR/VR, Content Management Systems, Conversational UI/Voice/Bots and Custom Business Applications.
Their software partners include Microsoft. It's noteworthy that they're one of only 5 members of Microsoft Customer Engagement Alliance National Solution Providers, a Sitecore Platinum Partner, an Episerver 2017 Strategic Partner of the Year, a Salesforce Partner, and one of the original 13 companies in the world recognized as a certified Google Developer Agency
. They have also teamed up with these top industry innovators-
Akumina, Amazon, Apple,
Brightcove,
Cloudcraze,
Coveo, IMO, InRiver, Insite, Akumina, Nintex and Square.
Client Testimonials-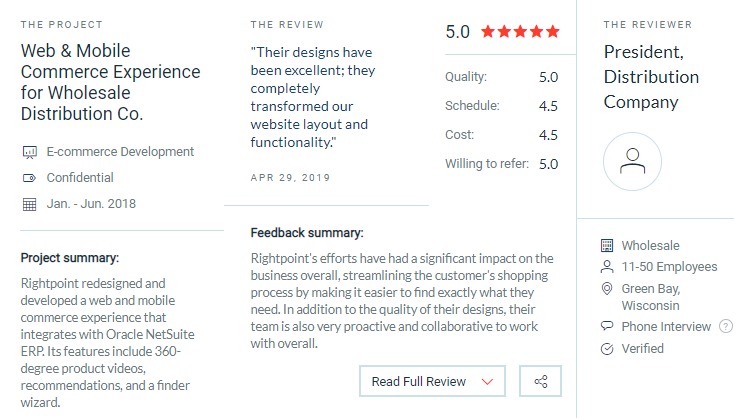 Contact Right Point-
Website: www.rightpoint.com/
Facebook: View on Facebook
Twitter: View on Twitter
Contact Email: contact@rightpoint.com
Phone Number: (312)920-8383
Fingent is a global leader in custom software development and technology consulting. They solve complex business challenges through enterprise web and mobile solutions. Their tagline is-'Technology For Smarter Business'. Established in 2003, Fingent has 20+ expertise across 20+ industries. The active client base spans across 4 continents and 14+ countries. Since their inception in 2003, they have pioneered custom solutions that have become central components in their clients' business success. Their vast technology and industry expertise enables them to partner with clients to deliver sophisticated solutions rapidly and on budget.

| | |
| --- | --- |
| Number of Employees | 251-500 |
| Headquarters | Greater New York Area, East Coast, Northeastern US |
| Founding Year | Aug 2003 |
| Chairman and CEO | Varghese Samuel |
| Locations: | NYC, Cambridge, Dubai, Kochi, Melbourne and Trivendrum |
They started operation in New York, with the vision of helping organizations solve business challenges using technology. "Adopting the right technology practices have always been the center of business success. However, organizations have continuously failed to understand the implications and efficient use of technology. We wanted to help these organizations overcome such myopic practices and empower them with a smarter future" – Varghese Samuel (Chairman And CEO Fingent Corp).
Fingent Timeline–
2006

: Established a dedicated Research and Development Centre in India, focused on creating innovative processes and technology solutions. To maximize the value they delivered to clients, they expanded their service portfolio to include technology solution development and implementation.

2008:

Foothold into the Real Estate industry with customized property management and property maintenance solutions.

2010:

Improved their expertise across 6 major industries- Retail, Healthcare, Real Estate, Finance, Education and Media. Rolled out Key Strategic Business Units to help organizations streamline their functions- Microsoft, Open Source, UI/UX, Enterprise Mobility, Infrast… (

Read More

)
Fingent believes in four islands of success that drives their growth. They are the trusted partner for some of the world's leading enterprises and businesses and have helped bring ideas to life while building sustainable business practices across industries. Their clients include- Sony, Johnson & Johnson, NEC, PWC, AFCO,
Lindsey Jones University, etc.

Client Testimonials-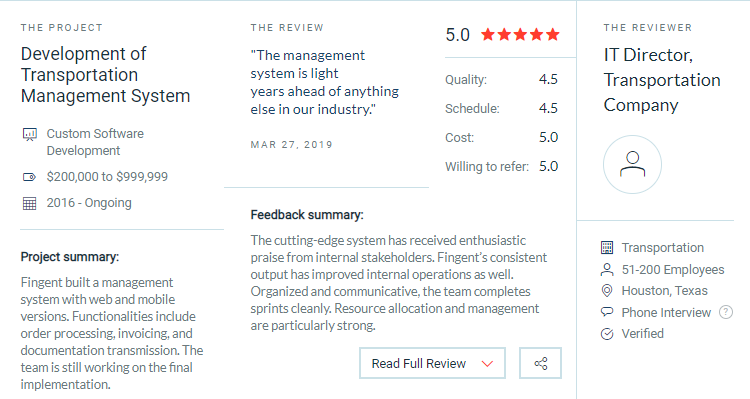 Contact Fingent-
Website:

www.fingent.com

Facebook: View on Facebook
Twitter: View on Twitter
Contact Email: info@fingent.com
Phone Number: +1 (914) 615-9170
Contact Fingent-
Website:

www.fingent.com

Facebook: View on Facebook
Twitter: View on Twitter
Contact Email: info@fingent.com
Phone Number: +1 (914) 615-9170
While shortlisting the best web development companies, Unleashed Technologies sure cannot be missed out on! With experience of over 11 years now, Unleashed Technologies has served more than 100 clients and built more than 400 websites and applications. Their services include Web Management, Web Design & Theming, Web Development, Progressive Web Applications, eCommerce, Digital Strategy, Web Hosting and Cloud Hosting.

| | |
| --- | --- |
| Number of Employees | |
| Headquarters | Greater Baltimore-Maryland Area |
| Founding Year | 2007 |
| Location: | Columbia |
Unleashed Technologies is a leader in open source technologies, specializing in developing custom web and hosting solutions that empower businesses to do more with less. Their Drupal, Magento, WordPress, and performance hosting experts have contributed to countless articles, videos, and events – sharing their knowledge. They have extensive experience in domains like Military Nonprofits, Nonprofits, Professional Services, Publications and Retail
Unleashed Technologies is a client-centric team of professionals with a passion for creating, enhancing, and managing award-winning websites and digital experiences.  As a recognized global leader in development and design, their proactive growth model empowers clients to exceed their goals while integrating Unleashed Technologies's team with theirs. They combine powerful technologies, stunning visuals, and innovative strategies to tell the client organization's story while delivering data-driven results. They combine technology, creativity, and strategy to transform the clients' audience from visitors into evangelists.
The team is recognized by Clutch.co as a Global Leader and ranks #15 on the Clutch 1000. Unleashed Technologies ranks number 3097 among the top 5000 fastest-growing private American companies with a three-year sales growth of 112%.
Client Testimonials-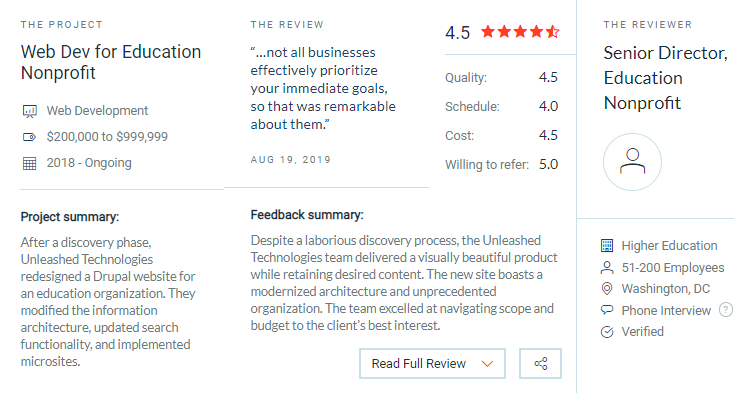 Contact Unleashed Technologies-
Website: www.unleashed-technologies.com
Facebook: View on Facebook
Twitter: View on Twitter
Contact Email: sales@unleashed-technologies.com
Phone Number: +410-864-8980
TSH is a software development company that builds custom web and mobile apps for those who expect more. Their work has been featured in: Techcrunch, Business Insider, Forbes, Bloomberg and Reuters. With 129 employees working under one roof, The Software House has delivered 150+ projects. And with 2000 meetup followers, their software development meetup is the biggest one in the region! The Software House is among the 50 fastest growing tech companies in Central Europe as per Fast 50 Deloitte. They have a 5 star rating on Clutch.co.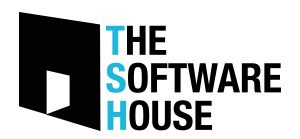 | | |
| --- | --- |
| Number of Employees | 51-100 |
| Headquarters | European Union (EU) |
| Founding Year | 2012 |
| Location: | Cracow, Gliwice |
Their services include-
Web development

(Symfony, Node.js, React,Angular, Vue.js and Laravel),

Mobile development

(iOS, Android and React Native),

Digital product design

( Project workshops, UX/UI design and Visual brand identity),

Quality assurance

(Software testing, Test automation and Support and maintenance)

Cloud & DevOps

(Scalable servers on AWS & GCP, Docker containers and Kubernetes orchestration)
The TSH development process is based on agile methodologies like Scrum. With regular project updates, live demos and the best communication tools, they make sure that the client is up-to-date with everything.For technology stack, instead of covering every framework possible, they excel in technologies which are truly battle-tested: Symfony, Laravel, Node.js, React, Angular, Vue.js, iOS and Android. All the web development companies can provide you with frontend and backend development. But TSH does more than that!
Their independent DevOps unit takes care of server architecture – making it stable, secure and scalable. Quality assurance is an important part of the development process. This is why, apart from manual tests, TSH performs automated ones – using their custom E2E testing framework Kakunin. Their office is full of brilliant people too! Among them are tech evangelists giving lectures at the biggest meetups in Poland and the creators of open-source tools loved by developers around the globe.
Client Testimonials-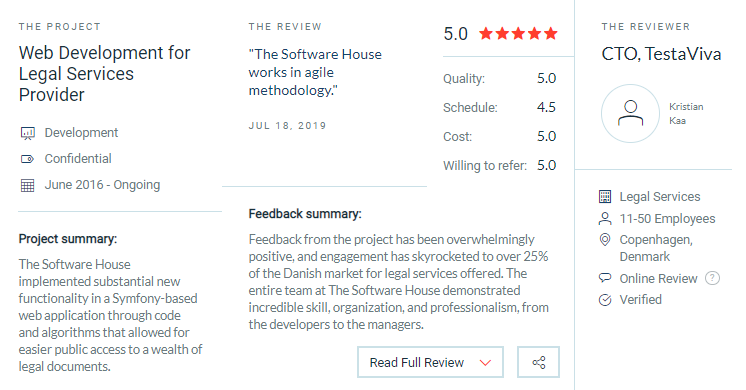 Contact The Software House-
Website: tsh.io/
Facebook: View on Facebook
Twitter: View on Twitter
Contact Email: sales@thesoftwarehouse.pl
Phone Number: +(646) 593-7528
Recommended Reading for you-
Netguru provides consulting services in product development, creating software solutions, and product design. Since their founding in 2008, they've delivered over 200 projects for clients ranging from major corporations to early-stage startups, working across industries such as finance, security, healthcare, or lifestyle. Since the beginning, their main goal was to help entrepreneurs build new software solution that matters- building and shipping products that are helpful for people. They're a team of over 500 people including web and mobile engineers along with project managers, quality assurance specialists, product designers, and support staff.

| | |
| --- | --- |
| Number of Employees | 501-1000 |
| Headquarters | European Union (EU) |
| Founding Year | 2008 |
| Founder: | Adam Zygadlewicz, Kuba Filipowski, Wiktor Schmidt |
| Location: | Warsaw, Kraków, Wrocław, Gdańsk and Białystok |
Netguru builds digital products that let people do things differently. When clients share their challenges with the team, Netguru works with them to deliver a revolutionary digital product. Their clients have changed the way people do banking, listen to music, learn languages, and rent bikes. Their products have been featured in TechCrunch,Business Insider, and Product Hunt. Netguru company has been recognised in many rankings of the fastest-growing companies in Europe, for instance, in Deloitte's Technology Fast 50 (three times) andFT1000 by Financial Times (twice).
Their tech stack includes- Ruby on Rails, Node.js, React.js, React Native,Kotlin, Vue.js, Python, Django and Elixir. The list of services provided by them is extensive too- Software development, enterprise software development, bespoke software development, Custom software development, Cloud-based application development, Mobile development, Custom mobile applications, iOS and android app development, enterprise mobile app development, progressive web apps, web development, Front-end development, Flutter mobile development, Product design sprint, UX review, UX design, illustration services, machine learning, data annotation, business intelligence, DevOps, quality assurance, scoping session, digital transformation and Fintech.
Client Testimonials-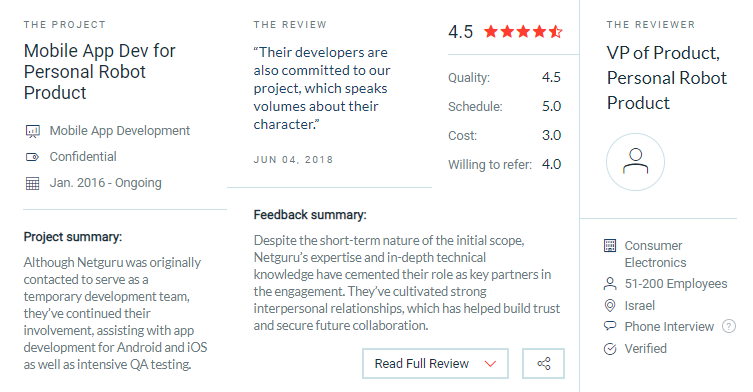 Contact Netguru-
Website:

www.netguru.com

Facebook: View on Facebook
Twitter: 

View on Twitter

Contact Email: hi@netguru.co
Phone Number: +48884382983
Within 20 years of professional journey, Merix Studio has provided high-quality design and development services for 200+ clients from a large variety of market segments. It is one of the most diverse web development companies out there! Their diverse experience gives them a unique glimpse into different challenges- hospitality, travel, arts, sports, fitness, e-commerce, retail marketplace, digital signage,gaming and entertainment, education, healthcare, wellness, real estate, gambling and casino, fintech and finance.

| | |
| --- | --- |
| Number of Employees | 51-100 |
| Headquarters | Poznań, Wielkopolskie |
| Founder | Adam Sledzikowski |
| Founding Year | 1999 |
| Location: | Poznań, Wielkopolskie |
Their clients include DFJ, Divio, Sendinblue, GS1, FOX, The Independent, Juilliard, Toshiba and VW. They have won several awards and achievements– #1 Custom Software Developers in Poland, Top Web Development Companies 2020 and Top Python & Django Developers 2020 (Clutch), Awwwards Jury Member (5 years), Certified Scrum Masters, Certified UX-PM / UX Alliance. They also got featured in Smashing Magazine.
They use an extensive tech stack- Python, Django, JavaScript, React, React Native, Angular, PHP, Symfony, Vue.js, Node.js, Machine Learning, PostgreSQL, Docker, Jenkins, AWS, Flask, Laravel and WebSockets. Services include Product discovery, Product design, Software app development, Quality Assurance, Agile Project Management, Team augmentation and outsourcing, Digital Signage, Events,Dev College, Py_tej and Front Radar.
Client Testimonials-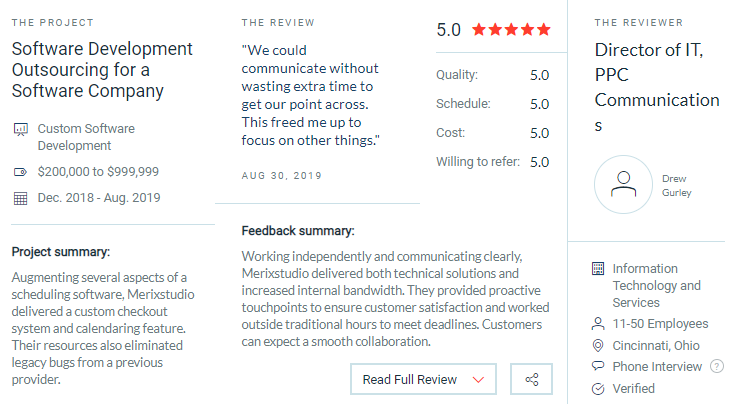 Contact Merix Studio-
Website: www.merixstudio.com
Facebook: View on Facebook
Twitter: View on Twitter
Contact Email: contact@merixstudio.com
Phone Number: +48570001928
Established in 1997, Urban Insight is a Los Angeles based digital agency with 20 professional staff and over 500 successful project launches! They handle everything from planning to design and development of innovative websites using open source web content management systems like Drupal and WordPress. They collaborate with clients impressively throughout the duration of the project. Once a client approaches, the team at Urban Insight learns about their organization and designs technology solutions that meets their strategic objectives.

| | |
| --- | --- |
| Number of Employees | 11-50 |
| Headquarters | Greater Los Angeles Area |
| Founding Year | Feb 1, 2000 |
| Location: | LA, San Luis Obispo |
Urban Insight has won the award for 'Outstanding Performance' at 'Top Web Developers of 2020' by Clutch, an independent research firm. Clutch in 2020 also ranked Urban Insight as #1 among 60+ Los Angeles web agencies, among the top 25 in the United States. Dun & Bradstreet Open Ratings 2018 placed Urban Insight in the top 3% per cent of technology firms nationwide for reliability, quality and performance. Urban Insight holds a U.S. General Services Administration Information Technology (GSA IT) Schedule 70 Contract.
The company provides exceptionally strong project management leadership to ensure the success of each project. Their structured, yet flexible process works so well, technical publisherAPress published their methodology in a book! They champion the clients' mission-focused organizations by creating beautiful and flexible websites and applications. It's possible because of their strong project leadership, honest advice, thoughtful design and technical best practices.
Our key clients include American Library Association, Causeway Capital Management, City of Los Angeles, CA, Gilcrease Museum of Art, Japanese American National Museum, Kennedy Wilson (NYSE: KW), Legal Services Corporation, Los Angeles County Museum of Art (LACMA), Planetizen, The Broad Museum, The Huntington Library, University of Southern California, University of Tulsa, USC Viterbi School of Engineering.
Client Testimonials-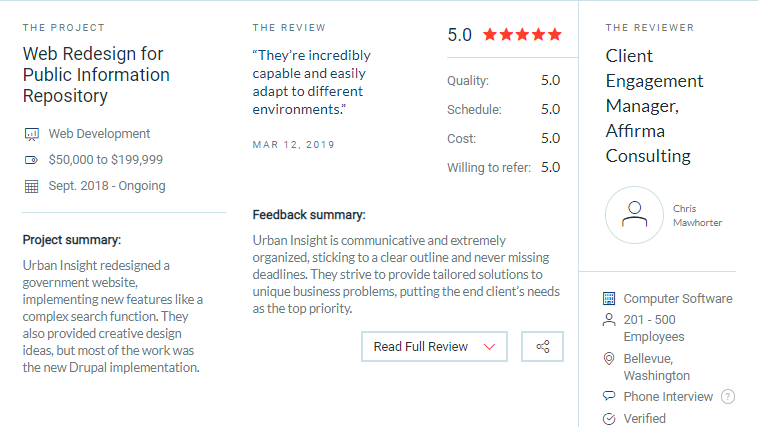 Contact Urban Insight-
Website: http://www.urbaninsight.com/
Facebook: View on Facebook
Twitter: View on Twitter
Contact Email: info@urbaninsight.com
Phone Number: 213-792-2000
Experion Technologies was founded in 2006. It happens to be a huge corporation with more than 500 employees. Experion Technologies has a strong digital focus with a direct presence in 8 locations. It has been providing IT solutions and services for more than 13 years now. Their products and custom applications have served over 130 customers across 26 countries.

| | |
| --- | --- |
| Number of Employees | 51-100 |
| Headquarters | Asia-Pacific (APAC) |
| Founding Year | 2006 |
| Founder: | Binu Jacob |
| Location: | United States, India, Australia, Kuwait, Germany, UK, Switzerland and the Netherlands. |
Experion is one of those web development companies that uses the power of Mobile, Web, Analytics, Cloud, and Digital technologies to unlock the potential of businesses across verticals. They focus on serving the Enterprise, ISV and Startup segments across the Retail, Transportation, Healthcare & Financial Services domains. Experion taps into the power of digital to develop custom software applications and products for industry domains such as Retail, Transportation & Supply Chain and Financial Services.
Awards are an indicator of acceptance for the invested efforts. Experion has been reached out by laurels throughout their existence as a company. They have won awards for their solutions, growth model and service levels. They have recognized by Inc5000, Deloitte Fast 500, Deloitte Fast 50, Top Software Developers and Top Web Developers (2019) by Clutch.
Their clients include- Bacardi, Tyson Foods, Speedo, Ford Australia, Shell, City Group, TopGolf, Aegon, Johnson and Johnson, Melbourne Health, Merck Group, Aditya Birla Group, CoStar Group, Aecom, Athos Group, AstraZeneca, Guardian Healthcare, InstaHealth, Regus, Alexion Pharmaceuticals,Jonas Group, Mars, Supreme Foods, MessageXpress, etc. Trust us, the list is quite big for a wordpress blog!
Client Testimonials-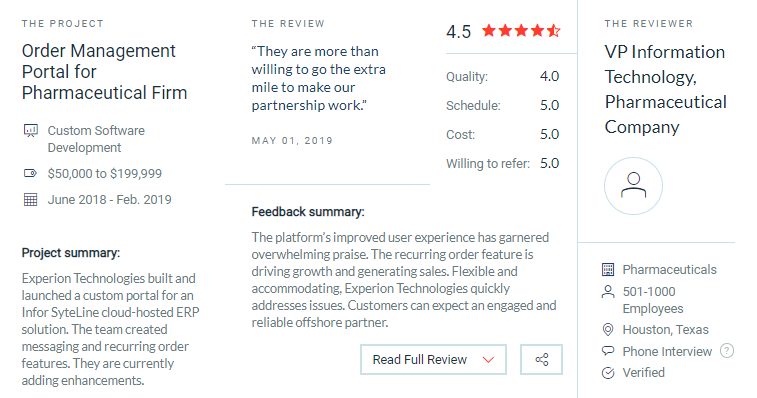 Contact Experion Technologies-
Website: experionglobal.com
Facebook: View on Facebook
Twitter: View on Twitter
Contact Email: sales@experionglobal.com
Phone Number: +91 471 304 7310
Since 2006, Crafton has been working with many clients based in the United Kingdom by creating websites, corporate identities and print materials. Additionally, they have completed many successful projects for clients from Australia, Germany, the United States, New Zealand, the Czech Republic, Israel, Canada, Kuwait, the United Arab Emirates, Belgium, Ireland, Russia, Pakistan, Poland, Belize and Indonesia.

| | |
| --- | --- |
| Number of Employees | 11-50 |
| Headquarters | European Union (EU) |
| Founding Year | 2010 |
| Also Known As | Craftoon |
Crafton is a small team of design, development and online marketing enthusiasts that you can trust with your IT projects. By choosing them, you can have the confidence that an experienced person will be working on your project since they believe in quality without compromise. They're only satisfied when a project completely lives up to its potential. With effective communication between the agency and its clients, they keep the role of account manager to a minimum. They prepare profitable, cost-effective solutions that ensures clients a high return on their online investment.
Being experienced business partners, they work for both small start-ups, and large international corporations from all around the world. They focus on the user, not just the client. They always use a user-oriented methodology in their projects. Their goal in working with clients is to understand users' needs better. They solve their problems through continuous project modifications and tests.
There are many web development companies on the IT market, that deliver quality projects. However, the end result is not everything. Crafton does everything that they can to build strong relationships with their clients and assure smooth process while working on every project to make sure that the cooperation is pleasant for both the client, and them. Every year Millward Brown Institute, commissioned by "Media & Marketing", conducts a customer satisfaction survey of all the agencies in Poland. "Crafton is ranked among the best rated agencies in 2019's survey, compared to the previous year's survey, as it significantly improved its results," the Digital Agencies report said.

Client Testimonials-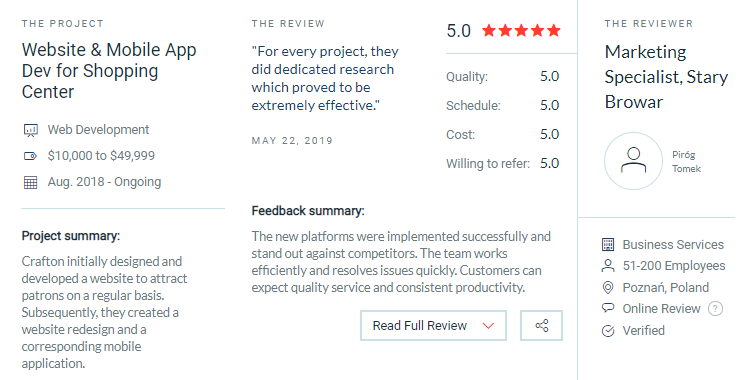 Contact Crafton-
Website: crafton.pl/
Contact Email: biuro@crafton.pl
Phone Number: +48 61 624 86 92
Summing Up-
From a pool of web development companies, choosing the best one for your business can be very tricky and time-consuming if you're not aware of all the necessary details- budgetary constraints, location, trustworthiness, etc. This was our attempt to gather every bit of information available across various renowned websites like Clutch, Crunchbase, Linkedin, Glassdoor, etc. We hope we have answered all of your concerns. Have any other suggestions or questions for us? Drop a comment in the section below. We will get back to you pretty soon!