Table of content
How to build a carpooling app like Uber? Any taxi app development, in most cases, involves building an app like Uber, right? Especially when using their business processes and strategies as a basis.
You've probably heard the term "Uberization," which comes from the Uber taxi app. The company has been a real success by demonstrating existing user behavior towards efficient and cost-effective travel. By the end of 2018, the Uber company had earned more than $1 Billion and was rated as the second most disruptive new company in the world, surpassed only by SpaceX.
Not surprisingly, Uber is the best taxi app in the world and is available in 10,000 cities in 71 countries. However, there is competition among other similar carpooling or car booking apps. Uber still remains a prominent player in the carpooling or car renting market. Among other applications such as Uber are Lyft, Curb, Easy Taxi, Gett, Summon, Flywheel, Grab (for South-East Asia), DiDi (Brazil, Mexico, Asian countries) and many more.
Further, in this article you will explore how you can build a carpooling app like Uber and how other digital apps and services can benefit from the Uber business model, i.e. the sharing economy. The article agenda is as follows:
A business plan for how to build a carpooling app like Uber.

The passenger app, the driver app, and the control panel functionality to build an Uber-like app.

Technological stack with different features of apps like Uber.

Revenue is set up for taxi booking applications.

How much does it cost to build a carpooling app like Uber?
The ultimate goal is not to build Uber integration, but rather build a carpooling app like Uber for web and mobile users.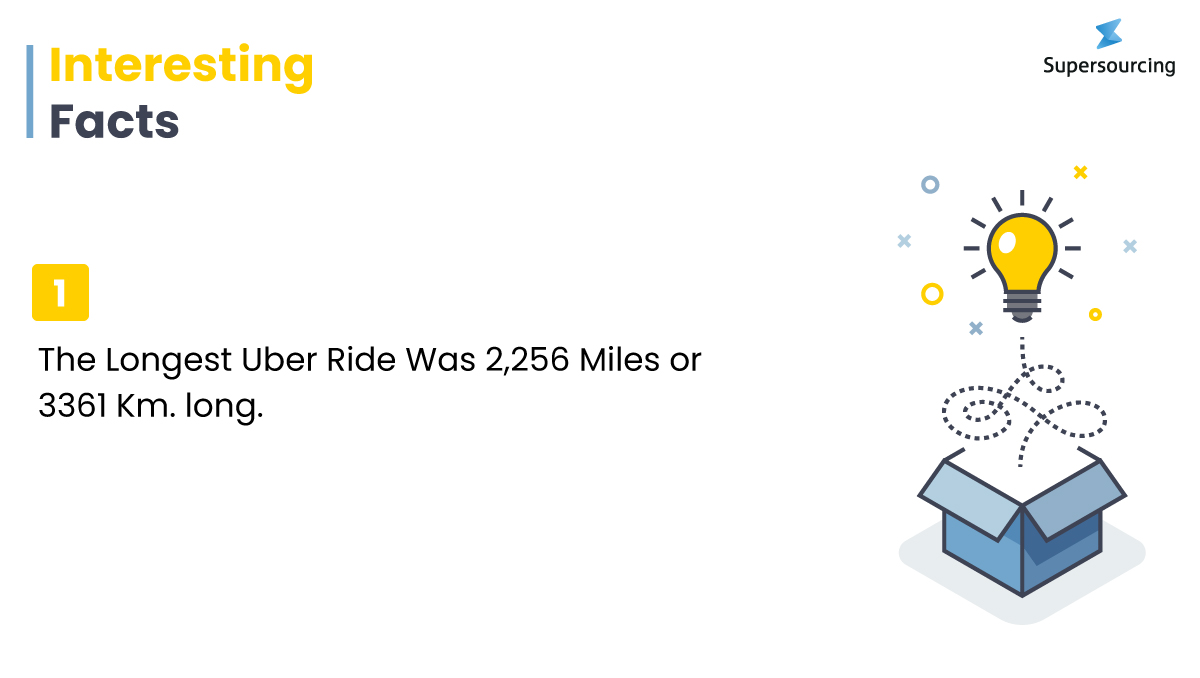 Market Growth of 'Uber'
Key Uber Statistics
Uber has a global market value of $ 72 Billion.

Uber generated $ 12 Billion in full bookings in the last quarter.

There are more than $ 75 Million Uber passengers worldwide.

Uber is available in more than 70 countries around the world.

Uber has completed more than 5 Billion rides.

More than 3 Million people drive Uber.

In the United States, Uber fills 40 Million passengers a month.

The average Uber driver earns $ 364 a month.
Uber United States Market Share
When the Uber concept was born in Paris back in 2008, the company's first move took place in San Francisco. That's where Uber's headquarters is today.
With that in mind, I think it makes sense to look at US market share before analyzing any international data.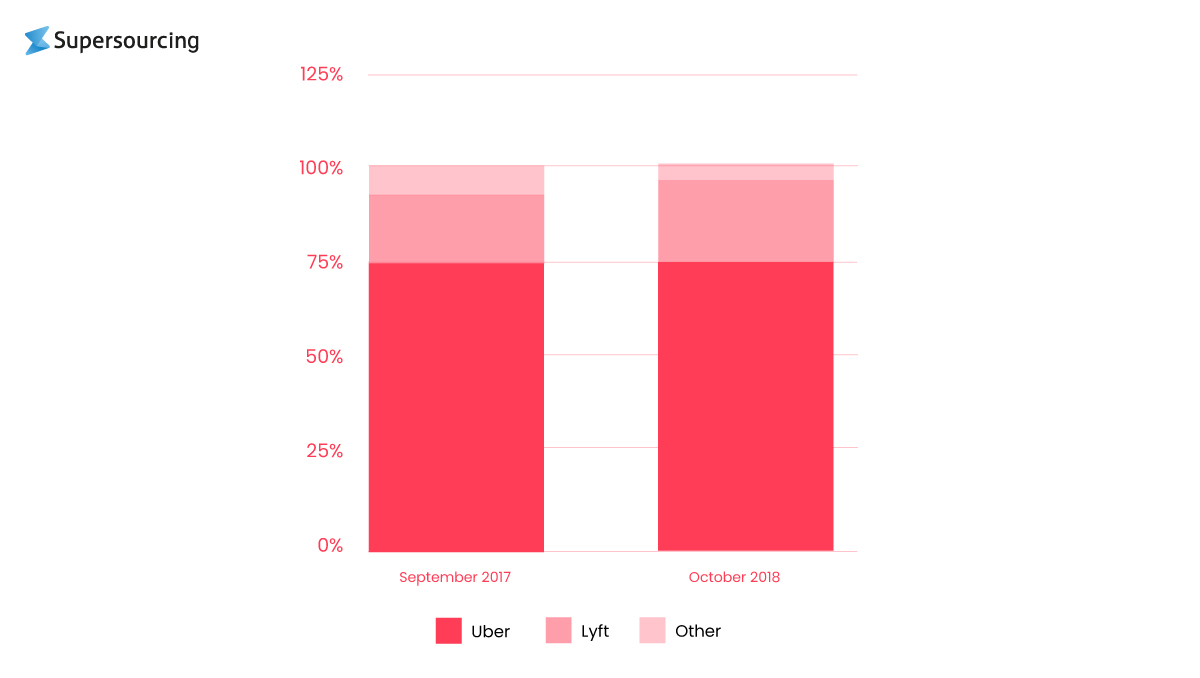 Based on the above graph, it is clear that Uber controls market share here in the United States. But that being said, they are not ready for the future.
Let's look at the last two years. In 2017, Uber had a market share of 74% in the US, compared to Lyft at 22%. In 2018, Uber controlled a market share of 69%, while Lyft has risen to 29%.
As you can see, Lyft is slow but certainly takes up a percentage of the ride industry in the US. However, the lion's share is still going to Uber.
But based on this trend, it seems that these figures will begin to average in the next few years. We will take a closer look at Uber's competitors as we move forward with this guide.
Uber Global Penetration
Three years after the Uber concept was introduced in Paris, they embarked on that city with their first worldwide tour in 2011.
Over the next few years, Uber will begin to launch in other cities around the world.
2012 — London, United Kingdom

2013 — Mexico City, Mexico

2013 — Taipei City, Taiwan

2013 — Johannesburg, South Africa

2013 — Bangalore, India

2014 — Beijing, China

2014 — Lagos, Nigeria

2015 — Nairobi, Kenya
The list goes on and on.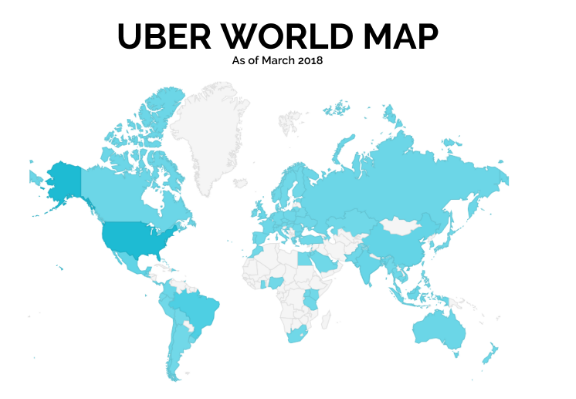 It is truly amazing how this company has been able to penetrate global markets in a decade.
This will show you the power of mobile applications. Wherever users can download a product from the app store is a potential market for your business. Uber clearly saw this and grew up accordingly.
Uber Driver Statistics
Unlike other businesses, Uber needs more than just customers for their business model to work. This stadium cannot operate without drivers.
Drivers use the same app as passengers, but have a different profile and dashboard.
Compared to other boarding services, most drivers are mainly driving Uber only.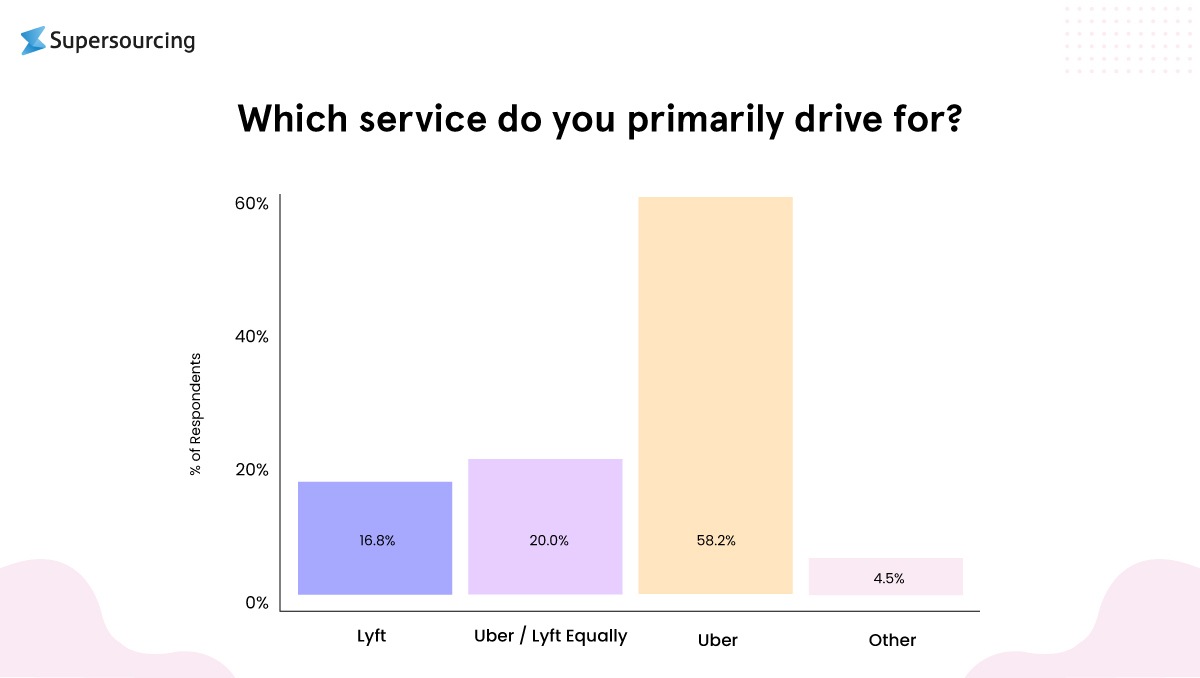 In addition, 47.7% of drivers are registered for the two most sought-after services. 17.9%, 6.9%, and 5.9% were enrolled for three, four, or more services, respectively.
Although most of these drivers have subscribed to other apps and services, it is encouraging to Uber that about 60% of drivers are almost exclusively special.
Uber wants passengers to contact the driver almost immediately. If users have to wait a long time for their passengers to appear, it will not be good for the customer experience.
46% of Uber drivers have been on the platform for less than a year. Only 11% have been driving Uber for three years or more. You should consider to build a Carpooling App like Uber having similar functionalities of Uber app.
Business Model Followed by 'Uber'

Uber has put its toes in other places as well – from Uber Eats (wanted food delivery) to Uber Freight (wanted truck). However, in this blog, we are only focusing on Uber passenger business  to learn how to build a carpooling app like Uber – and follow the model of its business and how it is monetized?
To put it simply, Uber acts as a digital app platform, connecting passengers who need a ride from point A to point B and drivers willing to work for them.
"Riders" generate demand, "Drivers" supply demand and "Uber" acts as a marketer/promoter to make all this happen seamlessly on the platform.
Through its model, Uber has been able to produce proposals for a strong number of passengers and drivers to board their platform and create disruption in the taxi/bus industry.
Uber's Value Proposition for Passengers
On-Demand Cab Bookings (Convenient)
Real-Time Tracking
Accurate ETAs
Cashless Rides
Lower wait time for a ride
Upfront Pricing
Multiple Ride Options
Uber's Value Propositions for Drivers
Flexibility to Drive on their own terms
Better Income
Low Idle time to get new rides
Training Sessions
Assistance in getting Vehicle Loans
Better Trip Allocation
Uber's Business Model Canvas – A Visual Snapshot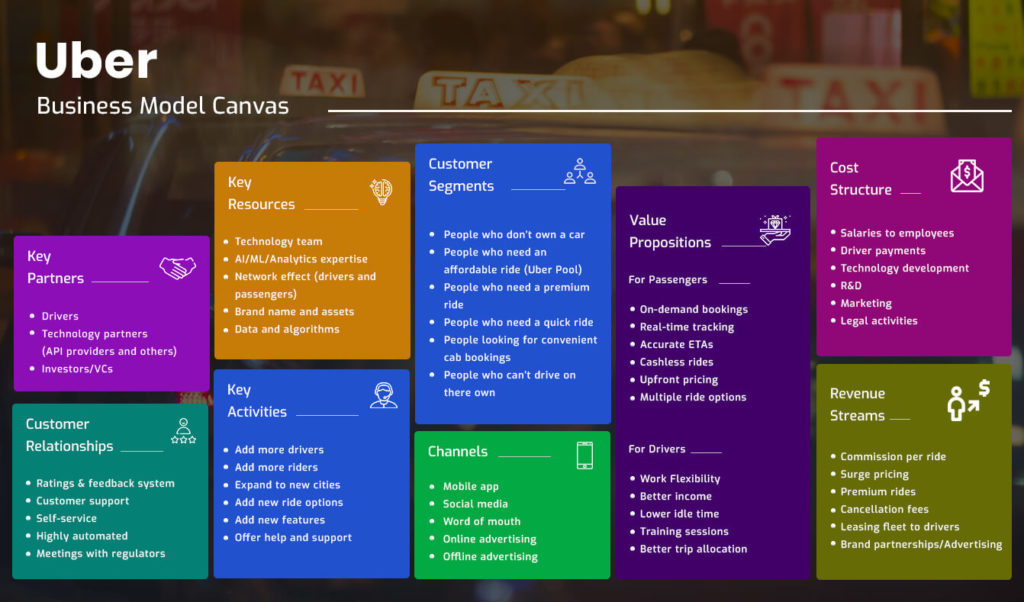 Digging Deep Into Uber's Revenue Sources – How Uber Makes Money?
At the highest level, Uber makes money by cutting each trip (shared or individual) to drivers. However, as we do a detailed analysis we will find that Uber's revenue model is much more complex than just travel commissions.
1. Travel Commissions
Uber provides drivers on its platform (also known as partners) with a robust offer of travel applications to receive, fulfill, and monetize. While making a reservation, the passenger pays Uber for the ride via the app. Uber then transfers the payment to the partner's account after taking a certain amount of commission to perform the work of the broker.
Commission prices can vary from 15-30% depending on the market.
2. The Price Increases
Power pricing/price increases are a novel concept that has been made popular with Uber and embraced in other verticals, such as food delivery.
Whenever there is a greater need for cabins that can be provided at the moment (for example, at the airport after the arrival of the plane), fares increase based on the rising price calculation algorithm.
Some drivers move to the germination zone to get more (increases supply) while other riders prefer to wait to get a ride (reduces demand). In this way Uber is able to better manage the non-compliance situation.
Drivers make a lot of money, Uber makes a lot of money and customers spend a lot of money (but get an emergency ride).
3. Premium Ride
Uber offers a wide range of ride options, from cheap hatchbacks to luxury sedans and SUVs. The premium ride profit limit is very high and helps Uber mint more money.
4. Cancellation Fee
If a passenger cancels a ride after a certain time, say five minutes, you are charged a cancellation fee.
5. Leasing Drivers
Uber is running a car rental program in a number of target countries to help new drivers get in faster. Drivers must pay a secure deposit in advance of the vehicle and payments are automatically deducted weekly from the driver's salary.
6. Product Partnership/Advertising
Uber is a very popular app with millions of active users. This makes it a great choice for promotional products. Its current application interface compresses the design style of the feed for the use of accurate content. Over time, it can continue to be a powerful source of income by becoming a channel for sponsored content.
Ways to Grow Your Business with Customized Apps
1. New Generation Sales
This is especially true when it comes to carpooling businesses that have reduced the size of their sales by conducting their business using only websites. It is time now for modern businesses to understand in particular the kind of relationship a modern consumer has with his phones. Spoiler notification! It's so close!
When you as a carpooling business owner decide to change your basic strategy of including mobile users as a targeted market, you expand your market and scope to maximize explicit sales revenue.
2. Improved Customer Retention
It has been proven by industry leaders that the rapid development of the mobile app takes the customer experience to the forefront of several notes. As customer information gets better, it is only natural that customer retention rates also go up. Also, we all know how important it is to keep our customers.
One of the most relevant and popular examples of this Starbucks app. Starbucks has been able to use their two-pronged approach to maximizing their savings and selling sales.
3. Increased Performance
The benefits of a small business mobile app extend beyond customer retention. So Let's talk about one of the most important things in running a small business – working hard. The operating costs of running any business can go in and ruin the entire budget! For a small business especially this can be a very difficult situation.
The mobile app can help your business with internal functioning, departmental communications, and can help you reduce associated costs.
4. Reducing Operating Costs
As we mentioned earlier, a mobile app can bring significant growth to a business in more than one way, in addition to targeting customers. A robust mobile communication application channel has the natural ability to deliver a smooth flow that directly reduces the overall operating costs.
5. Earn Through the App Stores
To drive my point home, here I am talking about Spotify. Hold on a minute! I'm not saying your business will become something bigger or comparable to Spotify. However, what I am going to talk about here applies to small businesses as well. Consider to build a Carpooling App like Uber and deploy it in App Stores to increase the user base.
It makes no sense that most small businesses think they will be the next Spotify and I totally agree with that. However, when it comes to their business model, it is proven that it works for a large number of different businesses in different industries.
6. Create a Desired Marketplace
The most sought after markets are the appeal today and the customers are enthusiastic about it too! Whether it's Uber, Lyft, Grubhub, Postmates, or something different you have in mind, it's the mobile apps that can make it happen. However, if you mean you don't have to start a new business line and you want to create the most needed mobile app on the market to build a carpooling app like Uber a success.
Even if you have an online business established, you can create the required market to expand your business with your mobile app. One of the companies that has done really well is Rover.
7. Easy-to-Access Content
The whole idea of ​​building a mobile app for your business to find new ways to make your content more accessible to their customers. If you have a mobile app, and if you can provide a fair amount of mobile apps, customers can have very easy access to all the offerings, content, services, or any type of content you have for them.
8. Improve Purchase Frequency
Initial conversion when converting a visitor into a paying customer is one of the most difficult and one of the most expensive steps. Now, after you've crossed that bridge and wanted more subsequent transactions from these one-time clients, it could turn out to be nail-biter.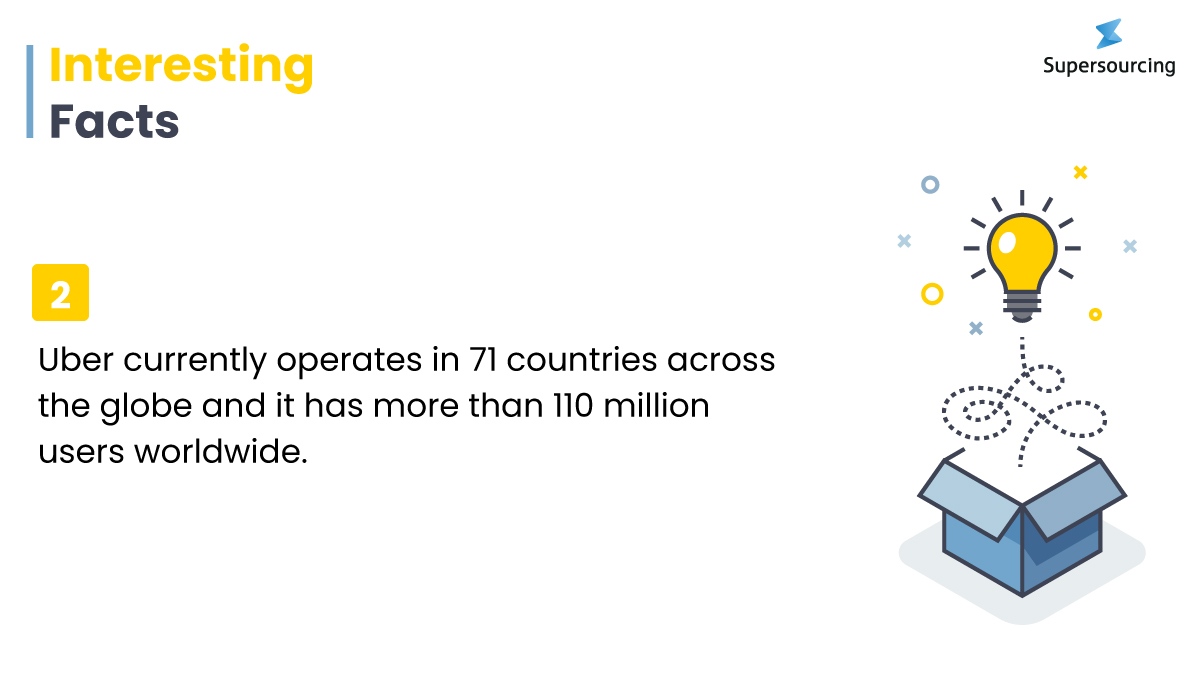 Features Required to Build a Carpooling App like Uber
Basic Features Required for Customers
Geolocation and Routing
Payment Integration
Registration and Personal Data Management
Call or text the driver right from the app
Push Notifications
Ride Cost Estimation
Top-notch UI and UX Design
Advanced Features Required for Customers:
Scheduling a ride in advance
Booking a ride for others
Splitting a fare with companions
Now, let's take a look at the basic and advanced features which you can add to build a carpooling app like Uber for drivers.
Basic Features Required for Drivers
Driver Reports
Advanced Route Optimization
Personal Profile Editing
'Active/Inactive' option (active drivers are visible on the map, inactive aren't
Calling to a passenger from the app
Generating daily/monthly reports of past bookings and earnings
Advanced Features Required for Drivers
Driver Destinations
Free Cancellation within a set period of time
Heat Maps
The director panel is a last resort but not a small thing to consider. Management panels are usually web-based and require specific efforts on the part of your web development service provider. It should give you an easy overview of business processes and also give you the ability to manage earnings and collect user data to build a carpooling app like Uber.
Requirement of Third-Party API to Build a Carpooling App like Uber
What is a 3rd Party API?
When you are looking to hire a cab and generate the request for a cab from source to destination, you need a driver to pick you from your source and drop at your mentioned destination. In this case, the API acts as a Driver. Sends a request from your third-party mobile application and returns results in your application.
Also known as a programming interface, an API is a defined method of communication between a variety of software components with a set of subroutine definitions, tools, and protocols that allow your mobile app to borrow to work with data from other applications or services.
The 3rd Party API has 3 main components
A client, or in other words a program that sends a request to a server
A server may be a computer or database that responds to a request
Most customers use the mobile API integration in addition to improving features from scratch for the following reasons:
Less Cost- Since your app can use the functions of other apps, your development team needs less time to build an app with more features, which reduces development costs and marketing time.
Good Value- By providing app users with advanced features, third-party API integration can be the USP of your application (unique marketing suggestion) and help your app stand out from the crowd.
Great App- APIs make your app easily accessible through the channels your app users interact with. By using the APIs via Facebook for social login, the Google Maps API for determining Geolocation, or the Paypal API for payment, you make your app much easier for users, thus increasing their engagement.
Trademarks- Make better performance decisions for your app's performance data with analytical features such as usage patterns, device types, and geographical locations. Such information is especially useful for businesses that have started an MVP application and are looking for ideas on how to use the app.
Once you are ready to accept all of these benefits, the first thing you should do is choose what type of API action your system should perform, that is, use case.
Three main API Use Cases
The integrated API could perform the following actions to build a carpooling app like Uber:
1. Using Some Features of the Services
One example is apps that use PayPal's Braintree API as a payment gateway or our Spot news project, an app with a Spotify API integrated that allows users to listen to music while reading stories.
2. Getting Information on the Services of Others
For example, by integrating the New York Underground API, you can provide users of your app with real-time data, such as the taxi system, arrival, departure, and total time taken in reaching the destination.
3. Access to Mobile Device Functions
Examples of such API integration are apps like Snapchat and Instagram that use the phone's camera i.e. Camera API to take photos. At the same time, Google Maps can define a user's location using the location identifier API.
In short, by using the API, you can add new features to build a carpooling like Uber, and gain access to other data services or mobile device features, without spending a lot of money on upgrading those features from scratch.
Why should you Join the Third-Party API Group?
APIs allow you to use the best thing someone else has done for your product. You do not need to create your own maps where you can use what Google has done and has been tested and improved over the years. You do not need to create your own user registration form where you can use Facebook or Google account registration. That's how APIs work and helps to quickly build a carpooling app like Uber.
For online businesses, APIs offer a variety of benefits that allow them to bring in new customers, make their product better known and, ultimately, increase their sales. Let's look at some of them briefly.
1. Short Time To Go To Market
This may be accompanied by a "comment". By using third-party APIs, an entity maintains all the time required to design, develop, and perform the function provided by an API developed by another engineering team. Of course, installing a third-party module on your product requires some integration tasks, but when it comes to time, using an API is very effective. At the same time, when using a third-party API it comes at a cost that can be measured in part by your cost savings from using your development capabilities to create the same performance.
2. Better User Experience
In the context of the user experience, the benefits have many lines. On the other hand, by using a third-party API, your business will be able to focus on its core functionality and make you truly fearful. On the other hand, you can be sure that the integrated features will perform at the highest level.
3. Additional Business Value
APIs bring additional functionality that increases the value proposition of your business. For your users, the complete package of services you provide becomes most useful when upgraded with running third-party software. In addition, as we have already mentioned, an API ready for use by a third-party company saves time to make other features that will make your business even better. All of this means that through third-party APIs you can get additional value and competitive advantage at a lower cost for your carpooling app like Uber.
4. Timely Software Updates
Like any other software developer, API providers update their products from time to time. If you are using an API, one of the good things in software testing is that any updates provided by the provider will also apply to your product. You only need to set an automatic check for updates, and that's it. Otherwise, all updates provided by the API provider will pass all the required tests and can be used easily and safely.
5. Customization and Flexibility
Most third party APIs and SDKs are complex products with many features that allow them to achieve many related business objectives. At the same time, for most API users, only certain features are relevant while others may not be required at present or at all. When using an API or SDK for your product, you can only select the features you need and customize them according to your goals required to build a carpooling app like Uber.
Types of API Required to Build a Carpooling App like Uber
1. Geolocation
Geolocation is an important factor when considering making an app like Uber. If you pin the point on the map where you want the car to pick you up – it's the Geolocation API in the background. If you follow the real-time traffic flow – it is the Geolocation API. When the driver follows the GPS directions – it is Geolocation.
Some of the renowned Geolocation API services are Google Maps, Jawgmaps, HERE, Mapbox, OpenLayers, MapFit, TOMTOM, and many more. These are powerful API channels and directions.
The Geolocation API is a must-have tool to be used in your technology stack for a carpooling app like Uber.
2. Payment
The next important thing to consider when coming up with your Uber-like app is to make it. Modern technology allows for direct financial transactions between all parties involved, and is beneficial for both customers and drivers.
Another option is to rely on payment gateway providers that ensure PCI compliant solutions, such as Braintree. If you choose an app provider gateway like Uber, you can draw your attention to the following processes:
Payment gateway should be made, especially for mobile devices, because many providers use the web viewing method.
The service should be easy to use and ensure fast user data extraction.
These requirements are met by the PayPal team, primarily by the Braintree payment gateway provider. Uber therefore uses Braintree to process your credit card transactions.
3. Communication and Information
Communication and notifications are key factors to consider in making an app like Uber. Uber users can communicate (call or text) their drivers within the app.
An important part of customer communication lies in keeping them informed. SMS, email, or app notifications can help and inform users about important events such as order confirmation or car arrival.
The following tools can be used to build the carpooling app like Uber with flexible notifications:
Apple Push Notification Service (APN) when you make a carpooling app like Uber for Apple devices.
Firebase Cloud Messaging (FCM) where it will build an app for Android-enabled devices.
SMS notifications require additional action for installation of the application. You should contact your telecommunications service provider to give you such an opportunity. For example, Uber prefers to work with Twilio, but there are many options like Plivo or Nexmo.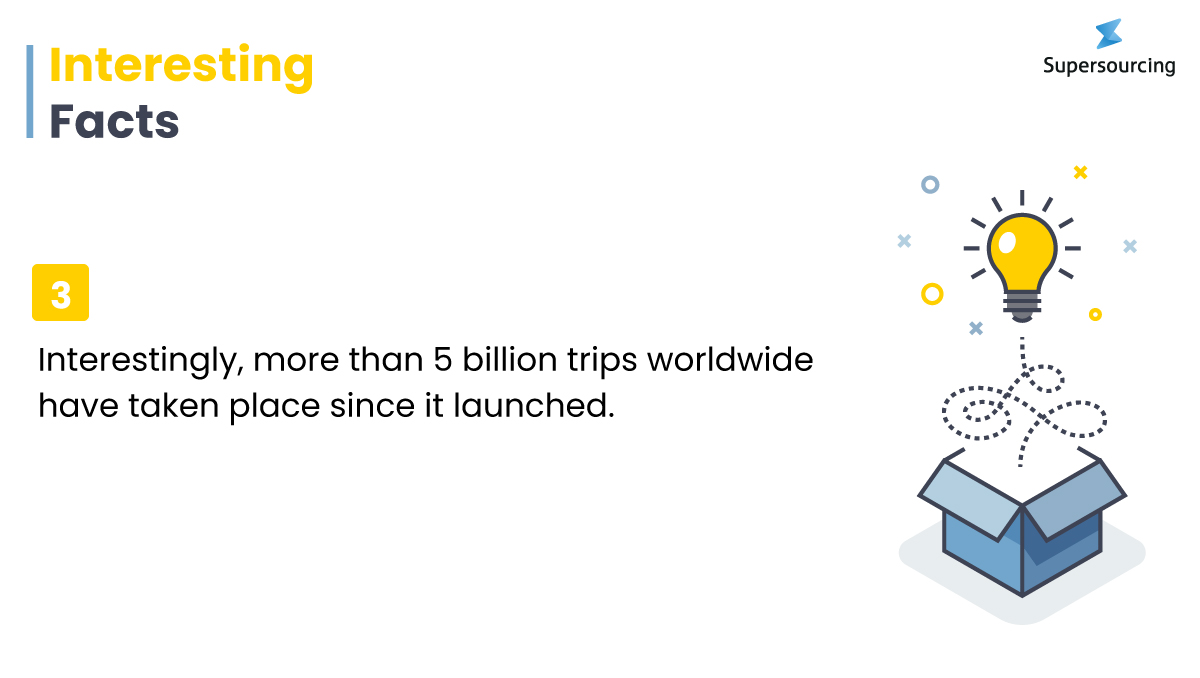 Steps to Build a Carpooling App like Uber
Projects come in all sizes with varying degrees of difficulty, but one thing all successful projects have in common is composition. The project plan is about identifying, prioritizing the activities and resources needed to build a successful project structure.
That is easier said than done. There are many steps to be followed to define how to build a carpooling app like Uber project plan, such as:
Scope of Project and Delivery
Time and Schedule of Activities
Cost and Budget
Resource Planning
Communication Editing
Risk Management
Stakeholder Management
These components, and more, need to be considered.
In other words, a comprehensive project plan sets out who will be in your team, what tools and materials will be needed, and the processes needed to do it right. Also, there are financial commitments outlined in the budget, as well as communication channels that will keep parties and stakeholders updated.

Why require Product Requirements Document (PRD) for Managers?
A Product Requirements Document (PRD) is a document that contains all the requirements for a particular product. It is written to let people understand what a product should do. However, the PRD should protect the expectation or define how the product will perform in order to allow interface designers and engineers to use their technology to provide the right solution needed for how to build a carpooling app like Uber.
PRDs are often written for software products, but can be used for any type of product and services. Typically, PRD is created from a user perspective by a user/client or the company's marketing department (in this case it can also be called a Marketing Requirements Document (MRD)).
Requirements are then evaluated by the manufacturer/supplier for a more technical, categorized and detailed Functional Specification (sometimes also called the Technical Requirements Document).
Note: Often the technologies involved in building a carpooling app like 'Uber' include Node.JS, PHP, Python, Ruby, Objective-C, Java (Android), C # (.NET), cURL.
Wireframe to Build a Carpooling App like Uber
Many app developers go straight to the subscription, this is not the right approach. It is best to first create a wireframe and then an example before you start encountering codes. It will save you a lot of money on development costs. How to build a carpooling app like Uber program requires more sophisticated planning that goes beyond technical aspects and business concerns.
You are supposed to also focus on UI/UX to create an attractive and functional interface for app users. But First you have to build an aggressive wireframe on paper and then it is better to focus on making UI/UX before working with codes. Here are a few guidelines to follow to how to build a carpooling app like Uber wireframes:
Paper-Based Wireframes (Brainstorming)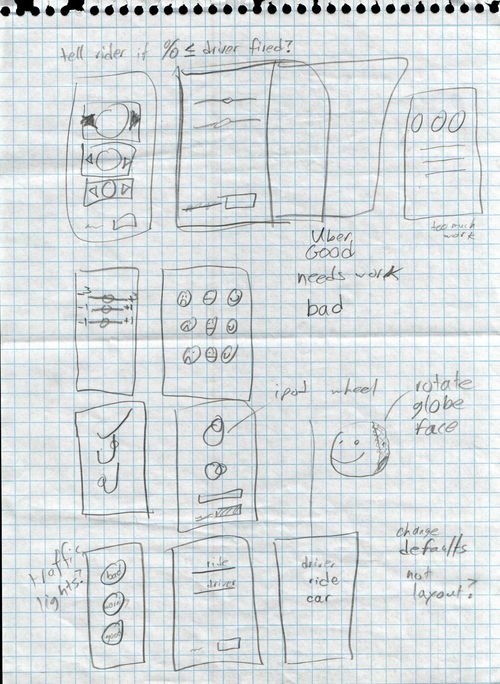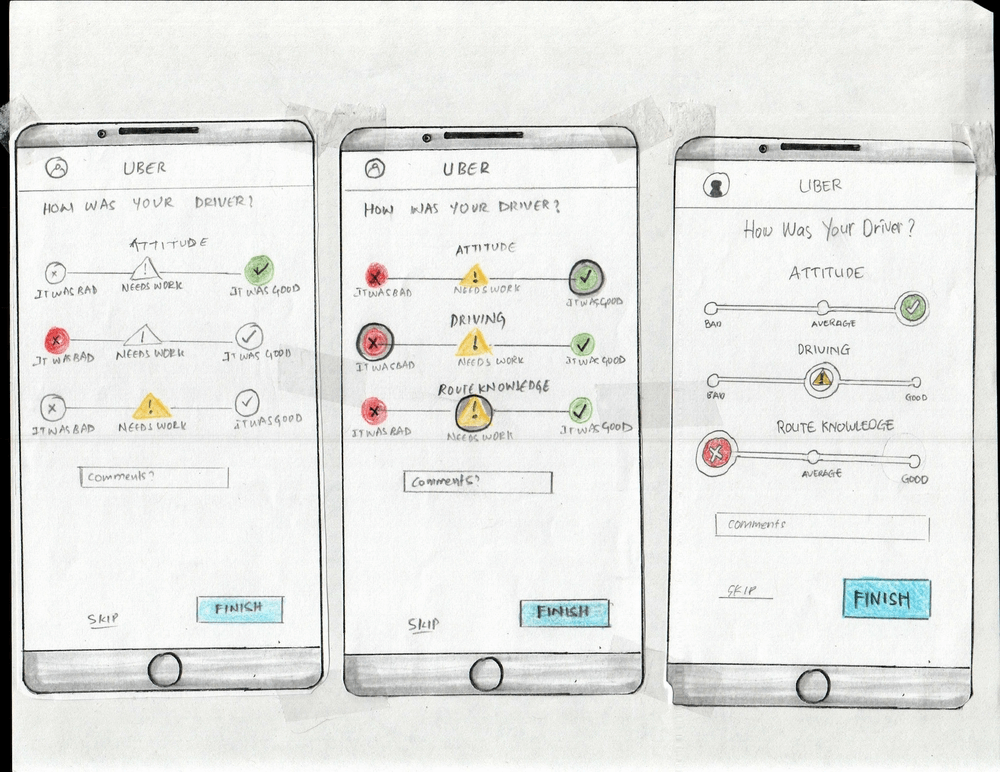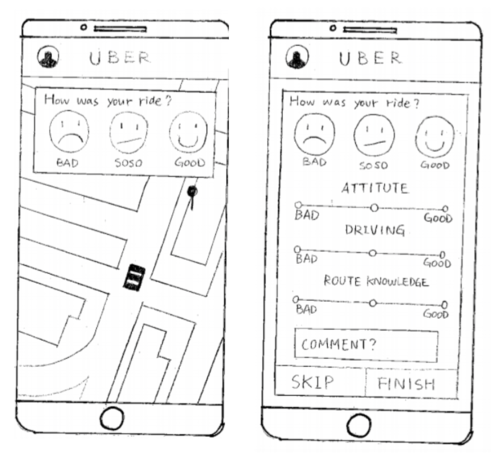 Actual Prototype to Build a Carpooling App like Uber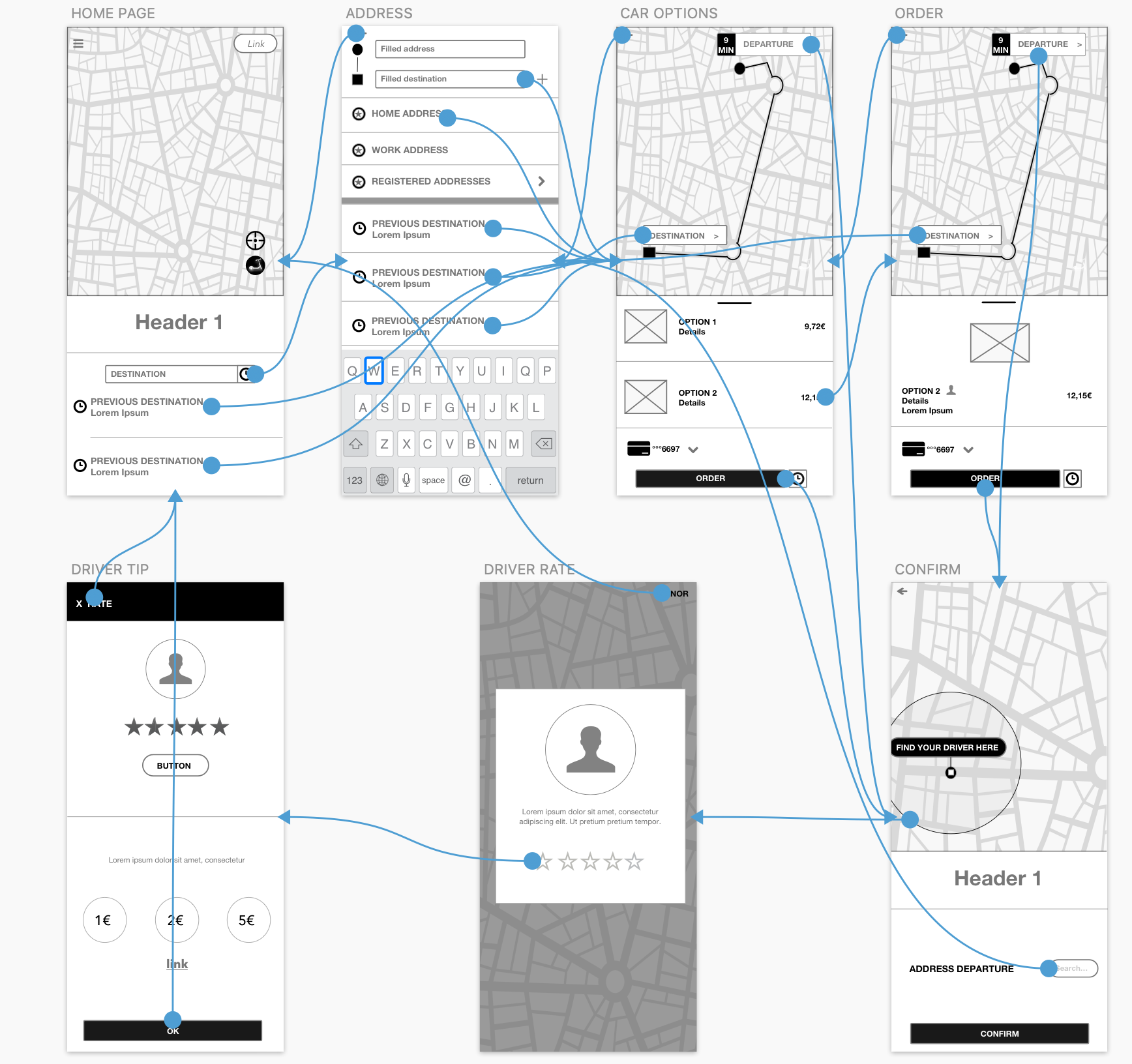 User-friendly interface and experience are crucial.
The visual elements and graphics must be elegant and attractive.
The taxi booking procedure should flow seamlessly.
Process of Software Development
What types of Web Development are available?
Back-end, front-end, and full web development are three different career paths that can sometimes feel muddy in the realm of technology. Put it bluntly, post-end engineers focus on data, modeling, and back end of the website. Previous developers help build what users interact with and see. A full stack developer does some or all of the above.
What is Front-End Development?
Preliminary end-to-end development is part of web development that includes coding and building website elements, which are features that are directly visible and accessible by the end user or client. In fact, the end engineer is responsible for everything you see and works to improve user experience to make sure it is seamless. They help to create a complete and aesthetic design, in addition to debugging and using static code analysis.
What is Back-End Development?
Back-end development is aptly named for web development that takes place at the end of programs. Contrary to previous developments, which focus on products and customer-oriented products, back-end development speaks to log-side web application logic and integrated. Back-end developers write code to help the database and application communicate. In fact, a back-end engineer handles what you don't see; they have the back end of the website, including servers, information, and applications.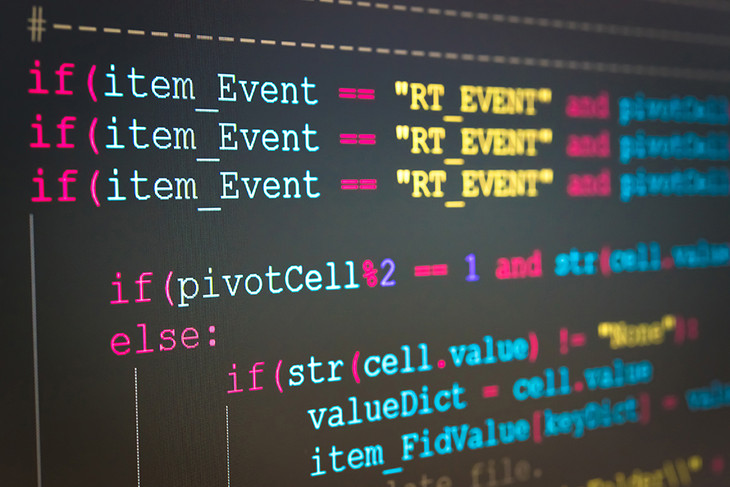 Quality Analysis & Testing
The final product is personally tested by the Quality Management team. The testing team ensures the delivery of high-performance app, stable performance, and user-friendly interface design.
The testing methods performed on the product are as follows:
Smoke Testing – This method tests the performance of key application features.
Functionality Testing – The effectiveness of each feature tested by input transfer and test results.
User-Interface Testing – This UI test detects potential structural errors i.e., images, thumbnails, navigation links, buttons, etc.
Performance Testing – This tests the speed and performance of the application when placed under heavy load.
Usability Testing – This method is sensitive as this tests the application of the application. Design an app where users can learn to do the basic tasks themselves.
As by following the Agile Development process, you can test an app like Uber behind each milestone and perform rigorous testing to get rid of all the bugs.
Deployment
After you've built up the whole idea of ​​your launch and successfully tested the product, it's time to finally launch the app!
You can send the app to the Google Play Store or the Apple App Store. Hence, to make it possible, different Google and Apple application processes can be followed. However, to fulfill the guidelines of both platforms, you might require to make some changes and make it available for users on the Play Store and App Store.
Deploy your carpooling app like Uber on a web server, with a web server in place, your app is responsible for handling the custom stuff, which is specific to your project. The web server makes sure that requests which are meant for it, arrive at your application and forward the results back to where they are expected.
Now, start organizing advertising campaigns to create information about your desired service, so people can start talking about it. Create marketing strategies that are unique to each sector – social media, print, and TV.
Application Promotion
Successful development of your carpooling app will never guarantee the success of your carpooling app like Uber. Therefore, it is important to promote and market the app in a targeted way. There are various ways to promote your app and get a regular, long-term and short-term user experience.
You can start with Email Marketing first. Once the app is live, be sure to notify all of your customers by email and request an important response by replying to an email or sharing in the Google Play Store or App Store.
Alternatively, you can promote your carpooling app using Social Media Platforms. You can follow many marketing strategies for your product on many platforms. Instance, you can create a buzz about the product by making more posts about the app instead of just sharing the app link. Be sure to highlight the different functionality and features of the app to capture user attention and lead to more downloads.
You can follow another strategy to promote the app by launching your product through various channels or websites. Having a dedicated website for your product can also be a great way for your brand business. Along with that, you can also advertise your carpooling app online, such as details of Uber app development and other similar websites. If you find a few such sites, you can attract a good number of users for your app.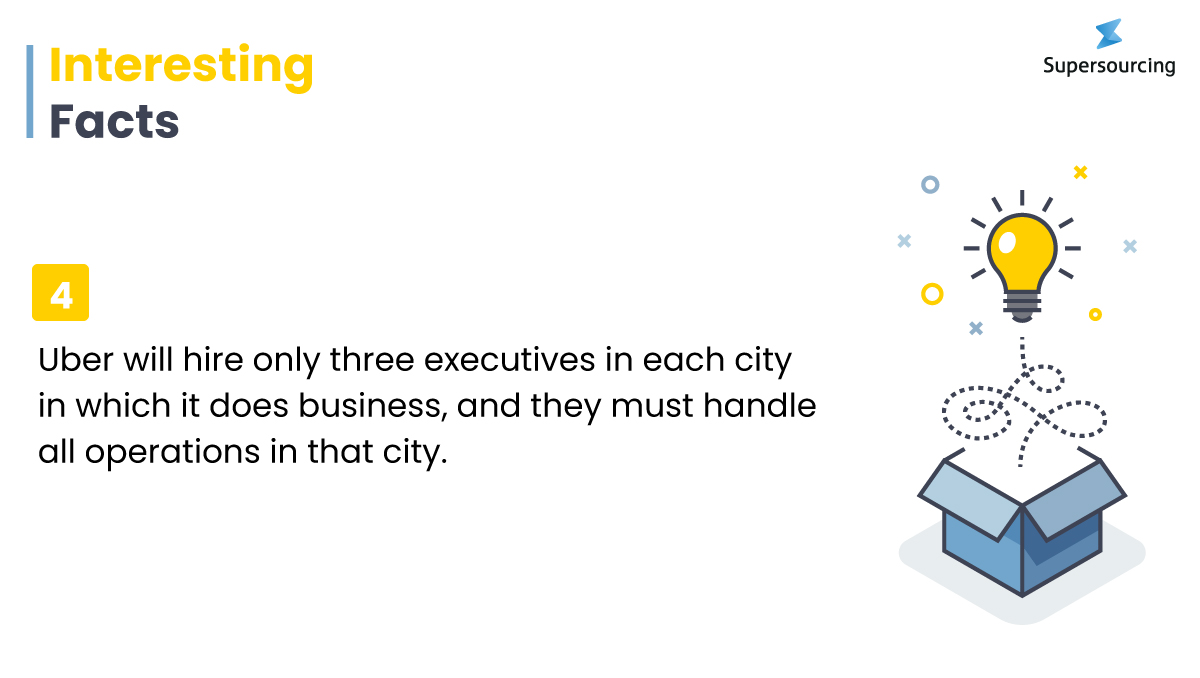 Operations & Maintenance
When you have built a Carpooling App like Uber there will always be ongoing updates for your app. That's why it's important to keep your development team up.
In addition to your app that comes with new versions, the operating systems for mobile devices also come with updates. You need to make sure your app is compatible with the latest software versions from Apple and Android.
Compliance can change as well. For example, you need to ensure that your application complies with data laws such as GDPR in Europe or CCPA in California. When processing credit card payments, you should always comply with PCI. If you are handling medical information, the application must be HIPAA compliant. The list goes on.
All of these conditions require ongoing care.
As a scale for your app, you should ultimately plan for customer support. What happens if an app user has a question or needs help? At first, you can handle this yourself. But on the scale, you probably can't handle hundreds or thousands of potential messages.
You may need to hire a sales team again. All of this falls into the category of "support" after implementation.
These are just some of the goal setting shareware that you can use. So just make sure you plan and budget accordingly to how to build a carpooling app like Uber?
Measure Time & Budget to Build a Carpooling App like Uber
Now that you've figured out how to make an app like Uber and the basic and advanced features that need to be installed on apps, it's time to think about how much it costs to upgrade an app like Uber. The costs incurred in developing the entire application platform are complex and include many factors.
Some of the critical costs of building a passenger platform like Uber are:
Number and type of platforms you wish to support in passenger and driver apps (iOS, Android, Web).
The number of features you want to integrate into both apps.
Whether you need a market-friendly app or just a MVP.
How easy do you want the UI to be?
Number of iterations to be done after launch.
In recent years, there has been a significant increase in demand for rideshare/taxi applications such as Uber. But when asked about the cost of building such an app, even developers will not be able to give you an exact figure in advance. However, on average the app will cost somewhere around $6,000 and $600,000.
The activities and costs required in addition to the Development Team will help you assess the cost of building a carpooling app like Uber using the table below:
| | | |
| --- | --- | --- |
| Team Member | Duties | Approx. Hours (Cost: $20~$100/hr.) |
| Project Manager | Builds the bridge between the team and the client to avoid communication gaps while ensuring the deadlines are met. | ~250 hours Approx. Full project Engagement |
| Business Analyst | They are responsible for enhancing the quality of IT products and services, analyzing data to inform business decisions and finding technological solutions to business needs, among other duties. | ~120 hours |
| UI/UX Designer | Responsible for the appearance of the application and for the purpose of providing a user-friendly location. | ~120 hours |
| Android & iOS Mobile Developer | Developing interactive applications (APIs) to support mobile performance. keeping up to date with the terms, concepts and best coding practices for mobile apps. | ~800-1600 hours |
| Front-End Developer | Develops the app by writing the codes and fixing the bugs. | ~550 hours |
| Back-End Developer | Maintains effective and uninterrupted communication between the server and database for the proper functioning of the application. | ~750 hours |
| QA Tester | Ensures the app performs as per the client's requirement. | ~200 hours |
Not only that, the cost and development that works beyond the app continues to maintain quality. So you need to contact the development team to keep the carpooling app online and add new features, called app updates.
Adding new features and helping customers will always attract their attention. It also enhances customer thinking to continue using the required food app space, which is always ready to provide better services and improve its automotive delivery system such as the Uber system and services.
Factors Influence the Cost of Carpooling App Development
1. Complexity and Number of Features
Is your carpooling application going to incorporate just the basic features or advanced ones too? Both the scope of features and their tech requirements will have a straightforwardly affect the number of hours it will take developers to build your application and thus, its final expense. 
2. Platform
Assuming you need your application to get the maximum reach possible, develop it for both iOS and Android. However, on the off chance that your budget is tight, you can begin with an MVP created for one of the platforms – pick the one that your target audience utilizes the most. 
3. Team Setup
If you're building a complex application and need to release it to the market as soon as possible, it's worth recruiting a bigger team than standard. Besides, if you care about the product's quality and productivity of the software development process, include a Scrum Master and Quality Assurance expert for your team.
4. Hourly Rates of Developers 
Where you employ your development team will enormously affect the expense of your project. Here is a breakdown of the average hourly rates of development team members in various regions of the world.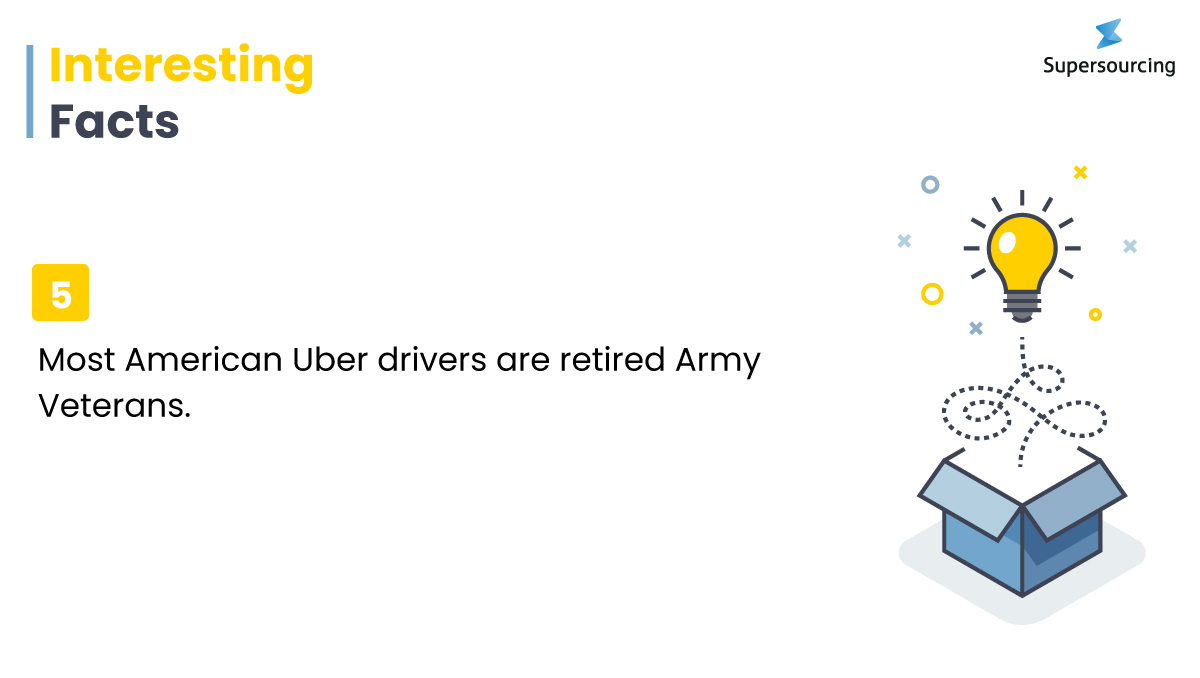 Find the Best App Development Agency to Build a Carpooling App like Uber
1) Know your Mobile App Requirements
Understand your specific needs. You should be prepared to clearly describe the specific things you are trying to achieve during the mobile app. Now, this can depend on the size of the industry in which you are employed and as a result the type of products or services you are trying to offer. However, you will also check out similar apps on the web, mobile platforms and can further review what they offer. Obviously, you have to be different but the backbone remains the same to build a carpooling app like Uber.
2) Check Company Reputation
It is a difficult decision to find the right company you want. Therefore, check the market reputation of existing companies. You can conduct web searches several times. Collect small company publications for published reviews in case of application, classification, years of experience in the industry, if possible, customer details and product portfolios, various types of services they offer, etc. This can help you get the best idea from the business before choosing to build a carpooling app like Uber.
3) See Customer Service
It plays a key role in selecting the most advanced mobile app development companies. Hiring a company with low-level customer service is often the worst case scenario for any business owner as it can deal with major issues from installation to implementation. If the company does not provide you with strong customer service/support, it can be very dangerous for your business, because you will be spending a lot of money buying the product.
In fact, some online companies focus more on marketing their programs than on making it profitable for consumers. As soon as you sell the equipment, they will disappear and there will be nothing in them when your help is needed. However, well-known and long-established companies know the value of their customers and will never back down if you ask for help with solutions related to mobile applications.
4) Look for an Innovative Company
To build a carpooling app like Uber, you choose a company that develops new solutions or something out of the box. By hiring such mobile app development firms, developing and shipping apps to app stores can be useful to your business and as a consumer. Your company can get a lot of momentum online business if you hire a new company development app for your business. The reason is that they can build a carpooling app like Uber by forwarding a brighter future. Therefore, always try to reach out to such companies that can improve your business.
5) See What Happened Before
Past experience is another important factor that helps business owners in the right listing for a quiet application development company. These companies must have a proven track record within the industry. The size of the apps built by these companies, not only important but quality is important here. Since developing a successful app is not an easy task. It requires a basic knowledge of topics, special skills, an understanding of targeted audiences and the art of engineering to build a carpooling app like Uber.
6) The Cost is Less Expensive
Money is always a big concern for businesses and customers. Making more and more money is the only goal of any online business. For consumers, it is often seen that they focus on buying high quality products at low prices. However, there is always a battle between the cost and quality of a company building a carpooling app like Uber. This is because products such as high-end applications are more expensive and vice-versa.
7) See the Best Technical Engineers Team
It's important to see app development companies whether they contain well-performing engineers or not before launching your carpooling online app as an Uber project for them. In addition, it is also necessary to understand what technology the event company is working with and whether they are well tolerated to build a carpooling app as a vision for the development of Uber and the platform you choose to go with.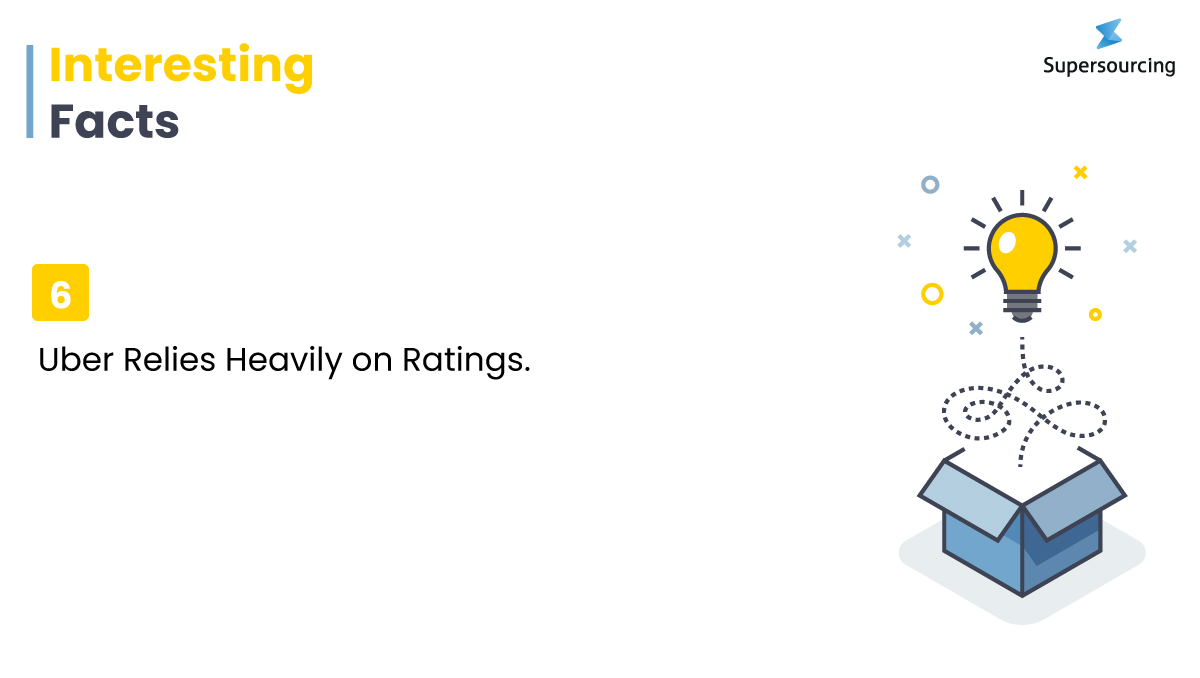 How to Hire an Agency or Dedicated Developers To Build A Carpooling App like Uber
Hiring a right and expert development agency or a dedicated developer is always a tedious and risky process to carry out. There are always chances of getting not the suitable and experts to develop your product. Therefore, it is always recommended to follow a rigid hiring process and interview sessions to analyze their expertise for making your idea a live project. So, for your assistance, below are the steps to be followed to avoid such situations to build a carpooling app like Uber.
Start with the ground research and check out their websites, social media existence of the organizations you have shortlisted. 

Consider the design and platform you are aiming for, and talk about the codes, designs, and latest trends & technology with the project manager.

While interviewing a development agency or dedicated developers, attempt to get some information about the standard practices they use for coding and methods as the code quality has an enormous effect on your project quality. 

Employing app developers who manage the security and privacy of your application idea, design, and business details. Ensure that the organization offers a privacy condition prior development.

Also, ensure about the project timeline and delivery before finalizing the development agency, so that you can keep an eye on task progress. Compute the timeline and be in frequent communication with people who will be responsible for the final project delivery.
Find an application development company that comes up with ideas like technical advancements and customization, regardless of whether you are technically sound or not. The more ideas they propose, the deeper they engage in your project idea.
Conclusion
We hope you find the article helpful and get the answer to your question – how to build a carpooling app like Uber. The planning, reflection, vision and stage design of the app structure remain the same. Take the time to plan your route, it will save you time, money and effort.
Bringing quality products and building a carpooling app like Uber, requires a good amount of investment. If everything is done correctly and accurately, then it will definitely provide a good feeling of health care for all its users.
So, while looking forward to building a carpooling app like Uber, make sure the database and app usage. However, some features in the app may be changed from time to time based on your current budget and details.
Lastly, to turn your ideas into full-fledged products it is important for businesses to hire professional engineers and build a carpooling app like Uber with special features and good quality to maintain customer bases.
I hope this article has introduced a brief understanding of how to build a carpooling app like Uber and a website and will continue to do so.
Help us keep it updated by sharing your experience with us here.
FAQs
1. What is a Carpooling app?
Carpooling is a service that arranges on-demand ride sharing services on a short notice, which is usually managed through a mobile application.
2. How much time is required to build a carpooling app like Uber?
On an average, an app development requires somewhere between three to nine months to develop depending on the number and complexity of the features integrated in the app. Developing an app from scratch goes through under multiple phases, and each phase requires a different amount of time to complete.
3. How much does it cost to build a carpooling app like Uber?
The cost of any app development varies and is based on the quality of the developers and the number of features and functionalities included in the app. The price may vary from $6,000 and $600,000.