Table of content
With the mobile app market expected to reach a staggering $939 billion in revenue by the end of 2023, the demand for experienced tech specialists is skyrocketing. However, striking the right balance between cost optimization and rapid growth can be quite the puzzle. Luckily, we have the ultimate solution: hiring app developers. Through IT outsourcing and staff augmentation, you can unlock a world of advantages, from swift and top-notch app development to accessing the finest tech talents worldwide.In this comprehensive guide, we'll explore how to hire an app developer, weighing the pros and cons. We'll simplify the hiring process, ensuring you find the perfect match for your project.
The Most Common Models for Hiring App Developers
In-House Hiring
When it comes to building your app development team, one common option is to hire an app developer as a full-time team member. This approach allows you to fill any labor gaps within your existing team by conducting job interviews and carefully selecting the right individuals to join your workforce.
However, it's important to consider the implications of in-house hiring. While it can provide benefits, such as seamless integration with your existing team, it can also be a costly endeavor. In addition to offering a dedicated workspace and accommodations, you'll need to invest time and money into the hiring and onboarding process. Moreover, you'll be responsible for providing medical insurance and complying with tax obligations as required by the government in your region.
In-house hiring is most effective when you have a significant budget or a stable source of financing to support these expenses. As we delve further into our guide, we'll explore alternative options and strategies to help you make an informed decision that aligns with your resources and goals.
Outsourcing
outsourcing can be a fantastic way to stay within your budget while leveraging the expertise of professionals. However, there are certain challenges to consider, such as communication gaps and time zone differences.The good news is that when you work with a reputable mobile application development company, these variables are effectively managed by competent project managers assigned to your project. By opting for outsourcing to hire mobile app developers, you can be assured of quality deliverables and timely results. The developers you hire will be employed on a contractual basis, saving you from employee-related expenses and the hassle of hiring and firing.Moreover, outsourcing provides scalability and flexibility, allowing you to expand or reduce the team size to precisely match your project's needs. This approach ultimately saves valuable resources in the long run.Outsourcing is particularly efficient for startups in Series A+ that aim to scale and grow rapidly while minimizing costs and requiring additional support. It's also beneficial for business owners with established companies who have fresh project ideas and need extra hands to bring them to life. Hiring app developers as an outsourced team enables you to bridge the gaps and expedite the realization of your product idea with reduced expenses.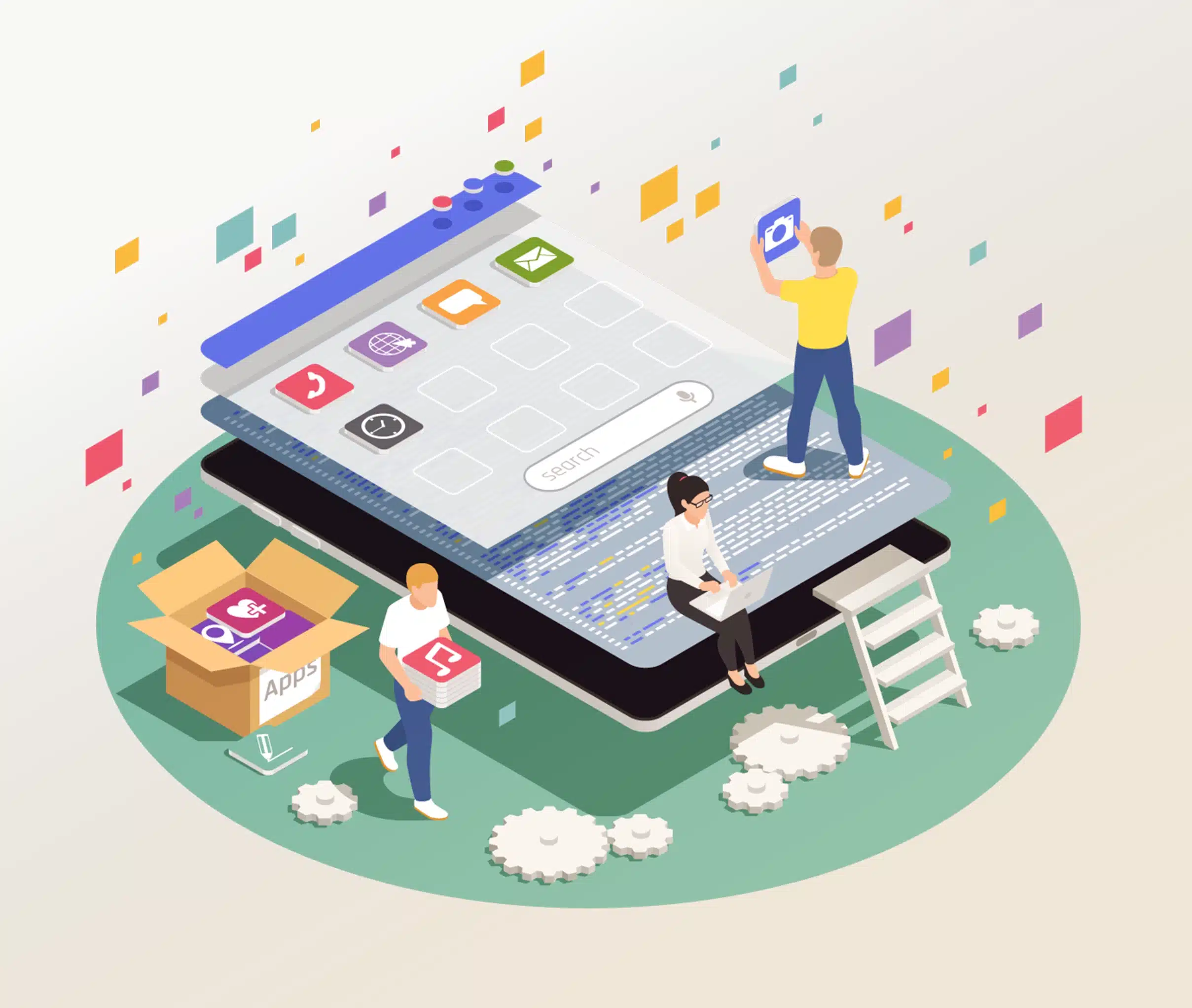 Hiring Freelancers
Another option gaining popularity today is to hire them as a freelancer. Thanks to the emergence of freelancing platforms like Upwork, it has become easier than ever for business owners to find and hire specialized professionals online.One major advantage of this approach is the contractual nature of the agreement, which means you won't be responsible for providing benefits like vacation days or social security. However, the affordability of freelancers can also have its drawbacks. Many freelancers in the market may lack the qualifications and experience necessary for larger-scale projects. As a result, this option is often more suitable for entrepreneurs with smaller budgets and pet projects, typically those with a budget of less than $10,000.
Let's explore the pros and cons of hiring app developers as freelancers. On the positive side, you won't need to provide working equipment, and the employment model is flexible. Additionally, you'll have access to talented professionals from around the world. However, keep in mind that freelancers may have less commitment to your project due to their involvement in other assignments. The onboarding process can also be more complicated, and this option is typically more suitable for medium and small businesses.
Breaking Down App Development Costs: What Factors Influence the Price?
Set a Realistic Budget
Determine your budget and list out your requirements, including the platforms you want your app to be developed for (Android, iOS, web). Decide whether you'll hire a freelancer or an app development firm. Avoid compromising on the concept, quality, design, or benefits of your app due to budget constraints.
Begin the Search for Developers
Start your search for app developers or development companies. Explore platforms like iPhoneDevSDK, Android Forums, and general developer communities. Consider job boards such as LinkedIn, Indeed, Upwork, and Turing for top-quality developers.
Vet and Screen Developers
Screen potential developers by considering their experience and portfolio. Look for developers who have worked on similar apps in your industry. Test their apps and read client testimonials or user feedback for reliable insights.
Connect with Developers or Companies
Reach out directly to the developers or development companies you are interested in. Have conversations to discuss their technology, design skills, user experience, and payment terms. Conduct interviews and establish clear terms and conditions, including the signing of an NDA to protect your app idea.
Request an All-Inclusive Package
If you want a comprehensive app development process, consider hiring a development team rather than individual freelancers. This ensures all aspects, including coding, business research, UI/UX design, and QA testing, are taken care of seamlessly.
Finalize the Hiring Process
After selecting a suitable development team, finalize the hiring process by discussing the non-disclosure agreement and other terms and conditions. Ensure that your code and app idea is well-protected.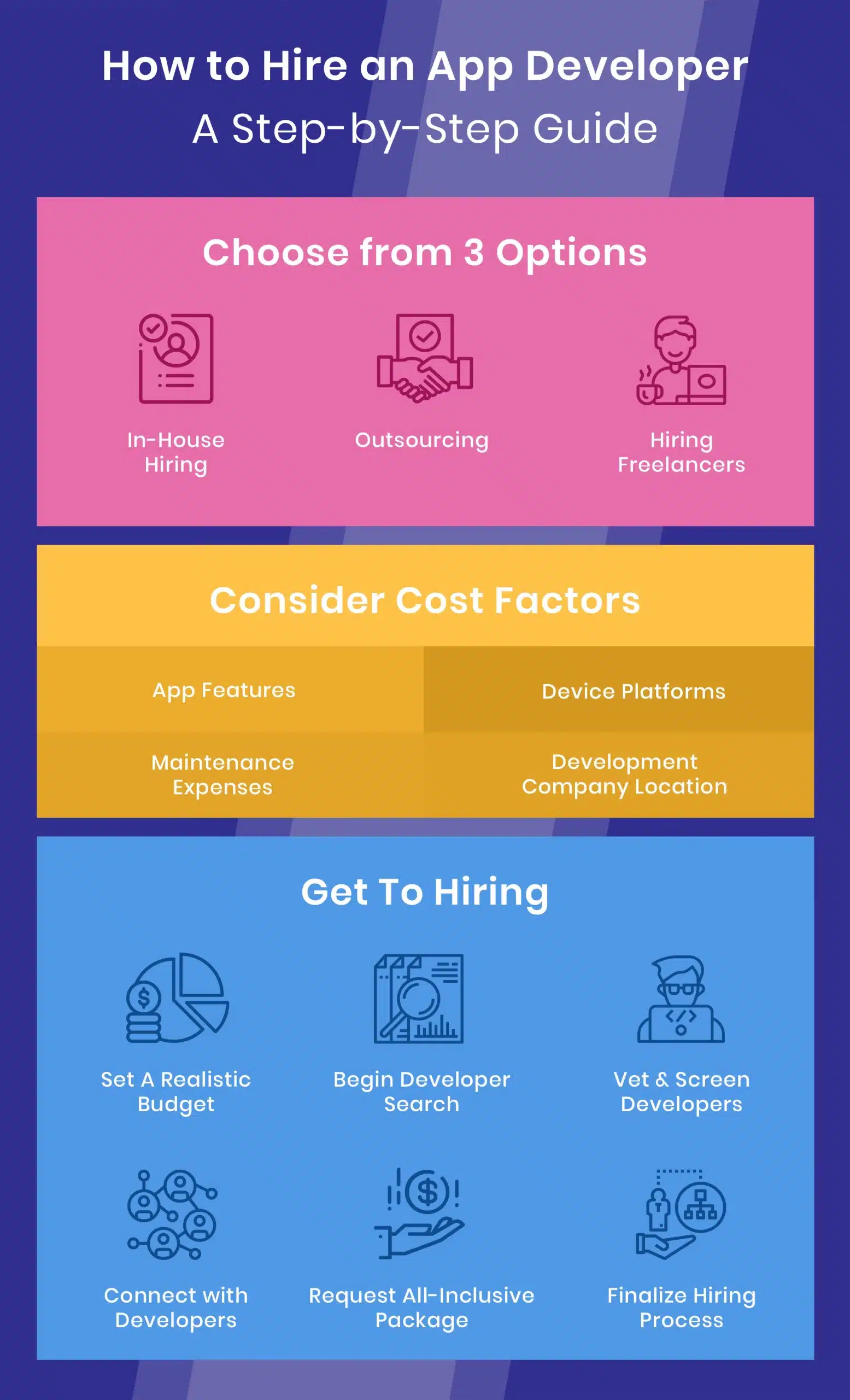 Wrapping Up!
In conclusion, investing in the creation of a high-quality mobile application is crucial for the success of your company. However, the impact of hiring an app developer goes beyond just the cost. The way your audience receives and interacts with your app plays a significant role in its overall success.To ensure a successful app development process, it is important to follow a rigorous hiring process. Make sure to seek out a team of skilled mobile app developers. Look for developers who possess expertise in UI/UX design, have experience in manual testing, and utilize modern technology stacks. Choosing a mobile app development company that offers a complete package rather than hiring individual developers can provide cost savings and enhance accountability among the team.