Table of content
Since the introduction of technology it has become easier for us to access services on finger-tips. Likewise, the FinTech technologies have made things easier for us and easy to reach. The most renowned and successful app in the FinTech industry is Revolut. Therefore, we come up with detailed information about how to build a FinTech app like Revolut, and guide all the tech and non-tech entrepreneurs to succeed in their business idea.
The FinTech apps like Revolut are effective in shortening the long queues to pay bills, make transactions, or opening new accounts. With the introduction of technology and smart work people prefer to use online banking instead of offline. In addition to that, the audiences are becoming more loyal towards using services regularly.
Revolutionizing the FinTech market and making people aware about using such apps and saving their time, has now become the need of the hour. However, online banking allows us to perform every activity in just a couple of taps. In fast pace live, most of the users now can't imagine their lives without online banking.
While going through this blog will not only learn about Revolut apps but also the apps which are like that and can make you a good entrepreneur.
While going through this blog, you can get a lot of details and information about the Revolut app and how you can build a FinTech app like Revolut to grow your business. We understand it is not an easier task to do, but in this blog you can learn all the required details to build a FinTech app like Revolut.
If you are still reading this blog, then we assure you that you won't get disappointed with it. Here, you are going to learn how to build a FinTech app like Revolut, what is the required time, budget, team size, technology, features, and other details. Go through this blog and gain a thorough understanding of how to build a FinTech app like Revolut, along with how you can plan and market your product as well.
Market Growth of 'Revolut'
Since its launch, Revolut has gained the type of growth entrepreneurs, and CEOs dreamt about. By opening offices in over 20 countries, Revolut has been ready to expand aggressively and beat competitors to the clock in different markets. Today, it's offices are in London, New York, Singapore, Berlin and more.
Revolut has quite 12 million users, with an ambitious goal to onboard 100 million within 5 years. The company said in 2019 that it had 250,000 daily active users and is still growing.
Revolut aims to use the $500 million it received in funding to accumulate other tech companies, precisely focused on travel aggregation platforms. It also intends to launch more banking services within the US.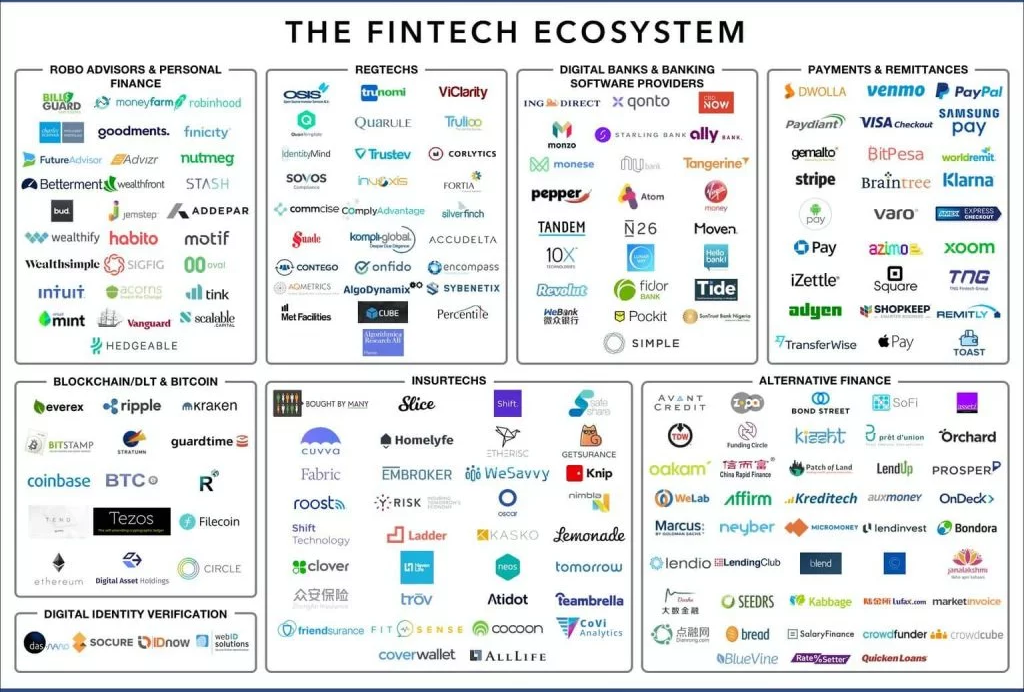 Below are the collected data and statistics on Revolut revenue, profit, users, and competition.
Revolut Overview
| | |
| --- | --- |
| Launch Date | 1 July 2015 |
| Headquarter | London, UK |
| People | Nikolay Storonsky (CEO), Vladyslav Yatsenko (CTO) |
| Industry | FinTech |
| Business Type | Private |
Revolut Total Users
| | |
| --- | --- |
| Year | No. of Users |
| 2016 | 0.1 Million |
| 2017 | 0.6 Million |
| 2018 | 2 Million |
| 2019 | 6 Million |
| 2020 | 12 Million |
Sources: The Fintech Times
Revolut Revenue
| | |
| --- | --- |
| Year | Revenue Generated |
| 2016 | £2.3 Million |
| 2017 | £13 Million |
| 2018 | £58 Million |
| 2019 | £160 Million |
Revolut Profit
| | |
| --- | --- |
| Year | Profit Earned |
| 2016 | £7 Million |
| 2017 | £15 Million |
| 2018 | £11 Million |
| 2019 | £33 Million |
Sources: Business Insider
Revolut Total Transaction Volume
| | |
| --- | --- |
| Year | Total Amount Transacted |
| 2015 | £150 Million |
| 2016 | £1 Billion |
| 2017 | £5 Billion |
| 2018 | £20 Billion |
| 2019 | £65 Billion |
Sources: Forbes, Insight Success, Fin-extra
Revolut Total Funding
| | |
| --- | --- |
| Year | Funding Amount |
| 2016 | $10 Million |
| 2017 | $80 Million |
| 2018 | $330 Million |
| 2019 | $917 Million |
Source: Crunchbase
Revolut Average Customer Deposit
| | |
| --- | --- |
| Year | Avg. Customer Deposit |
| 2018 | £251 |
| 2019 | £305 |
Sources: Sifted, The Telegraph
Revolut Average Daily Signups
| | |
| --- | --- |
| Year | Avg. Signups (Daily) |
| 2017 | 3,250 |
| 2018 | 7,000 |
| 2019 | 12,000 |
Sources: TechCrunch
How Does Revolut Make Money?
While Revolut's core banking account is free of charge, there are many other products and services with which users are monetized.
Let's look at the various income streams of Revolut in more detail.
1. Subscription Revenue
Revolut offers three different plans for consumers. These include Standard, Premium and Metal.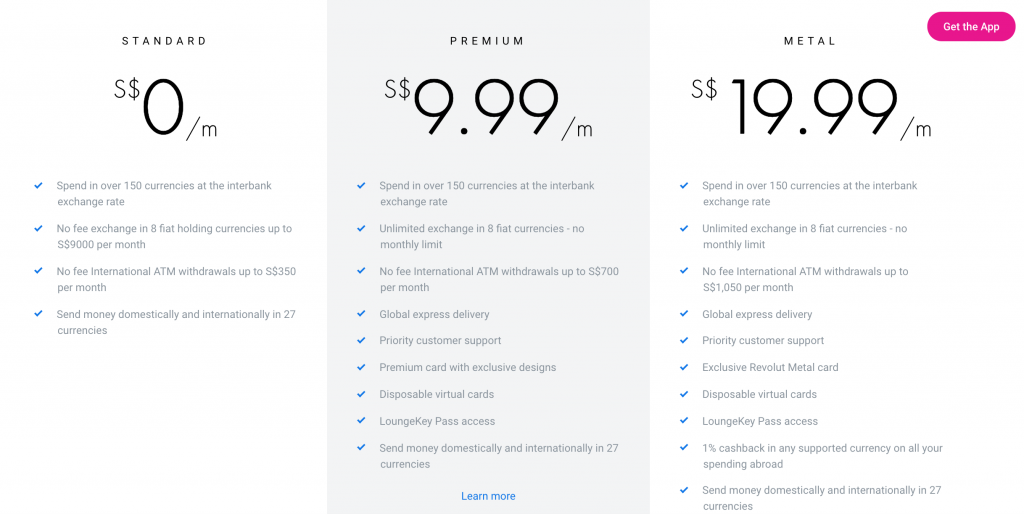 While the Standard plan is free, consumers will have to pay for the other two. The paid plans are available with a few additional features and services, such as:
A premium card with elevated design (a metal card is given out for the Metal plan, duh)
Prioritized customer support
Withdrawing cash without fees for up to $900
Free lounge passes for delayed flights
Cashback, etc.
2. Transaction Fee
For every successful physical card transaction made, Revolut (and MasterCard) will take a cut. Although it's not disclosed publicly, the commission has to be in line with MasterCard's standard charges.
Revolut and MasterCard would then share the commission.
3. International Money Transfers
Customers can transfer up to £5,000 per month for free in an International account. A fee of 0.5 percent is applied to the transaction for the amount above it.
However, the monthly limit is higher for customers opting in for the paid plans.
4. Perks
When paying with your Revolut card at one of the selected partners, customers will receive a discount if they record ten successful transactions.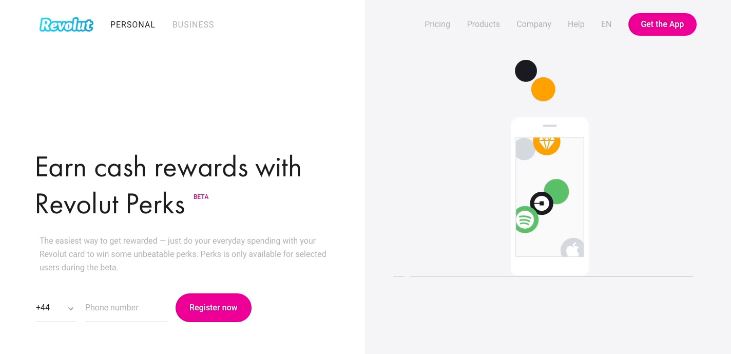 While this program is still in the beta testing phase, it is already known that partners will come from industries such as travel, dining, groceries, shopping or entertainment.
Based on the agreement, Revolut will most likely receive a deduction after each card payment.
5. Insurance
Revolut users can buy two types of insurances, namely device and overseas medical insurance. Revolut offers these insurance packages through its subsidiary, Revolut Travel Limited.
Here is Another Startup Revolutionizing The Stone Age Insurance Industry
The Revolut Travel Limited acts as an assisting insurance intermediary of Simplesurance GmBH – for a device; and White Horse Insurance Ireland – for travel. Therefore, the insurance services will be delivered by White Horse Insurance and Simplesurance.
Revolut will, as a result of this, take a percentage cut for facilitating the purchase of the insurance.
6. Trading
Through its Revolut Trading Ltd subsidiary, the company provides the possibility to buy and sell stocks from various companies.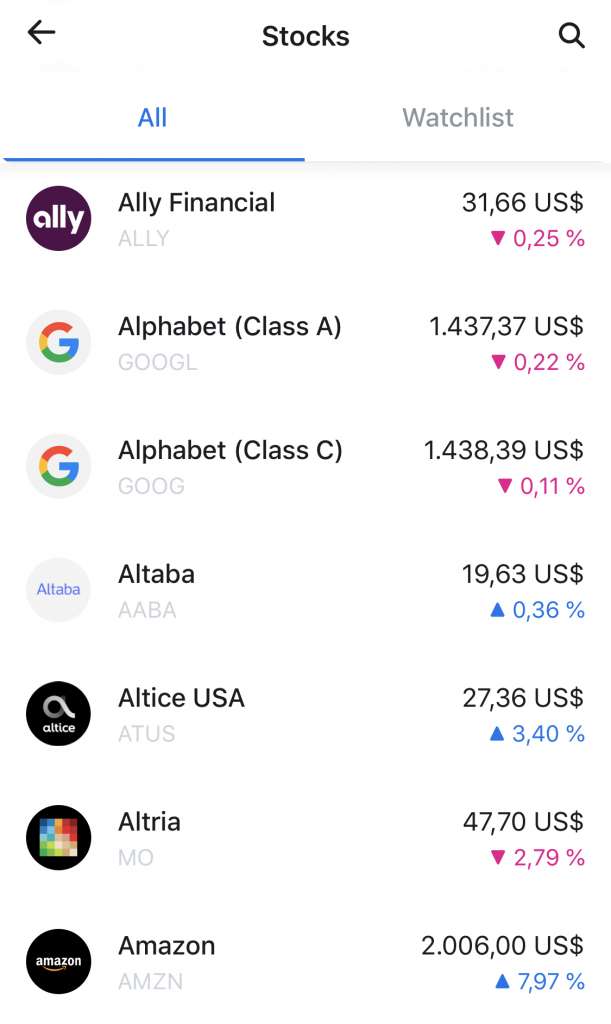 Standard and Premium plan customers can trade 3 and 8 stocks, respectively, on a monthly basis. When exceeding this amount, a flat fee is applicable for every additional transaction. For British users, this fee is 1 GBP.
On the other hand, metal card holders don't have any limitations and can trade unlimited amounts of stocks.
7. Loans & Overdrafts
Customers can furthermore opt-in for loans. These loans range from £500 up to £25,000, while the repayment period is between 12 to 60 months.
Revolut makes money with each loan from the interest it collects. The interest fee depends on the customer's credit score, the amount, and the length of the loan.
If a customer is late for his/her payment, an additional overdraft fee is applied as a penalty.
8. Business Accounts
Likewise, with the businesses, customer subscription, and freelancers can easily opt-in for other available subscription plans.
Example features include:
An expense management tool to manage your employee's spending
Bulk payments
Perks for employees at partners like Starbucks or Amazon
Open API to connect to your accounting software
Assign roles and permissions to different employees
Similar to consumer plans, subscriptions can be canceled at any time.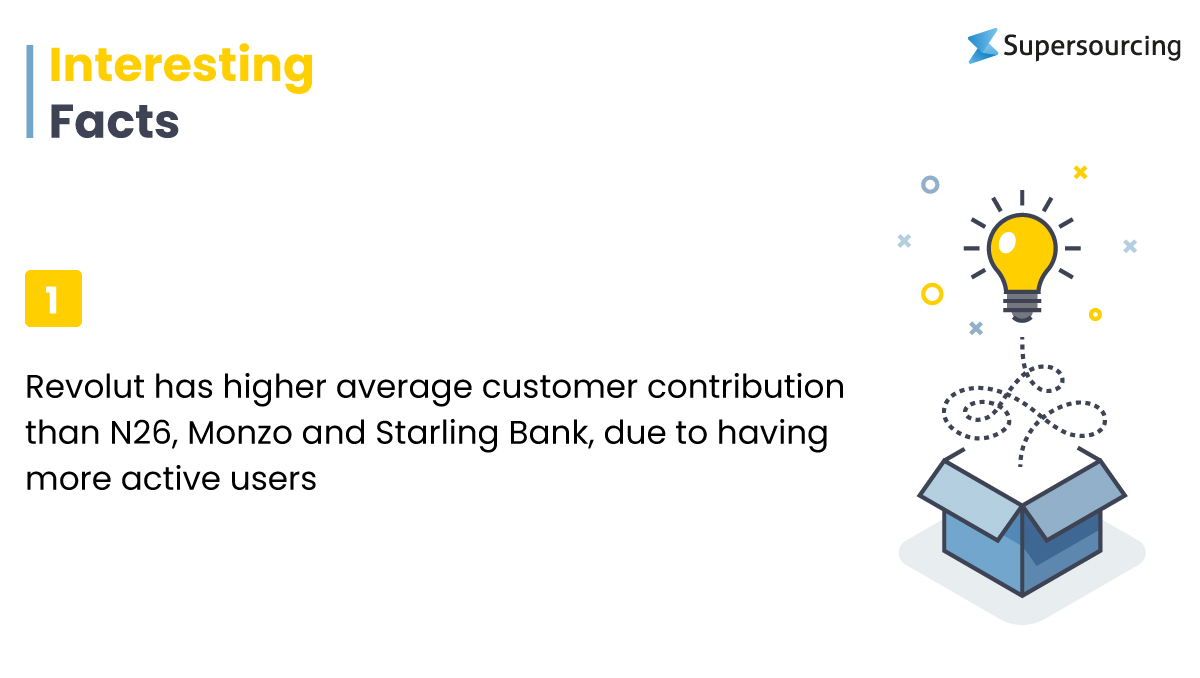 Ways to Grow Your Business with Customized Apps
Custom application development or to build a FinTech app like Revolut supports the ability to extract the exact functionality you need from your application. Business developers can quickly determine the features that make their custom application align their needs, making the organization more agile and customer-centric in the complete process.
1. Reduce Development Time and Costs
Using a low-code platform like Caspio, you no longer need to hire or rely on third-party service providers to create and maintain your custom software. Caspio's easy-to-use visual interface and point-and-click wizards cut development time by over 60% and allow organizations to quickly deploy their applications. Using Caspio, while going to build a FinTech app like Revolut saves almost $370,000 in and builds the application using traditional development methods.
2. Seamless Integration and Easy Deployment
Low-code platforms like Caspio enable you to benefit from rich integration features that make the application work with other applications. For example, companies can use Caspio to integrate CRM apps with Twilio so that they're able to send SMS alerts automatically through their websites.
3. Scale as You Grow
Unlike off-the-shelf software, custom business applications can scale to a large number of users and are capable of handling sudden surges in data volume. Caspio's robust database allows applications to accommodate numerous users and support multiple transactions .
Using Caspio's low-code development platform can build password-protected training portals that now serve over 35,000 training participants.
4. Fast and Reliable Technical Support
The custom business application to build a FinTech app like Revolut allows enjoying the benefit of getting immediate support. Since you don't remain at the mercy of a third-party provider whenever your applications run into problems. You can quickly address the issues on your own instead of waiting for guidance.
Features Required to Build a FinTech App like Revolut
Generic Features
1. Easy Registration:
While looking to build a FinTech app like Revolut, security is a major need. Users must resolve multiple authentication to further protect the registration process. FinTech applications are becoming more efficient, secure and flexible as FinTech's business is ready for the latest developments such as blockchain, biometrics, API joining, and more.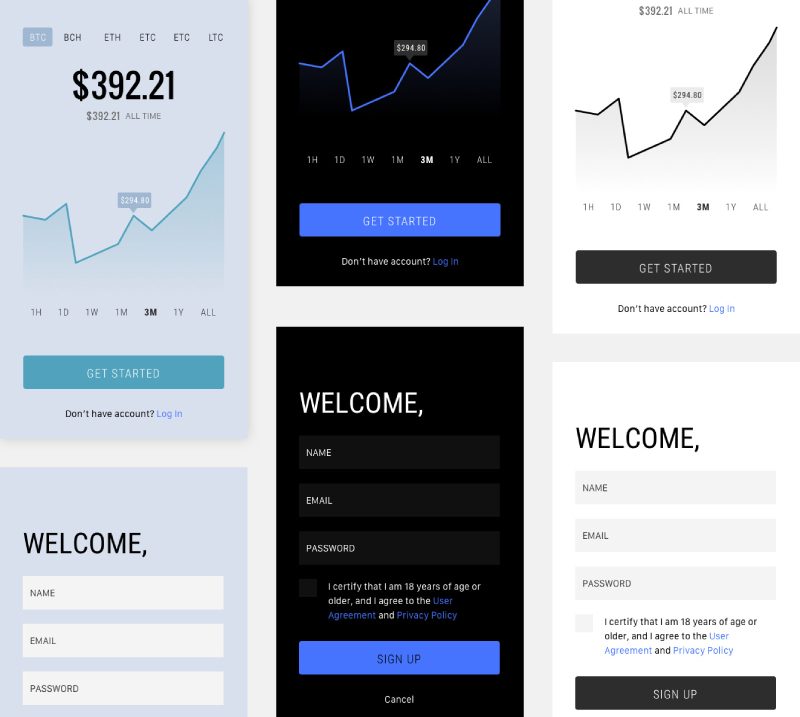 2. Login Securely:
The most important and key part of choosing the future of your fintech application is security. So, to build a FinTech app Revolut, it all starts from the registration phase, where users need confirmation that the app verifies their budget details. It is usually done with the production of special code, visible facial evidence, fingerprint, postal alerts each time a user joins the system.
3. Real Time Notification:
In addition to opening a bank application, users should be aware of all updates to his accounts and financial sector issues. Instant use notifications, investment notices, payment related notices. At the same time it enhances the authenticity and growth of the ongoing user engagement of the app.
4. API Integration:
Nowadays various industries such as payment transfers, asset management and much more are heavily focused on fintech technology. Therefore, to build a FinTech app, you should be organized in such a way that it can be integrated without much stretching at different stages. One of the great things about this joining is that programs can undoubtedly work together to share information. And to create communication rules, expected results, order collection, and interaction with each other, Application Programming Interfaces is used with applications. With the help of APIs, designers can integrate large application applications without having to re-create specific functionality for each application.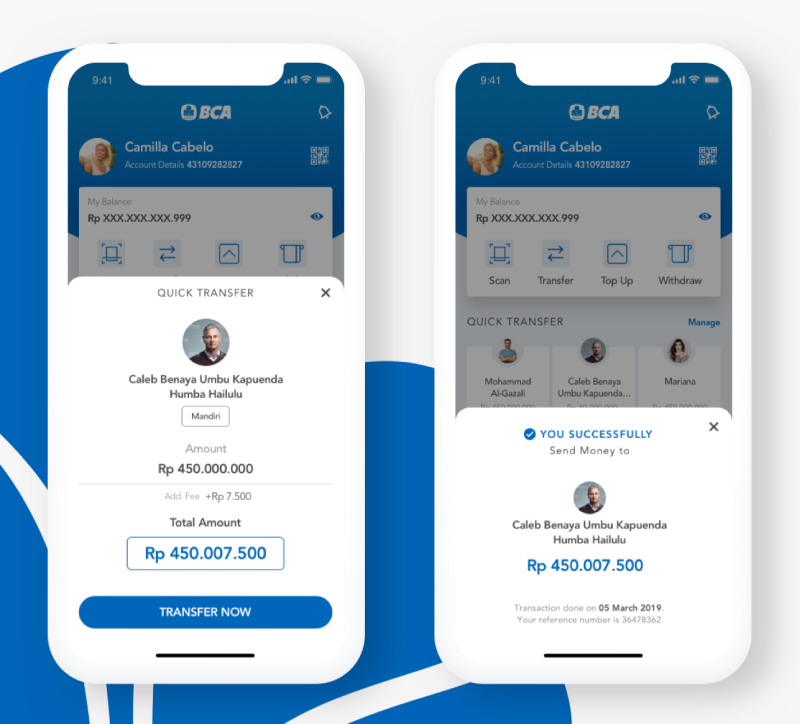 5. Personalization:
By using some robust algorithms that can analyze and learn human performance it can help the app to apply the human feeling made for you. Different things like user needs and concerns before providing any kind of financial services. That way users are always provided for their needs. This section of customized user information keeps your app users busy with the app and definitely brings increased revenue and benefits.
6. Third Party Verification:
To be sure of your digital records, two-factor verification may be the best choice. SMS testing is widely used, but third-party applications can be used to protect the fintech application.
7. Protected Biometric System:
Security is one of the most important aspects to consider to build a FinTech app like Revolut. Cyber attacks and risks can damage a user's confidence in the use of digital payment services. FinTech organizations want to replace unreliable passwords that are based on patterns with different markings (fingerprints) or biometric inputs. Along with the face recognition system, the biometric system that identifies users with their pulse is also in the creative phase.
Later, you will have the option to log into banking apps by guessing your strike with a smartwatch or with a savvy wrist band. With this feature, you will have the option of approving the installment by simply checking the palm of your hand or giving it to the user.
8. Robust Platform:
To build a FinTech app like Revolut program one should consider information security issues to build trustworthy communication with users. Security is a fundamental concern that helps ensure information security with guidelines and consistency. Here are a few common safety precautions:
After an unsuccessful login attempt, the account is locked. During payment only three digits of the card are displayed. While signing in with the app at the same time shared shared numbers.
Features of Revolut App
1. Account
Connected Accounts: Connect all your external bank accounts to Revolut as well Open Banking and get offline cash management.
Budget and Statistics: Control your spending and budget wisely with our useful analytics – real-time.
Cards: Easily manage your card settings, such as cold card or spending restrictions. Use your card to spend abroad as a local person with the best exchange rates of 150 currencies.
Junior Account: Junior account for children, managed by you. Help them develop healthy financial habits.
2. Wealth
Shares: It is easy for you to invest in stocks for free without having to pay every month.
Crypto: Investing in cryptocurrencies is easy, accessible and brighter with Revolut.
Assets: Exchanging in-app items is quick and easy. Discover the gold, silver, and precious metals.
Vaults: Set aside money by working hard on what you want to build a FinTech app like Revolut.
3. Payments
Money Transfer: Send and request money via tap. Get fast and easy money transfers without hidden deposits in 30+ currencies.
Group Debt: Group Debt makes it easy to track, split and resolve multiple expenses between friends and family. Do it all in one place, right away.
Subscriptions: Get full visibility and manage all your subscriptions, Direct Debits, and recurring payments in one place.
4. Extras
Prizes: Prizes save money on personalized discounts and refunds.
Donations: Tap on the causes you care about and watch your money go without any hidden fees to build a FinTech App like Revolut.
Overseas Insurance: Revolut's Pay-per-Day Medical Insurance uses geolocation technology and will therefore only be charged for days off overseas, for medical and dental access.
Device Insurance: Quick mobile phone coverage with global coverage against all accidental damage
Safety: We take safety and security seriously. Your money is kept safe with our global banking partners, 7x times better at stopping card fraud than high street banks, and you can stay in control with our in-app security features.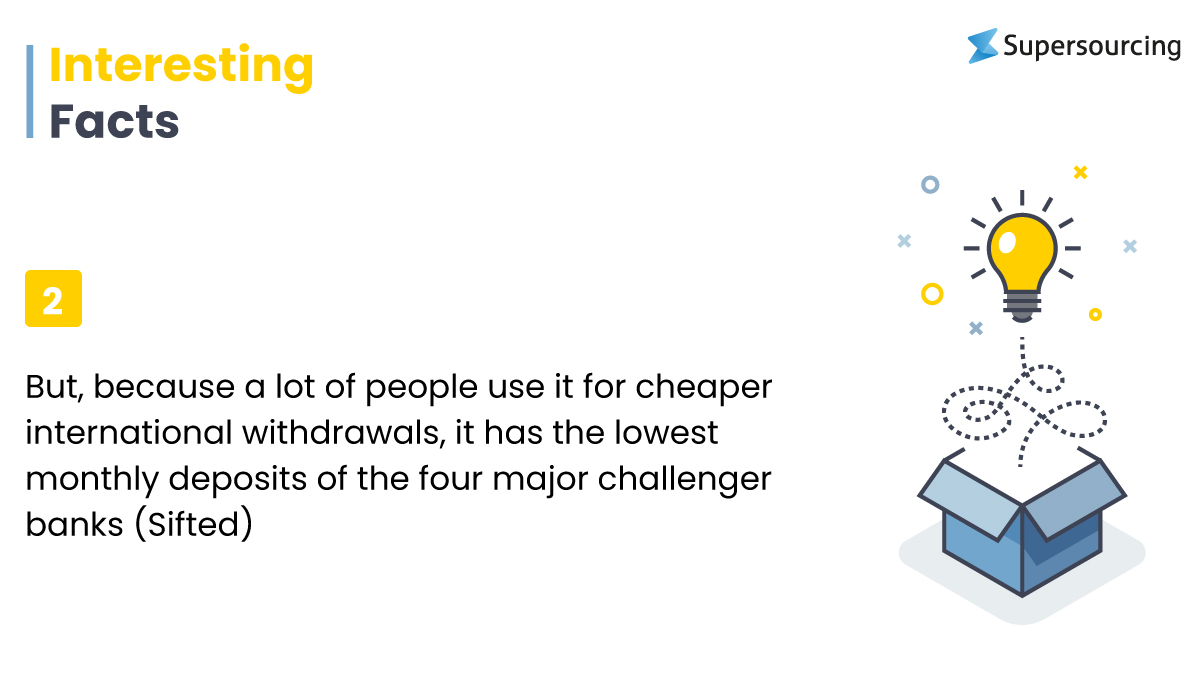 Requirement of Third-Party API to Build a FinTech App like Revolut
What is a Third-Party API?
To build a FinTech app like Revolut the Third-party integration focuses on the idea of  integrating pre-made features within the software code to improve the overall performance of the same. Interaction with third party APIs accelerates the development process to reduce marketing time.
In addition, the integration of third-party APIs enables developers to focus on the most important features and eliminates the need to make every part of one code. For startups or organizations with budget and time constraints, such integration is an excellent solution for promoting development without compromising on product quality.
Overall, a third-party API allows you to access any third-party applications or data that you may use on your site or application while looking to build a FinTech app like Revolut. An easy way to think about it is that the API allows one program to communicate with another.
Therefore, APIs allow heavy-duty applications, such as Facebook, Google, and Twitter to allow others to opt out of services such as Google Maps. In short, APIs display other product or service functions in a controlled environment. For example, businesses can use the Facebook or Google API to facilitate subscription to a site or app or the Twitter API to make content sharing faster and easier.
Join the Third-Party API Group
For online businesses, APIs offer a variety of benefits that allow them to bring in new customers, make their product better known and, ultimately, increase their sales. Let's look at a few reasons why you might join a third party API to build a FinTech app like Revolut.
1. Immediate Delivery of the Program
How to purchase a third-party company API for in-house integration rather than expanding one side allows for faster and efficient system deployment. No need to wait for repetition. Once the basic application is ready, you can work on its functionality, and integration.
2. Save Time and Money Focusing on the Main Product
Integrating a third-party API to build a FinTech app like Revolut means that your developers and codes have more time to integrate the API better than spending time building and building and integrating. This will not only save resources like time and money for your developers but free up their time to focus on other things like developing the core product.
3. No Resource Constraints; Allow Access to Better Features
Now that your developers and coders are not constricted due to limited resources, primarily monetary, you have the freedom to go for whichever features you may prefer. Therefore, integrating third-party apps is a beneficial option for you to build a FinTech app like Revolut. It enables them to add features that would be challenging for them to develop on their own, given the resource constraints in in-house development.
4. Secure Data Access for Startup
In addition to enabling access to better features for startups, integrating third-party APIs also allows them to gain secure and easy access to data. It might be difficult for them otherwise to obtain on their own while in the process to build a FinTech app like Revolut.
For instance, consider an online food ordering platform. Apps like these utilize to focus on third-party API integrations to provide them with the necessary data of reaching a local customer base living nearby the restaurants.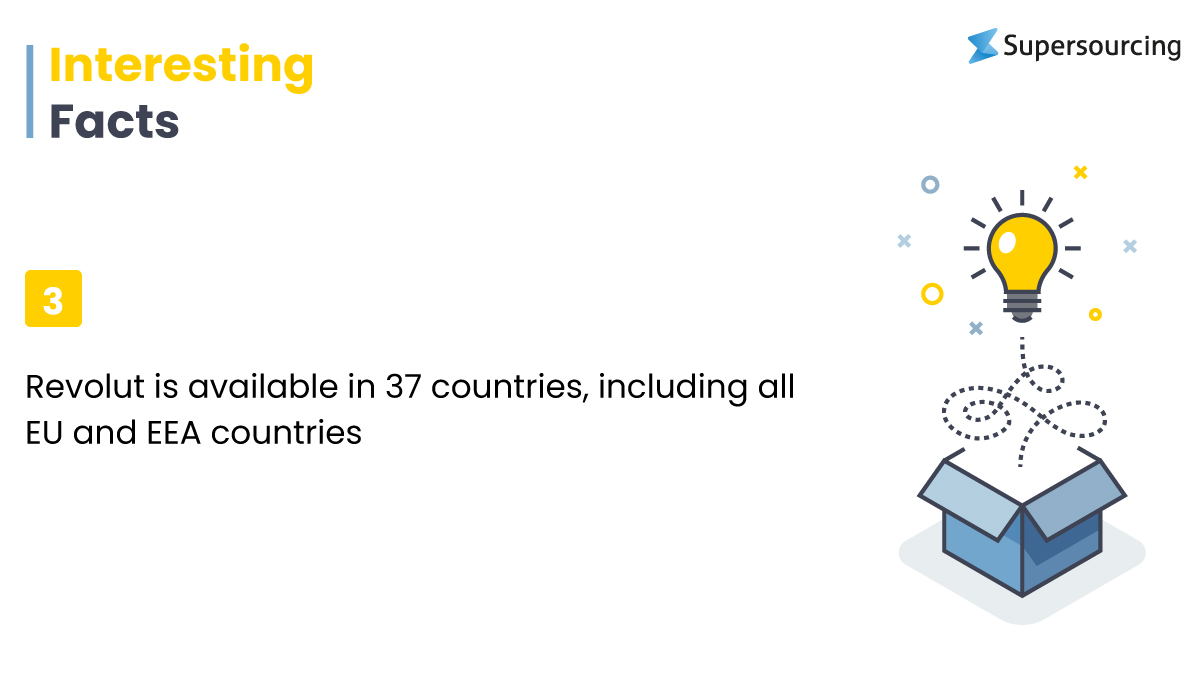 The Need for APIs
Opening internal systems through APIs is not an easy task, but the potential benefits have the power to offset the unavoidable challenges: One API can be utilized to connect back-office transaction services with multiple channels (e.g., mobile, web, tablet), allowing the bank to decouple its internal environment (resource layer) from the customer-facing apps (client layer).
The bank is able to more flexibly distribute its products through third-party channels provided by fintech partners, facilitating innovation and reducing time to market.
The connectivity provided with APIs can be bidirectional, enabling banks to track changes across channels and feed information to the bank's internal systems. Content can be reused more easily, enabling self-service for fintech partners that consume the bank's internal resources made available via the APIs. The participation of multiple fintech developers that plug in to APIs allows banks to spread the cost of innovation and shorten the time to market for bank-provided transaction services.
Corporate banking is becoming very relevant to banks' revenue results because it is a highly margin-focused business. Wholesale banking is a source of profit for banks, and wholesale clients are steadily demanding access to services that go beyond payments, or rather, that integrate payments with the cash management, liquidity management, treasury, and trade finance portions of a bank's business.
APIs allow corporate banks to reduce servicing costs for internal and external channels, improving agility and lowering operational costs to run on multiple connectivity rails.
Impact of API Integration in Fintech Apps
There are a list of reasons for banks to wish to implement an API strategy to build a FinTech app like Revolut. Governmental directives, regulations, or initiatives are considered separately and influence responses are aligned with clients' needs as follows:
Shorten time to market (an extreme influence for 45%)
Allow clients to determine their user experience (an extreme influence for 33%)
Allow clients to access bank data for analysis and decision-making (an extreme influence for 33%)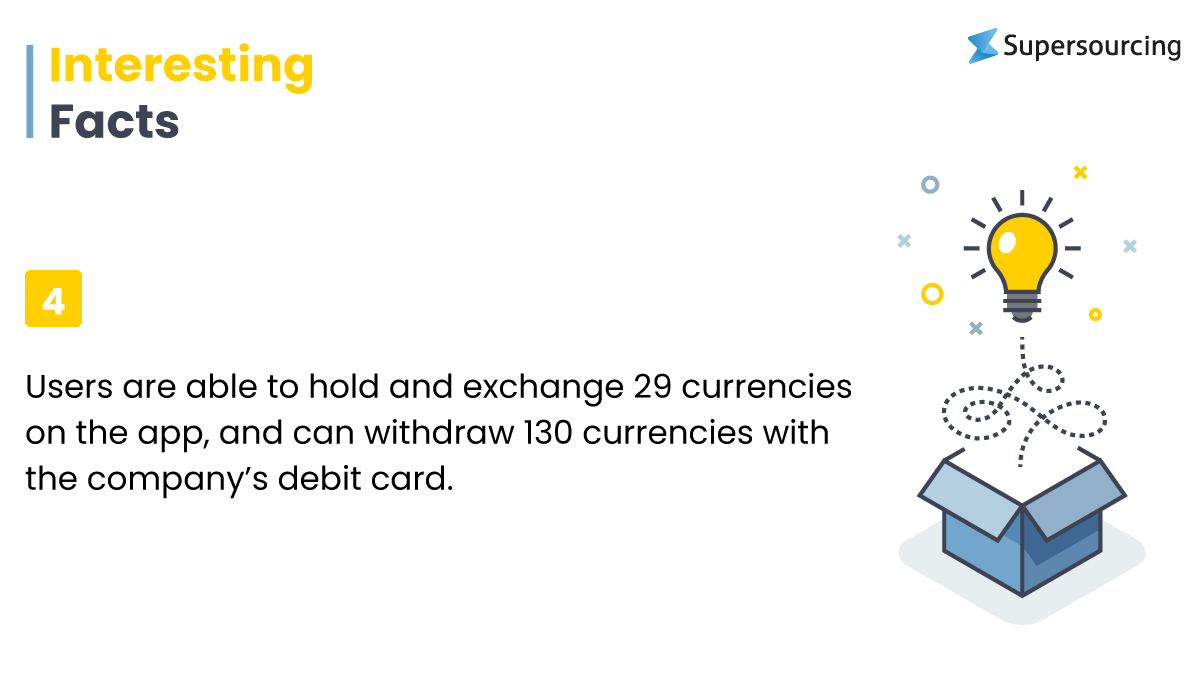 Steps to Build a FinTech App like Revolut
1) Research Niche Market
The first and most important step to look for is to identify the app audience before starting to build a FinTech app like Revolut. The app developer has to decide whether the app is for individuals, institutions or businesses. With market research, the needs of the target audience can be identified and the scope of the application can be well planned.
2) Create an MVP Model
Start with the MVP (Minimum Viable Product) model to build a FinTech app like Revolut. Create an application model and export it to a small target market segment. The prototype should only contain a limited set of application features and show the basic configuration of the application.
The main purpose of releasing a particular genre is to get an answer about it. Users will provide feedback on app errors and ways to improve it. Depending on the response, changes can be made to the app so that it can be easily used to completely liberate the community.
3) Find Cloud Services
Startups may not be able to invest in IT infrastructure at first to build a FinTech app like Revolut. Instead they can get cloud services to provide storage, infrastructure, application, etc. to start their development process.
PaaS (Platform as a Service) platforms provide cloud services. Software Development Kits (SDK) and Application Programming Interface (API) can be used for application development.
Initiate Your Project
Before placing a pen on paper or hands on the keyboard, it is important to first consult with the teams and staff throughout your organization to design your website or build a FinTech app like Revolut.
Here are some points to evaluate before initializing your site:
What is the purpose of your website?
Who is your audience, and what do you want them to do for your website?
What kind of website? (e.g. basic information, membership, online store)
What content do you intend to publish, and in what capacity? What is the purpose of this content?
Thinking about the big picture, how do you plan your website to have the best travel experience?
What is your budget?
Answering questions will develop a connection between your web development, marketing, and financial teams to make informed calls. From here, you can write down your priorities and build a plan i.e., how to build a FinTech app like Revolut. It is much easier to create a road at the beginning of the process than to reverse your progress in a roadblock.
Why require Product Requirements Document (PRD) for Managers?
It is best to always have a complete picture of what is happening in front of your eyes. The PRD is an overview of the most important details needed for a potential project development. This document covers key objectives, implementation goals, expected outcomes, time required and other additional technical requirements
Why does an effective product manager need a product document to build a FinTech app like Revolut? The main purpose of PRD is to define the product you want to build: from its objectives to features and functionality.
This document is not a product manager's secret as it should be shared with technology groups and businesses.
A well-designed PRD provides clear direction to product branding.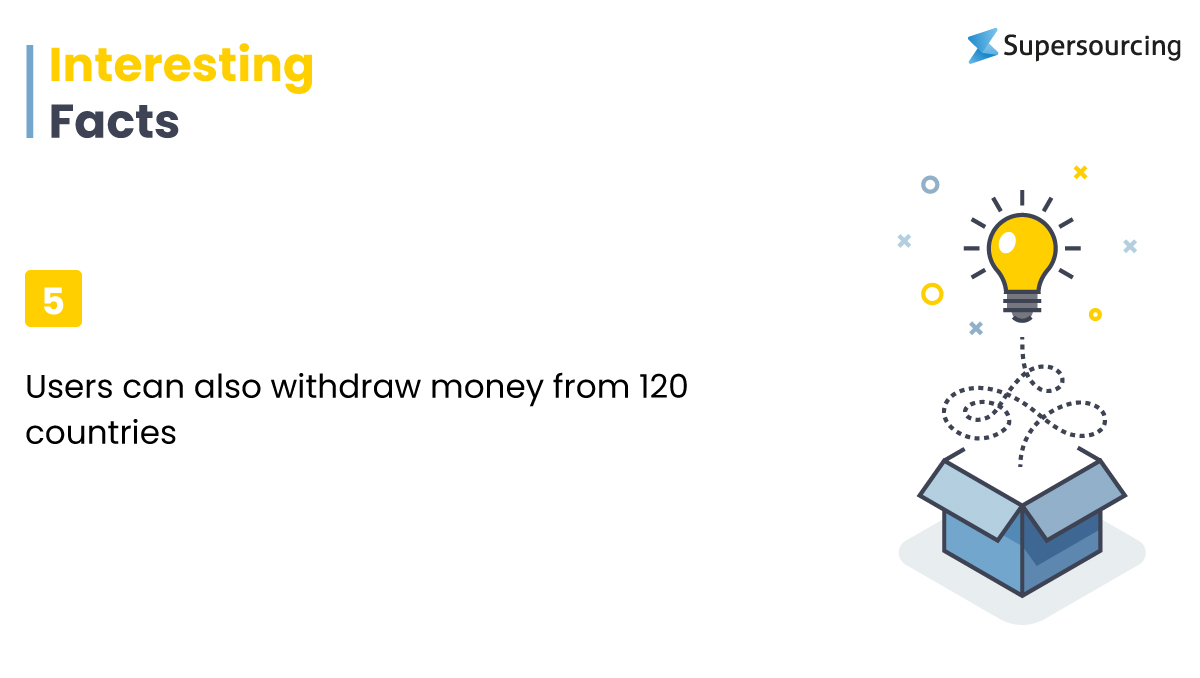 Wireframe to Build a FinTech App like Revolut
Every good website starts with a plan. Likewise a plan is required to build a FinTech app like Revolut. Developers call this a wireframe or site map (don't get confused with a site map .XML, and XML file that helps SERPs crawl and locate your site). Thus, it does not have to be an official document; it is simply a view of your site that will provide you with a guide(s) for your developers and where to start.
Just as a business plan provides potential investors with an understanding of your goals and offers. A site map gives the developer an idea of  what you are looking for and the information needed to meet your vision. Thus, you can create a sitemap on your own or work with your developers.
Here are a few questions to consider when designing your site to build a FinTech app like Revolut:
What individual pages do you want? What content will be on those pages?
How can you sort those pages into categories? (These sections can represent your homepage menu – if it helps to think about it that way)
What is the page management section on your site?
How will the pages come together?
What pages and sections are important to your site and user experience, and which ones can be removed or merged?
Also, it is a good idea to connect with other groups within your organization. If you have an SEO and/or content team, their input will be important in building links and categorizing your pages to build a FinTech app like Revolut.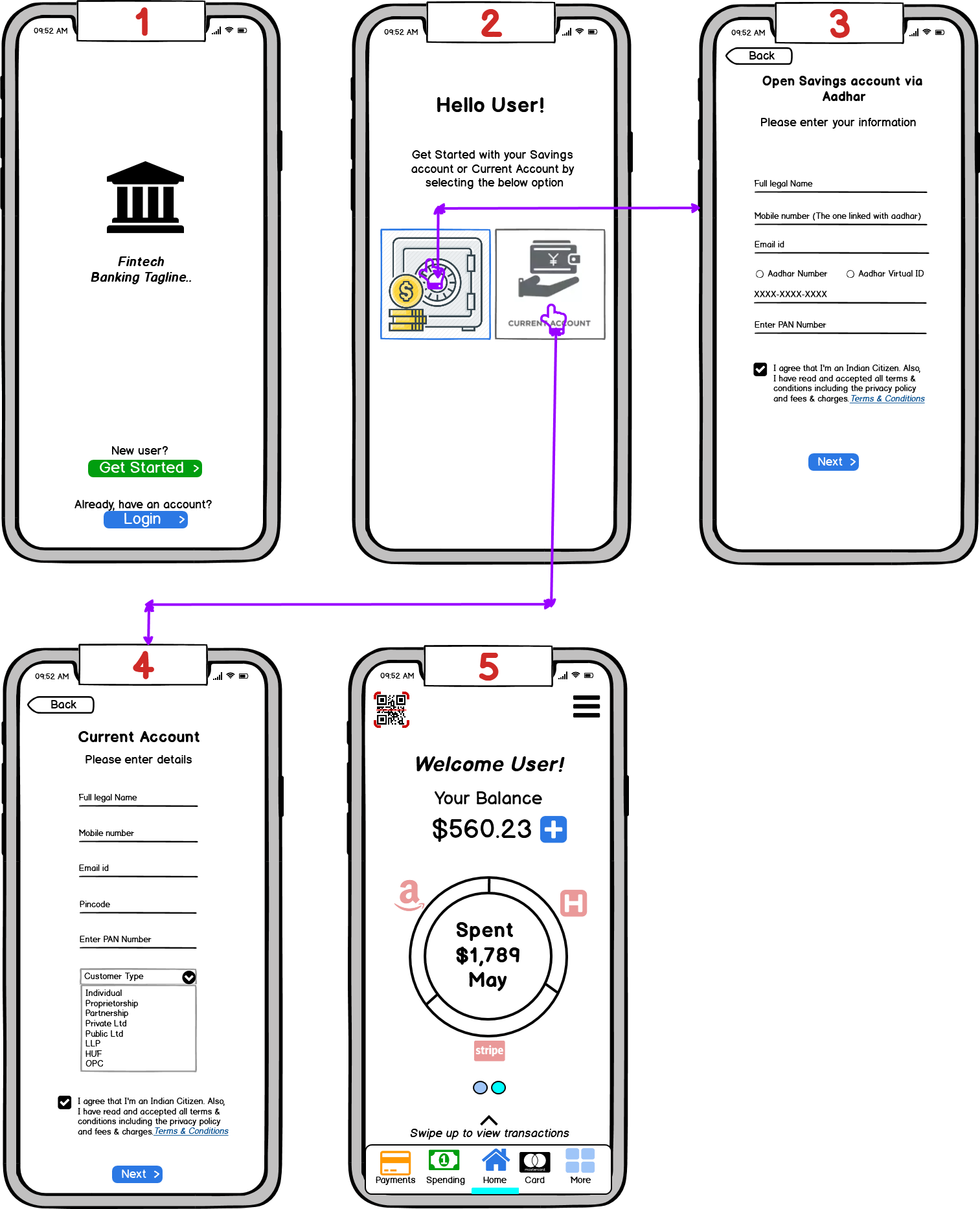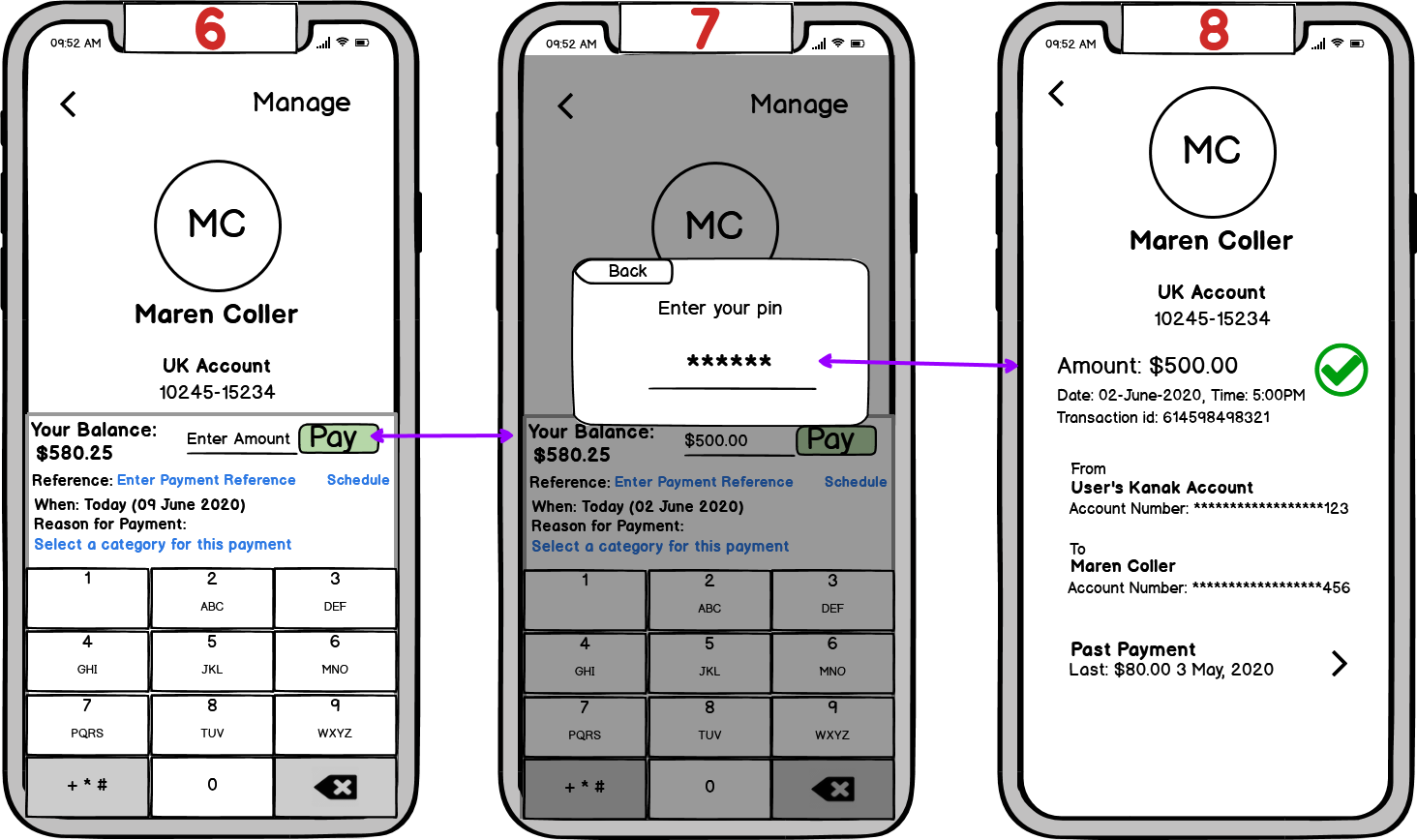 Designing Prototype
Prototyping is an experimental process in which design teams submit ideas in tangible ways from paper to digital. Teams develop prototypes of various levels of reliability to capture design and testing concepts for users. With prototypes, you can refine and validate your design to build a FinTech app like Revolut so that you can develop the right products.
Actual Prototype to Build a FinTech App like Revolut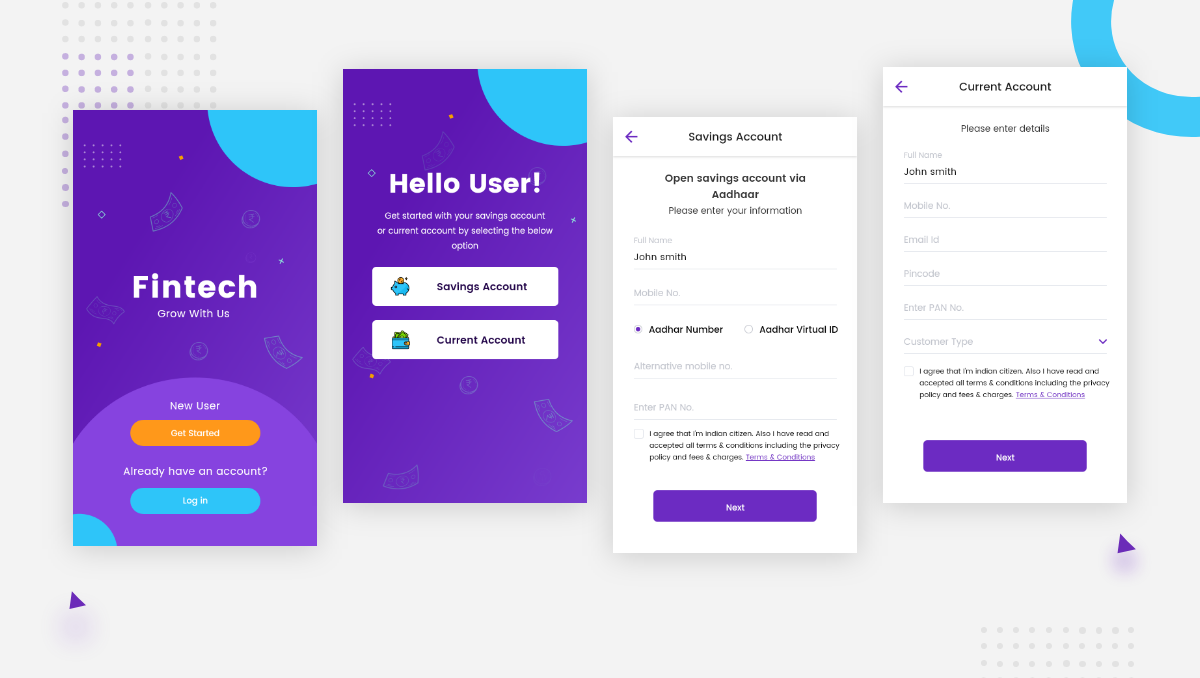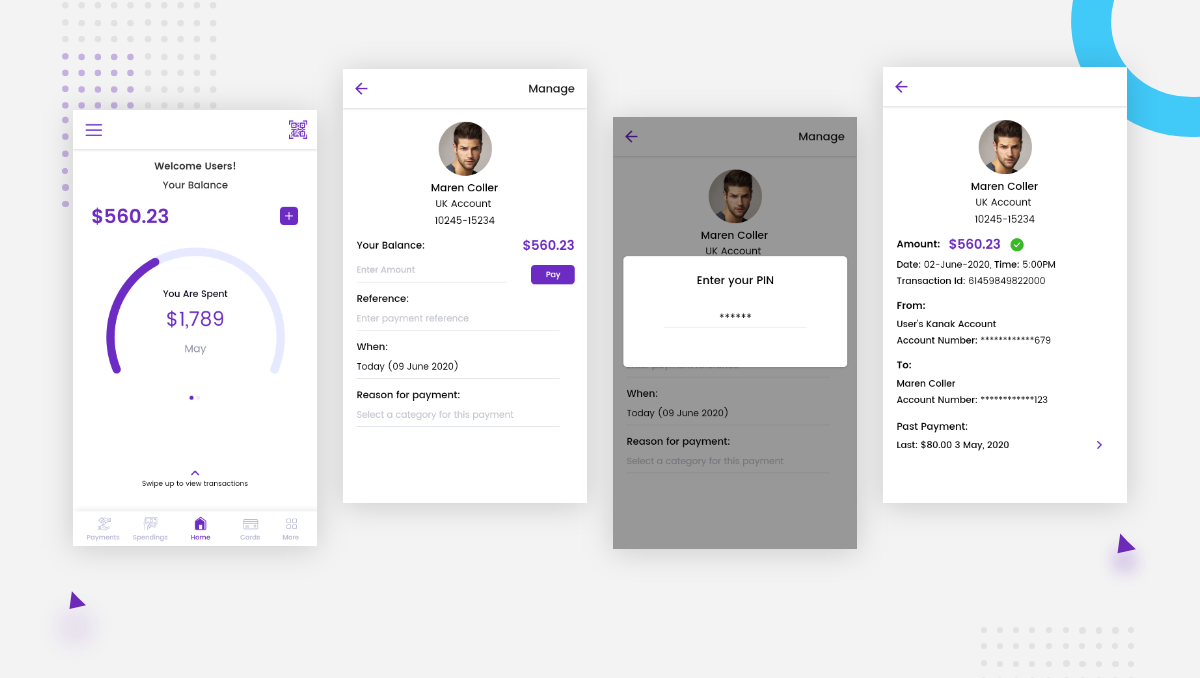 Some designers classify high fidelity as "mid-fidelity" (where prototypes can have basic digital communications or wire frames) and "high-fidelity" (when they are very close to the final version). Interactive prototypes produce very useful results in user testing. However, reliability is limited – the vertical performance of the landing page, for example, is higher reliability than cut-out sketch users can walk. All in all, you should always be committed to reflecting the needs of the users in mind, especially in the eyes of the user.
Process of Software Development
The App Development initiative enables full-fledged design by software developers and comes in two parts:
a) Front-End Development
This development process involves the conversion of the user interface to the active code. It is the job of the frontend developer to translate the application structure into well-defined codes so that they are clearly displayed in the browser.
In addition, they should also ensure that its appearance is supported in all current browsers and mobile application platforms, while also ensuring that the design looks good in some computer resolutions.
It contains various tools to build a healthy fintech app and includes HTML5, CSS3, Angular, jQuery, Bootstrap and many more. As a result, the frontend engineer could aims to build a FinTech app like Revolut, which is a good-looking, old-fashioned and sophisticated interface to provide a good user experience.
b) Back-End Development
This development process works with data integration, security, and server side configuration. The backend designer is responsible for providing CMS-based content and developing the concept needed to work as it should. When the design is considered for how to build a FinTech app like Revolut, then they must work in conjunction with the frontend development process to remove the hassle of CMS setup and provide customers with easy management of their app content.
In addition, the stack of backend technology has four components to successfully build a FinTech app like Revolut:
i. Server
They are the lifeblood of the mobile app framework as they provide shared resources (security, email, web services and much more) that allow them to operate and function as mobile application hosting platforms as well. Hence, it comes as a cloud server (like Google App Engine or Amazon AWS), used by large organizations; as a custom server to build your own server and fully control the app.
ii. Website
It is what makes any app powerful as it receives a query, downloads data and returns it to customers using a given application.
iii. Middleware
Server running software acts as a bridge between frontend and backend and improves communication between client and server. In addition, they can improve user and content management and authentication.
Therefore, engineers should aim to keep the construction of the mobile app simple but powerful, organized and organized. They must work to install notable tools like C #, PHP, MySQL, MongoDB, Python, and Node.
If you want your engineer to build a traditional fintech app; in which case there will be tangible benefits:
Offers Provides reliable, fast and highly responsive performance
Allows easy tapping on wide device operation
Similar to the UI/UX application in platform meetings
If you want your engineer to build a hybrid fintech app; in which case there will be tangible benefits:
Only one codebase is required to manage the entire platform
Good time with savings option
It is easy to scale on another platform
Likewise, to build a FinTech app like Revolut program with the integration of browser features and web applications will help you gain access to several new features like press notifications, home screen uploads and more. In addition, it is cheap to develop, deliver, promote and maintain any application.
Quality Analysis & Testing
The workflow and testing phases of banking applications can vary depending on the method you are using, Agile or Waterfall. In total, the categories will include:
1. Demand Analysis
Domain information is essential for accurate collection of needs. Therefore, in the Agile model, key stakeholders including business analysts, developers and evaluators are involved in collecting needs and documentation.
2. Review
Written requirements need to be reviewed and verified to ensure that it does not affect workflow.
3. Database Testing
This is one of the most important aspects of banking app testing. Thus, it is done to ensure data integrity, data upload, migration, stored steps, validation and legal testing.
4. Integration Testing
As mentioned earlier, integration testing is required to ensure that all components are working properly together and are validated.
5. Practical Testing
This is where testing activities such as exam preparation, review of test cases and preparation of test cases are performed.
6. Security Testing
Security testing ensures that there are no security errors in the software. The QA team needs to include both probable and positive situations in which one can break the system and report it, so that the evidence fails.
7. Regression Testing
All discharges, large and small need to be combined with adequate deferred testing to ensure that the new functionality does not violate any functionality. Hence, Regression testing is particularly important for banking applications due to the high reliance on customers for 24/7 availability.
8. Performance Testing
Since bank applications work for different customers on multiple devices, the usability test ensures that the app works for different groups of users. This is done by business users.
9. User Acceptance Test
UAT aims to ensure that end user needs are met in real-world contexts.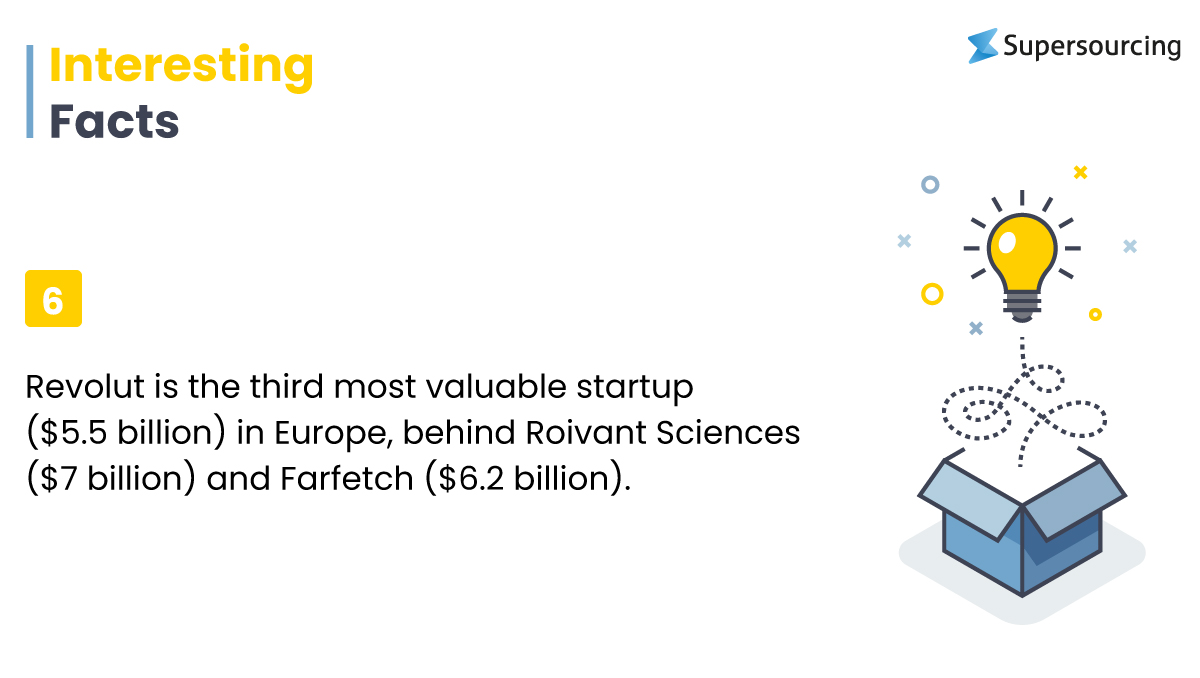 Deployment
It is the stage at which an application solution is released for use by end users. Therefore, it is an important aspect as it helps in attracting a large number of customers to utilize their financial transactions most effectively.
Though an application can be deployed on multiple platforms, such as web server, android, iOS, and other platforms. It requires different procedures and terms and conditions to be followed to deploy an application.
a) Deploy Application on Web Server
With a web server in place, your app is responsible for handling the custom stuff, which is specific to your project. Therefore, the web server makes sure that requests which are meant for it, arrive at your application and forward the results back to where they are expected.
The application will stop performing if the background server is malfunctioning or overloaded. Thus, too avoid such issues, make sure the server is well-equipped to meet all the application requirements and meet the needs of the users.
b) Deploy Application in Google Play Store or iOS App Store
Once the application is done with the best configuration and features of the app, the app can be installed from the Android Play Store or iOS App Store. Hence, to make it possible, different Google and Apple application processes can be followed. However, to fulfill the guidelines of both platforms, you might require to make some changes and make it available for users on the Play Store and App Store.
Unlike Play Store, the Apple App Store reviews apps manually, so it is important to follow all the guidelines and adhere to the rules without any delay to make the app visible on the platforms.
Promotion of Application
The successful deployment of your online FinTech app will never be a guarantee of your application success as well. Therefore, it is important to promote and market the application in a guided manner. There are various ways to promote your app and gain the frequent, long-time and short-time user.
Before and after the official release of fintech apps, there should be active and aggressive marketing and advertising so that a large number of tech-savvy customers get to know about your product with the provision of enough feedback.
The current world is digital technology so the fintech industry should focus on promoting their financial products on social media and can also enlist the help of successful journalists and bloggers through advertising and email marketing. However, it is difficult to reach total costs and should be balanced within the budget to build a fintech app like revolut.
Operations & Maintenance
As a business owner, you need to focus on investing in long-term care that can keep your app up to date.
1. Keep Mobile Apps Updated and Reduce Uninstallation
It is wise to feel the beat of the users and the curate features that reflect what they like and dislike.
So, the fact is that you need to constantly monitor your user preferences and expectations – and update your app.
If you get a dip in your app ratings, the platforms may choose to go to a clean drive and remove your app from their stores. Thus, it would be wise to consider updating your app with new features and APIs.
2. Delivering the Best User Experience
A good user experience helps you:
Improve long-term relationships with users
Get better feedback and better reviews
Improve user retention
Increase customer loyalty
With such benefits, it makes sense to put in more effort and give users an incredible experience.
3. Increased ROI in Long Run
If you regularly update your app, you can reap many financial benefits, such as increasing ROI. It will also help to keep looking for new ways to reduce costs and find new users.
4. Reducing Leisure Time and Loss of Money
Any break time can mean a great loss of income. Big companies such as Bank of America Online Banking, Blackberry, and Amazon Web Services have lost huge sums of money due to downtime.
When your team manages to handle such moments effectively, it is easier for you to minimize big losses and get even happier users.
5. Protect Mobile App from Cyber Threats
With the growth of the mobile app, there is also a growing desire for cyber security. An app developer is responsible for the security of apps and websites.
However, as hackers continue to search for loopholes and discover new ways to steal your personal and financial information – you can continue to monitor app care and update apps with the latest security agreements.
Measure Time & Budget to Build a FinTech App like Revolut

To build a fintech app, the development cost is without a doubt the defining moment for many organizations. Since each business works under a specific budget and time, thus it is crucial to make prior plans before getting into debt. Who doesn't need convenient and secure methods of payments, evidently everybody does. But not every person can monitor their finances through an application. Thus, it is important for businesses to build a fintech app which is a highly secure, transparent, and effective application that works for all types of monetary exchanges.
Time Required to Build a Fintech App like Revolut based on its features is as follows:
Sr. No.
Popular Features of Fintech Apps
Approx. Dev. Hours

iOS/Android

1

Instant Transfers

24 hrs.
2
Fingerprint Login
1 hrs.
3
Mobile P2P send
36 hrs.
4
Mobile Photo Bill Pay
24 hrs.
5
Add a New Payee
8 hrs.
6
Use phone ATM
12 hrs.
7
Set Spending Limits
8 hrs.
8
Face Detection
5 hrs.
9
Compare Spending
4 hrs.
10
Voice Banking App
40 hrs.
11
Chatbot in Messaging
60 hrs.
12
Add Profile Photo/Avatar
4 hrs.
13
Mobile Payment App Integration
10 hrs.
14
Push Notification
10 hrs.

    Subtotal

246 hrs.
If you plan to incorporate these features into your financial and banking system, to simplify your life here is how you can calculate the cost of developing a financial application.
Estimated Costs for Developing a Financial Performance System
Application development costs are based on your choice of platform and hourly level mobile application developer. Therefore, for a clearer view, we have prepared a formula that will give you a rough balance of your application.
Suppose a mobile app developer charges $ 30 an hour.
Use this simple formula to know the cost of making the best app.
Estimated Hours of Development * Hourly Developer Hours = Growth Expenses for a full mobile app
Now, after calculating the estimated cost, we are sure you are clear about how much you can invest in improving your app. Hence, with the provision of fintech land, savings and investment options from digital piggy banks to cryptocurrency trading, many investors are looking at the industry.
So, why is this huge investment happening in FinTech applications?
There can be two answers to this type of leading investment in the financial sector.
Top Rewards (for profit and user engagement)
Various portfolio (expanding their business to other brands)
With various offers in the financial space, investors consider basic acquisitions as profit, economic level, customer acquisition costs. The latest fintech companies such as Robinhood have doubled their customer base in the last one year to more than six million and the newcomer, Stash, is deleting the list of 3 million users – 80% of their initial investors.
Note – The total specified time and budget will vary for your project depending on the size and features of your FinTech App.
Factors Influence the Cost of FinTech App Development
1. Secure Authentication
Authorization is a pivotal feature to build a fintech app like revolut. Registration empowers users to make their account and begin using the app. When starting fintech mobile application development, it guarantees an application provides a simple yet exceptionally secure signup process. This can be carried out with two-factor authentication, the integration of finger impression, face, or voice recognition, unique code generation, email alerts when the client logs in to the application.
2. Scanning and QR Code
This feature makes individuals' lives simpler, permitting them to avoid entering card numbers. All the users need to do is to scan the QR code using the camera phone. Users then receive a notice that should be tapped to finish the operation. Also, individuals can move cash by scanning a QR code in the beneficiaries application and affirming the successful amount payment.
3. Notifications
When beginning to build a FinTech app like revolut, notifications are one of the primary features that your fintech app developers need to carry out. Custom notification serves as a direct mode of communication between the fintech app and its users. Hence, these convenient messages keep users updated with the latest finance industry news and inform them about bill payments, expenditure, salary notification, fraud alert, and etc. So real-time notifications are a critical tool for engaging user experience.
4. Data Analytics
This feature can be exceptionally useful in tracking and getting clients' financial activities more effectively. Users will see the opportunities to view their transaction history, put forward objectives for saving cash, track their financial activities and create reports.
5. AI–Powered Chatbot is an Absolute Necessity
Any custom fintech app development incorporates chatbots and virtual assistance. They're basically an unquestionable requirement to have today. Therefore, these AI-powered virtual assistants automate your customer services, directing them the correct way without human assistance. You at this point don't have to hire as many employees who will respond to standard clients inquiries.
6. Integrations
A fintech mobile application should be integrated with different applications to extend functionalities and satisfy various users' needs. On account of API integration, you can add such features to your application as mobile payments, geolocation to find the closest ATM, checkout processes, crowdsourcing, asset management, etc.
Technologies Involved to Build a FinTech App like Revolut
Nowadays, it is unreasonable to look at a business that does not need any technical assistance, let alone within the fintech industry. So, here are the many options you can simply use to successfully build a FinTech app like Revolut.
1. Blockchain
The cryptocurrency frenzy over the past two years is the way most people have been introduced to blockchain. Therefore, using private and instant cryptocurrencies online, blockchain provides an open, secure, unambiguous and reliable logger for contracts, transactions, and records. New inventions such as Blockchain Bonds, blockchain clearing, and settlement systems have already been used to make transactions between banks and between banks cheaper and faster.
2. Big Data
In addition to traditional data collection, new data sources such as mobile banking and Internet of Things (IoT) provide an additional layer of data collection. Combined with Artificial Intelligence, Big Data analytics uses a large amount of data old and young to find hidden patterns to better manage risk and fraud detection. Thus, the new information from big data enhances customer behavior awareness and helps banks create better and more customized products and services.
3. Artificial Intelligence (AI)
AI engines help banks to better analyze their Big Data to improve existing solutions and make better decisions. Therefore, the latest AI practice is to use its cognitive skills beyond large amounts of text and informal data to produce more comprehension and natural language learning. A more intelligent AI chat or real assistant can take repetitive "low-cost" tasks, such as making small transactions, defining financial products and providing basic financial advice to customers.
4. Biometrics
Biometric technology is often seen as a sacred grail of data security and safety. Hence, they use a variety of personal characteristics, including fingerprints, facial expressions, voice, retina, and other verification methods to enhance security and identity verification. With more smart devices fitted with better sensors, banks are able to protect their users, prevent cyber crime and steal identity better than ever.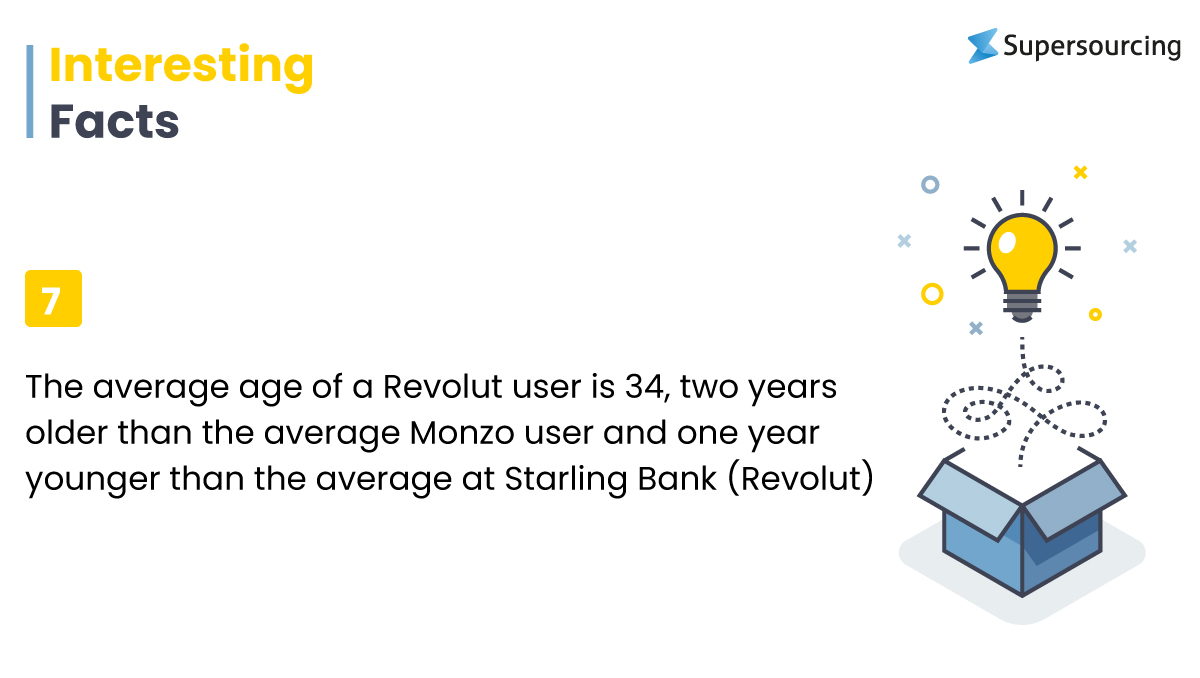 Find the Best App Development Agency to Build a FinTech App like Revolut
1) Know your Mobile App Requirements
Understand your own precise requirements. You should be ready to clearly define the precise belongings you are trying to find during a mobile application. Now, this is able to depend to an outsized extent on the industry during which you're employed and therefore the sort of products or services you're trying to supply . However, you'll also inspect the similar apps on the web , mobile platforms and further can review what they supply. Obviously, you have to be different but the core remains the same to build a FinTech app like Revolut.
2) Check Company's Reputation
It is a tough decision to find the right company you are looking for. Hence, check out the market reputation of the existing companies. You can conduct a web investigation a few times. Thus, collect the small print of the corporate through published reviews for the event of applications, classifications provided, years of experience within the field, if possible, details about the purchasers and portfolios of products, differing types of services they supply , etc. This can assist you get an excellent idea from the corporate before opting to build a FinTech app like Revolut.
3) Check for the Customer Service
It plays an important role while choosing the highest trusted mobile app development companies. Hiring a corporation with poor quality customer service is often the worst nightmare for any business owner because it can face serious problems from installation to implementation. If the corporation doesn't provide you with a solid customer service/support, it might be an enormous blow to your business, since you'll have spent a big amount of money buying a product.
In fact, some online companies focus only on selling their applications rather than making them beneficial for patrons. As soon as you sell the appliance , they're going to disappear and there'll be no hint of them when your assistance is needed. However, recognized and long-established companies know the worth of their customers and can never back step once you request assistance on solutions associated with the installation of mobile applications.
4) Look for Innovative Company
To build a FinTech app like Revolut, choosing a company that develops innovative solutions or something out-of-the-box. By hiring such innovative mobile app development firms, developing and deploying applications on the app stores would be beneficial for your business also as consumers. The reason is they can build a FinTech app like Revolut with forwarding looking futures. So, always try to reach out to such companies who can improve your business standards.
5) Check for the Past Experience
Past experience is another major factor that helps business owners in shortlisting the proper quiet app development company. These companies must have a past proven record within the industry. Only the quantity of apps developed by these companies, not just matter but it is the quality that actually matters here. Since developing a successful app isn't a simple task. It requires core subject knowledge, special skills, understanding the targeted audience and creativity of developers to build a FinTech app like Revolut.
6) Cost-Effective
Money always remains the major concern for both businesses and customers. Gaining more and extra money is the only goal of any online business. For consumers, it's often seen that they specialize in buying high-quality products at affordable pricing. However, there's always a fight between cost and quality for a corporation to build a FinTech app like Revolut. This is because products like high-quality applications cost a lot and vice-versa.
7) Check for Good Team of Technical Developers
It is important to see the  app development companies whether it consists of technically efficient developers or not before outsourcing your online FinTech app like Revolut project to them. Moreover, it's also necessary to understand which technologies the event company works with and whether or not they are capable of building a FinTech app like Revolut development idea and the platform you're choosing to travel with.
How to Hire an Agency or Dedicated Developers To Build a FinTech App like Revolut
An application development team plays a vital role in building a FinTech app like Revolut. Therefore, a wrong or inefficient team can ruin your great business idea. Let's get everything rolling on some tips for hiring an expert FinTech app development team: 
Expertise:

Before you finalize an app development team to build a fintech app like Revolut, consider their understanding of application development and past working experience. Hence, developing a beneficial FinTech application goes beyond product development; as understanding the market is also important. Thus, look for a team with both technical specialization and business analysis of the project development process.

Successful FinTech Project Development:

Other than ability, focus on their success rate of previously built fintech apps. Hence, there will be bright chances for your FinTech product to be successful, if they have a decent past record of accomplishing that.

Project Portfolio:

Any team can profess to be awesome. Be that as it may, a finished project portfolio will assist you to separate the best from the worst. Thus, a project portfolio is proof of experience and knowledge.

Evidence of Professionalism on Social Media: Social Media presence reveals any companies or agencies expertise, if they are having an active social media profile. Thus, look for what people are saying about that specific company or developers and watch out for comments or feedback from past customers.
Conclusion
If you decide to do FinTech business, you have every opportunity to make a successful and profitable business. Of course, there will be many challenges on your way to success. How do you build a FinTech app with the right technology? How do you create a FinTech app that will withstand market competition? Hence, all of these challenges and many more can easily be fought by the right team at your side.
But, while going through this blog a lot of your queries and doubts have definitely been cleared. It works as a helping hand to you while building a FinTech app and attracting users for the same. If everything is done properly and accurately, then it will definitely provide a great experience to all its users.
An idea to build a FinTech app like Revolut will definitely stand a high chance of growth in this changing world. As, we have already discussed in detail the features, functionality, budget, time, and many other details of what it takes to build a FinTech app like Revolut. These details make things obvious that these apps require a strong database and need to be user-friendly.
Lastly, to turn your ideas into full-fledged products it is important for businesses to hire professional engineers and build a FinTech app like Revolut with exclusive features and best quality to maintain the customer base.
I hope this Supersourcing article has introduced a brief understanding of how to build a FinTech app like Revolut and a website and will continue to do so.
Help us keep it updated by sharing your experience with us here.
FAQs
1. How much does it cost to build a fintech app?
The average cost of a FinTech app development ranges between $50,000 to $300,000 or even more. However, the exact figure depends on a broad range of factors, such as features, technology, API integration, security, development team, location of developers, and many other factors.
2. How do FinTech businesses make money?
Fintech apps make money through different technologies, such as cryptocurrency, e–wallets, cryptocurrencies, lending/P2P lending, money transfers, financial advisory, and many more.
3. Is FinTech difficult to learn?
FinTech is more difficult than finance or technology without help from anyone else because you should know how the two of them work. To find a new job, you need to present your ability to make due in this continually evolving environment. It is troublesome, however it isn't inconceivable. In the event that you don't have working experience, then you can educate yourself.