Table of content
Technology has begun to spread its way into almost every sphere of human existence. That being said, any rational would definitely want to argue and come up with exceptions.
One can say, outdoor sports are the one criteria that can never be technologized. As a very valid counterpoint, how many of you have come across people who say that they do not enjoy playing any physical outdoor sport? A lot, perhaps. I belong to that same category that we're talking about. This does not, however, mean that I do not play sports at all.
Professional sports is a billion-dollar industry and innovators inside and outside the industry are always coming up with unique ideas to milk it for all its worth, which isn't necessarily a bad thing. One of the ideas that have taken over this industry in the 21st century is— Fantasy Sports.
Many gaming experts believe that Fantasy sports App Development has played a vital role in driving deeper connectivity between users and real-life sports. Currently, the worldwide market for fantasy sports has more than 80 million fantasy players and it is rapidly growing with the speed of 30-50% per year. That's the reason why Fantasy sports App Development is growing.


But, what's in it for you as an entrepreneur? By the end of this article, we'll be looking at several facts elaborating the scope of the industry-
What's a Fantasy Sport, why people search Fantasy sports App Development?
What is the history behind Fantasy Sports Gaming?
Why do people play fantasy sports, thing to look Fantasy sports App Development?
How investors are pouring millions into Fantasy Sports.
Why should you, as an entrepreneur get into the fantasy gaming industry?
What are the things to consider before developing a fantasy gaming app?
What are some features that you can integrate into your app?
Top 10 Companies for Fantasy Sports App Development.
What's a Fantasy Sport?
Is it some kind of fantasy gaming where you create a team of fictional characters and conduct play-offs between them? Can you name and dress them up however you like?
Actually, no
Fantasy sports is a subgenre of fantasy gaming. Here, instead of naming your characters' team as the Lannisters or the Starks, it is a virtual game of the real game that is being played live. Here, the user is a team owner as he makes his own virtual teams consisting of real players, who are actually playing in sports at that time or around that time.
(Yes, we're talking about you as an online player, having the power to make Cristiano Ronaldo and Lionel Messi play from the same clubs! How cool is that?)
There is no doubting the fact that this industry holds great profit if the application is developed seamlessly as an user-centric application. As per a report by Fantasy Sports Trade Association (FSTA)-
Around 80% of all fantasy sports players in the USA and Canada are males.
The average age of these players is 34.
The favorite sports being played is soccer. Roughly, 64% fantasy sports lovers like soccer.
In 2017, the number of players in the USA and Canada was approx. 59 million.
What is the history behind Fantasy Sports Gaming?
Fantasy sports have been around for a lot longer than one might think. Back in 1980, Sportswriter Daniel Okrent was at a get-together with his friends at a hotel in Manhattan when he created the first-ever fantasy baseball league. The concept gained massive popularity very rapidly.
The 1984 Fantasy Football Digest, was the very first to document the rules of fantasy football in the paper. It was co-authored by Tom Kane Jr. and Cliff Charpentier. The idea spiraled through all the way to the nineties, and it was then when USA Today launched a weekly column dedicated to this subject. Later in the nineties, in 1999, the Fantasy Sports Trade Association was founded. From then on, the fire spread rather quickly.
Why do people play fantasy sports?
Fantasy defines an unreal world or imagination. To put it simply, it is the activity of imagining the impossible. When this fantasy applies to game and sports, the merged results are virtually defined by the real instance. Fantasy sports leagues draw millions of players each year, and with good reason. so do Fantasy sports App Development.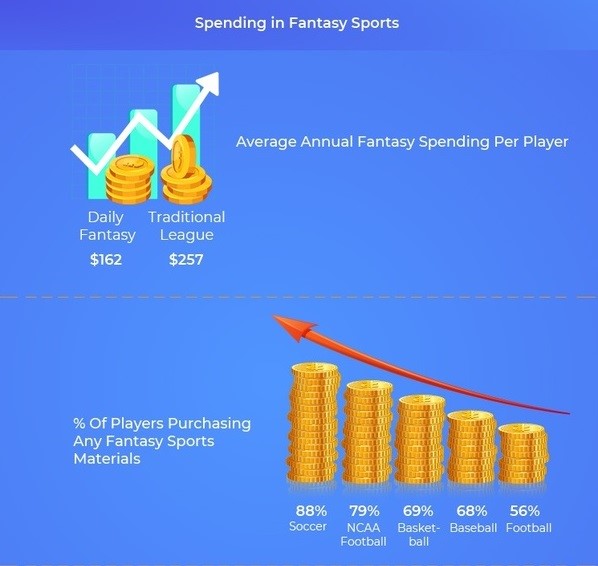 They get to earn points based on real-life statistics that get converted into fantasy points. The better the real player performs in real life, the higher are the online fantasy points. You play against other managers and their teams. Everybody manages a roster by dropping, adding, selling and trading players to keep winning.
Rewards and Money:
People love to make money, especially when it comes to playing their beloved game. Fantasy sports app is an amazing option for people looking out for additional sources of money and fun. In fact, there are a lot of Youtubers who have made a lavish lifestyle out of Fantasy Sports App by participating and playing while streaming it for their huge online fanbase. The main reason for Fantasy sports App Development.
Socializing:
People with similar interests play fantasy sports within their social group. Fantasy sports mobile app enables people to remain connected with existing friends and make new ones. I have a lot of friends who stay connected even after years of relocating from the same place of habitation.
The illusion of Power:
The greater the level of control a user thinks they've got, the more they want to play. The persistence in the belief that they have the knowledge, special skills, and other advantages when playing fantasy sports app is the illusion of control as it convinces the users, that it is worth doing again and again.
Fantasy Sports App are thrilling:


What would you prefer, comforting your irritable toddler who anyway would cry again the next time he is hungry, or having something to distract you for a moment, before you can go back to babysit them? Fantasy Sports makes it possible. People love the competition, thrill and entertaining rewards in the midst of hectic work schedules and monotonous day routines, that only a Fantasy mobile application development provides to them. In order to stay connected, Football Fans love to play and compete with other equally passionate players. Moreover, season-long games enable them to stay occupied.
How investors are pouring millions into Fantasy Sports.
What does Disney, the storied private equity firm KKR, the cable colossus Comcast, and the National Basketball Association have in common? In the scheme of things, it's a willingness to invest in the absolutely booming industry of American fantasy sports. Fantasy sports have been around for years. It traditionally involved groups of colleagues or friends competing against each other as the owners or general managers of imaginary teams, comprised of real players from a given sport.
They offer the chance to own and manage your own team, intense competition,  the thrill of victory, socialization with other sports fans. It is a hobby that requires little investment but offers great rewards. Unlike actual live sports leagues where players have to wait throughout an entire season to know who won and who lost, in a game of daily fantasy sports, results are announced each day, at the will of the player.
For example, let's take football, the most common fantasy sport (followed by baseball and basketball). One may choose the New England Patriots Tom Brady as their quarterback, and the New York Giant's Odell Beckham Jr. as the wide receiver, and so forth. The performance in said fantasy league will depend on how these players fare in actual games over the course of the fantasy season, and how the players that other friends have chosen perform. Typically, a relatively small amount of money is pooled at the start of the season and is then distributed to the person with the winning team.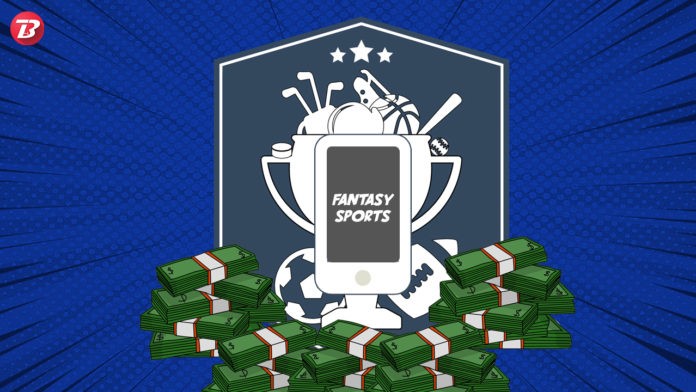 As of late, a faster format has emerged, that enables people to pay small entry fees on a given weekend or per-game basis to play in public leagues against people whom they do not know, for millions of dollars in prize money. For some people, it has now become a full-time job. For investors, it has proved to be an interesting opportunity.
According to a number of reports, Disney is investing in DraftKings, which happens to be one of the biggest players in this nascent weeklong market. ESPN, the sports network Disney majority-owns, is reportedly involved in the investment (and also has a dominant position in traditional fantasy sports).
Why should you, as an entrepreneur get into the fantasy gaming industry and search Fantasy sports App Development?
A new idea can boost your business by 10X speed. The evolution of digital technology via smart-phones and fast internet (broadband, 3G & 4G) have made it extremely easy for users to access it from anywhere and any time. This is why innovators have come up with this brilliant idea of Fantasy Sports Platform and taking the user experience to an all-new level. Major players of Fantasy Sports industry have experienced a massive partnership, viewer-ship & an increased advertising expenditure.
Here's the good news for all the smart entrepreneurs of the industry! Millions of young sports enthusiasts are hooked up to the fantasy sports and the numbers are not expected to go down any time soon. As per a report by one of the sports federation, fantasy sports users base will cross the mark of 100 million by the year 2020. No wonder the industry had amounted to a 7 billion USD at the beginning of 2019!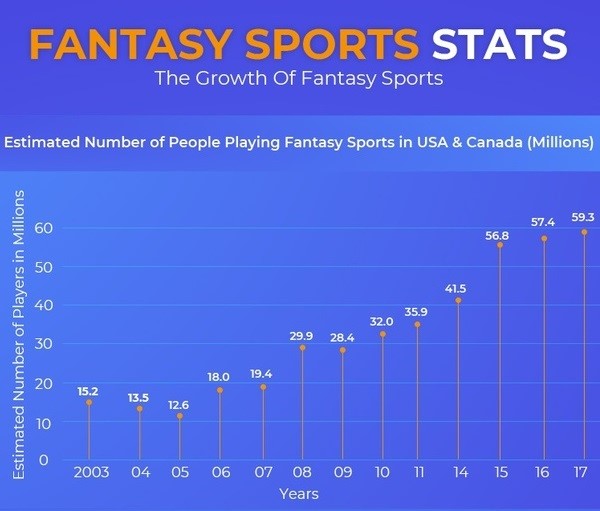 Making it exciting for entrepreneurs to explore the possibilities, enterprises are now coming up with various ways to tap into this huge market. On one hand, some attract users with difficult to resist sign-up deals, on the other, others make hefty profits by attracting huge traffic.
No matter what strategy you choose to take up monetarily, this aspect of the sports app development is worth exploiting and is not expected to go down for the next few years to come. The young generation has got influenced by this trend of Fantasy Sports, and this is the reason why 54% of the players aged 18 years to 34 years are active users of it. With the increase of players, it has increased the number of sports and added various ease to its users.
What are the things to consider before developing a fantasy gaming app?
Once you're keen to launch your own fantasy sports app, you must understand all the intricacies of creating such an app.
Proper Research:
Researched analysis is a step that cannot be overlooked to know which sports are most trending in your nation, if there's competition already in that arena, along with the knowledge that which is the sports that have a constantly increasing popularity.
For example, launching a fantasy football app in the UK will be more profitable for you, as compared to India or say Bangladesh. Because these countries have a higher fanbase for sports like cricket, as compared to football or soccer. If you launch a basketball fantasy app in the USA, it will definitely be a successful business venture.
Having clear objectives:
If you happen to be an entrepreneur who is keen on venturing into this arena, that you must define your business objectives along with keeping the revenue model in place. Suppose you're a sports league/brand looking to enhance your branding, then you must ensure that you are having all the elements of 'fan engagement' in your fantasy sports business. For a sports media brand, your objects are going to be related to growth & user engagement. By defining the clear objectives to start a fantasy sports business, you will be able to pick the right partners for the app's development.
Engagement platform:
Are you are keen on offering a mobile interface only or a web interface, or both the interfaces for your users in order to get them engaged with your platform. For example, it is comparatively more beneficial to focus heavily on the mobile interface because there are more mobile users in the world today when compared to desktop users. Although, this goes without saying that a combination of well-designed mobile & web interface is going to be advantageous for your business. Get in touch with an experienced mobile and web app development company to create your engagement platform.
Planning: 
Start planning your sports niche, your audience, and the budget, your teams, list of integral features along with the deadlines. List out the sports or leagues to include. Once when you have decided to launch your fantasy mobile app, you should list out the prominent leagues in your target demographics in the game of cricket/football/basketball or soccer league. This will help you determine the scope of the fantasy sports business.
Game rules and format:
Since you're the boss of your business, it is absolutely on you to decide upon the game rules and format of your business. So, how and where to begin? Firstly, ensure that you are keeping your audience engaged with the fantasy sports game app with the excitement of the real sports. For example, with Dream11 you get wide-ranging game format which users can participate in, comprising of a free contest, a practice contest, season special contest with the winning amount reaching as high as 500,000rs. (US$7500)! And why just cricket, as fantasy sports league business model can easily be applied to any sports of your liking, i.e. NBA, Baseball, Maerican Football, Tennis, Football, or any game that you choose. In the case of Dream11, the application includes Football, NBA, & Pro Kabaddi, in order to target large fan following that these games enjoy.
Marketing:
Without proper marketing, no business can succeed. Even after having developed an amazing application and being the best in the entire industry, you will fail to make your presence felt. It is not negotiable to not paying attention to implementing both offline & online marketing strategies, like search engine, electronic media, mobile, social media, events, radio, print media exhibitions marketing.

Plan your launch carefully:


Most businesses will first launch a website for their fantasy sports business, and then introduce a mobile app. Their launch strategy requires to be in synchronization with a long-term plan. Therefore, ensure that you are having a good pre-launch strategy where you make some buzz surrounding your fantasy sports app/website. You can even take assistance from your hired development partners or your in-house marketing team.
What are some features that you can integrate into your app?
A fantasy sports app's features can be divided into two heads- User panel and Admin panel.
Some basic features of User Panel include:
Registration/Login, Home Screen, Contest, Join Contest, Payment Mode, Create Your Own Contest, My Contest, My Profile (Dashboard), Settings (This section consists of the following features, Invite & Earn, CMS Section).
Admin Panel:
Admin Login, Dashboard, User Manager, Manage Matches, Manage, Games Category, Contest Manager, Earnings, Manage Payment, Manage Reward Points, Manage Cash Bonus, Manage Reports, Manage Bank Withdraw Request, Manage CMS pages.
Additional Features:
If you want to make the Fantasy sports app solution more interesting, trendy additional features can be integrated by you into the app to make it stand out from the rest. With these additional features, you get to choose to enhance the app performance and the operations can speed up while admin efforts can be significantly cut down. Some app development firms offer complete customization to their clients which will allow the clients to add/remove any section as per their personal requirements. With this, the solution can be made more compatible with any enterprise, be it industry giants or startups. Here's a suggested list of additional features: Live Match Score, Live Score API Integration, CRM Integration, Push Notification, Real-time Analytics, GPS Location Tracking, Custom Mail Reminder System, Payment System, etc.
Top 10 Companies for Fantasy Sports App Development:
To become successful at investing in the fantasy sports business you need to team up with a top mobile application development company that has a rich experience in building fantasy sports mobile apps, and one that can develop a standout and best-in-class fantasy sports mobile application for you that is compatible with all of the devices and their latest OS versions on Android and iOS. The total cost of developing a fantasy sports app on Android and iOS platforms with a backend can range from USD 19000 to USD 24000.
Here is a verified list of Top Fantasy Sports App Development Companies that can develop fantasy sports apps for you:
This Mumbai-based sports-focused solutions company has been taking the sports business forward. Founded in 2002, the company offers products like fantasy sports and gaming mobile apps and services like live scores, news, statistics, and players record data. They have even started providing users with engagement features, with the launch of analytics and other broadcast solutions. The company has a record database for all major sports like cricket, football and Formula One, Moto GP, Olympic Games that other sports organizations may not have. Additionally, the clients of Sportz Interactive include Sony Six, Star Sports, Yahoo, ESPNcricinfo, Pro Kabaddi, NDTV, Delhi Daredevils, Wisden India, Web18, Fairfax Media, Indian Super League, and International Cricket Council, etc.
2. Krify:
Krify is a multinational technology innovations company specialized in crafting world-class Mobile Apps, Web Applications. They have built many world-class mobile applications, particularly in iPhone, Android and Wearable platforms. Krify extends services into Digital Marketing, Quality Testing, Content, PR, SEO and many more. Krify was founded in 2004 and is headquartered in Bangalore.
Three of their previous clients for sports app include- Football Bingo, Dice and Showoff Sports. They offer an in house team, a proven process, delivery on time, honesty, cost-effective solutions, and team support.
3. RG InfoTech:
RG Infotech is an India based Web Design and Development company that have 11+ years of experience in web-applications development as well as desktop applications. They provide excellent web and desktop solutions with the latest, unique and best web-based solutions at quite affordable rates. They believe in long term relationships with the clients through their aim on Customer Satisfaction, commitment to Quality and more than Customer Expectations.
Their talented team, using the latest in website development technology, will provide you with amazing services at very competitive prices. Previously, they have successfully designed and launched cost effective websites for individuals and businesses worldwide- from high-end e-commerce website development to the simplest logo design needs.
Headquartered in Jaipur, since 2006, they have been serving domestic as well as international clients, but most of the clients are from the USA, UK, Australia, and Arab Countries.
Founded in 2008 and headquartered in Ahmedabad (India), they have an in-house team of 120+ members with an average platform experience of 3+years. They have a proven track record of more than 1000 web and mobile applications by serving clients across the globe. Nurturing a long-standing professional association is their ultimate goal.
They have a team of experience working with multiple technologies with customization, upgrading applications and maintaining and migrating applications. They are an IT outsourcing and consulting company and have a fleet of records of catering to a wide array of industries for varied verticals.
Octal IT Solution is an ISO 9001:2008 certified company with its registered offices in India, UK, and Singapore. In its history of 11+ years, Octal has earned notable associations from technology leaders including Microsoft, NASSCOM, Amazon Web Services, Acquia, STPI, D&B, etc.
Octal IT Solutions was founded in 2004 and is headquartered in Jaipur (Rajasthan). As a team of qualified professionals, Octal has grown into a hub of innovation where new concepts and futuristic goals thrive most brilliantly. Most recently, They have worked with blue-chip clients like Skype, Fiat, Aviva, and Vodafone and helped them with impeccable solutions in the niche segment.
They have also worked for SMEs coming from a wide array of industry verticals like hospitality, healthcare, news & entertainment, education, online retail, telecom, finance, and accounting – providing them with wide-ranging custom solutions at both enterprise and entity level.
ARKA Softwares is a well-organized custom software development company, offering mobile and web app development services across the globe. Their technology experts and consultants are focused on delivering standard IT solutions with top-rated quality and are working with enthusiasm for any kind of business startup or large enterprise.
They have over 8+ years of experience in transforming different business models with reliable concepts, ideas, and creativity. Their 450+ happy clients can speak about our teamwork's excellence and performance in terms of custom software development services.
MobiWeb Technologies started as an offshore Web development company from India, providing customized internet and client-server solutions to the industry and have worked on different projects for different industries and clients across the world and implement all kinds of various enterprise solutions, web applications, websites, maintenance and support for on-going or existing software applications or products and provide dedicated resources for such projects.
Their offshore Web development services include traditional Website Development, Website Design, SEO and other areas of custom Web development, at competitive rates. Their web development and e-Commerce packages, are flexible and suit low budget small businesses, NGO's, individuals, entrepreneurs to larger Corporations – in a nut-shell & simply said, "for everybody and everyone".
8. Vinfotech:
Founded in 1999, they have their headquarters in Indore (Madhya Pradesh) and their presence in 20+ countries. Their customers include Aston Martin, Burberry, Arabian Gulf League, and Snapdeal. Vinfotech is a great combination of right-brain & left- brain capabilities. While their designers create award-winning user interfaces; their engineering team, armed with its ever-expanding portfolio of technical abilities, develops innovative applications for them.
From the App Store to Google Play Store, from e-commerce to travel, from healthcare to sports, from enterprises to unicorn startups, from industry web apps to consumer mobile apps and AI-driven chatbots, they have done it all.
Their engineers know how to build intelligent software architecture. They incorporate ongoing feedback from clients, user testing, team through a series of sprints that perform ongoing refinement. A result is software designed to fast become ingrained in people's daily routines, to act dynamically to enhance their lives, whether they're playing, working, or exploring.
Indian conglomerate Essel Group chose Vinfotech for Grinta – a season-long fantasy football app development. The app, targeting football fans from the Middle East, was massively successful due to its engaging games and easy interface.
9. Algoworks:
Algoworks was founded in 2006 and they have their head office at Noida (Delhi NCR). It is an IT service provider recognized globally as a technology expert with offices in Sunnyvale, California and Noida, India. Spanning a decade, the customer retention rate stands at a whopping 99% for customers from the US, UK, Europe, East Asia, South America, and the Middle East. They offer services in key areas of enterprise mobile app development, enterprise content management solutions(CMS), customer relationship management (CRM) and software product engineering (SPE). Algoworks provides state of the art DevOps services to optimize software processes for businesses and follows a consultative-driven approach for providing end to end expertise in providing mobility solutions besides being one of the top service providers on SaaS technologies like Salesforce.
They have a wide span of technology experts under the same roof – one of the reasons why they're not just fan-favourite, but also recognized as among the best technology companies by Deloitte & SiliconIndia!
10. Digicorp:
Digicorp is a software consultancy and startup studio based in Austin, USA, and Ahmedabad, India who build usable software products for startups and also work on home-grown ideas and spin off the most promising ones as separate ventures. Digicorp was founded in 2004 in Ahmedabad – a city with more than 600 years of history and the 3rd fastest growing city in the world. Over the period of the last 14 years, they have grown into "a reliable tech partner" for clients from all over the world. Mobile apps developed by them get a million-dollar exit and Web apps handle millions of mission-critical transactions every week. They believe that their solutions work because of their team, who never get tired of learning and improving. Digicorp is owned and managed by 4 computer engineering friends: Kuntal, Sanket, Nachiket, and Abhishek. One of their projects includes Cricheroes which is the World's number 1 cricket scoring app and largest cricketer network in the world.