Gone is the time when one has to go to a physical store to buy groceries or to some office to get services done.
Spending hours in shopping and then carrying the bags home was really a tiresome job before e-commerce. Today, one
doesn't have to stand in long queues to book a train ticket, one can simply open the respective app. We can order food
online, shop online, pay bills online, and whatnot. This has been possible due to the IT revolution.
With the advent of technologies, web applications and mobile apps are built to make lives simple. With this, the IT
agencies are booming and businesses, startups, enterprises are getting their apps built to grow their business. A mobile
app is handy to use and is a great tool to instigate revenue in business. If you are a business owner and want to boost
your business with its digital presence then here is a list of top mobile app development companies in Australia. They
can be the tech partner for your business.
An average Australian spends around 90% of the time on mobile spent in apps, therefore to attract customers and boosting
your business,  investing in a mobile app for your business can get your brand in front of more people. It also helps
customers to retain your brand as you have secured your virtual space in their smartphones. Now, whenever they use it,
your brand will come across and they'll be engaging often.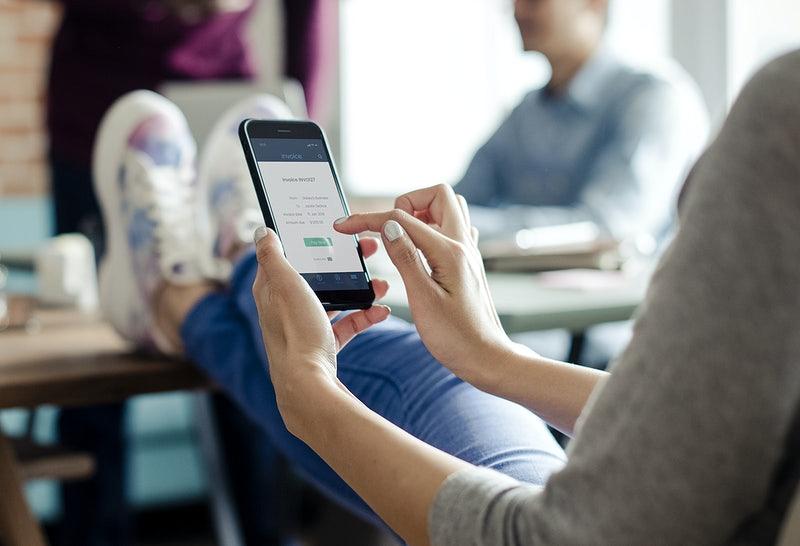 Source: www.rawpixel.com
We understand that today there are a big number of mobile app development
companies in Australia and choosing one among them is a very tough job. To assist you in your hunt for the right
tech partner, we've bought you this list of the top mobile app development companies in Australia. Read all about each
one of them and then choose which would be the best for your project.
We have provided you with the following data for each company:
Services
Portfolio
Experience
Minimum Project Size
Average Hourly Rate
Team Size
Verified Client Review
1. Dreamwalk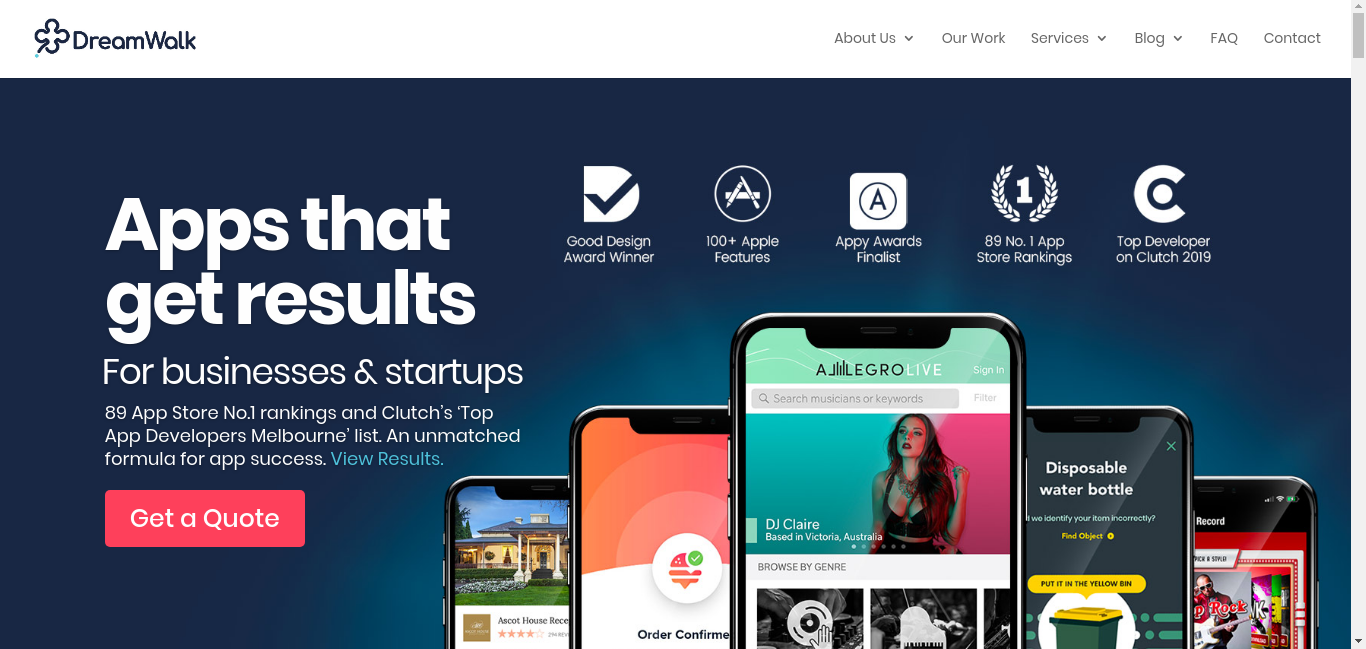 A Melbourne-based company founded in 2008 design and develop apps and websites that results in outstanding impact for
startups, SMEs, and large corporations. Dreamwalk makes the dream of your startup or business come alive. They provide
end-to-end services in design, development, strategy, and maintenance. It is an award-winning Australian app development
company for its engaging iOS and Android mobile app development
companies in Australia and around the World. They have between 50-250 excellent employees and the minimum
project size is $25,000+.
They have more No. 1 App Store rankings than any other Australian app developer, with apps like 'Jam for iPhone', 'The
Secret', 'Surfy' and 'Camping Around Australia' hitting the top spot in 89 countries. Coca-Cola, M&C Saatchi, New
Mexico Tourism, Melbourne University, The Secret, Arts Victoria, VAPAC, Hardie Grant Publishing, Holmesglen Institute,
Foodworks, Toyota, 2 Degrees Mobile, State Library of Victoria, and many more. If you are looking for achieving a large
no. of users on your application, Dreamwalk is the go-to company.
"They're clearly passionate about what they do and excel at delivering a quality product. The app has been
improved dramatically, leading to an increase in downloads and usage. DreamWalk establishes a smooth workflow,
meeting the expectations of the internal team. The team goes above and beyond to deliver quality results that meet
the needs of the client."
2. Magora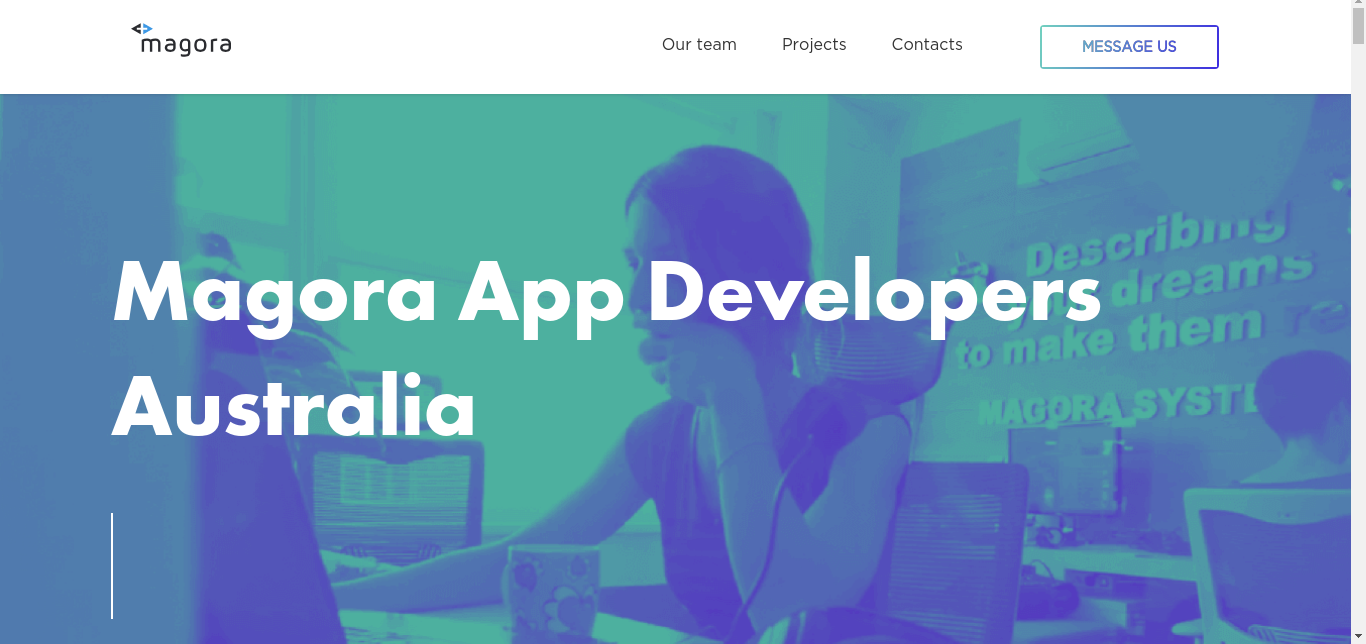 Australia's top digital product agency has been ranked by Clutch as top mobile app developers in 2010. Their average
hourly rate is $50 – $99 / hr and the number of employees is between 100 – 250.
Although their Australian headquarters are based in Sydney, they have branch offices located in cities in Europe and the
US and have delivered projects across the globe. They build mobile applications that make a difference with a min.
project size of  $10,000+.

Their team works with startups and Fortune 500 companies like Unilever, Danone, Cisco, HP, Toyota, Motorola. Their key
clients are Industry Leaders: InnovoCare, BrandSkout, Danone, London VIP Group, VPS, Blue Cielo; Startups: ShowApp,
Jurni, Tebengan.  Internet of Things projects: Organic Response, Rotimatic.

"They came up with a great interface. It looks good, it works well, and our clients are happy with it. The
team excelled at responding and fixing problems quickly. Customers are happy with the design and interface work done
by Magora. The developer who was assigned was reasonably skilled and worked under the management of the in-house
programmer."
3. Appetiser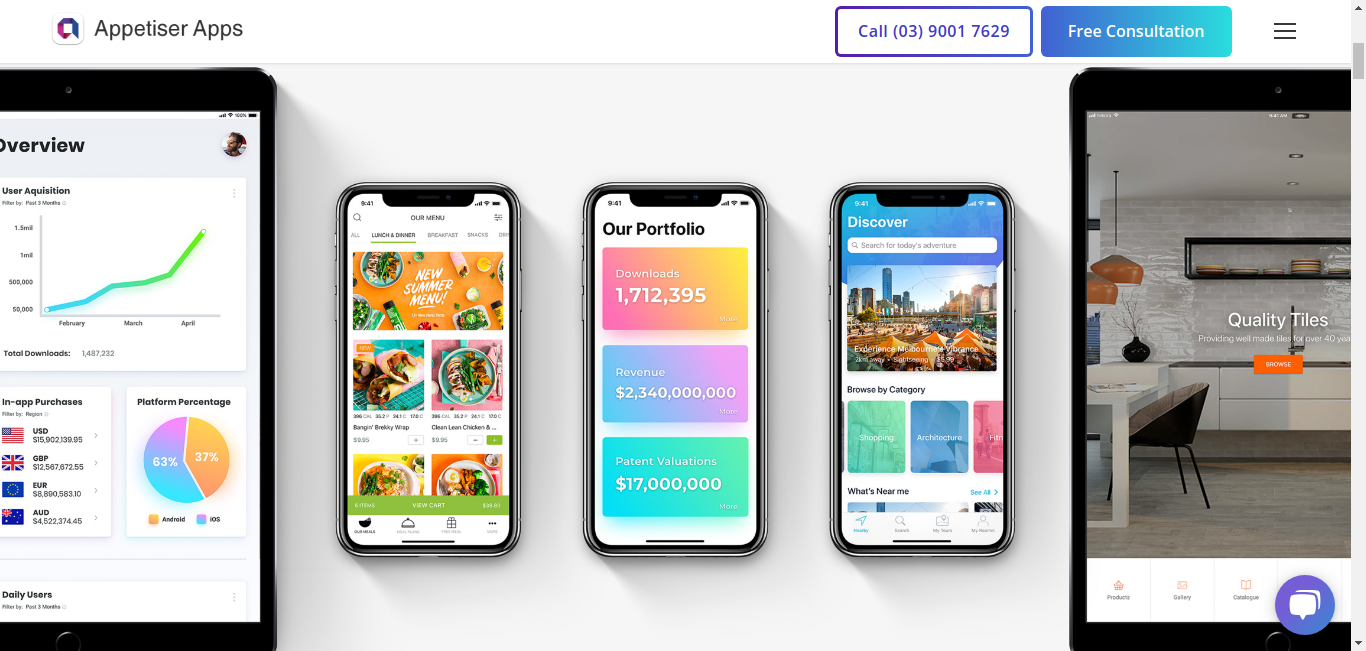 Appetiser, found in 2016, believes that innovative people solve everyday problems. They are renowned for helping others
build and grow world-class mobile apps. Their apps make over $100k a day with a team of around 50 – 249. The mobile app
developers of Appetiser have achieved global success by delivering apps with great functionality and customer friendly
interface. Ranging from iOS to Android to web applications – they have developed apps for mobile safety, renting,
building cost estimating, dating, and much more.
The company is best known for Rapid Agile Development and Outstanding Communication and its minimum project
size is $10,000+. Appetiser's portfolio includes Roamni, Formula 1, Youfoodz, Cisco & Optus, Daikin, Accent
Group (Vans, Timberland, Doc Martens, CAT), Spell & The Gypsy Collective. Appetiser does not call themselves
just an app development house, Appetiser is a growth machine. We will accompany you on your journey to success and
help you market your app idea.

– Tim McNicoll, Project Delivery Officer, Australian Medical Council
4. EB Pearls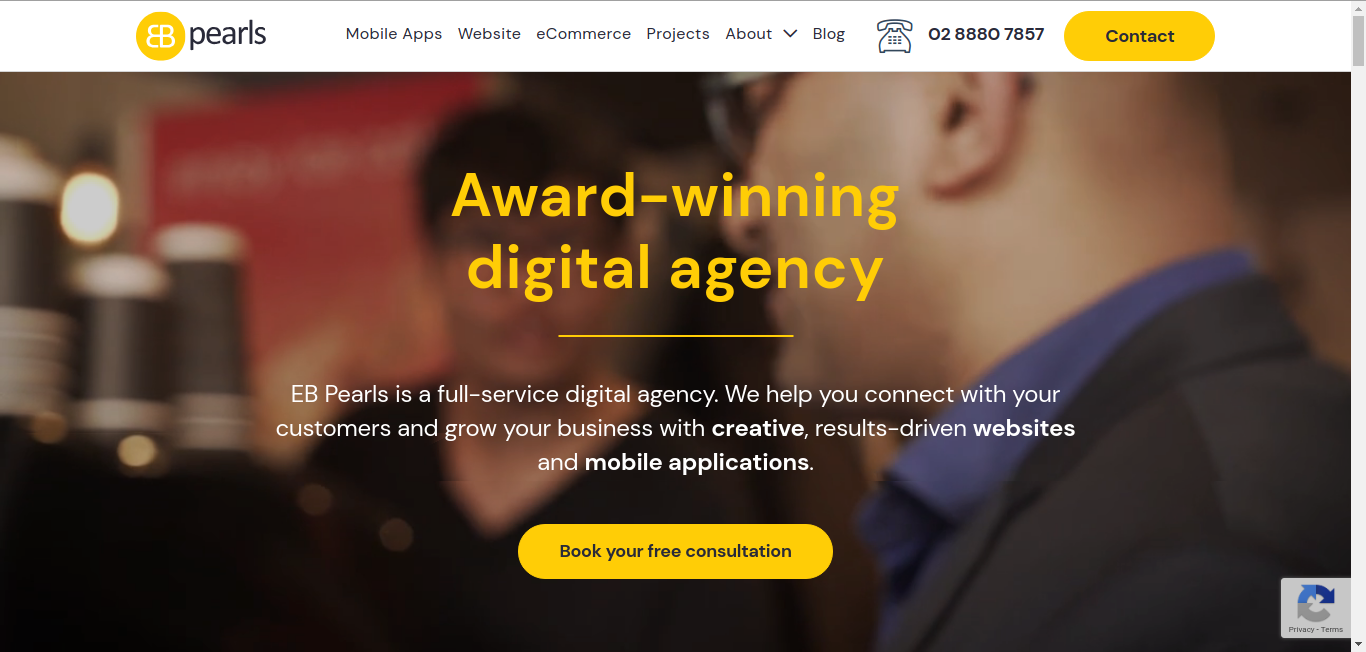 EB Pearls is a professional web development company based in Surry Hills, New South Wales, Australia. It is a
full-service digital agency to help startups, businesses, enterprises connect with their customers and grow their
business with creative, results-driven websites and mobile applications. They have been working with Australia's leading
entrepreneurs, small businesses, and corporate organizations to transform their business digitally having a minimum
project size of  $25,000+ and an average hourly rate of $25 – $49 / hr.


EB Pearls is known for building cost-efficient apps and compliant websites. They ensure your ongoing business success.
It was established in 2005 and over the last 15 years, it has grown into a leading full-service digital agency in
Sydney. With a dynamic team of 180+ talented developers and designers, they deliver award-winning digital solutions. NSW
Health, Austrade, University of New South Wales, University of Sydney, Optus, News Corp Australia, Bauer Media, Secure
parking, Hunter Douglas, Bingo Industries, Aguzzo Group are some of its remarkable clients.
"I chose EB Pearls based on the transparency and understanding of Akash and the team. While it's too early
to give measurable results, EB Pearls delivered a good-looking product that functioned as intended. There were minor
communication gaps, but the team followed up to clarify and keep things moving."

– Grace Wilkie, Founder, Vaultd Pty Ltd
5. Launchpad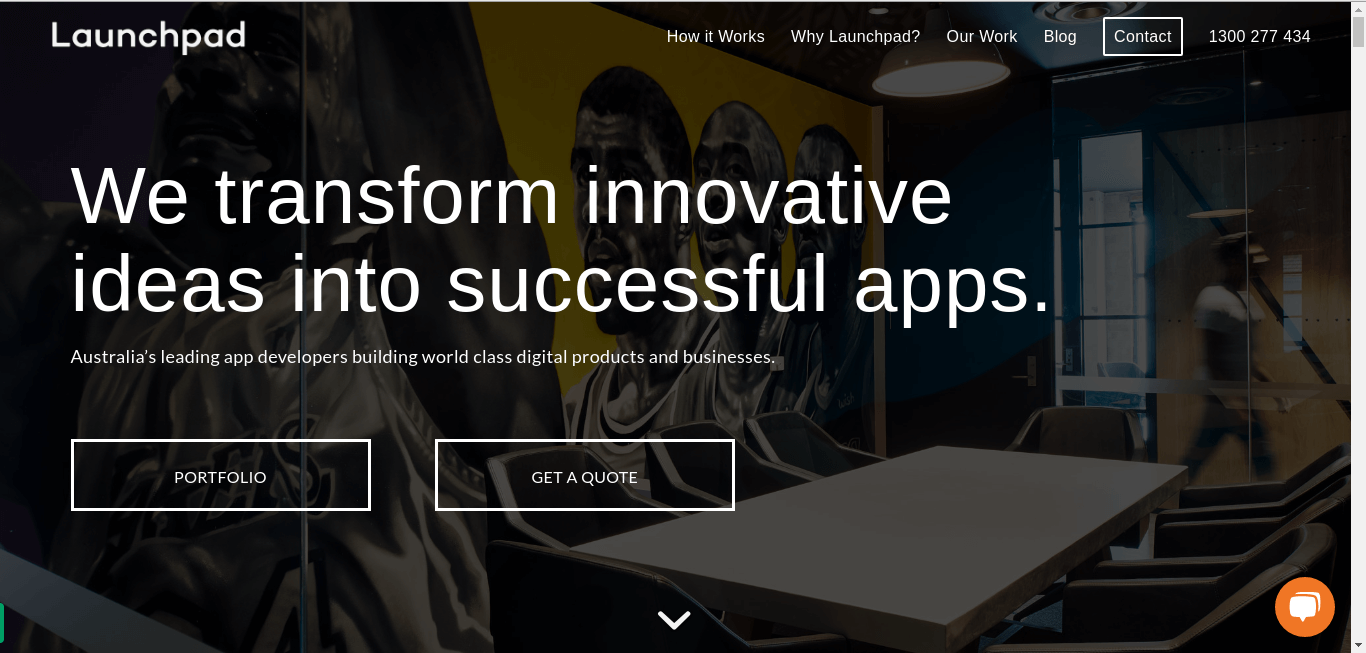 Founded in 2015, Launchpad App Development is a Melbourne-based company that turns innovative ideas into successful
apps. They provide a holistic range of services including app development, commercialization consulting, and
maintenance, providing a turnkey solution to building tech startups. They have a team of around 50 who work excellently
in designing outstanding digital experiences that engage users so you can generate revenue faster.
Launchpad's minimum project size is $10,000+ and average hourly rate is $50 – $99 / hr. They are appreciated by clients
for their clean design and effective debugging skills. Launchpad App Development has been able to streamline apps
without losing their vision. Being one of the leading mobile app developers in Australia, they have closely worked with
Lego, Genesis Gym, and other Funded Startups.
"They really took the time to understand what they were taking on before we shook hands on it. So far,
Launchpad App Development has delivered more-than-satisfactory work. Right from the beginning, the team showed great
interest in and thoughtfulness toward the project, making sure they were clear on the project goals. They are a
transparent team that is committed to delivering results."

– Joe Cuic, Director, JAC Concrete Constructions

---

Recommended Reading:

Top
10 Mobile App development companies in USA

Top
10 Mobile App development companies in UK

---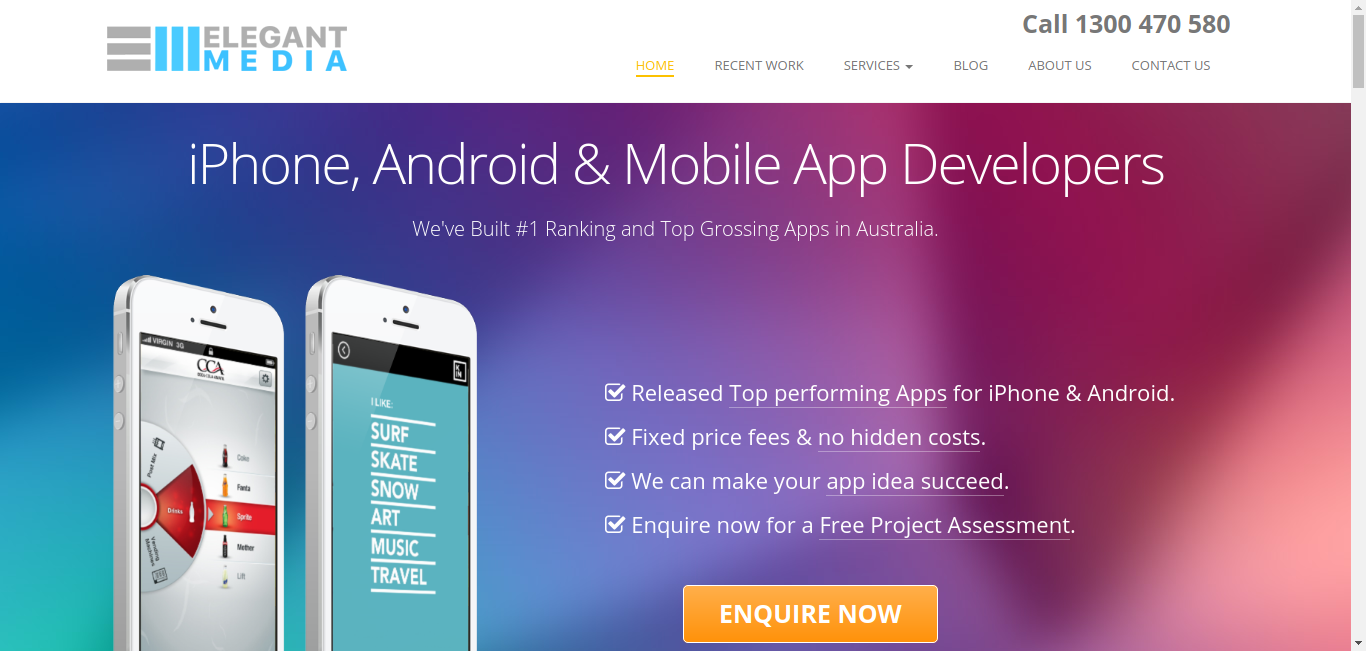 Elegant Media is an Australian mobile technology company founded in 2011. that delivers business solutions. Their
clients range from the Australian Federal Government, Bendix, BeyondBlue, Australian Media Group, City of Bunbury
Council, Australian Natural Therapies Association, Local and Regional Councils. They've built #1 Ranking and Top
Grossing Apps in Australia. They've got an experienced team that has built around 100 mobile app projects.
They have a team in between 50-250  working for $25 – $49 / hr to deliver successful projects throughout Australia. They
have delivered some of the top-performing apps to clients for iPhone and Android. If you have an idea, Elegant Media
will convert it into an amazing app. It provides a full-service mobile app and web development solutions for businesses
and entrepreneurs.
"The end product was impressive. Initial feedback is promising. Elegant Media's skilled team delivered
high-quality work. They provide crucial advice and take feedback in stride. Their responsiveness supplemented their
professional management style. Elegant Media produces projects in a reasonable timeframe."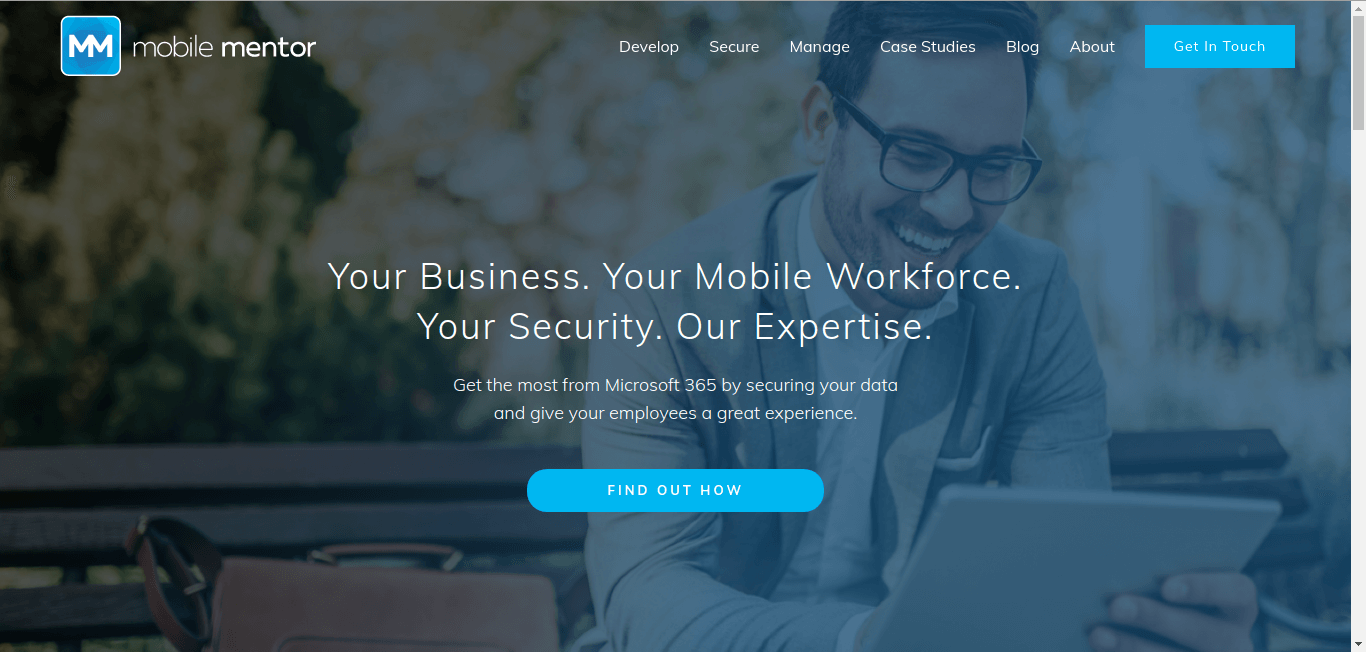 Known for its world-class support, Mobile Mentor builds custom apps for enterprises. They build excellent apps for your
business that come with security to provide you with peace of mind. Founded in New Zealand in 2004 and now operating in
Australia and the USA, the Mobile Mentor delivers outstanding services. They have a team of around 250 individuals who
are a unique combination of mobile app developers, security engineers, and support analysts working $100 – $149/hr. on
the minimum project size of $10,000+.
Board.

They are of the belief that technology will positively impact the way people work and they focus to build useful
technologies. They seek to build something innovative by combining their technologies and your business. Their key
clients include HCA (Hospital Corporation of America), Forestry Corp of New South Wales, Waitemata District Health
Board, Hancock Queensland Plantations, BP (British Petroleum), PwC (Price Waterhouse Cooper), Canterbury District Health
Board.
"Mobile Mentor has delivered a good, robust, well-designed business application that works 99.9% of the
time. While there has been a 20% increase in process efficiency, the largest impact from the mobile device has been
seen through better business decisions based on accurate information. With a 24/7 call center and communicative
project manager, all issues are quickly addressed."

– Russell Riepsamen, Project Coordinator, Forestry Corporation of New South Wales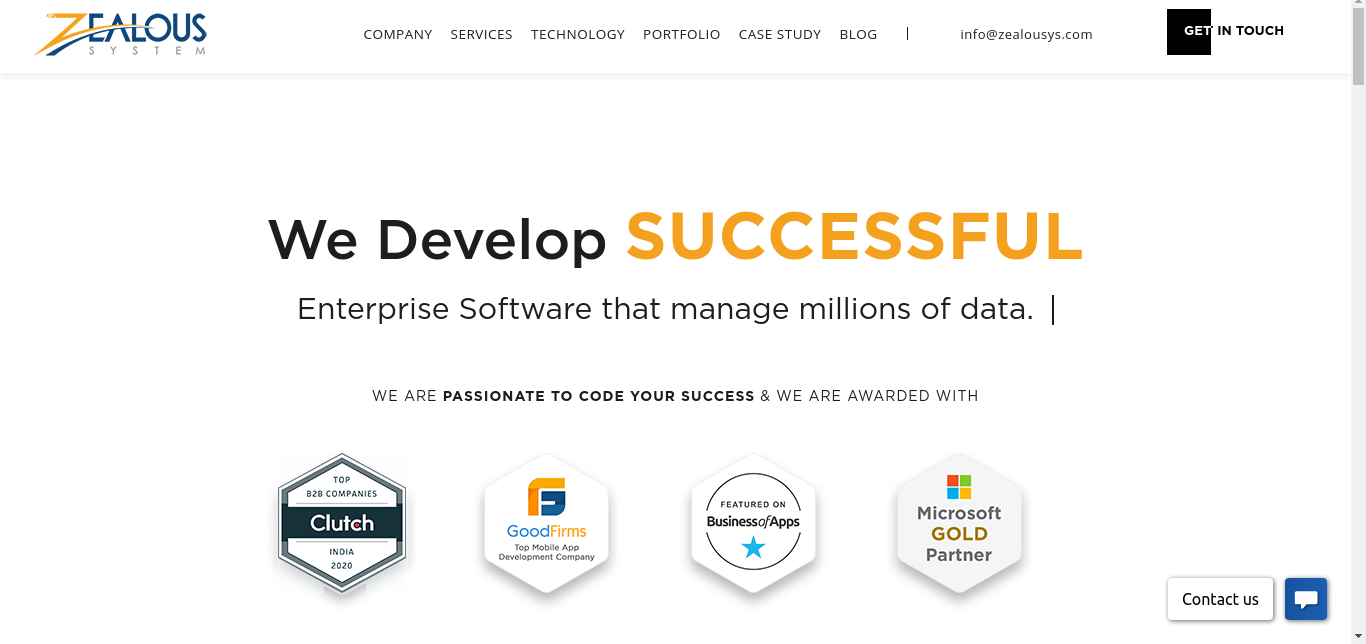 Zealous System, founded in 2008, has been rated a leading app development company by Clutch, Good Firms, and is featured
on the Business of Apps. It is a trusted tech company in software and web development services, having expertise in iOS, Android – as well as in the latest
technologies like Swift, Kotlin, Java, Flutter, Xamarin, Ionic and React Native.  The average hourly rate is <
$25/hr. and the minimum project size is $5,000+. They have a synergetic culture and believe in mutual growth. They're
passionate enough to put all their efforts and expertise into their clients' projects to turn great ideas into great
mobile apps.
Zealous System has been awarded as Top B2B companies in 2020 by Clutch, Top IT Companies by
GoodFirms 2019, Top Python, Node JS Developers by GoodFirms 2019, and others. With a team of around 250 spread across
India and the US, they boost your business with the right technology. Their mission to code success for your business
with their complete development solution.
"Zealous Systems' responsiveness was valuable to us. The new platform functions smoothly and fulfilled
expectations. The Zealous System team was expressive and efficient in completing the project and resulted in a
productive partnership."

– Augustin Ndikuriyo, CEO, Augustine Tours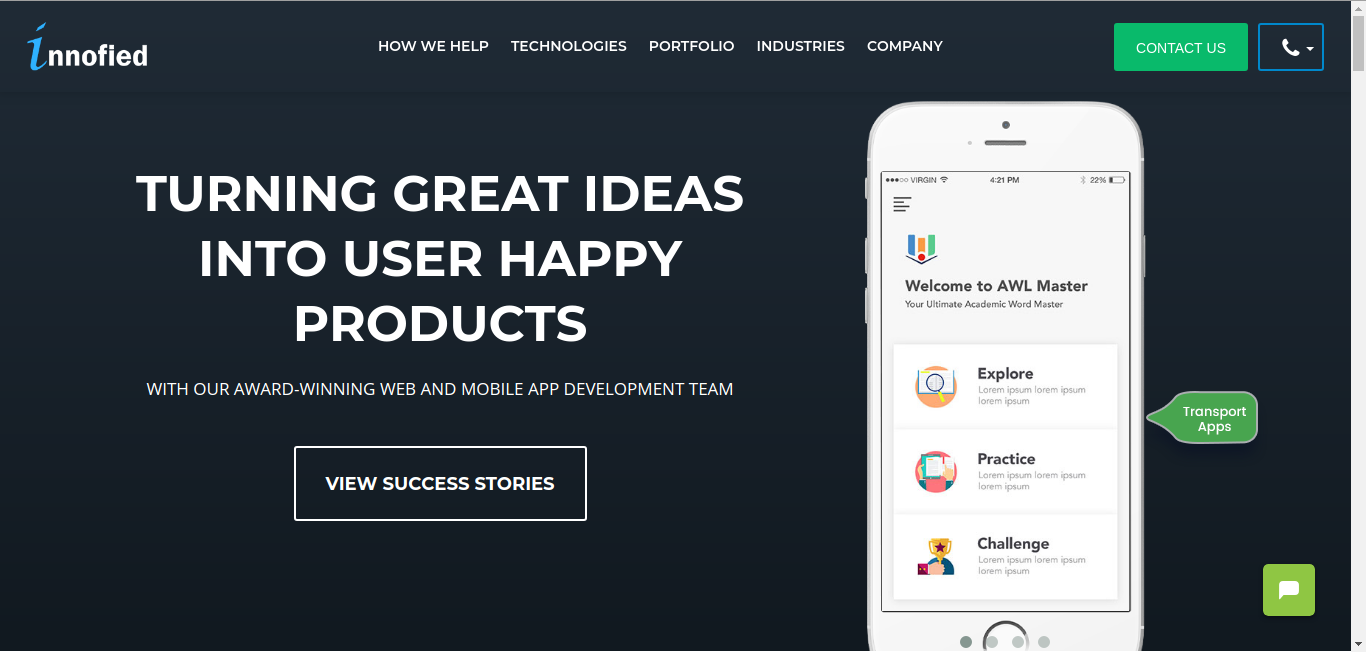 Innofied Solution is an Award-Winning mobile and web app development company with 4 offices in India, California &
Australia. With 100+ team members, they've been building wonderful products for hundreds of Business Owners, and those
apps and websites are loved by millions, gained thousands of users, and won numerous awards. They also got featured in
different media & brought great revenues. They achieved the goal of delivering over 350+ web and mobile solutions to
global enterprises to SMEs.The minimum project size which the company undertakes is $10,000+.
They are not just another outsourcing company but your Technical Co-founder who will take complete responsibility for
Product planning and strategy, Design and Creation, Development, and Market launch. With an average hourly rate of $25 –
$49/hr, a company founded in 2012, Innofied has become a big name in top app development companies in Australia. The
company is embraced with an exciting portfolio including BestBuy – Cordial (24M+ valuation and growing)  – Pro Skool
(5M+ valuation) Multi-Billion Dollar Firms Lixil, Max International, Lafarge India, and VSP Global.
"Their technical knowledge has been a huge help for a non-technical person like me. While the site is not
yet live, the work thus far has met the expectations of the internal team, who has already seen a bump in
engagement. Innofied Solution leverages their technical expertise and experience to produce quality deliverables.
The team is hard-working and timely."

– Annesha Dutta, Marketing Communications Manager, MoneyTap
10. Appello Software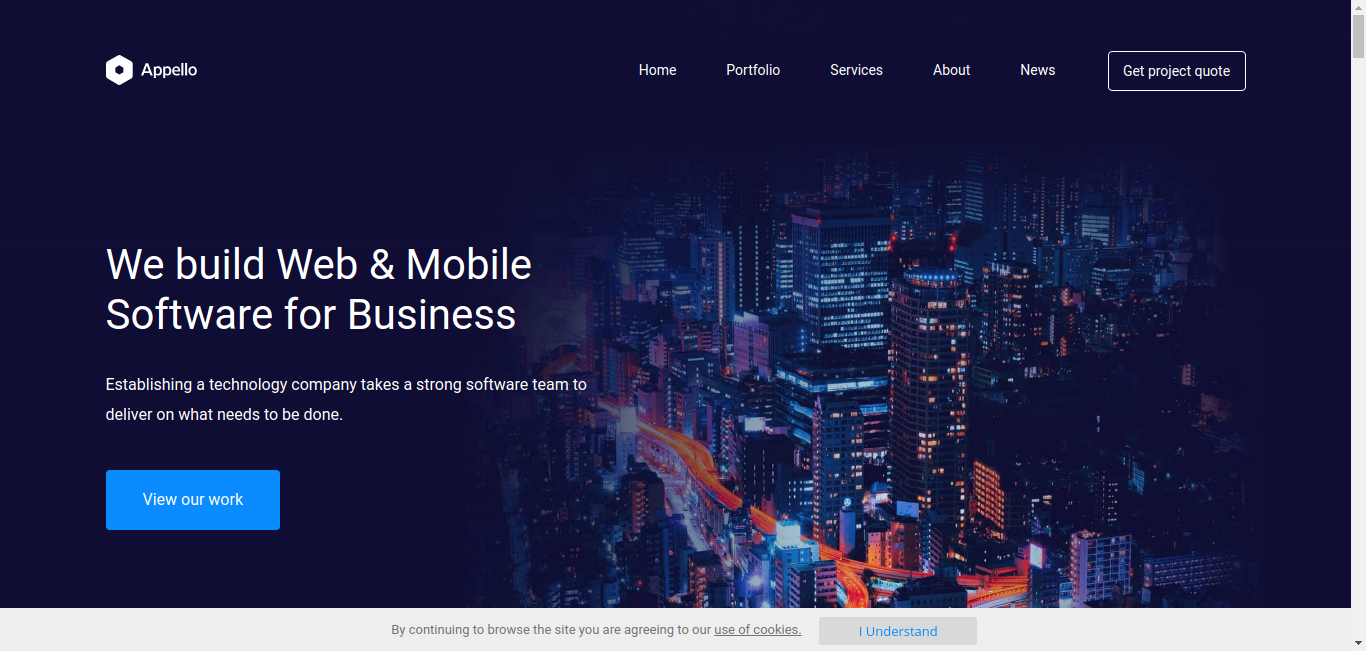 Appello is a full-service agency founded in 2016 that offers high-level tailored software and well-versed design
solutions for growing businesses, startups, and aspiring entrepreneurs.
They build user-friendly mobile apps, websites, and software platforms. Hence, they turn great ideas into successful
products. They have an extensive network of in-house and outsource full-stack developers and project managers ready to
provide services to your startup and enterprises. Their average hourly rate is $50 – $99 / hr with around 50 – 100
employees.
They value your business goals and work enthusiastically to achieve your business vision. One thing unique about them is
they charge based on weekly milestones but their minimum project size is $10,000+. Key clients of Appello include
NowDating, MarineTrade, Feed2Me, Huggg Gifts, EatClub,  BubbleStudent, Grocer, Travel2, ReadSwipe, Kidadl, and many
more. It is a trustable agency as they provide transparent costs and support.
"Everything has been excellent so far, we a very impressed and delighted by the progress. Appello Software's
designs, texts, and illustrations were visually appealing. Collaborative and understanding, the developers had a
deep grasp on the technologies at play, leading to an organized and effective workflow."

– Joseph Harold, CEO, Artchitech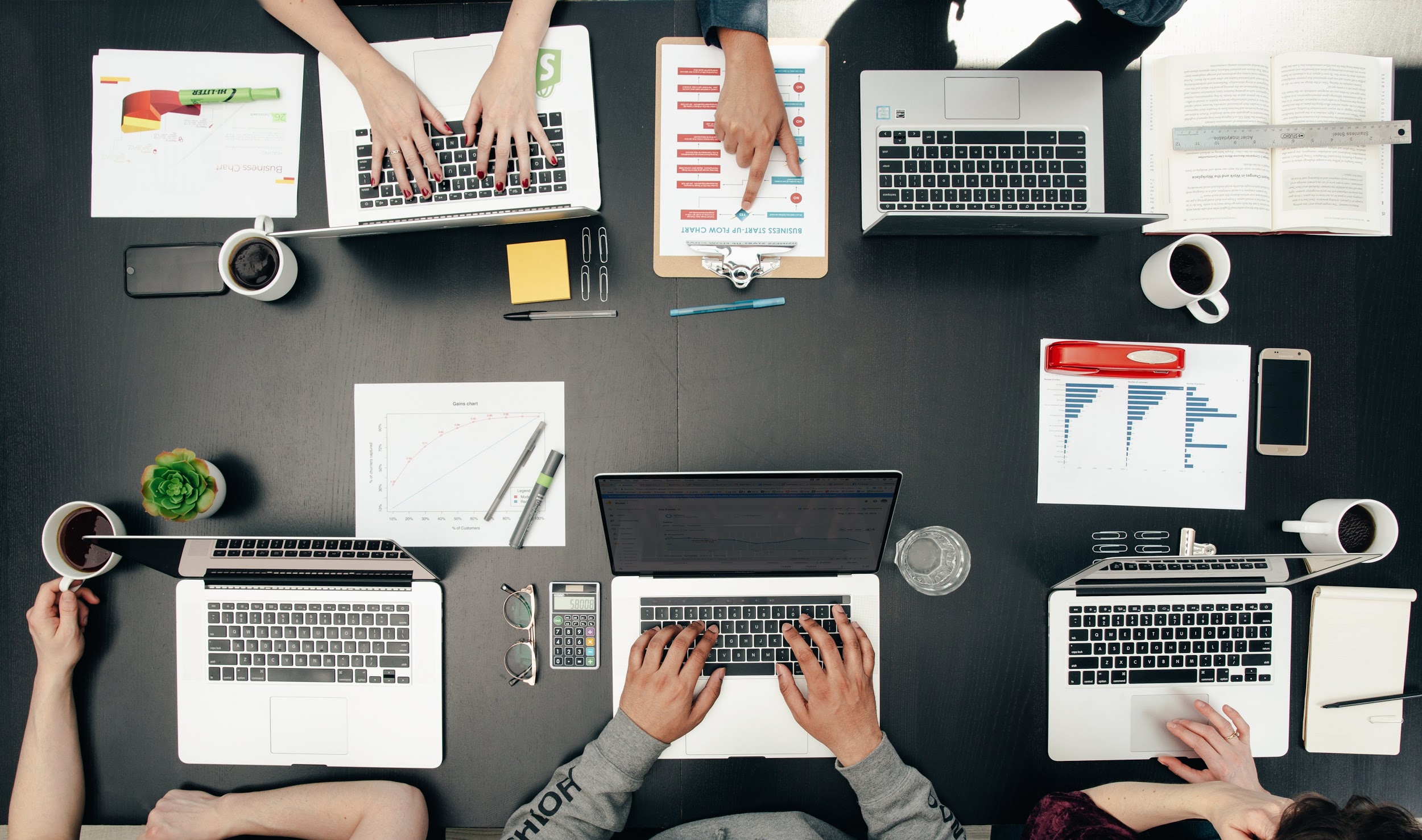 Source:
www.unsplash.com
Conclusion
If you have an idea and wish to develop a mobile
app to transform your business digitally then find the best IT agency today. We match you with your right tech partner based on your project requirements.
We have the best IT agencies expert in their respective domains who build web and
mobile applications that help businesses
in achieving their goals and objectives. Subscribe to Supersourcing to find the best IT agency for your project. We also have an in-house team of expert
mobile app
developers that not only works on the project brief but also puts
their minds and experience into executing ideas to build an amazing product and help startups/ SMEs and businesses
in achieving their market proposition. We act as a tech partner for startups and help them find the right tech stack
at the right prices. Have an idea and want to discuss it? We are there for you. Reach out to us and get started on
your idea.