Table of content
Software companies are part of a wide range of computers and offer products in one of four categories: system services, software services, open-source, and Software as a Service (SaaS). Therefore, to cut short the searching process of business seekers, we have prepared a list of the top 10 software development companies in Mumbai.
However, Software companies generate revenue from software licenses, maintenance services, subscription fees, support services, and more. Using cloud technology, a fast-growing environment, customers now easily pay regular subscription fees to quickly access the software via the Internet from a provider's server. So, if you've been looking for software development companies in Mumbai for a long time, you've come to the right place!
This list is not only limited to companies that are based in Mumbai but also globally. You will find out all about these software development companies in Mumbai before making the big decision to share your vision with one of them. To help people, we have collected information that provides powerful solutions for software development.
To evaluate and find top software development companies in Mumbai, we did in-depth research and check company profiles. It includes the company's client base, portfolio, transparency in their services, time consumption in developing an individual app, and pricing. Supersourcing also looked into each company's client and employee reviews to understand the values of the company.
You can have a thorough view of this list and choose the most reliable & suitable software development companies in Mumbai for your growing business.
Here is the List of Top 10 Software Development Companies in Mumbai
1.  AllianceTek
AllianceTek is in the market as a Custom software, Web development, and IT business solution provider. They have 14 years of experience in building mobile, cloud, and web solutions for their clients. Hence, it is among the names of the top 10 software development companies in Mumbai.
They provide coastal customer service and a project management team as well as overseas developers and designers to bring maximum benefit to their customers. The team has expertise in eliminating obstacles and heads that are often associated with the traditional release model.
Their customers do not have to worry about cultural gaps or communication problems that may arise from an offshore company. As, the AllianceTek model is able to offer clients the best in terms of customer service while also offering cutting-edge, customized solutions at very low prices.
They take immense pride in their ability to deliver affordable business solutions to customers while providing them with world-class customer service.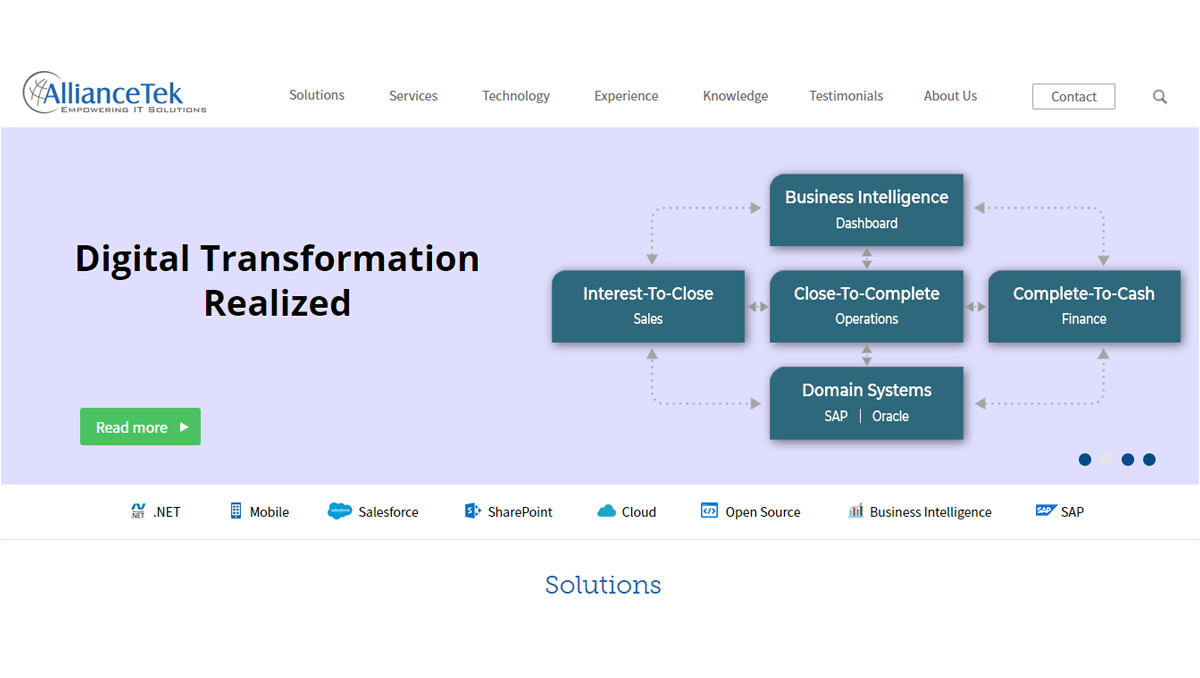 2. Smart Sight Innovations
Smart Sight Innovations believes in providing a wide range of services, technologies, consultation, and computer solutions to revitalize and transform each clients' business. Thus, it is one of the names enlisted among the top 10 software development companies in Mumbai.
It is a progressive, intelligent web and web-based solutions company, headquartered in Mumbai – the Community Capital of India. They majorly focus on nurturing talent by bringing together dedicated, hard-working and knowledgeable staff of tech-savvy, rehabilitated, advanced, and innovative staff to develop, build, deliver, and maintain web-based solutions for various platforms and program needs.
The team of SSI follows a vision to transform new and sustainable solutions by designing the right product and changing the right strategies and technologies in the field of Information Technology and Services to promote in achieving profit for its customers.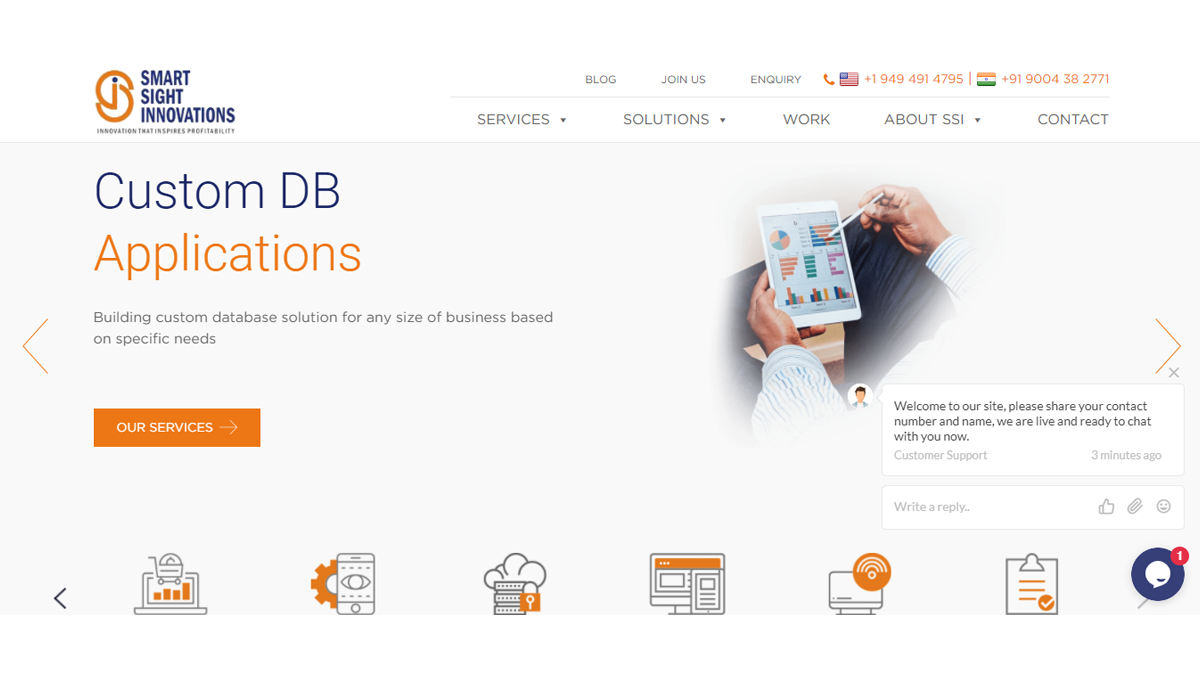 3. Wama Technology
Wama Technology is one of the most looked for software development companies in Mumbai. They aim to accelerate business to the next level. Wama Technology provides IT Software-based solutions and services to businesses.
As a team, they all strive to come up with solutions that take the business to the next level. They work rather than need to provide ideas, models that are better suited and can be used. They offer a full range of mobile application development services that make things better for businesses and companies we work with.
Their team of dedicated engineers fills your various business needs with a wide range of services. They even developed many technologies in the vast area of Offshore Application Development & Maintenance, Application Migration and Re-engineering, Product Development & Support, Enterprise Solutions, Web Development, Game Development, Mobile Solutions.
Their quality efforts have ensured that we deliver according to expectations in terms of cost, time, and quality. More than 80% of business gets from repeated and trusted customers that speak volumes about the satisfaction of their customers.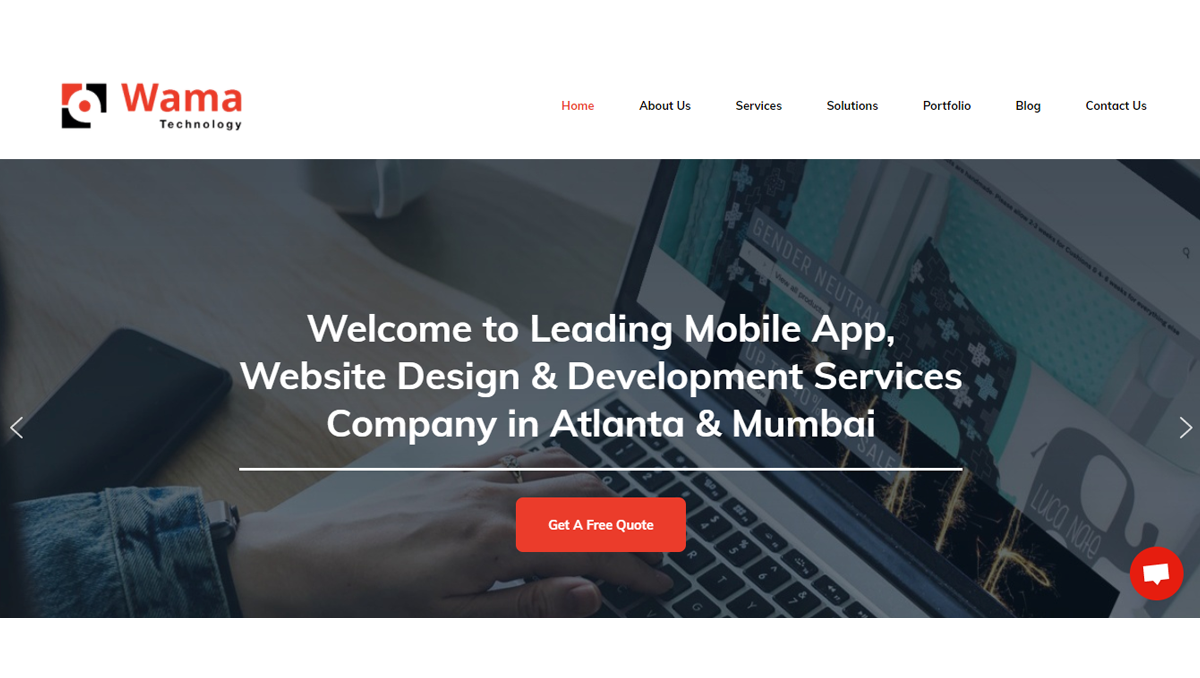 4. My Digital Crown
My Digital Crown is a Mumbai-based company as a Top Digital Marketing Company and also provides web development services. However, its full-fledged digital marketing company has been operating well in the digital space for more than three years. Despite that, it's been working exceptionally well in software development and is one of the top software development companies in Mumbai.
They make sure that each item of the marketing campaign is "set to drive traffic to the client's main target area. They ensure to deliver the best work whether targeted by a website or any social network". They know how to deliver unique and measurable results for their clients across the industry.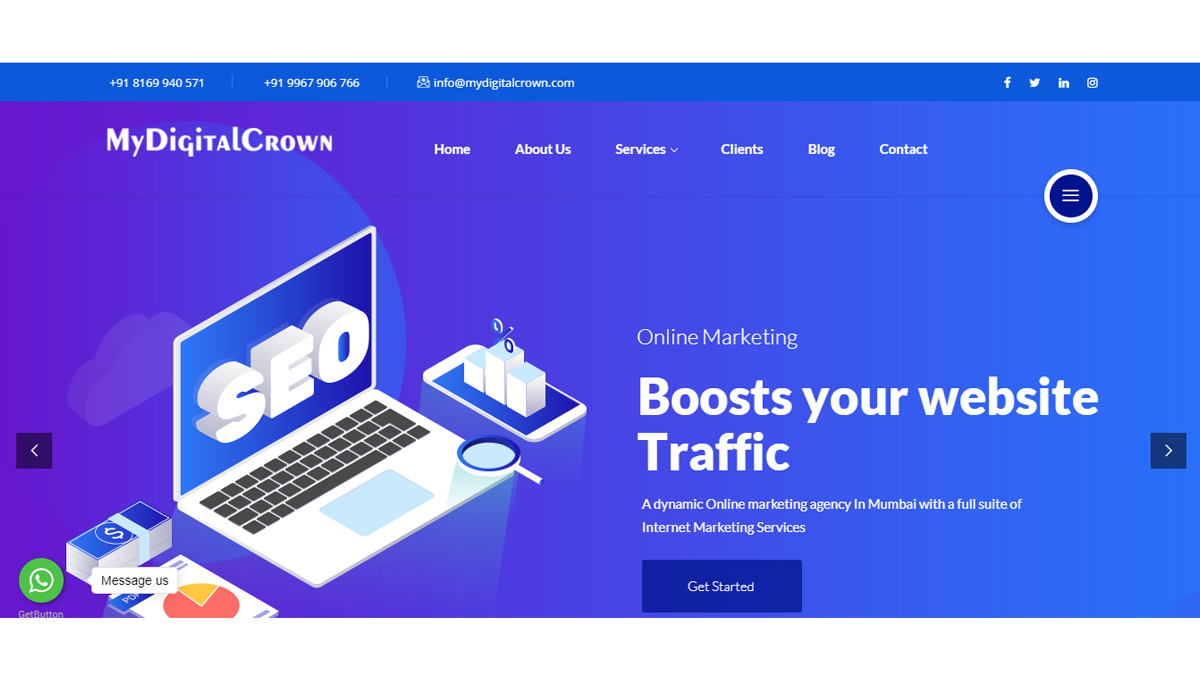 5. Goldenmace IT Solutions
Goldenmace IT Solutions is a provider of development and consulting services. They work with web application design, programming, data creation and management, mobile development, and network management. It is among the top 10 software development companies in Mumbai with its quality business solution delivery.
They make every effort to simplify their client's business processes and make technology a legacy. With Goldenmace prices in the context of all of them, they ensure that quality is delivered on a regular basis.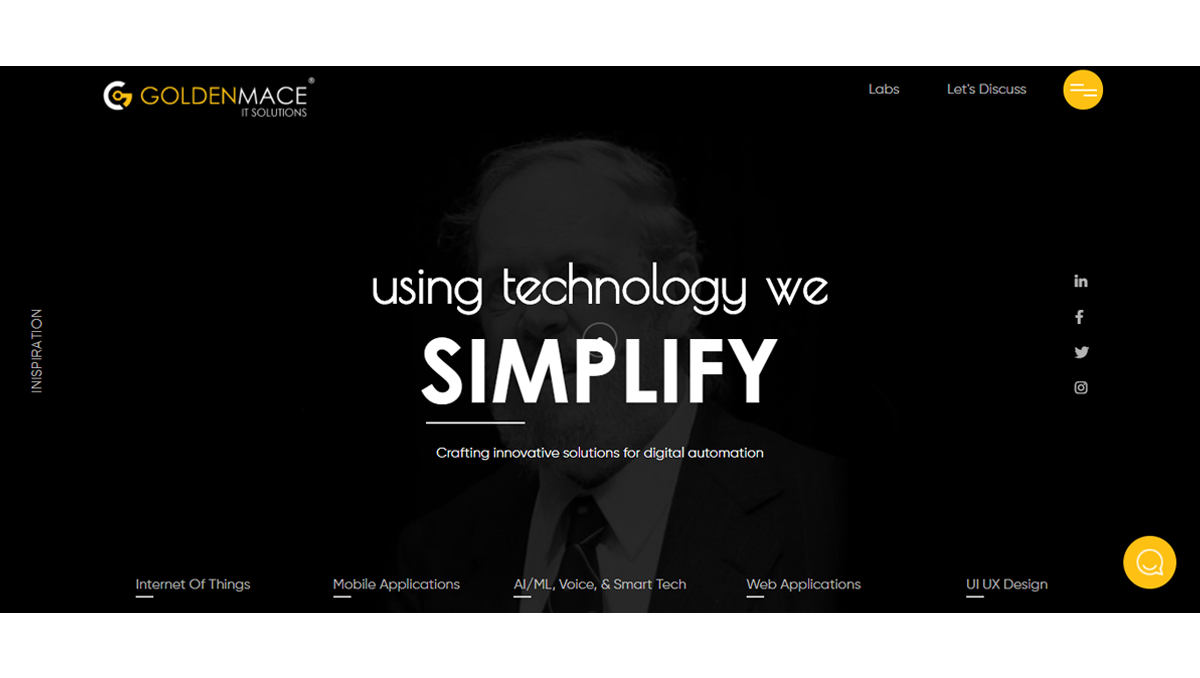 6. Mypcot Infotech Private Limited
Mypcot Infotech has expertise in delivering many digital software-based solutions like mobile app development, website design, web application development, E-commerce application development, and customization, Indigenous mobile application development, Hybrid mobile application development. Hence, it is one of Mumbai's best software development companies with such quality customer assistance and work delivery.
They are one of the smallest and most powerful IT companies used by Mypcot Infotech Pvt Ltd. working on a number of Government projects, NGOs, and Companies. The company provides state-of-the-art services with their expertise and consistent vision regarding project completion in a timely manner.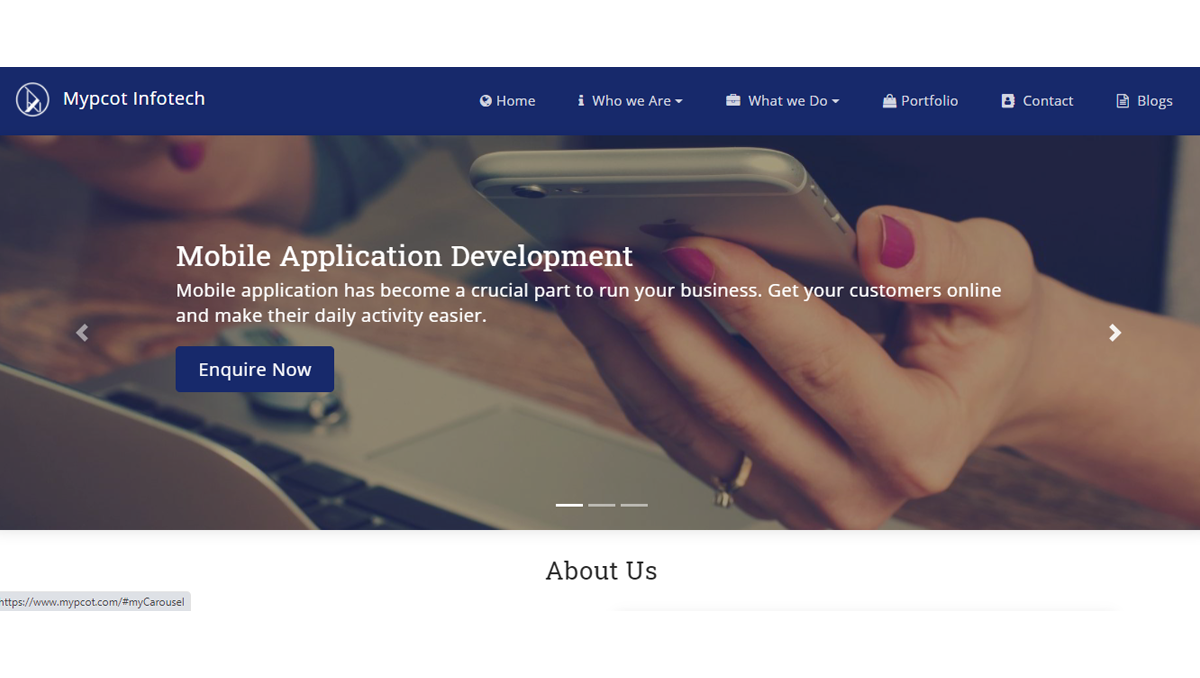 7. NIMAP Infotech
NIMAP Infotech provides its clients with everything from customizing a Website to a Facebook app or iPhone game or mobile app; all under one roof. As a result, it is among the top 10 software development companies in Mumbai.
"Focusing on re-interpreting" is the mantra of young age NIMAP Infotech swears by. It is their responsibility not only to provide the client with what they have requested but also to understand the client's needs and provide what they want.
Their thinking and dedication to success puts them at a disadvantage and helps them stay ahead of their competitors. NIMAP Infotech works with four major domains namely Web Development, IT Training, Multimedia, and Software Development.
They have an expert team in web development and distribution and team members have received numerous international awards for web design. Their designs and software are of international standards.
The main staff/team at NIMAP Infotech are all under the age of 30; so they do not run out of creative ideas and new ideas. All assignments are considered a challenge and an opportunity to exceed client expectations and surprise them.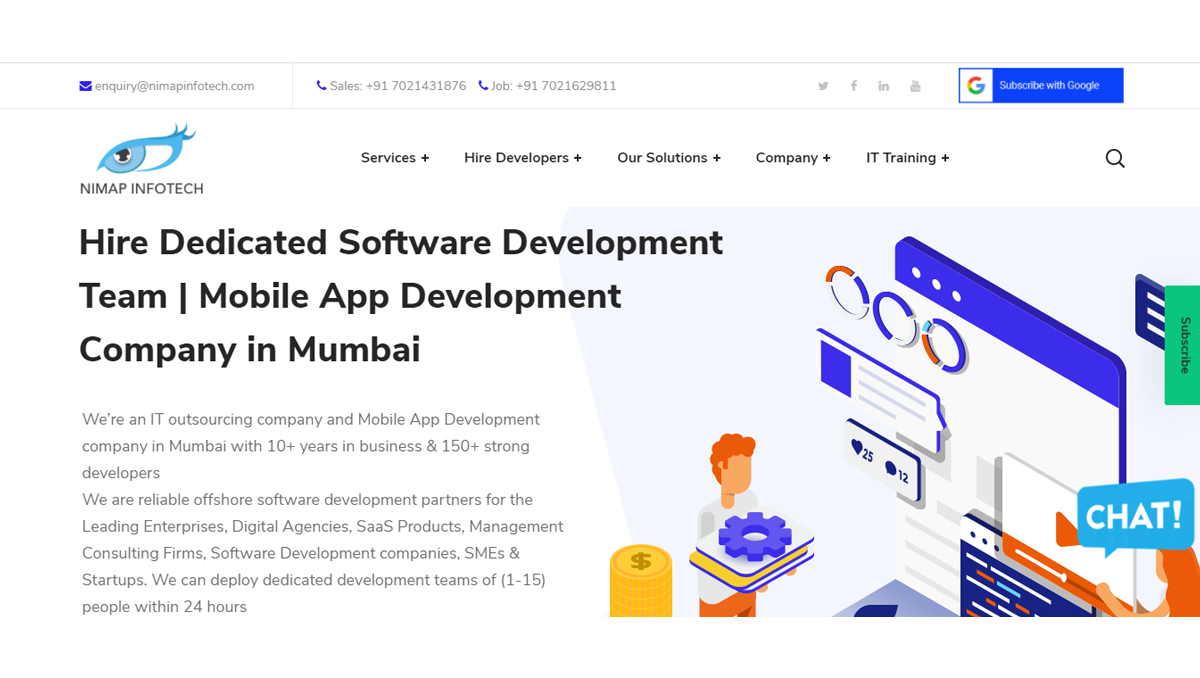 8. Idyllic Software
Idyllic Software is one of the unique software development companies in Mumbai that designs and delivers the most exciting solutions to their demanding customers in the United States and all around the world.
They are engaged and fully immersed in the world of growing startups. Their team also understands that the journey to success requires building a profit making & a sustainable business. They specialize in working with growing businesses and startups to help them transform many good ideas into one of the most successful and scalable companies. Their mission is "Help Build Business".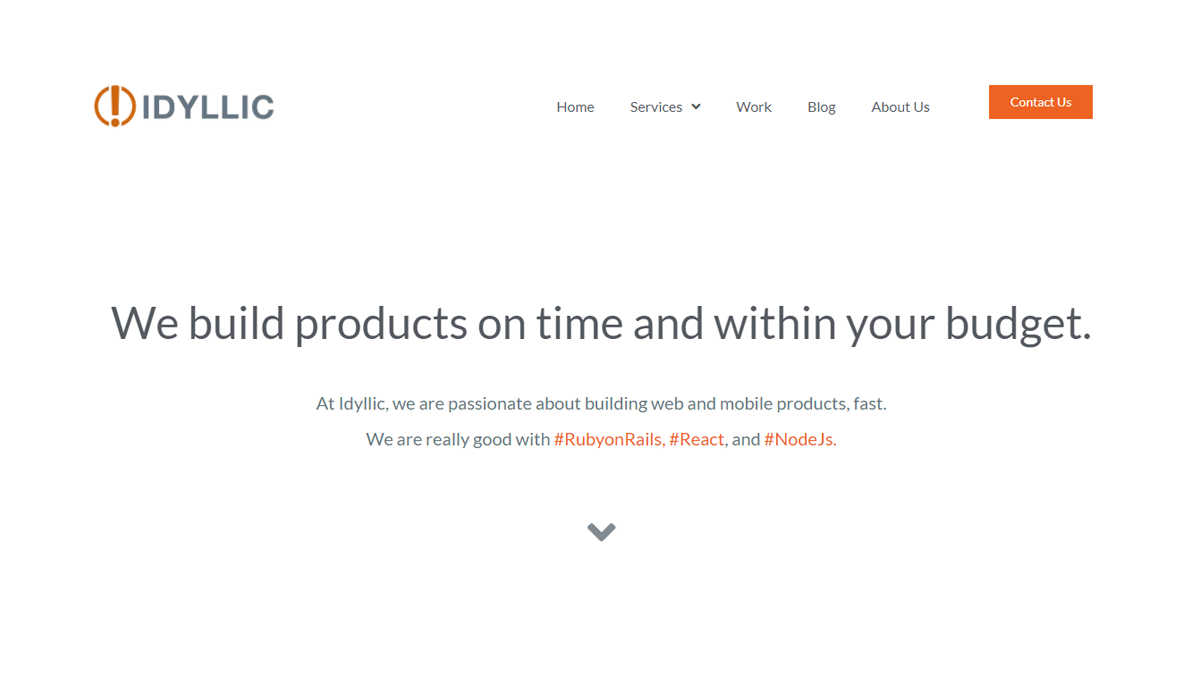 9. Neebal Technologies
'Reaching Beyond' is driving digital transformation and IT solutions that are ready for the future for Fortune 500 companies and SMEs. Thus, they land as one of the names enlisted in top 10 software development companies in Mumbai.
Neebal is designed to help their clients choose the "right technology" and if necessary, develop the same for them. They are often asked by potential buyers to use "big data," "business mobility," and many new buzzwords floating with each Gartner Hype Cycle. They go beyond hyparing hype.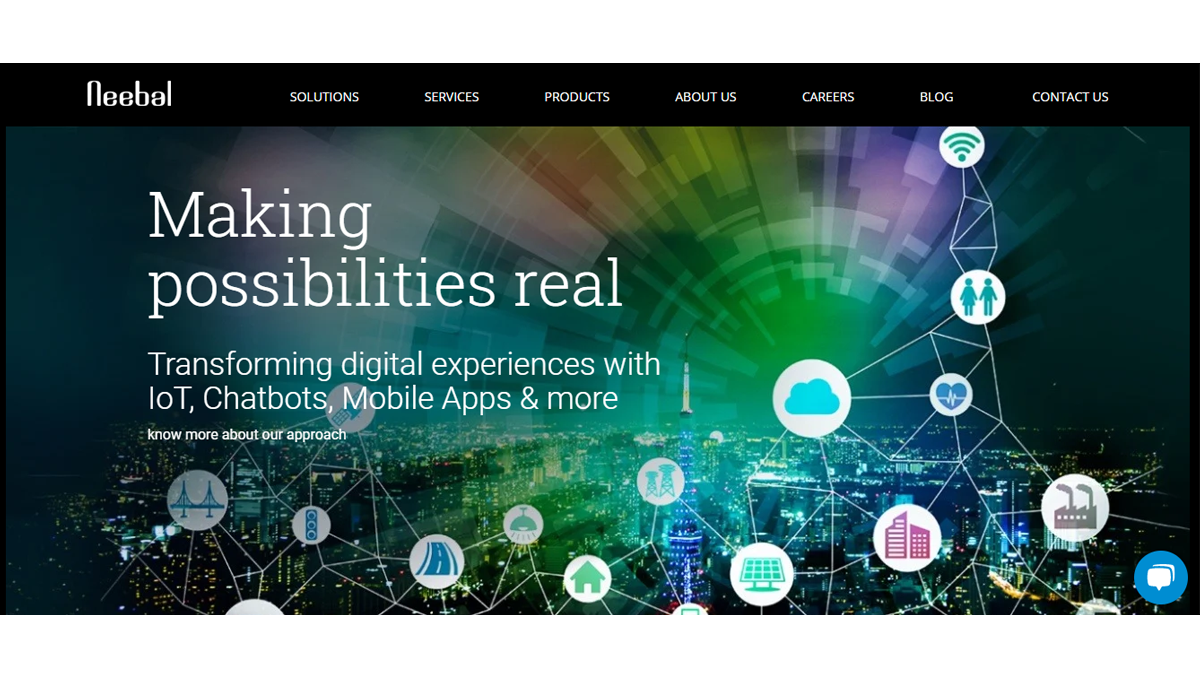 10. Innowrap Technologies
Innowrap Technologies is one of the most sought after software development companies in Mumbai. They are present in India, the US, the UK, and the UAE and are known worldwide for their unparalleled service quality, strong commitment, core values, and corporate governance.
Their major service offerings include Product Development, Product Innovation, Retention and Support, Business Consultation, and Technical Exhibition. They harness the power of cutting-edge technology and innovative business processes to create successful products.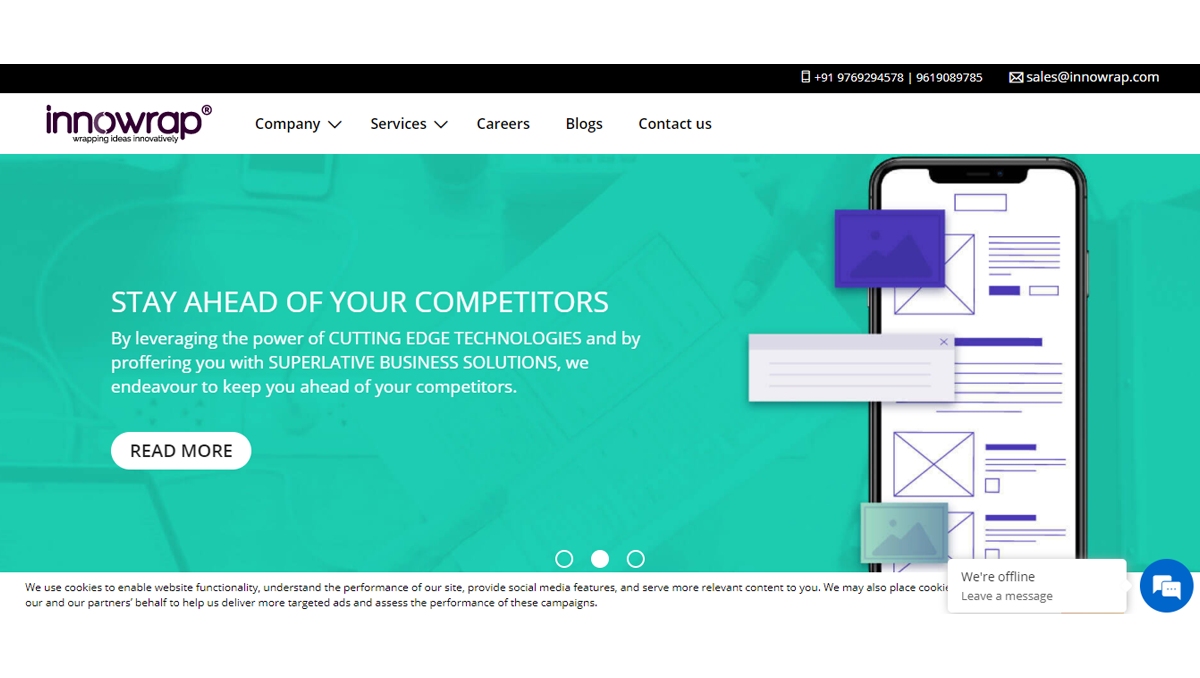 Conclusion
The list is prepared based on extensive research and reviews made for each of the listed software development companies in Mumbai at different reliable portals leading B2B research platforms. Hope this list will assist you to rent the simplest supported budget and requirements. Each of these companies is a leader in their own right as they work on different areas. Different scales and excel at what they do.
They have developed intuitive and innovative software for every one of them. This list was in no particular order of importance and hope it helps. If you pick out any one of these companies from the list and read about their portfolio, you will come to realize that they have been behind the success of countless well-known brands.
They believe in covering all aspects of work in their report to find and place the best software developers the clients can choose from. The companies listed above for software development companies in Mumbai offer persistent, attractive, and robust application development solutions to consumers worldwide.
Supersourcing also invites new and established mobile app development companies in India to participate in future analysis processes by submitting proof of their performance and being listed for registration.