Custom Software Development is the designing of software applications to serve the definite purpose of the user or set of users associated with that software. Here, it requires ordering, development, and release of specific software products which are customized for a single detailed unit. Hence, to make your digging easier, we compiled a list of top 10 software development companies in the USA.We have tried to get the best software development companies at a single plate, who are focused on developing custom software along with best quality. So, overall you have landed at the right place to choose the right option among these enlisted software development companies in the USA. As we understand, a software is the building block of any business, so going with the best development company and yielding the quality solution is mandatory for the good business future.However, moving ahead with this blog, you will find a lot of valuable and necessary details about these software development companies in the USA. So, to help you in building your business and attaining the right business solution, we have prepared a detailed information of such companies.
In this blog, we can assure you that you are going to have a thorough view of all the enlisted companies below. It will definitely help you to choose the most reliable and suitable software development companies in the USA for your business establishment and growth.
In this blog, we delve into practical strategies and best practices that HR professionals can employ to navigate the unique challenges of remote team management. We'll uncover valuable insights on how HR can optimize hiring processes to identify top remote candidates, establish seamless onboarding procedures to foster connection and productivity, implement effective remote performance management techniques, and develop impactful employee engagement and retention strategies in the virtual workspace.
Here is a List of the Top 10 Software Development Companies in the USA.
Fingent
Fingent is among the top software development companies in the USA, based in New York.  They provide End-to-End Services, Counseling Services, Business Consultations, Application Development and Maintenance Payments, Business Process Release. They have successfully built complex solutions for companies working in different sectors, such as Financial Services, Real Estate, Logistics, Healthcare, and Media.
Fingent has its presence in New York, Boston, Melbourne, and Dubai as well as having R&D centers in Kochi and Trivandrum, India. It is a business software development company marking its presence worldwide with more than 300 employees all over. The company is also working as a trusted technical advisor for more than 150 businesses, including startups, SMBs, and Fortune 500 businesses.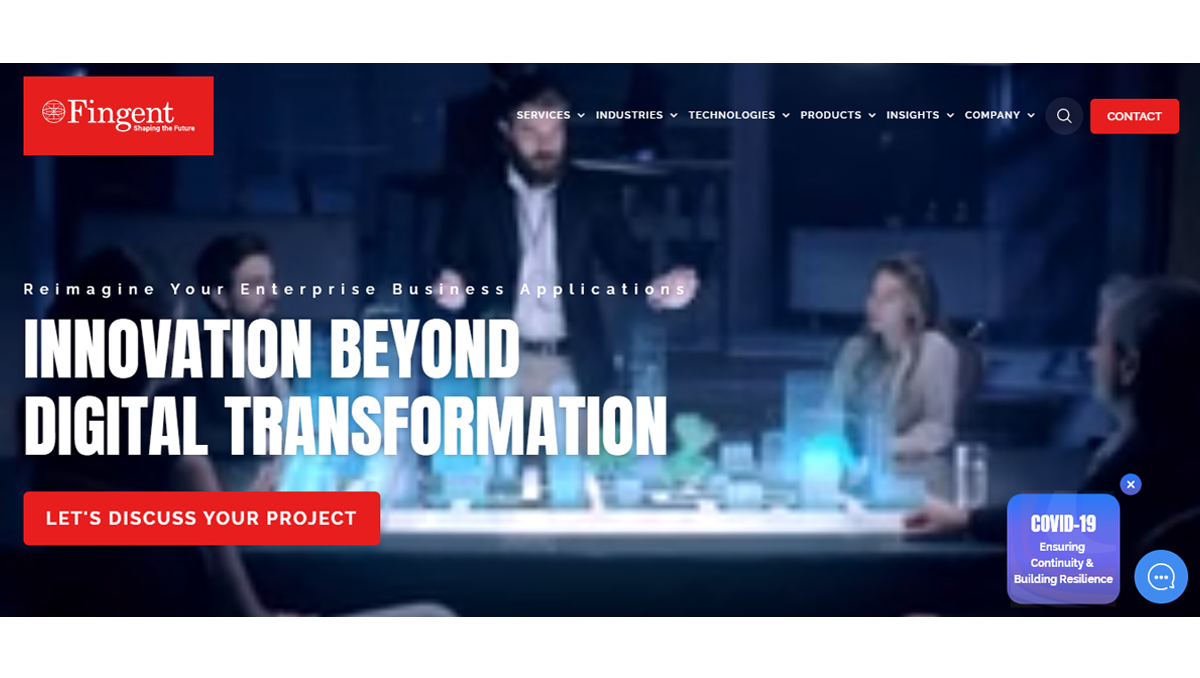 Founder: Varghese Samuel
Company Website: https://www.fingent.com/
Price Model: Hourly based.
Charges Per Project: $50-$99 / hr
Top 5 Customers: Sony, JnJ, PwC, NEC, TalentQuest
Number Of Employees: 201-500
Revenue Generation: $55 M Annually
Ratings & Reviews: 4.98/5 Goodfirm and 4.6/5 on Clutch
Employees Verbatim:

"Its an employee friendly company that also provides work life balance"
"Fingent has a good work environment and promotes a healthy work/home balance"

Clients Verbatim:

"Fingent's flexibility and great communication stand out." by Co-Owner, Relocation & Utilities Company
"Their responsiveness and interest in helping us are impressive." by Regional Coordinator, Marine Wildlife Sanctuary

Technologies They Work On: Microsoft, Open Source, Mobile, SAP, Odoo
Industries From Where Their Clients Belong:

Financial Services
Real Estate
Education
Logistics
Manufacturing

Awards & Certifications:

Top B2B Companies- Australia 2020 (Clutch)
Best Developers 2020- Massachusetts (Clutch)
Top Web Development Companies in UK (Goodfirms)
Top Developers New York 2020 (Clutch)
Atomic Object
Atomic Object is an expert name in building web applications, mobile, desktop, and devices. They help companies develop and grow customizable, reliable, and easy-to-use custom software products. Thus, they are considered as the most familiar name for software development companies in the USA.They have an efficient team of designers and developers that can bring their clients vision to life – from design to functionality. They also support risk reduction, making smart trades, and get the most affordable value in your budget. Atomic Object has its offices in Grand Rapids and Ann Arbor, and efficiently serves the national customer base – from scratch to Fortune 500. Whatever your market is, they ensure to help you in changing the status quo and enable you to outstand from your competitors.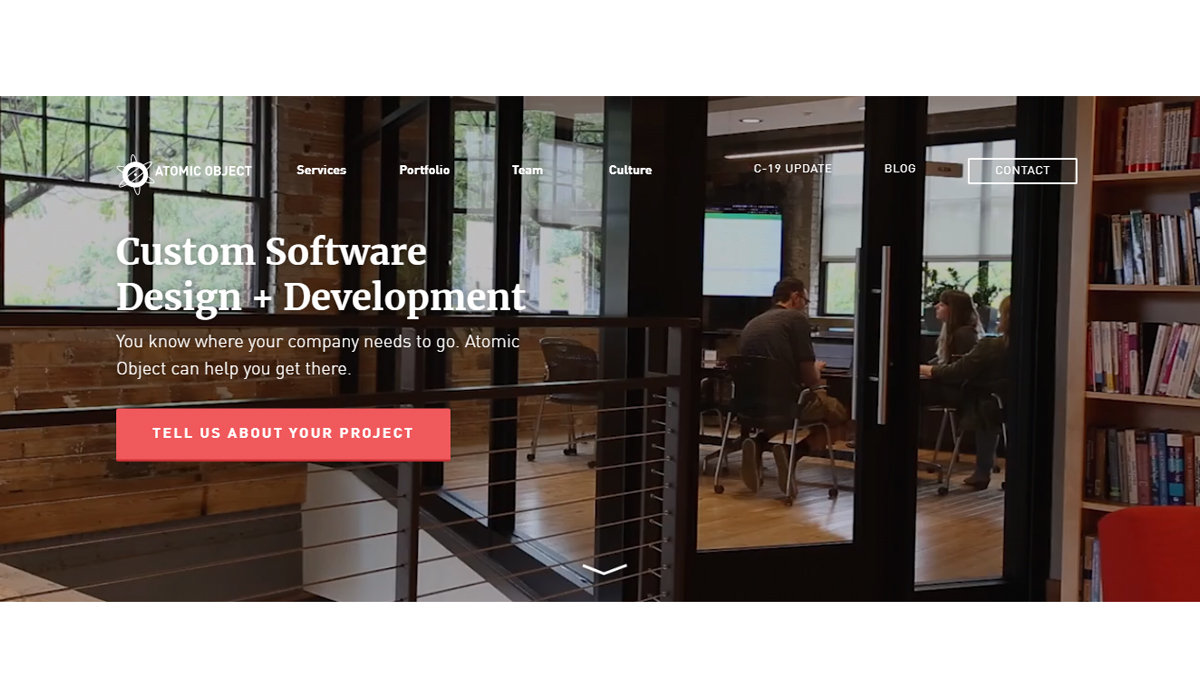 Founder: Carl Erickson
Company Website: https://atomicobject.com/
Price Model: Project based or Hourly based
Charges Per Project: $50k-$1M per project or $100 – $149/hr
Top 5 Customers: Quell, NSF, Eaton, Priority Health, Ford
Number Of Employees: 51-200
Revenue Generation: $30M Annually
Ratings & Reviews: 4.9/5 on Clutch
Employees Verbatim:

"The people are hands-down the best part about working at Atomic. Everyone is just a grade-A thoughtful, interesting, caring human being. I'd happily dig ditches for minimum wage with these people- it's a bonus that I get to do really interesting, challenging work with them.
There's lots of good stuff to say about AO, but the simplest way to say it is to direct you to our value mantras (can be found on our website). It's a really remarkable, unusual thing to be able to say that we /really do/ live them out every day- it's not a marketing campaign or corporate BS."

Clients Verbatim:

"They were flexible and willing to adapt to changing circumstances." by Engineer, Commercial Vehicle Product Firm
Their natural ability to talk to us in a language we could understand and guide us through decisions was phenomenal." by Co-Founder & CPO, Find MeTime

Technologies They Work On: IOS, Android, React Native, Node.JS, React, Swift, Objective-C, Ruby, Microsoft WPF, C & C# & C++, AWS Azure
Industries From Where Their Clients Belong:

Insurance
Manufacturing
Automotive
Consumer Goods, and many more.

Awards & Certifications:

Outstanding Workplace Culture- 2016
Spire Digital
Spire Digital is one of the digital product or software development companies in the USA. They are the names that can brilliantly transform business through design and technology. Being into the market for more than 20 years, they have provided strategic consultation, user experience design, software development, DevOps, digital marketing, and the expansion of staff at the world's top companies. As well as, with their creative art, they developed numerous products based on the web, mobile, IoT, wearable, AR/VR, AI, or blockchain to help startups in building successful businesses. Spire's services are focused on the products and new needs of our customers, which has led to critical business use that seizes opportunities to increase revenue, efficiency, market share, and customer satisfaction. Many companies rely on Spire's technology to develop industry-leading products to further global business objectives, such as AT&T, Berkshire Hathaway, DaVita, Dish Network, Experian, Inspirato, Lockheed Martin, MillerCoors, Rent-A-Center, Starz, USDA, US The Navy, Western Union, and. They had also worked with more than 400 technology initiatives.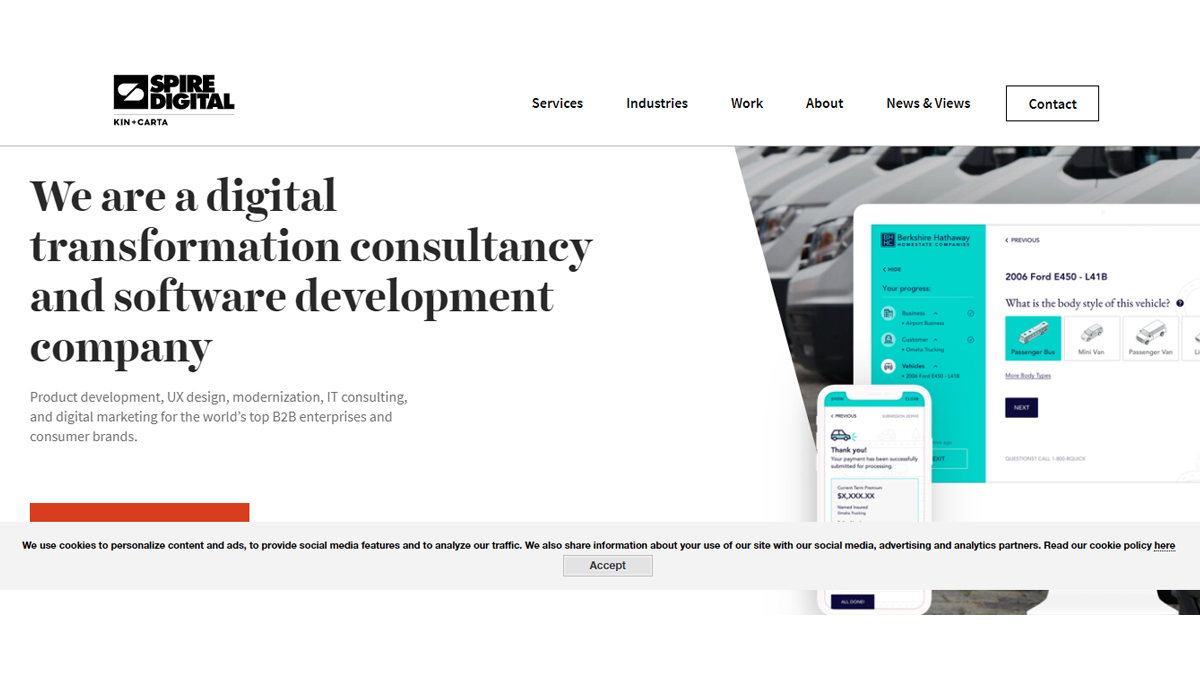 Founder: Michael Gellman
Company Website: https://www.spiredigital.com/
Price Model: Project based or Hourly based
Charges Per Project: $100 – $149 / hr
Top 5 Customers: Lockheed Martin, Western Union, Berkshire Hathaway, Morgan Stanley, Denver International Airport
Number Of Employees: 51-200
Revenue Generation: $12.4 M Annually
Ratings & Reviews: 5/5 on Goodfirms and 4.9/5 on Clutch
Employees Verbatim:

"I honestly had fun working at Spire! Spire truly delivers on its "treat people well" motto. The job provides generous flexibility, let's you work while travelling Gives you the tools you need for the job. People are amazing. This is one hip workplace. Spire is also highly decentralized which means that you can use the tech choices of the client and suggest your own solutions Snacks and beer and fun office Thoughtful perks like education budget, lunch-and-learn program Surprise bacon/mac and cheese/eggs from time to time Office parties are amazing. Work life balance, doesn't matter if your life is family or a hobby or your pets Clients."

Clients Verbatim:

"We came into this project having never done something like this before, and Spire immediately put us at ease." by VP of Marketing & Operations, Insurance Company

Technologies They Work On: HTML, CSS, Javascript (Node, Vue, Backbone, React, Angular, EXT), PHP, Ruby on Rails, Java, Postgres, MySQL, MongoDB, .NET, Android, iOS (Swift, Xamarin, Xcode, and Objective C), and Cross Platform/Hybrid Frameworks (React Native, Cordova, Ionic)
Industries From Where Their Clients Belong:

Automotive
Aviation and Aerospace
Education
Financial
Food and Beverages

Awards & Certifications:

Champions Of Change Bima 100
Fastest Growing Companies In America Inc. 5000
Top Designer and Builder- Econsultancy
#1 Software Developer In The World- Clutch.Co
Best Workplaceinc Magazine- Fortune, Builtin, Cobiz
Best Medium Sized Companies- Fortune
Praxent
Praxent knows and acknowledges that all of its clients want to be a leader of savvy, pragmatic innovation. Hence to do so, it requires a modern approach and intuitive digital experience for customer service. This new and modern work approach makes Praxent to be enlisted into top 10 software development companies in the USA.They believe that there is always a way to improve their digital customer experience without betting on the farm in writing all-or-nothing. They understand that such software applications are going less and less, hence they have compiled a fast-paced team of 70+ software designers and engineers to introduce over 300 changes to software in a span of 20 years.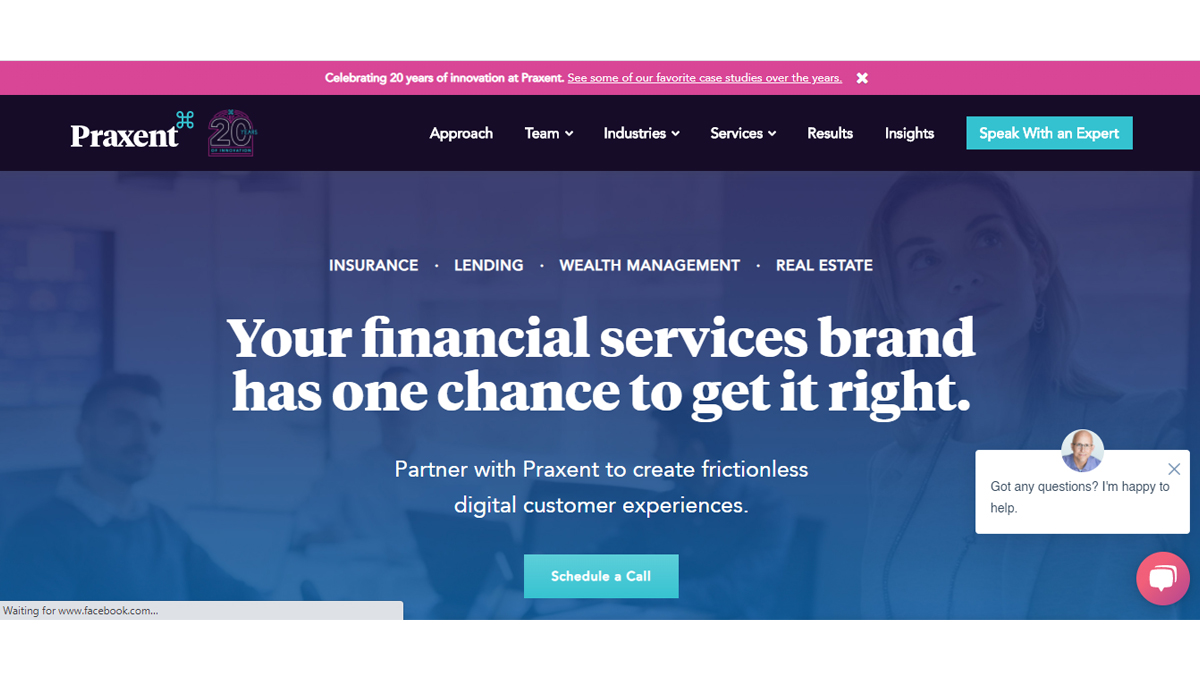 Founder: Tim Hamilton
Company Website: https://praxent.com/
Price Model: Project based.
Charges Per Project: $50 – $149/hr
Top 5 Customers: Cisco, Dimensional, Uship, Keller williams, Sysco
Number Of Employees: 11-50
Revenue Generation: $10M- $20M Annually
Ratings & Reviews: 4.8/5 on Clutch and 5/5 on Goodfirms
Employees Verbatim:

"The company core values are lived every day by the team. The CEO is a person of principle that reinforces those core values. The team is full of brilliant, bright, approachable people that I feel honored to work with every day. While the company has been successful, it has not abandoned what is most important – the way the company delivers its value proposition, through the empowerment of its team members."
"Autonomy. Treated like you're your own boss. Nobody is being micromanaged."
"Culture. Someone is always laughing. Taco Tuesday every time a new employee starts. Lunch every Wednesday. Huddle on Fridays. Snacks/drinks in the office, etc."
"Core values are important. We've spent 4 days doing volunteer work. Always highlighting people who go above and beyond."
"Interview process. Best process I've ever been a part of."
"You matter and what you do matters"
"Remote work/work from home flexibility, benefits are great."

Clients Verbatim:

"They're a knowledgeable and strong team that was a pleasure to work with." by VP of Business Dev & Marketing, Medical Insurance Carrier

Technologies They Work On: .Net, Java, React, React Native for mobile, etc.
Industries From Where Their Clients Belong:

Insurance
Lending
Wealth Management
Real Estate
Banking

Awards & Certifications:

Voted as 'A Best Place To Work In Texas' for Consecutive 4 years
Voted '17, '18, '19 And '20 Top Custom Software Development Company
Trigent Software
Trigent is one of the most looked-up software development companies in the USA by clients in software solutions. The company has its headquarters in Southborough, MA, with development centers in Boston, Bangalore. As a certified company ISO 9001: Trigent provides proven results to Independent Software Vendors (ISVs) vendors, Fortune 500 businesses and SMBs in High Tech, Healthcare, Education, E-Commerce and Manufacturing businesses. Trigent was founded in 1995, and has always been recognized for its solutions to success, strategic understanding and efficiency. It effectively provides offshore software development, product development, web and customization, product engineering, mobile application development and SharePoint Consulting testing, cloud, SaaS, system integration, asset migration, software quality assurance and testing, AS / 400, and technical support services from its maritime development center in Bangalore. The purpose of Trigent is to empower customers to 'Overcome the Limits' of competition, manufacturing, technical difficulties, time, and budget constraints through the development of marine software and export product engineering.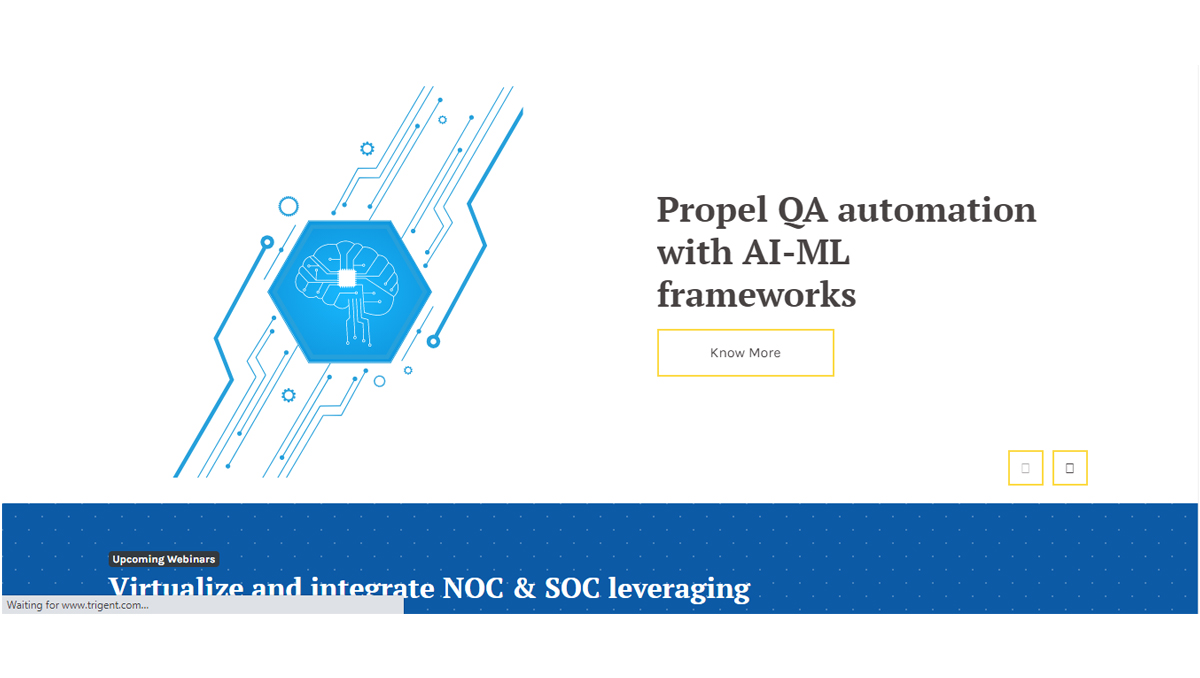 Founder: Bharat Khatau
Company Website: https://www.trigent.com/
Price Model: Hourly based.
Charges Per Project: $25 – $49 / hr
Top 5 Customers: Honeywell, Oracle, Clarks, Aon, Texas Instruments
Number Of Employees: 1,001-5,000
Revenue Generation: $25 M Annually
Ratings & Reviews: 4.8/5 on Clutch
Employees Verbatim:

"Trigent is an amazing company, i was getting my salary on time"
"Good work environment and friendly people"

Clients Verbatim:

"Their team knows how to challenge us and think through what the platform needs to do." by Managing Director, Employee Benefits & HR Consulting Firm
"Trigent Software delivers satisfactory code that returns negligible defect rates. The team contributes to the maintenance of an impressive 90% net promoter score. By adopting the client's processes, they support effective collaboration. Their timeliness and dedication ensure a lasting partnership" ~ by Threewill

Technologies They Work On: .Net, PHP, Java, DevOps
Industries From Where Their Clients Belong:

BFSI
Education
Healthcare
Manufacturing
Logistics

Awards & Certifications:

Trigent Named Insight Success's 10 Most Admired Companies To Watch In 2020
Trigent Ranked Among Top Software Developers By Clutch 2019
The Company is Recognized as 2019 Best Software Development Company In India By Clutch
Trigent Named Best Of The Global Outsourcing 100, 2019
Saritasa
Saritasa is a full-fledged source of Software App, Web, Software, Real Virtual, System Architect, and IoT Solutions provider who specializes in the development, development and integration of complex technologies. Founded in 2005, Saritasa's headquarters are in Newport Beach, CA.  It is among the top names in software development companies in the USA. The Saritasa team has 140+ qualified developers and has delivered 1000s of software, hardware, and mobile application projects. Their clients include new startups and businesses across a wide range of verticals including life science, marketing, technology and advanced technology. Their customers rely on their expertise, reliability, and speed to bring new things to reality.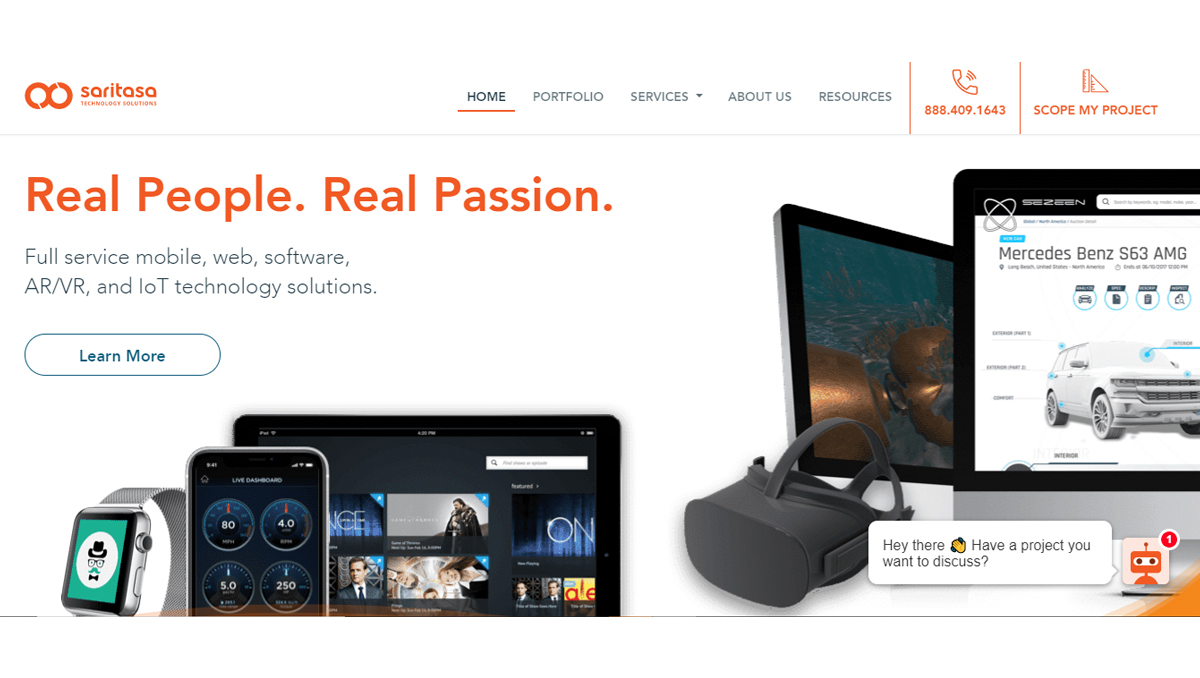 Founder: Nik Froehlich
Company Website: https://www.saritasa.com/
Price Model: Project based.
Charges Per Project: $12k- $100k as per project complexity
Top 5 Customers: Sony, Disney, Yamaha, Toyota, The Cheesecake factory
Number Of Employees: 51-200
Revenue Generation: $5.5 M Annually
Ratings & Reviews: 5/5 on Goodfirms and 4.8/5 on Clutch
Employees Verbatim:

"Saritasa's culture is the best I have ever seen in a company. Good pay and commission structure. Unlimited work from home, to a reasonable extent. Plus average PTO (vacation). The training is phenomenal, they are committed to molding you into a very successful employee. Heavy marketing spend for inbound leads – zero outbound prospecting. Overall, the leads are very good quality, and there are more than enough to go around. It's a no stress environment, even when you make mistakes. You still have your own way of selling and is in no way micromanaged. One last thing. The sales environment is not cut throat nor boiler room. The reps all talk to each other about their deals and help each other strategize. It's nice to see a team that is supportive of everyone's success."

Clients Verbatim:

"From brainstorming to troubleshooting onsite issues, Saritasa earned their place as one of my "first call" technology partners" by Zaqary Whitnack, iHeartMedia Inc.
"A first class company with great people and skills who look out for their clients at all times" by Richard Whitman, Audience Delivered

Technologies They Work On: DevOps, AWS Services, .Net, LAMP, Angular.JS, React.JS, PHP, Python
Industries From Where Their Clients Belong:

Medical/Pharma
Restaurant
Education
Health
Retail

Awards & Certifications:

Top Mobile App Developers, 2019 (Clutch)
Best Software Developers, 2019 (Techreview)
Top Mobile App Development Company (Goodfirms)
DCSL Software
DCSL Software is an award winning software company in the USA, with Headquarters in Hampshire, Development Centers in London and Manchester and the QA Center in Bucharest. Since 1994, they have created smart, inexpensive, and accurate web applications, desktop applications and mobile applications for established businesses, non-profits, government agencies, and start-ups. They are Microsoft Gold Partner Program Development Partners, which means they build state-of-the-art software based on Microsoft's highly acclaimed partnership, as well as being an accredited Microsoft Cloud Solution provider, which means they can directly manage the entire Microsoft Cloud customer life cycle. If you are looking for a reliable and reputable company to build your operating software or transform your existing systems to the next level, then DCSL software can be a great business solution for you.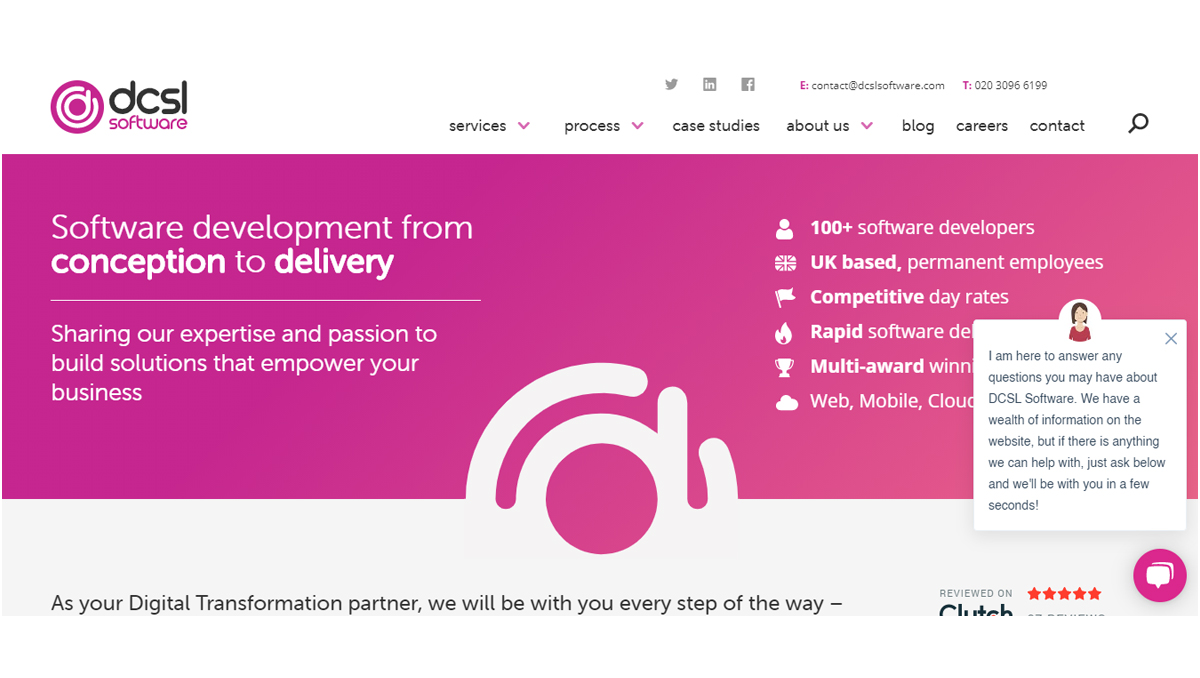 Founder: Andrew Millington
Company Website: https://www.dcslsoftware.com/
Price Model: Hourly based & Project based.
Charges Per Project: $50 – $99/hr
Top 5 Customers: LDAT, Mitsubishi, Holland, Gladstone, Pearson
Number Of Employees: 51-200
Revenue Generation: $13.5 M Annually.
Ratings & Reviews: 5/5 on Goodfirms and 4.9/5 on Clutch.
Employees Verbatim:

"Excellent opportunity to learn and grow as a new/junior developer. Variety of projects to work on. Dedicated hours set aside for training. Brilliant workplace culture."
"Flexible in home/work balance, offers excellent benefits such as a health care scheme. DCSL takes care of employees, for example providing mental health & well being support & regular social activities such as a ping pong tournament! Also during this Covid crisis, there have been many online social activities such as the Managing Director playing the piano at lunch time & staff quizzes!"
"Environmentally friendly offices, offering a cycle to work scheme."
"Approachable Managers, both professional & fun!"

Clients Verbatim:

"We would definitely use DCSL again. They're very professional, comprehensive and very thorough. We felt comfortable working with them and we're very happy with the results" by Danny Foulstone, Forever Living
"No off-the-shelf package could have offered us this edge. DCSL's agile approach to development allowed us full involvement in the specification of the system- and the ability to refine this as we want and deliver something powerful yet very cost effective" by Neil Beard, i-Cert

Technologies They Work On: Microsoft SQL Server, ASP.NET, MVC, and Web Services, HTML5
Industries From Where Their Clients Belong:

Healthcare
Hospitality
Insurance
E-learning
Retail

Awards & Certifications:

Lloyds Bank National Business Awards 2020: Business Enabler Of The Year – Finalist
Clutch Top Developers 2020 Award – Voted #1 For .Net Development In The World
Best Companies 2020 Accreditation – DCSL Achieves 2* Award
Clutch Top 1000 Companies Global 2019 Award
Itransition
Itransition is one of the most trusted global software development companies in the USA having more than 20 years of experience in various industries. They are very dedicated towards their work and always deliver a full spectrum of software consulting & development services to their customers. From more than 30 countries across the globe ranging from SMBs to Fortune 500 enterprises they are delivering quality work. Itransition assists any of its customers at any phase of business or software development — from startups at the ideation stage to mid-sized businesses and large enterprises with a focus on good optimization and varied expansion no matter the industry they operate in.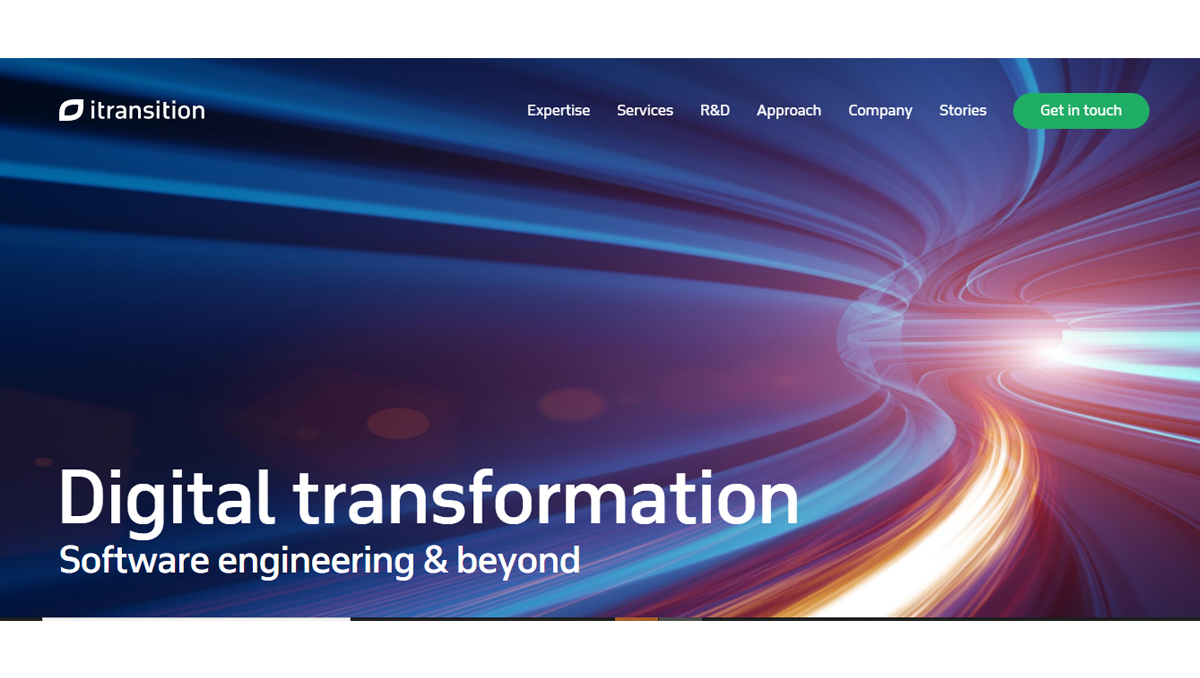 Founder: Alex Demichev
Company Website: https://www.itransition.com/
Price Model: Hourly based.
Charges Per Project: $25 – $49/hrs
Top 5 Customers: Paypal, Adidas, Evoz, Prego
Number Of Employees: 1,001-5,000
Revenue Generation: $38 M Annually
Ratings & Reviews: 4.6/5 on GoodFirms and 4.9/5 on Clutch
Employees Verbatim:

"Possibility to work on different projects, Collaboration, friendly colleagues, challenges and possibility to grow."
"Flexibility between projects, a lot of people with good knowledge."

Clients Verbatim:

"Their enthusiasm for the project and their ability to bring input to the table set them apart." by Founder & CEO, MyAutoData (MAUD)

Technologies They Work On: .NET, C++, Java, PHP, Python, Rails, iOS, Android, Windows, JavaScript
Industries From Where Their Clients Belong:

Retail
Automotive
Finance
Healthcare
Media & Entertainment

Awards & Certifications:

Itransition in The Global Outsourcing 100®.
Made it to the Deloitte Technology Fast 500 List.
Been in the Software 500 list since 10+ years.
Door3
Door3 is an independent technical consultancy among the top software development companies in the USA. Its goal is to provide their clients with professional guidance and build valuable software for their organizations. The company integrates technology with modern technology, whether that is the application of one business or an organization as a whole. They ensure to make business modern and turn business around. They align technology with the future. DOOR3 delivers solutions reliably on time and on budget. Clients benefit from a process of consultation and engagement that comes from informed understanding and common causes. They bring compassion, collaboration, and shared purpose to all of our customer relationships.
The company was founded in 2002, having its headquarters in New York City. It is supported by a global team of skilled professionals who are committed to building objects of lasting value.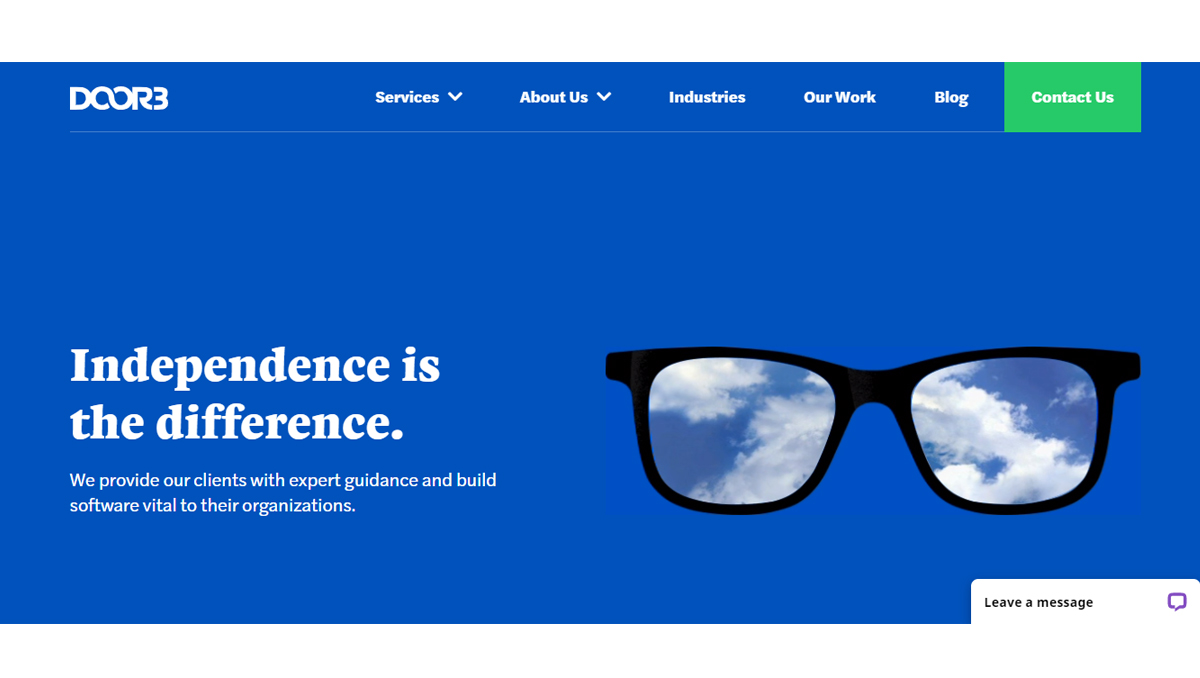 Founder: Alex Asianov
Company Website: https://www.door3.com/
Price Model: Hourly based.
Charges Per Project: $50 – $199 / hrs
Top 5 Customers: Wells Fargo, FreshDirect, IDT, COTY, Timewarner
Number Of Employees: 51-200
Revenue Generation: $12.6 M Annually
Ratings & Reviews: 4.9/5 on Clutch
Employees Verbatim:

"Flexible Schedule, Summer Fridays, Agile with few meetings."
"As a designer, developer, BA, etc. you'll get to work on challenging and complex projects for a range of clients and industries. You'll have access to a variety of high-quality projects, many with the potential to be great. You'll quickly accrue meaningful experience that will further your career and skill set overall. They're a smart, dedicated team that has carved out a unique niche focusing on enterprise digital experiences."

Clients Verbatim:

"DOOR3 is adaptable enough to deliver quality experiences while keeping the bigger picture in mind." by Director of Product Management, Elsevier
"DOOR3's analysis and implementation of the right solution, as well as their user support skills, averted a crisis and got Studley out of knee-jerk mode, putting the company on the right track in terms of how decision-makers think about and use technology." by Patrick McGill, CSTV/CBS Online, Inc.

Technologies They Work On: Xamarin, Ionic, Objective C, Java, Swift, Angular, React, Backbone, Knockout, Robotic Process Automation, Internet of Things (IoT).
Industries From Where Their Clients Belong:

Financial Services
Insurance
Legal
Construction
Consumer & Retail

Awards & Certifications:

DOOR3 Recognized as a 2019 Leader Among AngularJS Developers,
DOOR3 Named Top 1000 B2B Software Development Provider by Clutch.
Award-Winning DOOR3 UX Design Team Wins Coveted 2018 Web Award.
Intellectsoft
Intellectsoft is a software digital transformation consultancy which is based in Palo Alto, California. It is among the top 10 software development companies in the USA. The company provides state-of-the-art engineering solutions for global companies and the Fortune 500 with the aim of helping businesses accelerate the adoption of new technologies, solve complex issues that constantly arise during digital emergence, and plan sustainable operations.
The company was established in 2007. Intellectsoft operates in all offices with engineering centers in the U.S., UK, Nordic Region, and Eastern Europe. The company maintains its advanced domain technology through five dedicated labs: Cognitive Computing, Postponed Applications, Premier Customer Experience (CX), and Mixed Reality (AR, VR). Becoming well-known experts in advanced technology, Intellectsoft technology engineers secure, robust and intelligent solutions, integrating them with existing IT infrastructure for customers. Whether a consumer-oriented application or solution in a dynamic business segment, the company leads the process from concept to concept to delivery, and provides ongoing support with its IS360 framework. Intellectsoft has three different offerings: technology startups, small and medium enterprises, and large businesses – each customer group is unique in their needs, scale, budget, and asset design.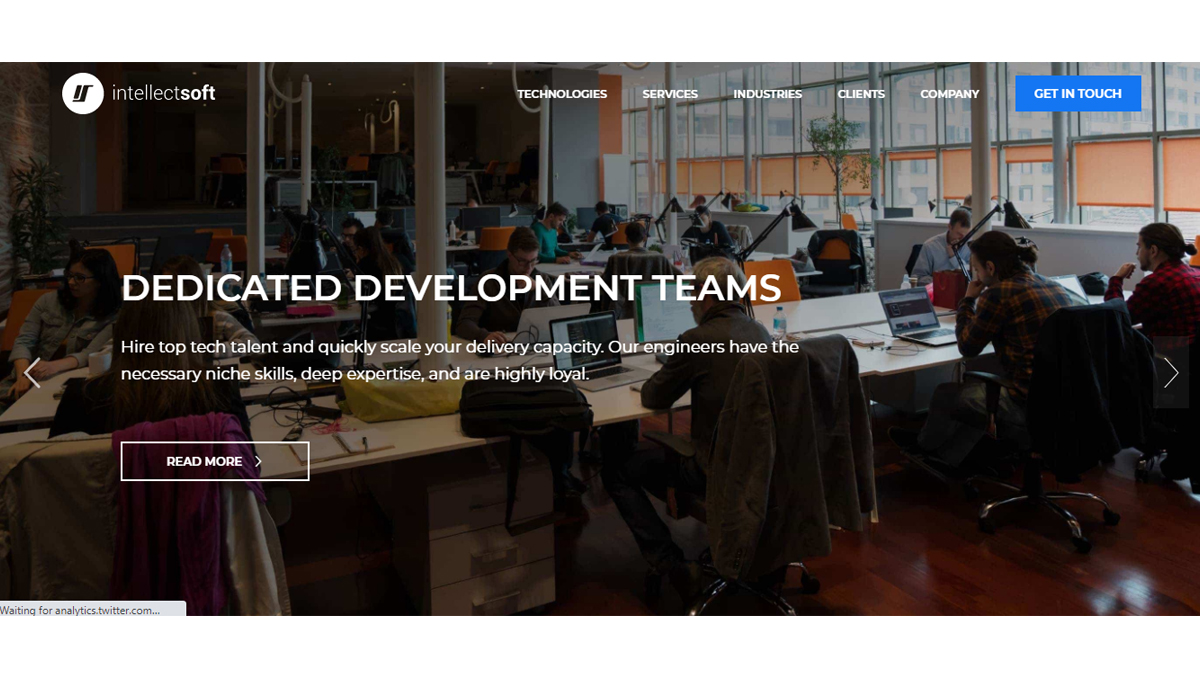 Founder: Vlad Vahromovs
Company Website: https://www.intellectsoft.net/
Price Model: Hourly based.
Charges Per Project: $25 – $49 / hrs
Top 5 Customers: Jaguar Land rover, Harley Davidson, EY, Eurostar, Guinness
Number Of Employees: 201-500
Revenue Generation: $10.73 M Annually
Ratings & Reviews: 4.89/5 on GoodFirms, 4.8/5 on Clutch
Employees Verbatim:

"Variety of different projects, great opportunity to get expertise in different technologies , flexitime, pleasant atmosphere in the office."
"A lot of well known clients that are nice to have on your resume. Multiple projects simultaneously and shorter projects mean a lot of experience in a short period of time. Nice people working here."

Clients Verbatim:

We explained our requirements, and then they rapidly provided a solution with wireframes for us to discuss and refine." by Senior Service Engineer, Utility Company
"Couldn't be more pleased with our experience. IntellectSoft delivered a quality product on budget and on schedule. We couldn't be more pleased with the final product." by Marcus Chait, 66mint Fine Estate Jewelry

Technologies They Work On: Internet of Things, Augmented & Virtual Reality, Distributed Ledger Technology/Blockchain, Cognitive Computing/Artificial Intelligence, Customer Experience Design
Industries From Where Their Clients Belong:

Healthcare
Insurance
Fintech
Logistics
Retail

Awards & Certifications:

Top B2B Companies Global 2018 (Clutch)
Top Custom Software Development Companies (Goodfirms)
Conclusion
From the above companies that have registered in top 10 software development companies in the USA, we feel confident that you can easily catch your right partner. It will certainly help you to choose a web design company such as your project size, budget, and other requirements.
According to a Supersourcing team study, these companies are well versed and specialized in working on a variety of projects, regardless of industry or project size. Companies are experts in projects ranging from small, medium to large sizes. As we all know, the market is full of many software development companies in the USA. We can assure you, however, that the above-mentioned terms are trustworthy and popular in their field.
These companies are at the forefront of their service delivery and are more attractive and attractive than their competitors. In line with that, Supersourcing also acknowledges the quality of their work in the industry and for many years working with and providing relevant software development services. Company details are shared with employees' feedback and customer recommendations and are considered to determine the top 10 software development companies in the USA.
The list of the top 10 software development companies in the USA has been prepared by Supersourcing after extensive research. So, you can go with these registered names in website development companies. However, all of these companies are ranked on the basis of customer reviews, employee satisfaction, customer delivery, and technology development. Supersourcing would also like to invite new and established software development companies in India and other parts of the world to participate in future analysis programs by providing proof of their effectiveness and to be listed on the registration list.