Table of content
The revolution of technology has impacted a variety of industries globally, likewise the healthcare industry is also evolving rapidly. It is another business opportunity to develop custom solutions for specific healthcare needs. However, in a busy life schedule for everyone healthcare takes the primary place but without visiting the doctor or a clinic. Therefore, a business seeker who likes to contribute to the well-being and health of patients around the world, you can easily go with the option to build a healthcare app like Practo.
Even the smartphone users are also going to get used-to of mobile products to track their medicine regime and physical activity. Although it can also deal with the complex and sensitive data of doctors and patients and can benefit its users by building an online healthcare app. Such healthcare apps will not only help patients to maintain their health but also assist medicine practitioners in delivering care more efficiently and widely.
So, if you are looking to build a healthcare app like Practo or a customized app then you have landed at a right place. Because being a business owner initially you will definitely look for numerous things such as its benefits, cost, time, development, documentation, and many more. Therefore, with this article you will have all such details along with how you can customize your app with minimum and maximum features and many other important and micro details.
We suggest you read ahead and learn about how to build a healthcare app like Practo and how much it costs. We have tried to mention and highlight the important factors and practices that you need to keep in mind as a business owner while building a healthcare app like Practo and deliver the best services and assistance to your customers.
If you are still reading this article then definitely you seem interested and have already recognized the potential growth of the online healthcare app. Then, we would like to assure you that you won't be disappointed while further reading it. On the other hand, if you are having no clue about this industry and its growth, then we recommend you to read further. It will help you to recognize the huge potential to build a healthcare app like Practo in the market and introduce your own product in the competition.
Market Growth of 'Practo'
Given the ancient digital space India had in 2008, one would not be surprised if the idea was ridiculed at the time. But Abhinav Lal and Shashank ND saw the potential that would come to the country.
At Practo they wanted patients to book appointments with doctors, build a software platform where digital patient health records can be kept, and eliminate the need for personal access, analogue programs whenever a patient visits their doctor.
The service also reminds patients of any scheduled placements, photographs or scanning that are part of the treatment are also available as well as accounting and payment services.
Because of their aggressive marketing and social media, Practo grew up.
In 2011, they used 5,000 different treatments, 5,000 doctors were in their surgeries and 500,000 patients ended up in their demand.
Soon these numbers grew, and the company now manages 2 crore patients a month and more than 100,000 doctors.
A quarter on Practo growth comes in at 50% to 100%. They also have 7 offices and clients in more than 15 countries. This includes offices in Mumbai, Delhi, Bengaluru, Chennai, Hyderabad and Pune.
The company now wants to be the only solution to the suspension of any health care need. They also want to grow and expand by pointing to new markets and new categories. It wants to grow domestically and internationally.
Funding Rounds
Practo funding was a problem in its early days. But as network connections grew and pulled harder, money began to flow.
The company has so far had seven funding cycles. The details are as follows:
Series A round was held on July 30th 2012 and was invested in $ 4 million USD by Sequoia Capital.
The Series B 2015 grossed $ 30 million by two investors but was also led by Sequoia Capital.
Series C in 2015 was their biggest money competition that brought in $ 90 million USD led by Tencent Holdings.

In October 2016, they had a business support cycle. This is set at $ 55 million USD over here.

After that, they ran their Series D round on Jan. 16, 2017. This round got the company nine investors on board for $ 55 million USD.
In January 2019, under Venture Round Practo successfully received an undisclosed amount of funding.
Finally, in the same year in June 2019, under the auspices of Series E, the company also received $ 17.2 million USD.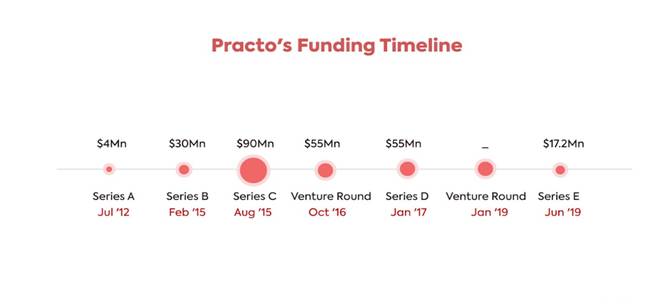 In total Practo has received more than $ 253 million in funding for 7 rounds of funding over an 8-year period.
Business Model Followed by Practo
An organization's Business Model is considered as a conceptual framework that supports the feasibility of a product or organization. It shows how the organization works, how it generates revenue, and how it moves forward to achieve its goals. The business model therefore has the processes and policies that the organization adopts and adheres to. Now let's discuss the above mentioned features of the Practo textile business model in detail.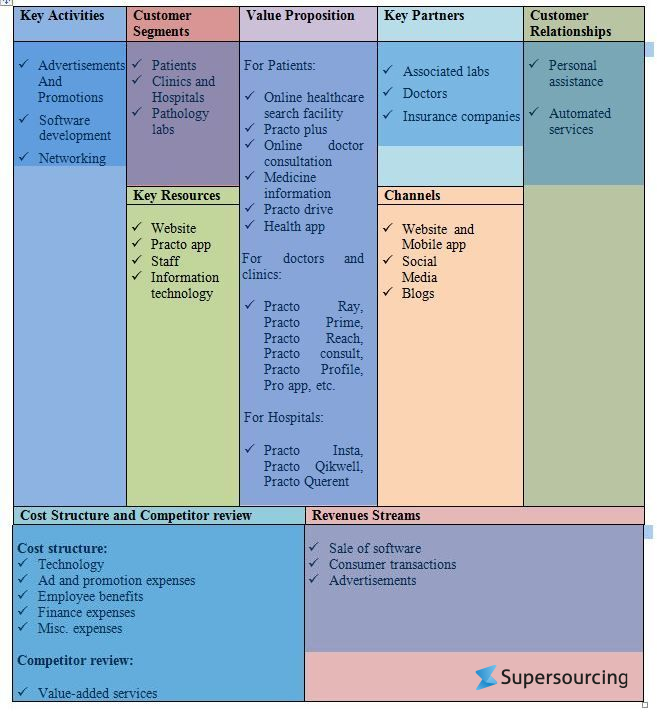 1. Value Proposition
Practo has several business units and each unit has certain values   that can be provided to its participants. It offers a unique value proposition to its various stakeholders namely, patients, doctors, hospitals, clinics, etc. with the products and services below.
For Patients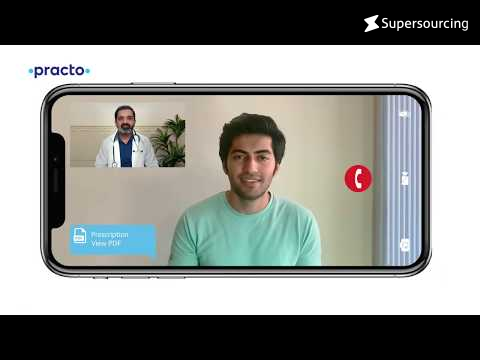 Online Health Care: Practo makes patients seek doctors, clinics, hospitals, diagnostic tests, full physical examinations, reservations, etc. All of this can be done online through their website and mobile app.
Practo Plus: Practo has provided the Practo Plus patient health plan, which is a product based on registration. This assists clients (patients) by providing unlimited online doctor consultations from more than 20 specialties. The program provides 24/7 access to tertiary health facilities.
Medication Related Information: Practo also provides certified medical professionals with comprehensive written information about medication.
Online Physician Consultations: With Practo patients they can contact qualified physicians online and receive appropriate medical advice on their health issues at a lower cost compared to physical doctor visits. Practo offers the opportunity to communicate with physicians through video or audio calling or photo sharing so that doctors can get all the information needed to diagnose a health problem.
Practo Drive: This product is useful for maintaining and accessing online medical records. Patients can view their instructions, their treatment schedules, or plans at any time. Their medical records are stored securely in the drive, so there is no risk of losing these records.
Health App: The Practo app is available to patients through many online health care services such as physician consultation, appointment and laboratory testing, ordering medication and delivery, keeping medical or medical records, prescribing medication, access to health tips, etc.
For Doctors and Clinics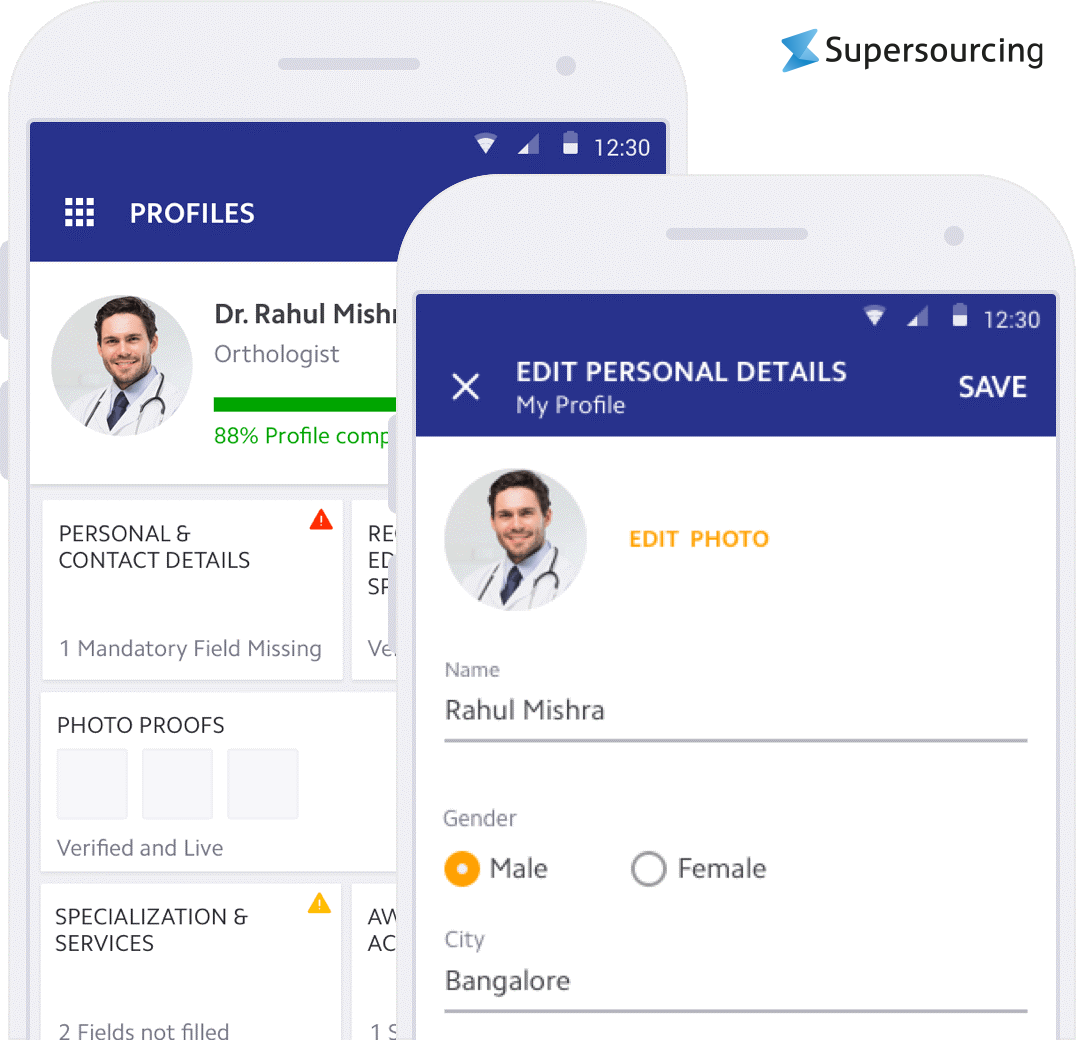 These are the unique products and services offered by Practo to doctors and clinicians.
Practo Consult: Using this Practo feature, doctors can monitor their visual acuity or enhance their practice by connecting more patients online and increasing their salaries. They can chat with patients, can download instructions to solve patients' medical issues, and can share medical texts and photos with the Practo app.
Practo Health Feed: This Practo service serves as a source for health professionals and doctors to publish various health articles and tips on the Practo platform online. Also, it brings more people to their network.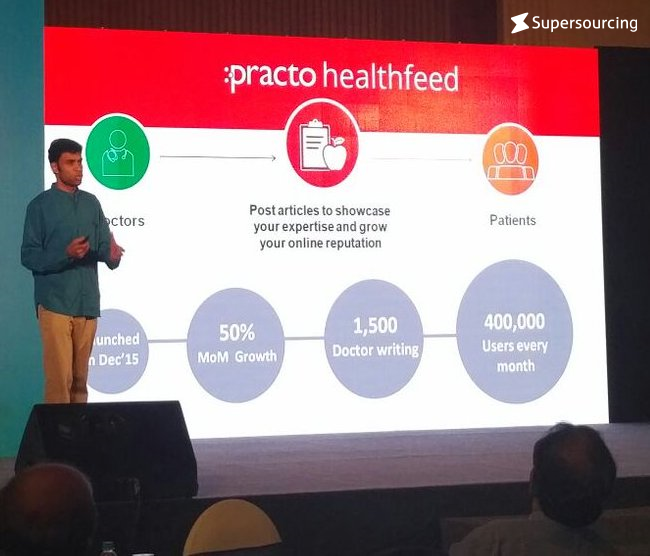 Practo Profile: With the Practo profile, (doctors' online identity and practice) physicians can be seen in many patients. The Practo profile provides features such as adding or updating physician information, feeding relevant patient information such as duration, additional services, cost, etc. And again, an easy way to refresh all the necessary details.
Practo Pro App: Helps to use repetitive and manual tasks so that doctors and health professionals can focus on serving their patients.
Practo Prime: This is a technology-based product specially designed to assist hospitals and clinics by providing a unique visitor experience to their patients. With this in mind, clinics can offer faster online bookings to patients. This increases system efficiency and patient reliability.
Practo Ray: This product is shown as one of the world-class products by Practo, which is a complete tool for clinical management of physicians. That is, giving messages and reminders to patients at the stop, producing invoices, uploading digital documents, photographing a patient record, practicing analysis, etc. Practo Ray ensures that all of the above information is stored in a completely secure manner and is easily accessible if needed.
Practo Reach: This tool improves the visibility of clinics and hospitals online. It ensures that the listing of their profile is visible to the appropriate patients. It helps clinicians market their performance in the right places using the Practo digital platform. In addition, a simple and easy dashboard is available to monitor the performance of the online access card.
For Hospitals
Apart from the above products namely, Practo Prime, Practo Reach; The Practo offer follows unique products installed in hospitals.
Practo Insta: This is a hospital management system or a useful tool for managing the operations and financial aspects of hospitals. This builds strong relationships with patients. Provides services such as patient appointments reminders through SMS location, registration, invoice production, automatic search for lab testing in labs, tracking, visit planning, etc.
Practo Qikwell: This is a hospital relationship management tool that ensures the smooth running of appointments, digital payments, reduces waiting time by reducing patient queues etc. check in and out, no shows, waiting time, etc.
Practo Querent: This is India's largest AI technology analysis tool provided by Practo to develop in-depth hospital data to make better clinical, operational and business decisions. In addition, Practo only allows those guaranteed reductions so that patients can trust the authenticity of the response. Doctors can also access the answer directly.
2. Customer Segments
Practo has a large customer base that includes:
Patients: Practo offers a variety of patient services such as online health consultation where they can inquire about any type of health issue. They can look for doctors, hospitals, or labs in their area and can seek out doctors as a specialty and experience. Patients can save their time and effort by ordering home remedies via Practo.
Clinics and Hospitals: Various hospitals and clinics are also customers of Practo.
Pathology Labs: Practo is associated with diagnostic or pathology labs to provide laboratory diagnostic equipment to patients. Compatible labs acquire a customer base through Prato through various medical tests in their labs.
3. Key Partners
Integrated Laboratories: Different medical or diagnostic laboratory standards in the industry are Prato's partners in patient clinical trials.
Doctors: Practo offers a wide range of medical products and services. They can easily manage their patient appointments through the Practo App. It provides an opportunity for doctors to expand their clients and consult with patients online.
Insurance Companies: Practo provides solutions to insurance companies. He founded Practo Trinity in partnership with ICICI Lombard General Insurance, a cost-effective OPD insurance solution. Includes online consultation with doctors, purchasing medication, doctor visits, delivery of medicines, etc.
4. Key Resources
Website: Practo offers a digital healthcare platform practo.com (Practo website) where customers can access their health issues, consult a doctor online, order medications, book laboratory tests, etc. The website contains all the products and benefits related to the health care of its participants namely, patients, doctors, clinics and hospitals.
Practo App: The Practo health and fitness app is also its key resource as it helps users search clinics and doctors in their area. Also, they can book appointments with doctors. The app is available on both Android and iOS platforms for free.
Employees or Employees: Practo software specialists are highly experienced and technically trained to create in-house software solutions for Practo services. Similarly, some support staff and customer support managers are also well trained and effective in handling any type of questions or customer issues.
Information Technology: One of Practo's main key features is the use of cloud technology and various software applications in its various products and services.
5. Key Activities
Main activities of Practo include:
Advertising and Promotional Activities: Practo performs promotional activities on various social media platforms. The brand also promotes its products and services through television commercials.
Software Development: To build a healthcare app like Practo, you should know that it's a technology-based product that develops value-added software to offer a variety of health-related products to its customers.
Communication: One of Prato's key activities is to develop and improve the network of stakeholders, doctors, clinics, hospitals, diagnostic laboratories and patients.
6. Channels
These are the main channels distributed by Practo:
Website and App: Practo offers a variety of health products and services through its website practo.com and the Practo app.
Social Media: Practo uses social media platforms such as Facebook, Youtube, Instagram, Twitter, Linkedin, etc. to make information about its products and services and marketing purposes.
Blogs: Practo's core functions include providing information on any product reviews, medical technologies, community-related reviews, etc. on their blogs.
7. Customer Relationship
The point in Practo's customer relationship is as follows:
Personal Assistance: Practo provides personal support to its customers through a dedicated, friendly and middle-class support team. Practo customer support provides 24/7 customer services via email, live chat, or phone.
Automated Services: Practo is also responsible for a variety of software providers for fast and automated services. With an automated customer awareness system, they keep customers informed of medical status and other relevant information through email notifications and SMS service. Practo also redirects live tracking links to customers through automated services and this eliminates customers' frequent calls.
8. Revenue Streams
The three Practo revenue streams include:
Proceeds from the sale of software such as SaaS software solutions, to providers such as hospitals and clinics. Practo provides all services to its stakeholders namely, doctors, clinics, or hospitals through a registration-based program.
Revenue from the in-person sales or consumer transactions where Practo takes commissions for different consumer transactions such as researching doctors and appointments, ordering medications online, and consulting doctors online.
Revenue from advertising or segregation from hospital-like providers who purchase sponsored listings using the Practo platform. It takes the cost of providing advertising services from various institutions that want to market their services through the Practo site.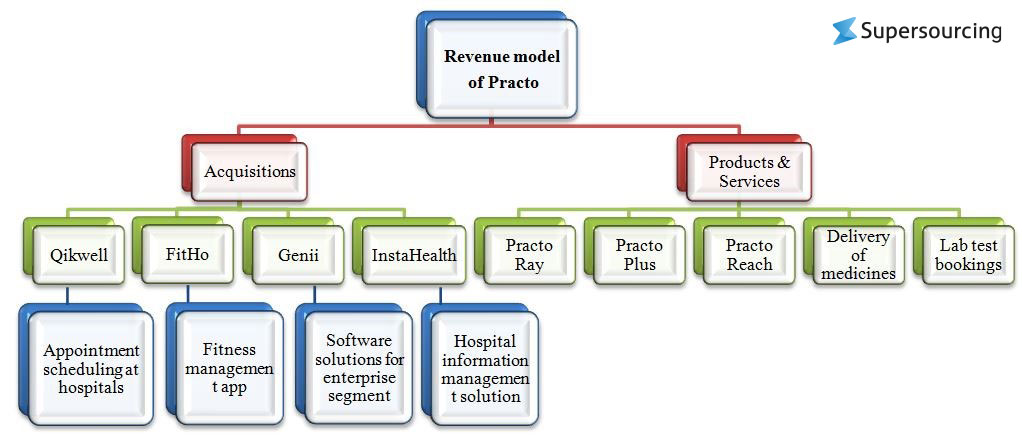 Practo makes money with its unique products and services such as:
Practo Ray: This is a product based on the registration of doctors and medical professionals and Practo earns a subscription using this product. Both physicians and physicians are required to pay a fixed monthly fee for standard or premium subscription services.
Practo Reach: This is a money-making advertising platform. It is free for patients and earns money from advertisements from hospitals, clinics. Ad price depends on location.
Practo Plus: This is a monthly and affordable health care system that helps you consult with unlimited online physicians and from over 20 technologies. Practo Plus also offers annual health care plans.
Medical Delivery: Practo also earns direct and indirect revenue through the sale of medicines at various drug and chemical stores.
Pathological Lab Booking: Practo charges a special commission from medical laboratories for booking laboratory tests for Prato patients.
Proceeds from Acquisition: Practo has acquired various companies such as Qikwell (online reservation software, SaaS), FitHo (resilience management platform), InstaHealth (hospital management software), etc.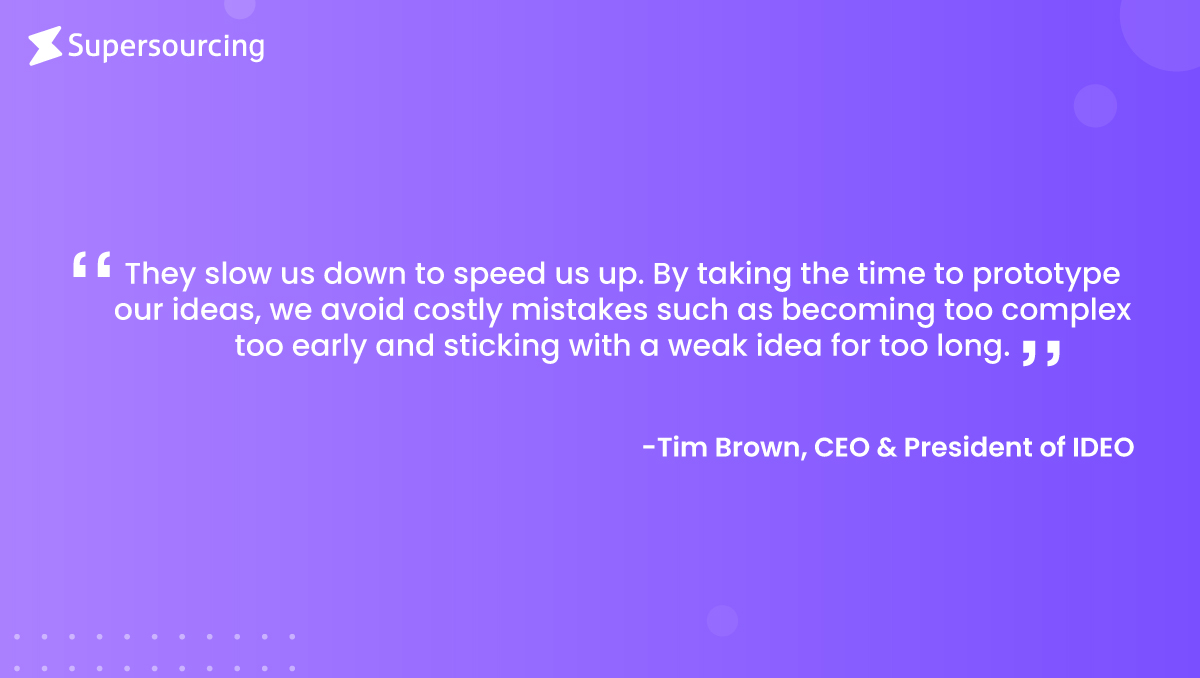 Ways To Grow Your Business with Customized Apps
Simplify Employee Tasks
Employees usually have a full plate, so it is wise to find out how they can simplify the tasks they need to perform. This is where the software works. Time tracking software allows employees to complete their timesheets as required. This makes things easier for employees not only – managers and other managers and can access timesheets. It will help you to build a healthcare app like Practo with sheer perfection and accuracy.
Follow Sales Leads
The software simplifies the process and keeps track of new trends, keeping track of existing ones and tracking future sales prospects. With the help of software management, your sales team can easily communicate with customers and continue where they left off.
Better Customer Relationship Management
Customer relationship management software makes it easy to manage customer relationships, increase satisfaction, trust and repeat business. Software solutions allow you to update information in real time as you learn more details about your contacts, making it easier to collect, organize and manage customer information.
Provide Competitive Profit
It offers an edge over competitors – something every small business needs in today's crowded market. Software can be customized for your business, making you the only company in your industry with a unique solution. Consider using a single marketing, marketing, project management system and more.
Many business owners are unfamiliar with how to build a healthcare app like Practo, and how the right system can make a big difference in producing a business, both in the short and long term. Think about and determine the needs and objectives of your business, and use software that will help you to achieve those goals.
Features Required to Build a Healthcare App like Practo

To effectively build a healthcare app like Practo, it requires a clear consideration of the needs of the target audience and focuses on using those needs in the form of features. When you create a healthcare platform, you simply ignore some notable features. These features help doctors and patients close the communication gap and make your platform more important.
Patient Panel Module
Build a patient-centered medical application with smooth navigation and ensure that end users experience the best user experience. The patient dashboard will require the following features:
Register/Login: Patients can sign up for the app and can access features at will.
Telephone and Conversation Feature: Patients and doctors can connect with call and chat options.
Find a Doctor/Clinic: Allow patients to find a doctor/clinic in a nearby area.
Book an Appointment: Patients can book an appointment online.
Online Payment: Allow patients to pay online with a different payment gateway.
Review and Evaluation: After a visit to the doctor, the patient can share his or her knowledge and provide feedback on the treatment received.
Clinical Records: Patients can keep and update their medical information such as Documents, Medications, Allergies, Surgery, etc.
Pharmacy: With this feature, patients can order medications according to their needs.
Physician Panel Module
In a physician module, many factors can help doctors to communicate with their patients more easily. They can offer their services remotely by contacting patients via video or chat. The medical dashboard will have the following features:
Subscriptions

Management Appointment

Patient records and medical history

Edit profile

Transactions and Total Profit

Reports
Admin Panel Module
Admin Module keeps track of all operations, stores user data, performs its own analysis and generates reports. Manages patient and physician records as well as data related to financial matters, supply chain management, etc. In addition, it provides users with data security due to all regulations. The implementation of various functions to build a healthcare app like Practo enables smooth and clear operation.
Dashboard

Manage Users

Treat Doctors

Manage appointments

Medication Management

Diagnostic Center Management

Clinical Management

Delivery Personnel Management

Payment Management

Clinical Panel Module

Treat Doctors

Appointment Management

The answer

My account

Reports

Panel Test Module

Manage your appointment appointments

My account

Reports
Delivery Workers Panel
The delivery panel will help delivery agents and administrators keep track of new orders, pending orders, and packages delivered. This helps them to improve their services and provide better patient care.
View delivery

Notice

My account
Steps to Build a Healthcare App like Practo
Identify the Problem
There are a number of mobile healthcare applications on the market. How will yours add another value to eliminate customers and separate you from the rest? You need to do detailed market research and compete to find the gaps your product can fill and the problems it can solve, then it would be an intelligent call to build a healthcare app like Practo.
Talking to doctors, nurses, hospital staff, patients, and other key audiences can give you an idea of how to create a useful, effective product.
Research Market
Understanding your target audience to build a healthcare app like Practo, that helps you measure pain points and your needs from your app. You can use it to improve an effective health procedure solution.
Do extensive market research to determine the needs of medical professionals and patients. You must understand your target market and all the necessary regulations that you must follow when making a product. This will help you to build an efficient, effective app, and understand the improvements needed in the following versions.
Planning and Analysis
Planning an effective online healthcare app like Practo takes more than just selection of features. The whole process begins with an in-depth consultation on the needs of the business or organization.
This includes what you want to offer patients. Everything is measured in a budget to make sure it works. Along with all the editing and researching documents are also very important. The documentation of all the steps before you start building a health app like Practo will slow down the flow of work and guide you through all the steps correctly.
However, it is a time-consuming process to build a healthcare app like Practo. But it is worth it to devote sufficient time to research, planning and writing. As such, the next process will be easier and faster to implement and get the right result.
Initiate Your Project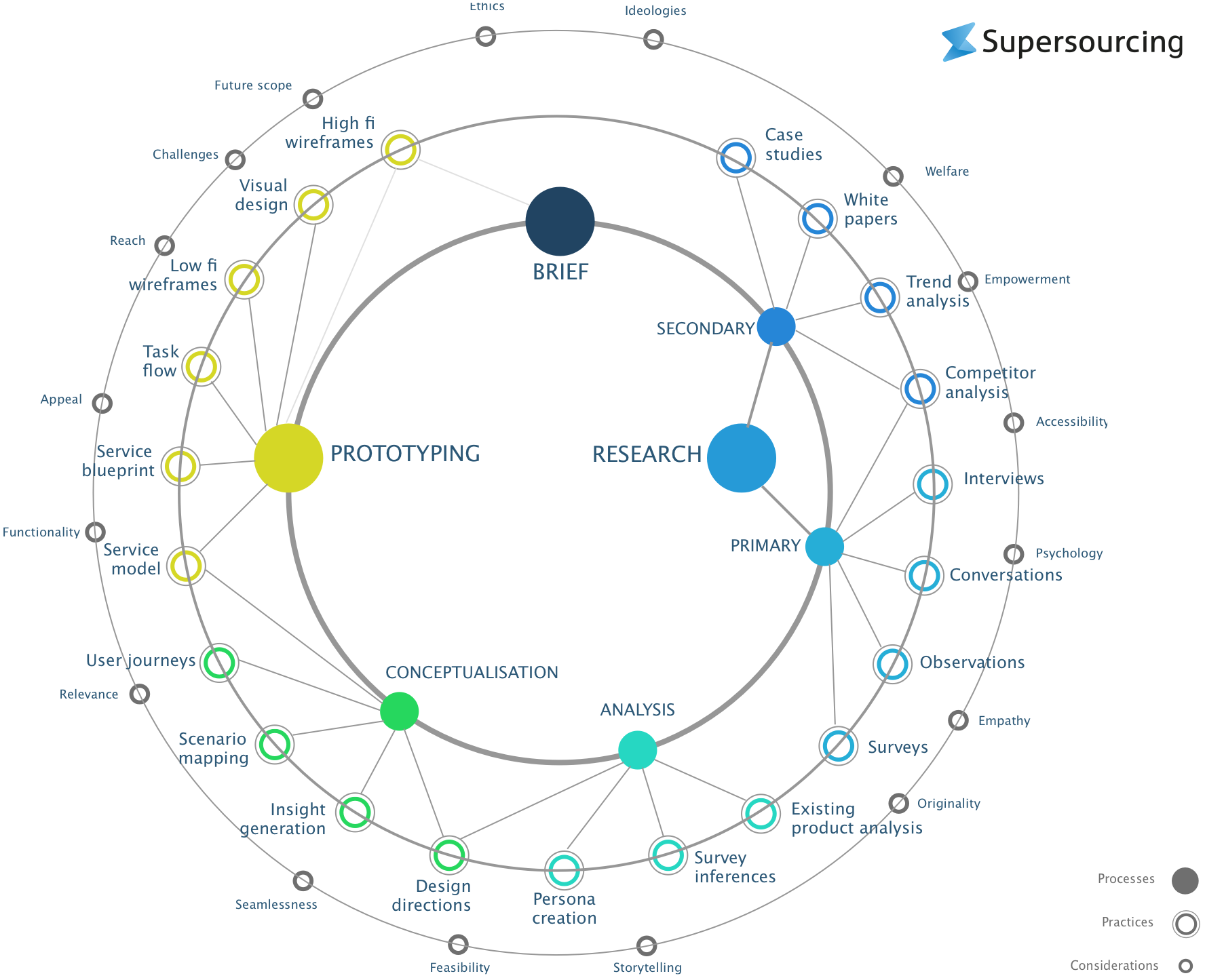 Prepare Schedule
Before placing a pen on paper or hands on the keyboard, it is important to first consult with the teams and staff throughout your organization to design your website or build a healthcare app like Practo.
Here are some points to evaluate before initializing your site:
What is the purpose of your website?

Who is your audience, and what do you want them to do for your website?

What kind of website? (e.g. basic information, membership, online store)

What content do you intend to publish, and in what capacity? What is the purpose of this content?

Thinking about the big picture, how do you plan your website to have the best travel experience?

What is your budget?
Answering questions will develop a connection between your web development, marketing, and financial teams to make informed calls. From here, you can write down your priorities and build a plan from now until noon. It is much easier to create a road at the beginning of the process than to reverse your progress in a roadblock.
Why require Product Requirements Document (PRD) for Managers?
It is best to always have a complete picture of what is happening in front of your eyes. The PRD is an overview of the most important details needed for a potential project development. This document covers key objectives, implementation goals, expected outcomes, time required and other additional technical requirements
Why does an effective product manager need a product document to build a healthcare app like Practo? The main purpose of PRD is to define the product you want to build: from its objectives to features and functionality.
This document is not a product manager's secret as it should be shared with technology groups and businesses.
A well-designed PRD provides clear direction to product branding.
Wireframe to Build a Healthcare App like Practo
Every good website starts with a plan. Developers call this a wireframe or site map (don't get confused with a site map .XML, and XML file that helps SERPs crawl and locate your site). It does not have to be an official document; it is simply a view of your site that will provide you with a guide (s) for your developers and where to start.
Just as a business plan provides potential investors with an understanding of your goals and offers. A site map gives the developer an idea of  what you are looking for and the information needed to meet your vision. You can create a sitemap on your own or work with your developers.
Here are a few questions to consider when designing your site to build a healthcare app like Practo:
What individual pages do you want? What content will be on those pages?

How can you sort those pages into categories? (These sections can represent your homepage menu – if it helps to think about it that way.)

What is the page management section on your site?

How will the pages come together?

What pages and sections are important to your site and user experience, and which ones can be removed or merged?
Also, it is a good idea to connect with other groups within your organization. If you have an SEO and/or content team, their input will be important in building links and categorizing your pages.
How to Build a Healthcare App like Practo?
Step 1- Define Your Purpose
Before analyzing how to create an app, you need to explain the reason and purpose why you want to build a healthcare app like Practo. Your application needs to achieve two main purposes; that is,
Your Appropriate User Goal, and

Your Business Goal
Therefore, with the development of the app make sure your app can complete the following questions:
What is your business focus area and how will it improve your business?

How can a mobile app solve that problem?

What could be the consequences?
Step 2- Do a thorough Market Research
As you enter the development phase, be sure to do a thorough market research on your stated goals. Market research can be done to achieve many goals and can save you from making many mistakes while developing an online healthcare app.
In market research, it is important to analyze and learn about the mistakes made by competitors, as well as to find out whether people want this app or not.
Based on such market research, you can learn about the current demand for your app in the market and the estimated costs needed to build a healthcare app like Practo.
Step 3- Set Flow and Features
After confirming your opinion on market research, now is the time to put your opinion and research into the document.
Try to create detailed texts that can give you a good idea of the course of the app. It will make it easier for the engineer to understand and explain your point of view.
Step 4- Remove Less Important Features
With these detailed texts, you can look at the features that can be removed. Initially, it is recommended to keep only the main idea of your application. Like, you can easily add or update an app over time and accomplish your target with the right accuracy.
Removal of less important features will make basic app development easier and save your initial budget. It will also allow you to quickly bring your latest app to market and save on app development costs.
Step 5- Hire a Designer and Developer or Agency
Don't get confused over it, the Designer and the Developer both are different.
Although making an application is a tedious process. Therefore, we recommend you to prefer working with an agency instead of going with freelancers. They both have their pros and cons but going with an Agency will be the best option to build a healthcare app like Practo.
So, hire an experienced agency and give life to your mind to meet a reliable source.
The agencies will solve all your application development problems in a simple and professional way. Every problem will be solved by the developing agency in a timely manner as well as managing your app development costs. After a while you will get the latest and quality app to introduce into the market.
Requirement of Third-Party API to Build a Healthcare App like Practo
What is a Third-Party API?
API stands for Application Programming Interface and can help a lot to build a healthcare app like Practo. APIs allow two applications to exchange data and communicate with one another. For coders, they increase efficiency, automation, personalization, and adaptation — and for the end-user, APIs make it possible to utilize a wide range of services all in one platform.
API is a defined method of communication between various software components with a set of subroutine definitions, tools, and protocols that allow your online healthcare app to borrow functionality and data from other apps or services.
A 3rd party API consists of two main components:
Client, or in other words system that sends the request to the server

Server that might be the computer or database that responds to the request
For example, every time someone uses a mobile application to book a flight, check the weather on their phone, or reserve a table at a restaurant, they're using an API.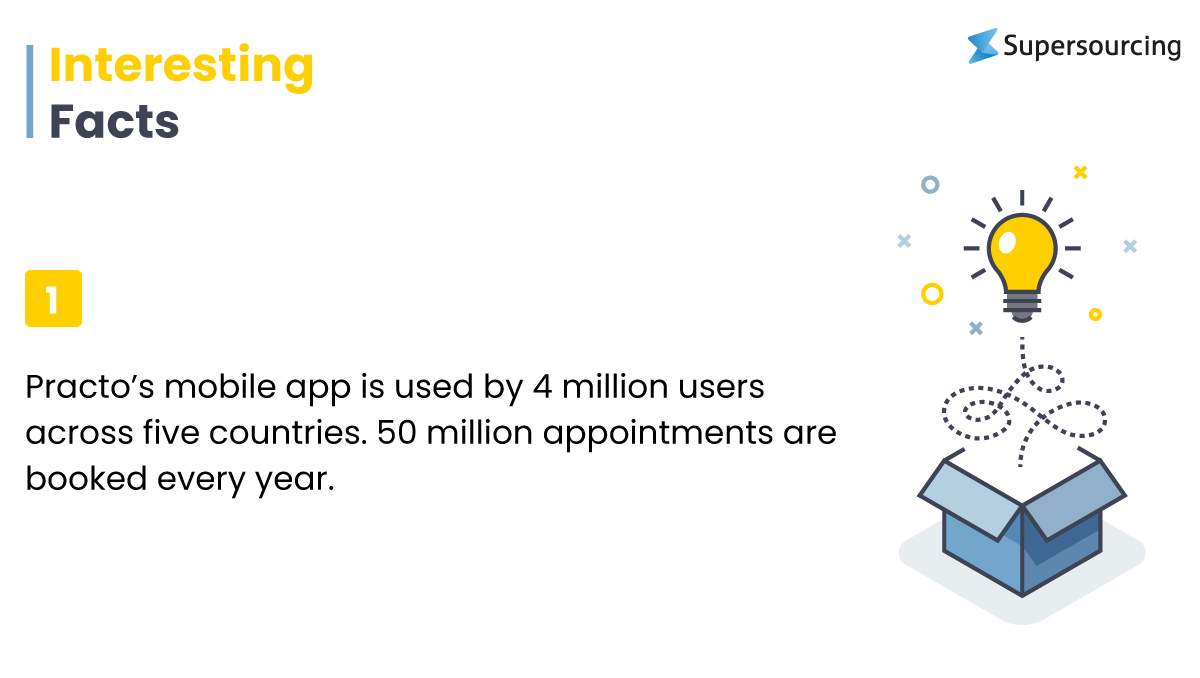 Join the Third Party API Group
Of course, there are common pitfalls to consider (e.g., security, customer side issues, slow loading time, etc.), but when fully tested and implemented, the benefits of using a third-party API integration far outweigh the risks. Some of the top reasons identified include:
Quicker Production
As it was mentioned before, third-party integrations allow your tech to save time greatly. The months that could have been spent on coding are reduced to days spent on integrating. This leaves enough time for other crucial processes of the development cycle.
Lower Cost
You can cut down expenses on man-hours. If you save money, you can invest it later into improving your app by adding some unique features to it. Therefore you can start with a smaller and yet effective project and make it bigger and better.
The Best Features
By utilizing third-party integrations you can add the best possible features to build a healthcare app like Practo. Many companies are real experts in a certain field and their solutions are impeccable. If your developers use their APIs, you will avoid many unnecessary challenges while app production.
Types of API Required to Build a Healthcare App like Practo
A. Integration of the Google Cloud Platform API
Google Analytics
Used to collect personally identifiable data from website visitors and their use.
Provides real-time understanding of marketing reach and ROI.
Google Captcha
Captcha keeps the bots from interfering with your Web forms, leaving your inbox provided with the appropriate guidelines.
Google Custom Search
Allows visitors to search a specific website or set of websites using the powerful Google search engine.
Addons include Module Search and Image Search Site.
Google Maps Platform
The Google Embed Maps API integrates with iPma Plasma Map plugins for content pages (such as the Contact Us pages) that display Google Maps that allows Web users to find directions or see a location.
Other Google Maps APIs integrate with various modules such as Directory Module, Event Module, Locations Module, Property Module, and Assembly Module.
Google Updates
The Customer Review module allows you to link to your Google reviews and display reviews of your choice on your website.
B. YouTube Integration
YouTube API
The YouTube API is integrated with the Slide Module and Video Gallery Module.
Easily add Video Slides or automatically play background videos to increase page layout.
Upload videos directly to the connected YouTube channel from the video gallery.
YouTube Embedding API
Include YouTube responsive videos on content without reading the code.
Embed videos from other YouTube channels to the website's video gallery.
Social Media Integration
Adding the Social Sharing to your online healthcare app like Practo allows website visitors to share content on their favorite social media platforms.
Includes a variety of desktop, tablet, and mobile viewing options.
The stock tracks on each page are integrated into all sources.
Facebook Integration
Facebook Comments are integrated with Blog Module, Gallery Module, and News Module to allow visitors to interact using their Facebook profiles to build a healthcare app like Practo.
The Facebook Login allows users to login to a website using their Facebook account.
Facebook Wall feed allows websites to display one or more Facebook Page Wall link feeds on their website.
Design and Prototyping
Prototyping is an experimental process in which design teams submit ideas in tangible ways from paper to digital. Teams develop prototypes of various levels of reliability to capture design and testing concepts for users. With prototypes, you can refine and validate your design to build a healthcare app like Practo so that you can develop the right products.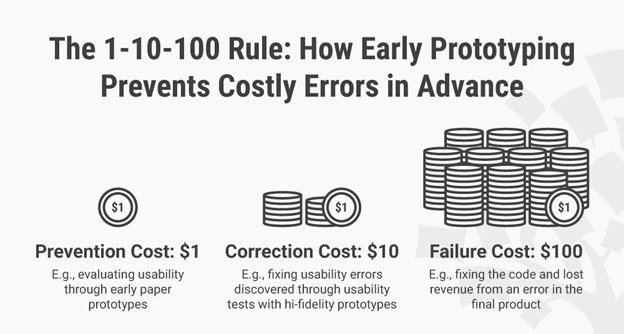 Low-Fidelity vs. High-Fidelity Prototyping
Fidelity refers to the level of detail and functionality you include in your prototype. Generally, this will depend on the development stage of your product. You can create one that provides a comprehensive view of the whole program or sub-program (called horizontal type – e.g., the entire website) or one that provides a detailed view of a single feature (vertical type – eg exit process).
Low-fidelity
Example: Paper Prototypes, Balsamiq Mockups
Pros: Fast and cheap; discarded; it is easy to make changes and test new duplicates; allow a more complete view of the product; anyone can produce them; encourage design thinking as prototypes seem incomplete.
Disadvantages: Lack of facts, so users may have a hard time giving feedback; It is difficult to apply results from earlier versions; it may be too basic to show the user experience of the finished product; can facilitate difficult news; lack of interaction reduces users to direct control; users should think about how to use the product.
Paper Based Mockups: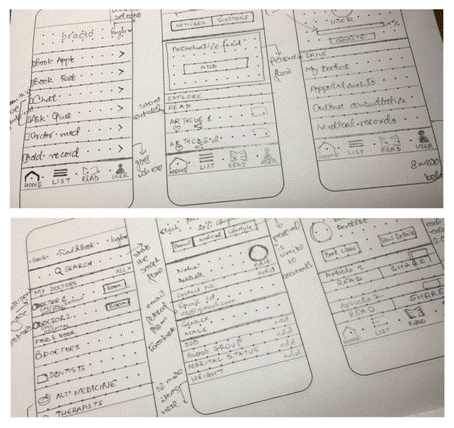 Digital Mockups: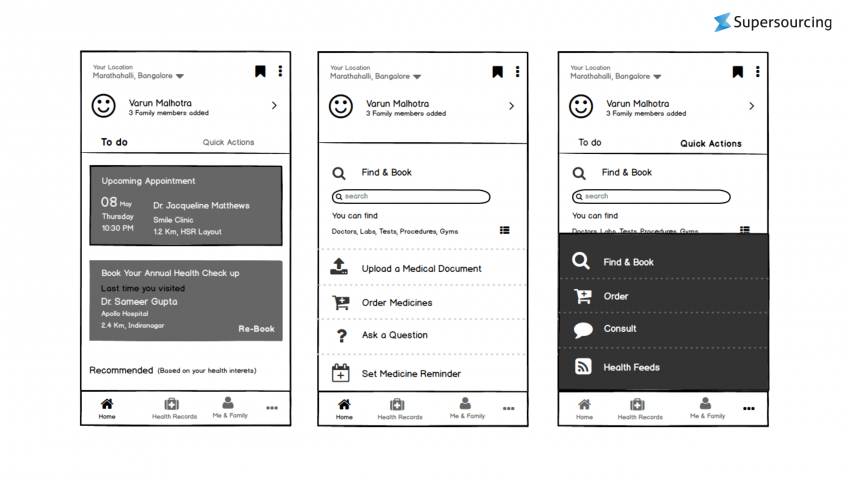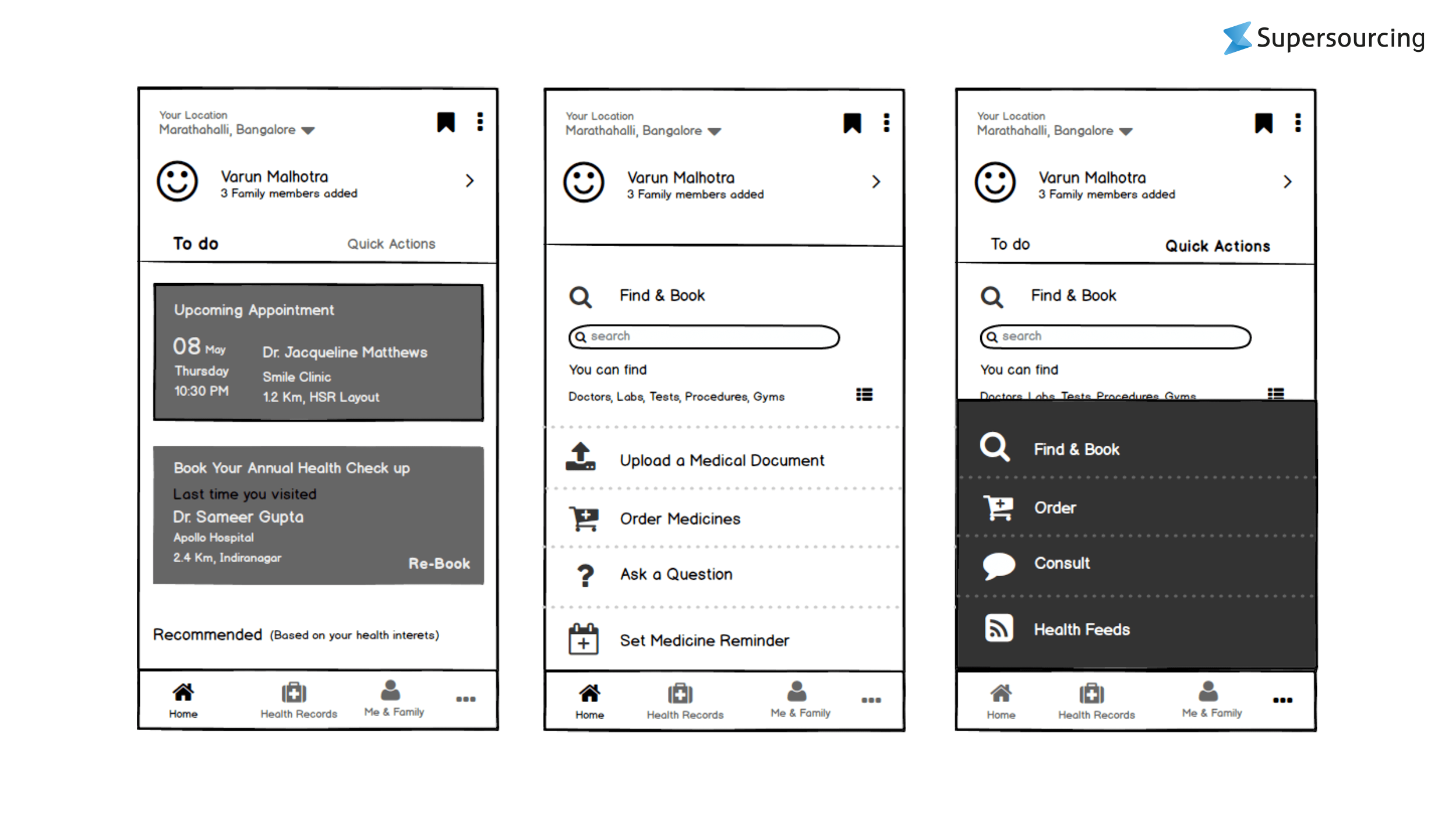 High-fidelity
Example: Digital prototypes created in software such as Sketch or Adobe XD
Benefits: Involvement — all participants have a vision in their hands and can judge how they fit the needs of users and solve their problems; tests will produce more accurate, more effective results; the types closest to the final product allow you to guess how users will take it to market.
Disadvantages: Far / too expensive to create; users have more opportunities to comment on more details than content; after hours of work, you designer may not like the idea of making changes, which can take a long time; users may make a mistake of the finished product type and create discrimination.
Actual Prototype to Build a Healthcare App like Practo: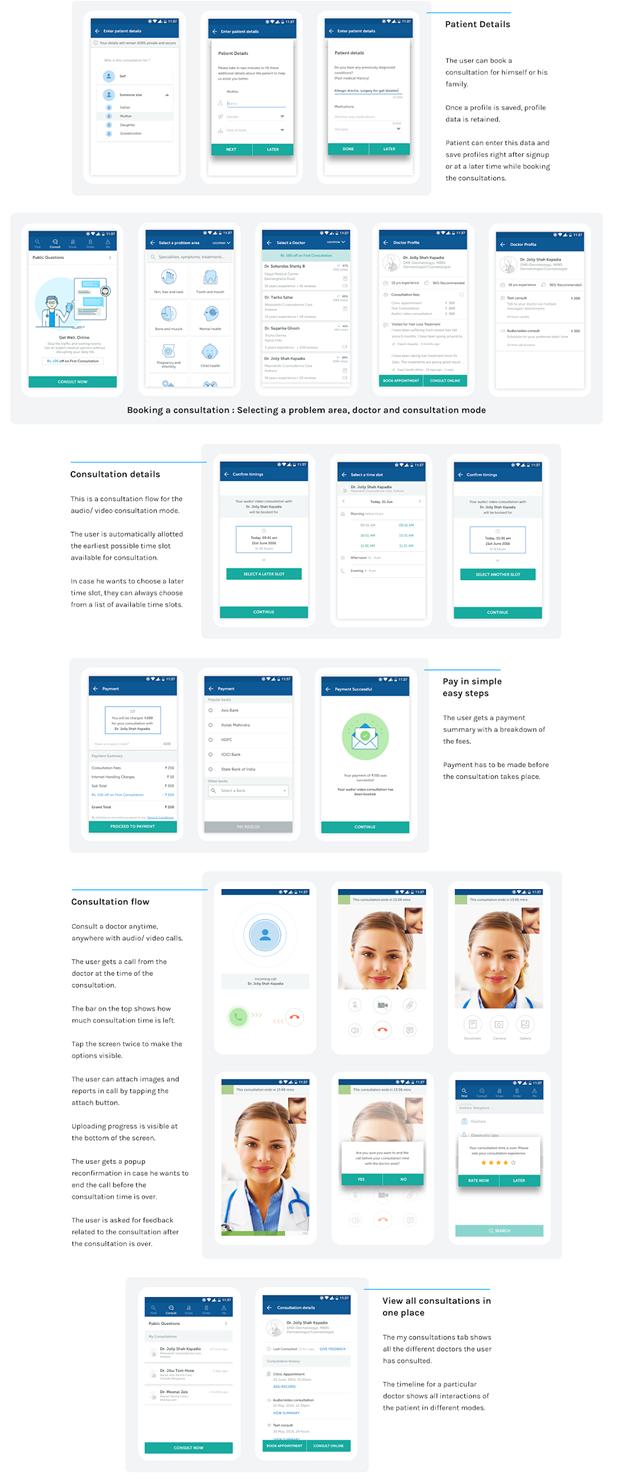 Some designers classify high fidelity as "mid-fidelity" (where prototypes can have basic digital communications or wire frames) and "high-fidelity" (when they are very close to the final version). Interactive prototypes produce very useful results in user testing. However, reliability is limited – the vertical performance of the landing page, for example, is higher reliability than cut-out sketch users can walk. All in all, you should always be committed to reflecting the needs of the users in mind, especially in the eyes of the user.
Process of Software Development
What is Front-end development?
The front-end (or client side) is the web or software side that you see and communicate with as an internet user. When website information is transferred from server to browser, advanced writing languages allow the website to work without having to "constantly" connect to the internet.
Front code allows users to interact with the website and play videos, enlarge or reduce images, highlight text, and more. Web developers working on coding for development on the customer side.
End-to-end (or client-based) upgrades include a combination of JavaScript, HTML, and CSS. It also controls things like typography and fonts, navigation, positioning, browser compatibility, and responsiveness. This section will show you your first view of the site and what you have included in your wireframe.
Previous developers work on the client side – or user-focused on websites, programs, and software – in other words, what users see. They design and enhance visual features, including textures, navigation, graphics, and other aesthetics.
The main task of these founders is to create communication channels that help users achieve their goals. Hence, they often contribute to the user experience aspect of their projects to build a healthcare app like Practo. A domain in the user experience helps previous developers build empathy with end users.
What is Backend development?
Back-end (or server side) is the side you do not see when using the Internet. Digital infrastructure, and for non-engineers, looks like hordes of numbers, letters, and symbols.
There are more backlash languages   than the front languages. That's because browsers – front – only understand JavaScript, but the server – in the back – can be configured to better understand any language.
If the front is what users see, the back end is what they don't see. Rear web developers work on web servers, programs, and software to make sure everything runs smoothly.
These engineers work on applications such as servers, operating systems, APIs, and information databases and manage the security code, content and site design. They work with previous developers to build a healthcare app like Practo for end users.
It is made up of two basic elements:
Information, which is responsible for storing, organizing, and processing data for server requests.

Servers are responsible for sending, processing, and receiving data requests. They are the link between the database and the client/browser.
The browser will actually tell the server that "I need this information", and the server will know how to retrieve that information from the database and send it to the client. These components work together to build the foundation for each website.
When it comes to building your website, backend engineers will guarantee three things.
Your Cognitive Code, which is a set of rules for how your website will respond to specific requests and how your website's features will interact.
The Database Management, which is how your website will organize, manage and access its information.
Your Infrastructure, which is how your site will be managed. Managing your site will give you more control, but it is more expensive and requires you to maintain your health and security of your server.
Measure Time & Budget to Build a Healthcare App like Practo
It is important to remember that any mHealth application that stores or transmits protected health information must comply with HIPAA guidelines. This means that you should choose your development team and trust your idea to make a doctor-only application for an experienced company that meets all the criteria and standards.
The actual cost to build a healthcare app like Practo, ZocDoc, or Doctor on Demand depends on the following factors:
Platform – iOS, Android, Windows

UI and UX design – simple, medium, or rich

Difficulty – number and variability of features and functionality

Third SDKs – payments, subscriptions
The overall scale and complexity of the project, the specialized and customized solutions, and the scope of work are the key points that collectively inform the final cost of the product.
Let's assume that our job is to build a health care app like Practo with basic functionality.
We will need to build a mobile app with a web-based control panel that includes all the features of a major doctor's appointment program.
The project will be divided into the following phases:
iOS app

Android app

Web-based control panel

Server and retrieval
Additional technologies and third-party solutions that can be used when applying for doctor's appointments and booking appointments include:
MapKit for easy map integration

MCoreLocation tracking the actual location of the user

PayPal Payments Pro / Stripe Payments A tool to use online payments

Twilio to use messaging

MAI-based speech recognition technology to use a voice response system

MLogentries and Graylog log log and log management

MNew Relic for digital performance monitoring
The basic team structure require to build a healthcare app like Practo will look like:
Project Manager – 1

Rear Engineers – 2

Designer UI / UX – 1

Previous builder – 1

Android Developers – 2-3

iOS Developers – 2-3

QA Engineers – 2-3
On average, to build a healthcare app like Practo takes six to eight months. The time frame, such as the final application cost, depends on the scale and complexity of the project and the hourly rate of the development team.
Functionalities Influence the Cost of Healthcare App Development 
1. The Platform of the Application
The healthcare app development can be done for two distinct platforms i.e., for iOS-based or Android-based, or both. It exclusively relies on you and the audience you are focusing on.
However, the cost to build a healthcare app like Practo would be higher for Android than on the iOS-based platform.
2. Application Size
The greater the size of the healthcare app, the higher will be the development cost. The size of the application can be defined by the quality and number of features added to the application.
3. Application Design
The design of the application is crucial to attract users, thus needed to be chosen very intelligently. The main objective of an application design is to introduce a splendid UI, incredible client experience, and commitment too. Any app development company or a developer should design an accurate and appealing UI.
The more well designed and beautiful the app appears, the higher will be the designing and development cost of the healthcare app.
4. Administration Panel
Admin panel assures that the specific features are only accessed by the admin panel or the owner of the healthcare application. It incorporates appropriate management of data, definite analytics of the application activity, detailed specialist doctor report, customers, and labs. The features included by the Admin is one of the major responsible factors to define the development cost of a healthcare app.
The activities and costs required in addition to the Development Team will help you assess the cost to build a healthcare like Practo using the table below:
| | | |
| --- | --- | --- |
| Team Member | Duties | Approx. Hours (Cost: $20~$100/hr.) |
| Project Manager | Builds the bridge between the team and the client to avoid communication gaps while ensuring the deadlines are met. | ~250 hours Approx. Full project Engagement |
| Business Analyst | They are responsible for enhancing the quality of IT products and services, analyzing data to inform business decisions and finding technological solutions to business needs, among other duties. | ~120 hours |
| UI/UX Designer | Responsible for the appearance of the application and for the purpose of providing a user-friendly location. | ~120 hours |
| Android & iOS Mobile Developer | Developing interactive applications (APIs) to support mobile performance. keeping up to date with the terms, concepts and best coding practices for mobile apps. | ~800-1600 hours |
| Front-End Developer | Develops the app by writing the codes and fixing the bugs. | ~550 hours |
| Back-End Developer | Maintains effective and uninterrupted communication between the server and database for the proper functioning of the application. | ~750 hours |
| QA Tester | Ensures the app performs as per the client's requirement. | ~200 hours |
Not only that, the cost and development that works over the app constantly continues to maintain quality. So you need to keep in touch with the development team to maintain the online healthcare app and add new features, called app updates.
Overall Cost Estimation of a Fixed Price Project
There's no common way of executing a development project. What makes a difference is that your application solves your business issues and carries worth to your clients. You can do a task with only one full-stack engineer for $20,000 or you can hire a team of 40 including engineers, testers, managers, and designers, which costs about $400,000 every month. It relies upon the logic of your application, the number of platforms you release it on, and the number and complexity of mixes. 
From our experience and market researching, digital wellbeing or healthcare are at the expense of $120–250,000 per project development. The total average cost of healthcare applications before the launch is $425,000, including $200,000 for development alone.
Adding new features and helping customers will always attract their attention. It also enhances customer thinking to continue to use the required food app location, which is always ready to provide better services and to upgrade its healthcare app like Practo system and services.
Factors Influencing the Cost of Healthcare App Development
The overall cost of an app development relies upon different factors and it varies from application to application. So, it is difficult to precisely define the amount it will cost to develop applications, such as a healthcare app. The cost primarily relies upon application type, design, platform, number of pages, features, and many more.
1. Application Design
The designing phase of an app development majorly impacts the healthcare app development cost. Whether it is a basic or complex application, switching your application from wireframes to UI will require more time and more creative app designers. This automatically impacts and increases the overall development cost.
2. Application Features
The development cost of an in-demand healthcare application principally relies upon the functionalities and features that you added to the application. It implies that an application with advanced and latest features and complex functionalities will cost higher than the expense of developing a basic/simple features enabled healthcare application.
3. Development Platform 
Building a customized healthcare app for an iOS platform will cost less than developing your app for the Android operating system. The increased market share of the Android O/S results in the higher development cost but it is profitable too. 
4. Expert Developers and Team Size
Top mobile app development companies with immense industry experience and required resources can build a remarkable and quality healthcare application while maintaining the deadline. A smaller team of application developers is required to hire more expert developers to fill the skill and expertise gap in their team. Hence, it may increase the overall app development cost.
5. Back-end Infrastructure and App Administration 
The backend infrastructure provides APIs to engineers to give exchange of data between an app and a database. The cost of back-end development for apps might vary depending upon the quantity of parameters you will track and how explicit and detailed the tracking will be.
On the other hand, the administration panel manages and handles the app content, users, and statistics. With multiple options to take on from existing admin panel templates for your needs, finding a decent one is difficult. In this manner it's pivotal to make a satisfactory panel to meet your business needs.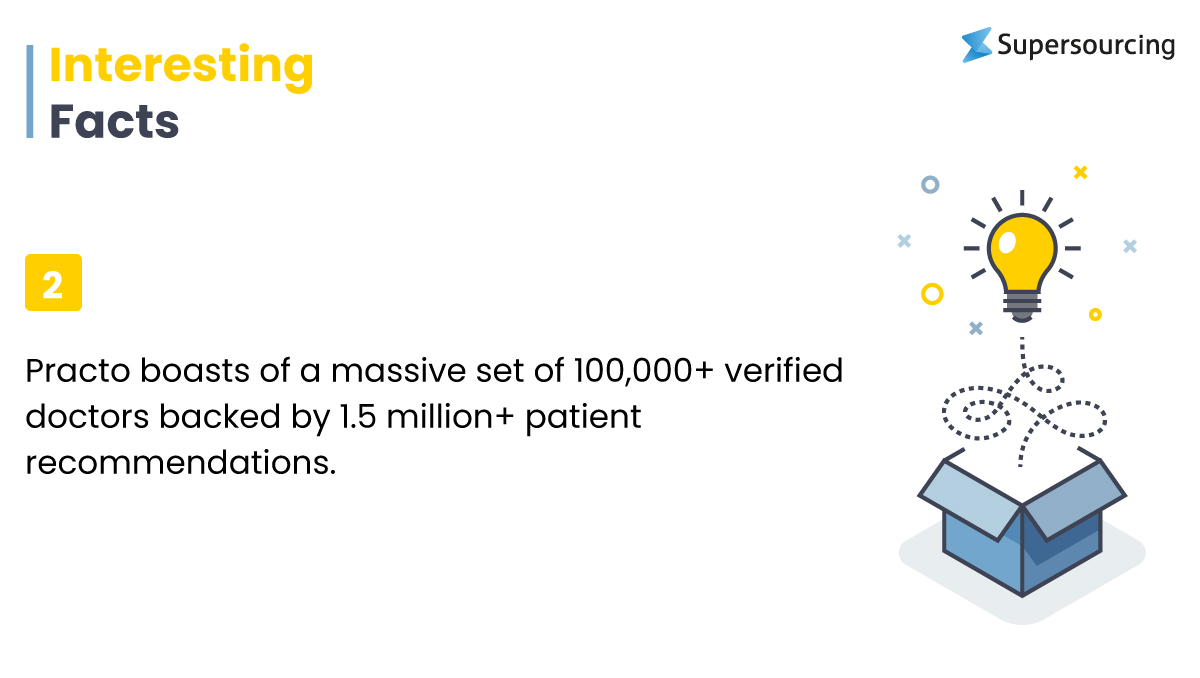 Quality Analysis & Testing
Quality Assurance (QA) is a critical part of the software development process. Various types of testing are used to ensure that new products are functional, secure, compliant with various systems, and meet customer standards.
There are various types of active testing to ensure product quality. Some common and important tests required to build a healthcare app like Practo are as follows;
1. Alpha Testing
It is the most common type of testing used in the software industry. The purpose of this test is to identify any potential issues or disabilities that may be prior to removing you from the market or user.
Alpha tests are performed on the developer's site. User interiors can be created for this type of test.
2. Approval Assessment
The acceptance test is done by the client and confirms whether the end-to-end flow of the system depends on the needs of the business or not and if it is in the needs of the end user. The client accepts software only when all features and functionality work as expected.
It is the final stage of testing, after which the software goes into production. This is also called User Accreditation Test (UAT).
3. Accessibility Check
The purpose of the Accessibility Check is to determine whether the software or application is available to people with disabilities or not.
Here, disability means hearing loss, visual impairment, mental retardation, blindness, old age and other disability groups. Various checks are made such as font size for visible defects, color and color blind comparisons, etc.
4. Beta Testing
Beta testing is a form of systematic software testing performed by a customer. It was done in the Real Environment before releasing the product to the market of end users themselves.
Beta testing is performed to ensure that there are no major failures in the software or product and that it satisfies the business needs of the end user. Usually, these tests are performed by end users or others.
5. Black Box Testing
Internal system design is not considered for this type of test. The test is based on needs and performance.
6. Component Testing
It is mostly done by developers after the completion of the unit test. Component Testing involves multi-function testing as a single code and its purpose is to identify any defects that exist after connecting those multiple devices to each other.
7. Unit Testing
The testing of a particular piece of software or module is called Unit Testing. It is done by the designer and not the testers, because it requires a detailed knowledge of the internal system and code. It may also require upgrading test drive modules or test harnesses.
8. White Box Testing
The White Box test is based on information about the in-app concept concept.
Also known as Glass Box Test. Internal software and code performance should be identified by performing this type of test. Under these tests are based on the use of coding statements, branches, methods, conditions, etc.
Deployment
Deploying an app requires plan, schedule and control of the movement of releases to test and live environments. The main goal of Deployment is to ensure the functional integrity of the live environment is protected and that the correct components are released.
a) Deploy Application on Web Server
With a web server in place, your app is responsible for handling the custom stuff, which is specific to your project. The web server makes sure that requests which are meant for it, arrive at your application and forward the results back to where they are expected.
The application will stop performing if the background server is malfunctioning or overloaded. To avoid such issues, make sure the server is well-equipped to meet all the application requirements and meet the needs of the users.
b) Deploy Application in Google Play Store or iOS App Store
Once the application is done with the best configuration and features of the app, the app can be installed from the Android Play Store or iOS App Store. Hence, to make it possible, different Google and Apple application processes can be followed. However, to fulfill the guidelines of both platforms, you might require to make some changes and make it available for users on the Play Store and App Store.
Unlike Play Store, the Apple App Store reviews apps manually, so it is important to follow all the guidelines and adhere to the rules without any delay to make the app visible on the platforms.
Promotion of Application
The successful deployment of your online healthcare app will never be a guarantee of your application success as well. Therefore, it is important to promote and market the application in a guided manner. There are various ways to promote your app and gain the frequent, long-time and short-time user.
You can start with Email Marketing first. Once the app is alive, ensure to inform all your customers through email and request valuable feedback by replying to the mail or sharing it on the Play Store or App Store.
Apart from that, you can also promote your healthcare app through Social Media Platforms. You can follow multiple strategies to promote your product on numerous platforms. Instance, you can create a buzz about the product by making multiple posts about the app instead of simply sharing the app link. Make sure to highlight the different functionality and features of the app to grab the user's attention and result in more downloads.
You can follow another tactic to promote the application by introducing your product through different channels or websites. Having a dedicated website for your product can also be a good option for your product business. Along with that, you can also advertise your online healthcare app like Practo development details with other similar websites. If you find a few such sites, you can attract a good number of users for your app.
Operations & Maintenance
Operating and maintenance procedures are required to keep the software application running. The complexity of maintaining the online healthcare app varies greatly with the size of the organization:
Small office or home office companies (SOHO) (<10 users) Most of this manual is too expensive for the home office. The basic principles work, but the procedures are much simpler. Performance and maintenance are limited to the occasional use of "Automatic Software Update Services" (ASUS) designed for project openness. This service is similar to "Windows Update Service" from Microsoft and does not require much programming skills.
Small Companies (<20 Users) Small companies usually have a System Administrator dedicated to maintaining PCs and the local network. SysAdmin can use "Automatic Software Update Services" (ASUS) to update the system, similar to SOHO companies.
Large Companies (> 20 Users) Large companies will need to use the entire system. Senior management should ensure that procedures are handled properly, especially in the Stage Server testing phase.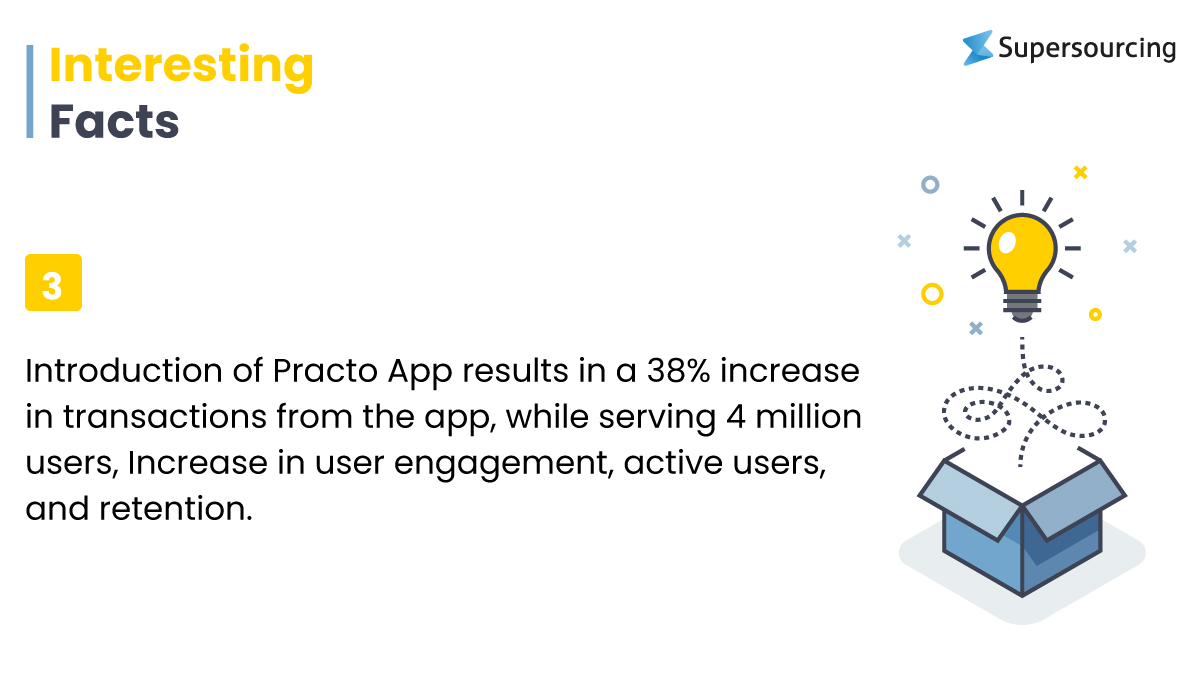 Technologies Involved to Build a Healthcare App like Practo
In the modern era, it's illogical to consider a business that doesn't require any technical assistance, a minimum of within the case of the healthcare industry. Hence, here are a number of the choices that you simply can leverage to successfully build a healthcare app like Practo.
AI & ML
Artificial Intelligence (AI) and Machine Learning (ML) are two vital aspects of modern-day technologies. Many popular healthcare apps like Practo are leveraging AI for a long time to enhance their processes. Quite often, it's observed that the patients, despite writing doctor's specialization, ask them as cancer specialists, eye doctors, etc. So, in such a scenario, AI tools could help the patients in finding the perfect doctor for treating their illness.
Blockchain
Blockchain technology has proved itself to be more than a fallacy in the healthcare sector. The Blockchain technology in healthcare helps to centralize all the crucial data which will be beneficial for both the doctors and therefore the patients. One can seamlessly leverage the blockchain technology to eliminate the data leakages and to enable the patients to find the perfect doctor within their set standards.
Cloud Computing
As you start expanding your healthcare startup, you will start to experience many issues related to the storage of critical data. At that moment, cloud computing comes into play. The admins can easily and instantly store huge amounts of crucial data that may be beneficial for the healthcare service providers with the help of cloud computing. Also, with Google Healthcare Cloud API, cloud computing is sure to bring the next level of storage and safety systems in mobile healthcare applications.
Find the Best App Development Agency to Build a Healthcare App like Practo
1) Know your Mobile App Requirements
Understand your own precise requirements. You should be ready to clearly define the precise belongings you are trying to find during a mobile application. Now, this is able to depend to an outsized extent on the industry during which you're employed and therefore the sort of products or services you're trying to supply . However, you'll also inspect the similar apps on the web , mobile platforms and further can review what they supply . Obviously, you have to be different but the core remains the same to build a healthcare app like Practo.
2) Check Company's Reputation
It is a tough decision to find the right company you are looking for. Hence, check out the market reputation of the existing companies. You can conduct a web investigation a few times. Collect the small print of the corporate through published reviews for the event of applications, classifications provided, years of experience within the field, if possible, details about the purchasers and portfolios of products, differing types of services they supply , etc. This can assist you get an excellent idea from the corporate before opting to build a healthcare app like Practo.
3) Check for the Customer Service
It plays an important role while choosing the highest trusted mobile app development companies. Hiring a corporation with poor quality customer service is often the worst nightmare for any business owner because it can face serious problems from installation to implementation. If the corporation doesn't provide you with a solid customer service/support, it might be an enormous blow to your business, since you'll have spent a big amount of money buying a product.
In fact, some online companies focus only on selling their applications rather than making them beneficial for patrons . As soon as you sell the appliance , they're going to disappear and there'll be no hint of them when your assistance is needed. However, recognized and long-established companies know the worth of their customers and can never back step once you request assistance on solutions associated with the installation of mobile applications.
4) Look for Innovative Company
To build a healthcare app like Practo, choosing a company that develops innovative solutions or something out-of-the-box. By hiring such innovative mobile app development firms, developing and deploying applications on the app stores would be beneficial for your business also as consumers. Your company can gain an enormous business momentum online if you hire an innovative app development company for your business. The reason is they can build a healthcare app like Practo with forwarding looking futures. So, always try to reach out to such companies who can improve your business standards.
5) Check for the Past Experience
Past experience is another major factor that helps business owners in shortlisting the proper quiet app development company. These companies must have a past proven record within the industry. Only the quantity of apps developed by these companies, not just matter but it is the quality that actually matters here. Since developing a successful app isn't a simple task. It requires core subject knowledge, special skills, understanding the targeted audience and creativity of developers to build a healthcare app like Practo.
6) Cost-effective
Money alway remains the major concern for both businesses and customers. Gaining more and extra money is the only goal of any online business. For consumers, it's often seen that they specialize in buying high-quality products at affordable pricing. However, there's always a fight between cost and quality for a corporation to build a healthcare app like Practo. This is because products like high-quality applications cost a lot and vice-versa.
7) Check for Good Team of Technical Developers
It is important to see the  app development companies whether it consists of technically efficient developers or not before outsourcing your online healthcare app like Practo project to them. Moreover, it's also necessary to understand which technologies the event company works with and whether or not they are capable of putting up well with to build the healthcare app like Practo development idea and the platform you're choosing to travel with.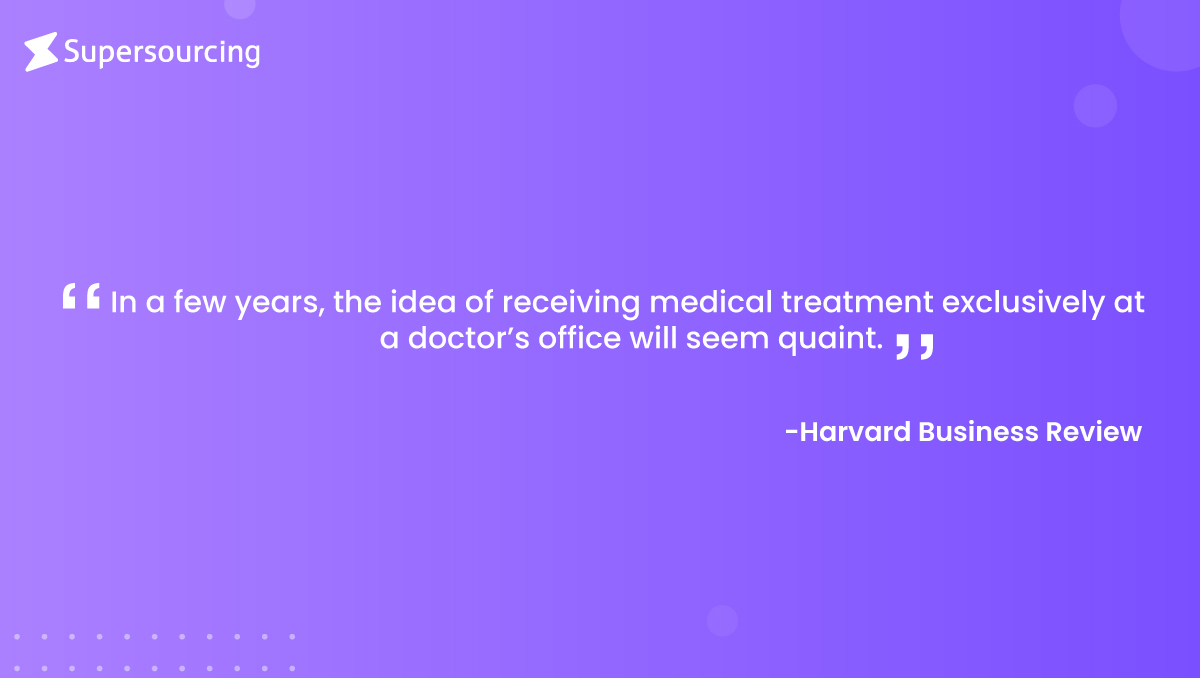 How to Hire an Agency or Dedicated Developers
Employing dedicated developers or an agency requires a calculated and well researched approach. Let's understand it in short about a couple of major points you should consider when you employ any dedicated developer or an agency.
1. Know The Objective
If you are not aware of your goals you want to take over through the project, then you won't ever hire the right developer or an organization. For example, your goal can't just be simple app development as there are various qualities in it like online store, support websites,  forums, blogs, corporate website, and so forth. So when you are aiming to hire expert developers you should be clear about the objectives of your project.
2. Know Their Expertise
Expertise might be a deceptive term and this is the place where you should be exceptionally cautious when a developer or an agency presents or exaggerates its expertise. It is not only about the domain expertise yet additionally includes intrinsic knowledge about the business industry you are working in. If they have done similar projects like yours in the past they would hold an edge over others.
3. Communication is Crucial
Regardless of whether you are having a verbal communication or through an email with the service provider, frequent communication offers you bits of insights into their professionalism. Offer them your business idea and request them to come up with a definite and detailed business/project plan. A good developer or an agency would consistently improvise on your thoughts and furthermore propose changes to your plan where required.
4. Never Ignore Support Services
You should ensure that the organization has a well organized support team who might resolve your issues sooner rather than later. Websites and applications are significant tools in a tech-savvy world and this enforces you to hire a dedicated developers team or an agency to build a healthcare app like Practo.
Major Takeaway
As a matter of fact, the healthcare industry has evolved a lot and is becoming crowded, yet there is always a good place for a great quality and feature enriched product. To deliver a quality product and build a healthcare app like Practo, it requires a handsome amount of investment. If everything is done properly and accurately, then it will definitely provide a great healthcare experience to all its users.
An idea to build a healthcare app like Practo will definitely stand a high chance of growth in this changing world. As, we have already discussed in detail the features, functionality, budget, time, and many other details of what it takes to build a healthcare app like Practo. These details make things obvious that these apps require a strong database and need to be user-friendly.
Hence, while looking forward towards building the healthcare app like Practo, ensure the database and usability of the app. However, the rest things in the app can be altered later on based on the budget and your current specifications.
Lastly, to turn your ideas into full-fledged products it is important for businesses to hire professional engineers and build a healthcare app like Practo with exclusive features and best quality to maintain the customer base.
I hope this Supersourcing article has introduced a brief understanding of how to build a healthcare app like Practo and a website and will continue to do so.
Help us keep it updated by sharing your experience with us here.
FAQs
1. How much does it cost to build a TeleMedicine App?
The telemedicine app development cost for a basic size to enterprise level app ranges from $15,000 to $150,000. The range of cost based upon various factors like the team size, number of APIs integration, features, and functionalities.
2. How healthcare apps make money?
The common method through which healthcare applications earn revenue is through the fees. For example, Doctor on Demand charges a fee of 25% from the patient for each successful patient appointment with the specialist doctor.
The scalable business model is critical for your healthcare app growth. However, the developers also should realize what is your method of monetization for a superior tech design of your telemedicine application. 
It is estimated that Doctor on Demand generated an income of 12 million dollars in a year.
3. How do I start my own healthcare business?
Define Goal, Study Competitive Market, Find Right Tech Partner, Develop the App, Test & Deploy the app, Market the services, and Ask for reviews & feedbacks.