Table of content
"How to get more Clients/Projects?"
Is the most common and worrisome question for all IT agencies.
Why?
Because clients are the sole life-blood of any IT agency.
Without clients, you can't grow.
Without clients, you can't survive in the market.
Without clients, you can't make payroll.
So, how do you get projects or more clients? Well, there is certainly no short-cut for that. If so, then I could write a blog post and suggest you implement the strategy, and you will have clients knocking on your door in a few days. However, in contrast to this, getting new clients demands a lot of effort, time, and patience.
Evidently, to build a steady pipeline of clients, it requires to invest time over your clients in building relationships, networking, and marketing your agency.
But, to help the agencies in fetching projects pretty easily and quickly, our portal Supersourcing can do it for you. Here, a lot of your problems get sort-out and give a boost to your business as well.
Thus, for your convenience and to let you understand what exactly Supersourcing had to offer to all the registered agencies. For this we have collectively prepared 3 major points. The 3 R's of getting projects from Supersourcing.
Before that, let me tell you, Supersourcing is a helping hand for small agencies like you to get projects under different domains and gain expertise over it. Now, let's talk about what the 3 R's are and how these 3 R's help you to get projects from Supersourcing.
The 3 R's of Getting Projects from Supersourcing are;
Referrals,
Relationships, and
Repeat Projects
Let's talk about each one.
1. Referrals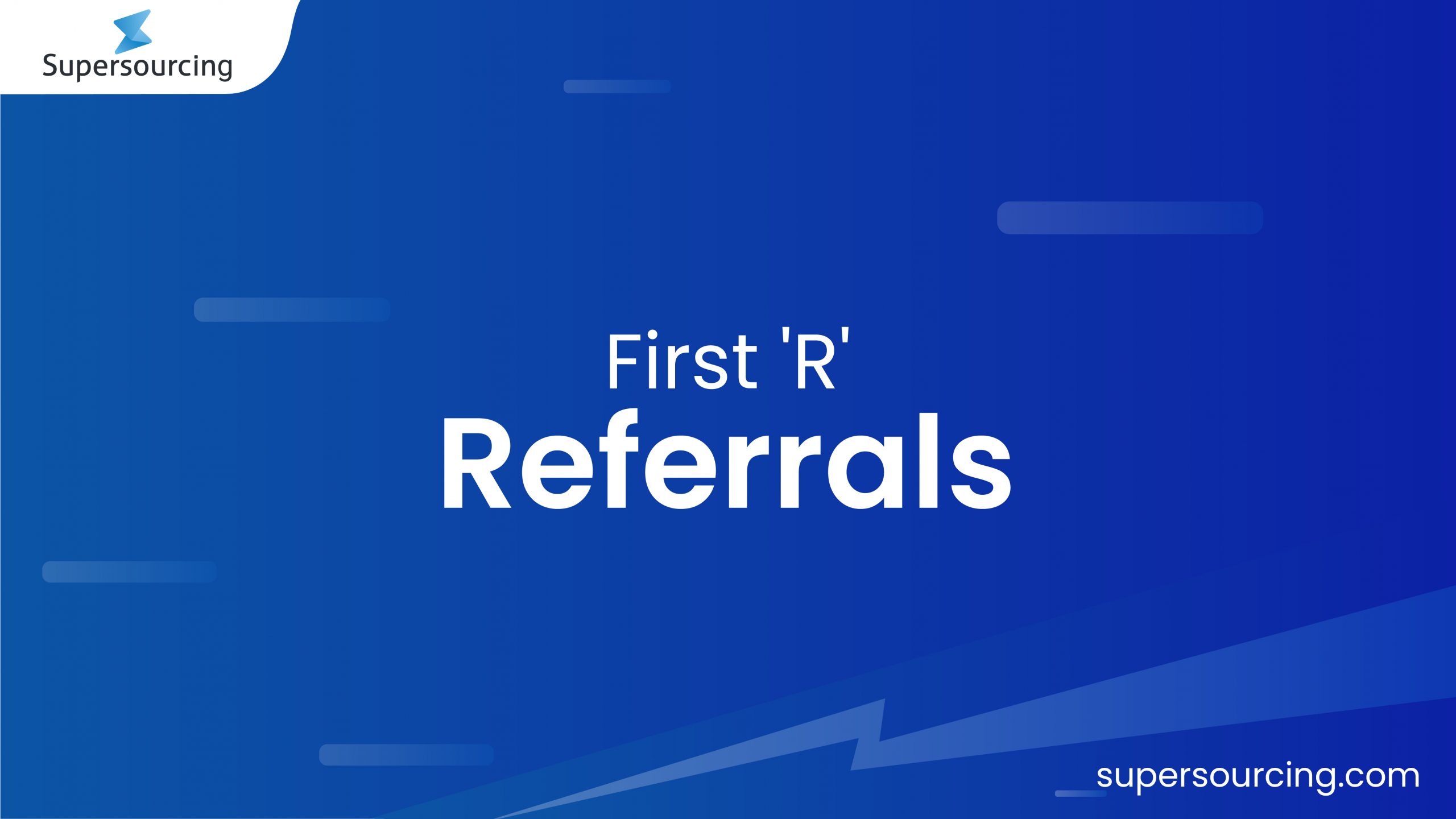 Why Referrals?
When you are referred by someone, especially from a reliable and verified source- it is considered as the most strongest form of marketing. Here, Supersourcing is doing for you without any personal interest and  without any additional benefits or hidden charges.
You might be thinking that you can do this easily by sending mails to a number of colleagues, acquaintances, past clients, or a current client; but are you sure it's worth it? In doing all these things, you are going to spend a lot of time and manpower in getting projects but without a guarantee of getting positive results from this.
On the other hand, when you register yourself on Supersourcing and show your faith and trust towards us, then I assure you, we won't let you down. We made Supersourcing, just to enhance businesses of small IT agencies and build a good reputation by their own hard work and quality of service delivery in return for getting projects.
Getting projects that are reliable and good referral works as a boon for your business, just take your time and come along with us and register your business on the Supersourcing portal. Work in your specialized domain, gain expertise, get good reviews from clients, this will automatically boost your business and present you as a trustable name in the market. Interestingly, after a period of time, it might be possible that you are referring to someone's business and become a life-savior for them in the future just by getting projects.
2. Relationships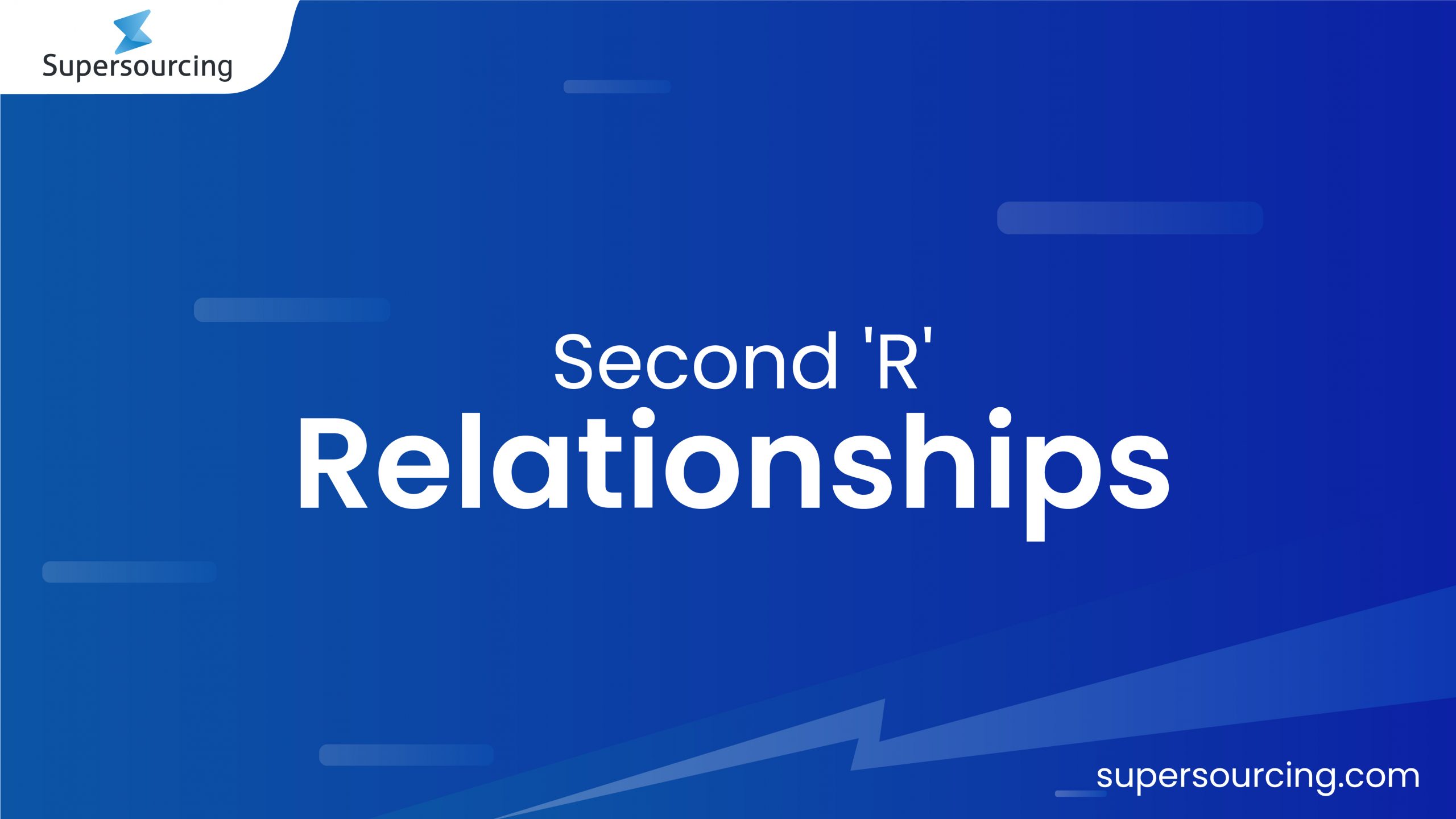 Building Relationships is a time-taking process, but once you start building good business relations, then you can easily start getting projects and can build a huge market value in no time.
In other words, your business is the sum of the networks of the people you know or have done business with.
Suppose you are an E-Commerce consultant and you are in contact with few others, let's say 10 E-Commerce consultants; then you are having an entire network to reach out. If you have maintained a good relationship with them.
Likewise, you are a software and app development agency having about 15 or 20 past clients with whom you have worked with. It means you have almost 20 people or clients who are aware of your strengths in product development and as a team.
As a result, building good relationships with all your clients will help you to get referrals and in getting projects as well. This introduces a bright opportunity for getting new projects or recommendations for being a consultant or the developing agency.
But, this is only possible when you have maintained a good and cordial relationship with all your clients and followed all the work-ethics along with satisfactory product delivery.
Getting referrals from previous clients may take time but it is a good source for business building.
Well, here comes the twist!!! When you are new in the market, then getting the first nut to crack is a hard deal, then how come to get 15-20 clients to build good relations with them.
Don't worry, and Don't Panic…
Here comes, Supersourcing in the frame for your rescue. On this platform, you need to register yourself along with other basic details and with a single domain expertise. Based on your tech-expertise and management skills, our smart tool will help you in getting projects.
The smart search tool of Supersourcing suggests the appropriate agency lists to clients based on their need and rest is solely up to the client, whom he chose. But, we serve equal opportunity to all of the registered agencies to get new clients/projects and scale up their business.
It will definitely save your energy and time to attract the first few clients to start your business. Apart from that, for any assistance or guidance Supersourcing is there for new agencies. Like you to build the client relationship for long-term.
Though, being a service provider, it is your sole responsibility to deliver best services and top-class customer assistance while building long-term relationships.
Overall, your business is the sum of the networks of the people you know.
"Your Business is the Sum of your Relationships."
But the relationship will remain alive only when you invest in relationships to keep it warm and alive.
Old and inactive relationships are not good for the future of your business. Thus, ensure to spend time in maintaining the relationship through follow-up to make best-things happen.
With these cordial relationships with your clients, industry contacts, and previous leads will automatically help to approach for referrals. These relations will definitely work appropriately for you as your referrals in the future time.
Hence, when you invest in maintaining a cordial relationship while having the goal of growth and succeed of both the parties. It will result in strengthening your business. You can get a kick start for your business through Supersourcing to build a good business market. But how to maintain that business for long-term- solely depends on you.
Being responsible and answerable to clients will definitely lead you to get more clients as good work always attracts business. Therefore, ensure to be responsible and build relationships. To get good referrals and sustain into the market for the long run and become the market leader.
3. Repeat Projects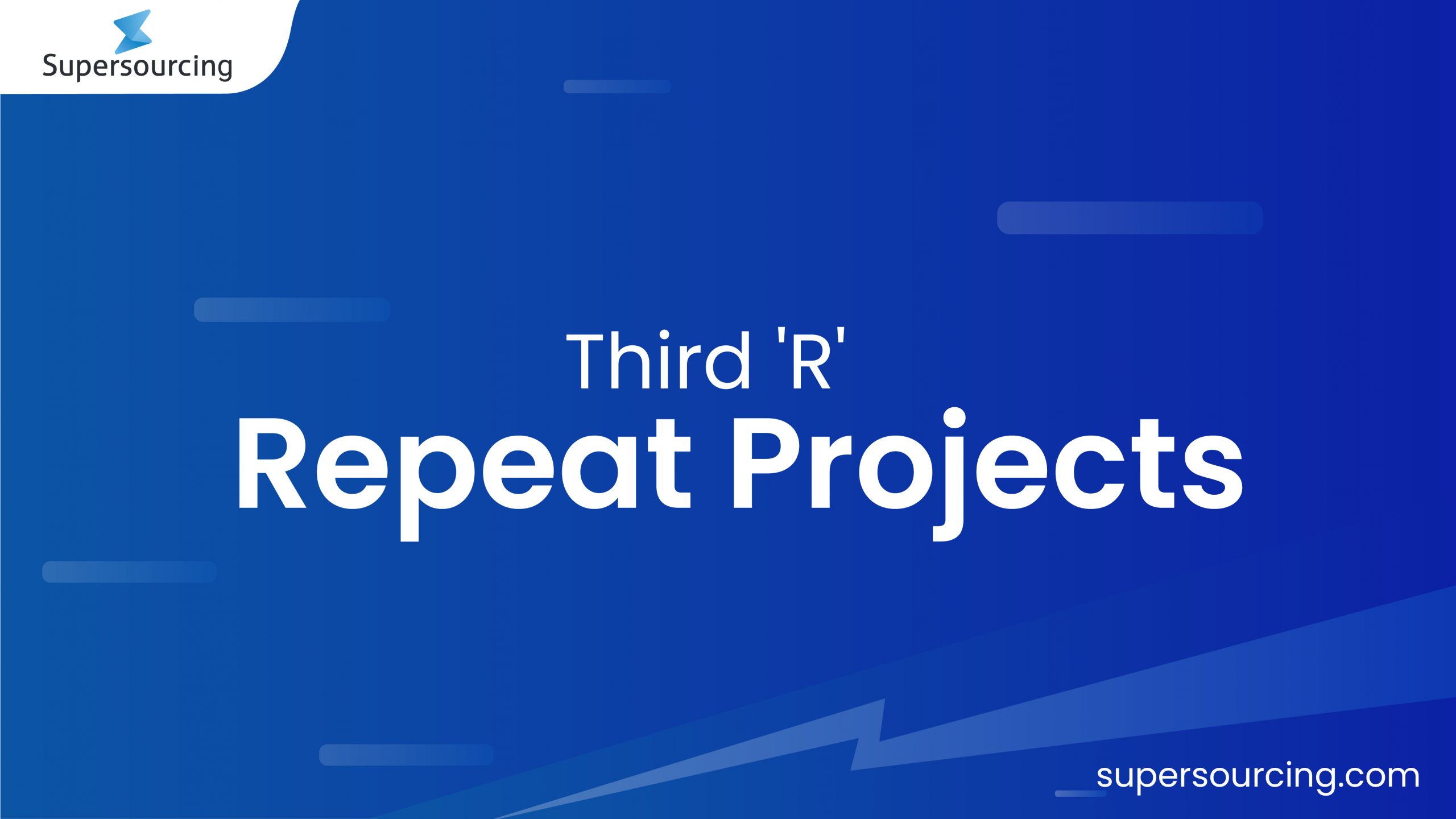 Repeat Projects means, getting projects from the existing clients or getting clients from the repeated projects.
Now, you carved a niche for yourself, learned how to get projects through referrals and by building business. It's time to learn to expand your business and get projects from these existing clients and previous works.
Let's understand with an example; suppose you aimed for having at least 5 projects in a month to survive with your limited staff. It means, you need 5 new clients every month, when you have zero (0) repeated projects.
On the other hand, if you are having about half of repeated projects from the previous clients, then you only need to put half of the effort to look for new clients.
In this way, you are going to need only 2 or 3 new clients each month to 5 new clients each month. It is possible because you are getting almost 50% of your projects from the existing clients.
Why Work with Existing Clients?
Working with previous clients is more easy and convenient. When you work with an existing client, then you are at minimum risk. Hence, you can skip most of the risk-related issues involved in a project.
Repeating the project or working with existing clients reduces a lot of actions and risks that a client had to demonstrate and with an added risk of trust and appropriate deliverables, such as;
Writing Proposals- making detailed work proposals to let clients understand how you work with deadlines.
Providing References- demonstrate your previous works or similar projects you have worked on.
Budget Discussion- present that you understand the overall time and effort required to build the project. You are also aware of how much the product idea will generate value to the business.
Hence, when you work multiple times with a client, you automatically get trust from the client. It becomes possible due to the, existing relationships with past clients. This relationship will avoid the typical project pitching and saves time.
Trust is the major factor that can help you to build good relations, repeat projects and clients too. As you increase trust by working with a client, will lessen the need to do all the initial preparations required in the project. Such as, extensive writing, project proposal, long conversations about the project budget.
Thus, the more trusted you are by the client, the easier it becomes to close the project. "OR" The more you work with your client, the more trusted you will become.
Thus, it would be a great option to spend time in working out marketing with existing clients, then go for new clients. Your marketing to clients whom you have worked with and already had a good relationship, will motivate them to take the opportunity to work with you again.
In this reference, Supersourcing promotes all its registered agencies to work on a single domain. As a result, that they can gain expertise over it while working on similar types of projects for a variety of clients. Along with that, good work from the agency will also attract new clients too.
The smart search feature of Supersourcing will also promote agencies who perform work exceptionally well. They can also gain good feedback from clients. It's only your work that does the talking and leads you get good projects and clients. This automatically results in good relations and business building.
How Supersourcing help agencies in getting projects?
Along with following these 3 R's (Referrals, Relationships, & Repeat Projects) to attract clients and fetch projects regularly, agencies can build their organizations publicly visible profile too. These company profiles will attract clients to get aware of your quality work and expertise. This will also build a trust factor between agency and the clients.
So, to maintain the profile, Supersourcing recommends its registered agencies to follow the following suggestions as well;
Upload Work Samples to your Portfolio.
Share your sample work with a watermark or other means of unique identification.
Try to respond promptly to clients when they contact you through private messages or emails.
Maintain the contact and relationship with clients through Supersourcing portal.
It was our aim and pleasure to deliver the platform to all the small and struggling IT agencies. So, they can get some good work and have stability in their business. Therefore, we proposed Supersourcing in the market. It is a helping hand for the agencies who are going through what we have already been through. And we know, it is always difficult to carve a path for you, but it becomes easier to walk through paths when you have a helping hand.
We, Supersourcing, is trying to be that helping hand for you and support you in any manner we can with our experiences and guidance. Feel free to contact us for any query. Share your good and bad experiences with us, so that others can also learn from your learnings. Be the part for Supersourcing and give a fresh breath or a new life to your business.