Supersourcing team has articulated this article on the Top 10 Web Development Companies in UK. We have conducted a thorough research from various credible sources: Clutch, Linkedin, Wikipedia, Google, Crunchbase, etc. This thorough discovery initiative by us will enable you to review your business plan with the best possible candidate for all your web development needs.
It's 2020 already, and it's so competitive out there! We don't think there's any industry or business left by now who haven't yet figured out a way to take their business to a new height with modern marketing and business ventures. Profit making models include digital marketing, automation, e-commerce, subscriptions, and many more. But the number one requirement of any business to explore online ventures is- building a website.
Why Should You Be Careful While Looking For Web Development Companies in UK?
Withdrawal from the EU can jeopardize the role of London as a European center for financial technologies. It could be a catastrophe for the British high-tech community. While being a member of the EU, any technological business (for instance, web development companies in the UK) had the opportunity to work within the European Economic Area. Brexit will definitely limit the former freedom of entrepreneurs operating in the markets of these countries, and the negative consequences might not only affect the global corporations but even startups.
Also, there's a lot of technicalities involved in the IT industry- slow loading websites, broken links, bad codes. If you want your website to stand out from all the others, you will have to bring the 'wow' factor in. And if you really want to take your business to the next level, an MVP won't cut it. Want to know why? Because 75% of users make a judgment about a business's credibility based on their website's design.
This huge industry is continuing to grow rapidly, and as obvious, there's no going back from here. The competition is only going to get tougher as more and more web development companies in the UK will enter the competition. A lot of digital projects fail due to an agency's lack of understanding of the business model and value proposition. The best web development companies always look for a way to mitigate the risks by placing focus on the client and his business over money and technology. As a customer, when you have a lot of options, even then it sometimes gets very difficult to pick the company that will suit your needs the best.
And this is exactly why we have come up with the curation of this list with 2020's Top 10 Web Development Companies in UK.
---
Let us take a look at the curated list of the 2020's Top 10 Web Development Companies in the UK
Thoughtbot has worked with hundreds of product teams all over the world, from individual founders who are self-funded, to large multinational organizations. Their services include: Android, Product Design, Elixir/Phoenix, Elm, iOS, Python/Django, React Native, Ruby/Rails and Code Audit.Their key clients include: Yammer, Postmates, LOLA, Iora Health, edX, LevelUp, Tile, JoyDrive, and SplitFit. Thoughtbot is located at 6 locations currently: Austin, Boston, London, New York, Raleigh/Durham and San Francisco.

| | |
| --- | --- |
| Employees | 101-250 |
| Headquarters | Greater Boston Area, East Coast, New England |
| Founded on | Jun 2, 2003 |
| Founders | Chad Pytel, Jon Yurek |
| Locations | Austin, Boston, London, New York, Raleigh/Durham and San Francisco |
Successful products solve a need for their users. In order to fully understand the problem at hand, Thoughtbot conducts research and usability tests. These help them to make sure that they're building the right set of features for the product and not wasting time on unnecessary features. They have also created their own products and dozens of open source libraries. They partner with organizations of all sizes to design, develop, and grow their products for iOS, Android, and the web. All of their projects are design-led, starting with post-its and sketching, ending with design implemented as code in the app.
Thoughtbot uses design sprints and user research to understand their client's problems, validate assumptions about the products, and build products that are user-centered. One of their primary process goals is to make frequent, small releases of their working software. Thoughtbot believes in frequent communication and weekly iterations on a product. Early in a project, thoughtbot decides on which platforms they'll be using. And it depends on their ideas for solving these users' problems. Thoughtbot focuses on the core product as much as possible and outsources operations as much as possible to external services.
---
Client Testimonial: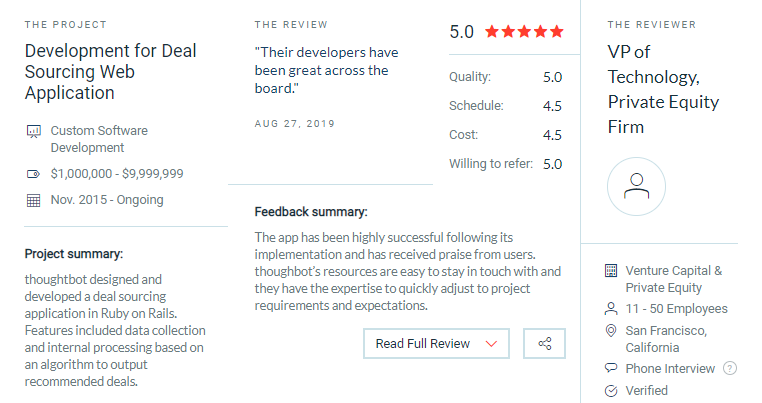 ---
Contact Details:
---
Tivix is a global team for Web Development with insanely high standards! Tivix has a small team of 67 talented employees. Founded in the year 2008, they're passionate about learning, developing themselves professionally and creating innovative digital products for clients around the world. Tivix is headquartered in San Francisco, with regional offices at 4 more locations– London, Wrocław, Portland, and New York City.

Employees
51-100
Headquarters
San Francisco Bay Area, West Coast, Western US
Founded in
2008
Founders
Bret Waters, Sumit Chachra
Locations
San Francisco,

London, Wrocław, Portland, and New York City
Their primary work process is to create business impact via a proven approach to identifying and delivering on digital opportunities, using best-in-class techniques such as design thinking, rapid prototyping and UXD. Their clients are a mix of Fortune 1000 enterprises (Zoetis, Apple, Tesla), newly-funded ventures (CloudVelox, Marlette Funding, SwiftStack), & large NGO's (UNICEF, World Food Program and The European Commission).
Their primary focus is the agile development of cloud-connected web and mobile apps. They help organizations create and sustain digital innovation while reducing development risk for their clients by using sprint methodology, user-focused design and standards-based code to get digital platforms to market quickly. Their Agile approach is fast, flexible, and collaborative. All Tivix clients have direct access to the leadership team, plus a designated Product Manager responsible for making sure that they thoroughly understand client expectations and deliver to them. Their process includes aspects of the Google Ventures Design Sprint and Stanford's d.school methodology. To get a more clear idea of their work and products, take a look at these- DoveMed, Best Egg, PetDialog, FormForce, CloudVelox and SolarCity.
---
Client Testimonial: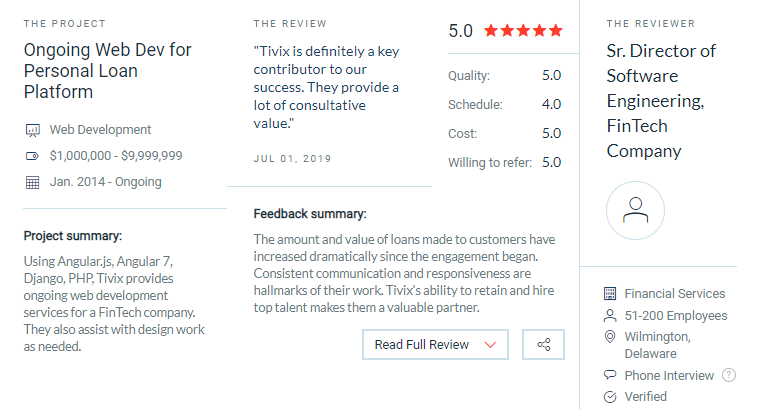 ---
Contact Details:
---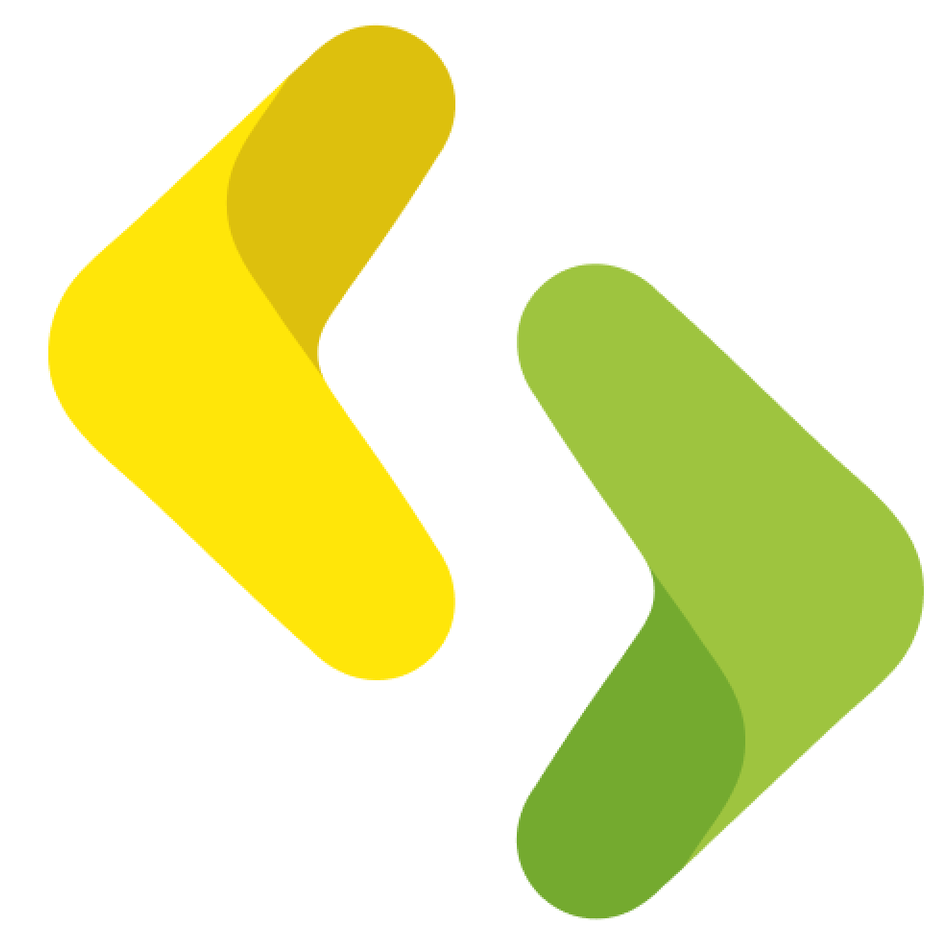 Shakuro has been building outstanding web and mobile applications for businesses of every size in every industry since the year 2006. They have handled 500+ Projects in art, business and entertainment. Shakuro brings a strategic and technical expertise, progressive design, and a personal touch to every project. Their key clients include: CG Society, Altium, Cubebrush, Swyft, TBWA\RAA.
There can be no better demonstration of their achievements than the success of their clients. Their clients have an 80% returning customer rate, with 90% highest grade rate and 95% of them report a growth in audience. Shakuro team finds the best prospects and integrates them into a professional team capable of accomplishing great projects. They have 3D Artists, Android developers, Front-end developers, Test engineers, Project managers, iOS developers, UI/UX designers and Web developers.
| | |
| --- | --- |
| Employees | 101-250 |
| Headquarters | Greater Philadelphia Area, East Coast, Southern US |
| Founded in | 200 |
| Founder | Kostya Stepanov |
Shakuro helps you build your online presence and strengthen your brand by revolutionizing the way you run your business and engage your customers. The industries they're involved in- (20%) Consumer apps, (15%) Trading, (15%) Social networks, (15%) E-commerce, (10%) FinTech, (10%) Design, (10%) Media/Marketing and (5%) eSports. Shakuro puts their industry experience and technical expertise to work for the clients, from analyzing the needs and goals to creating the solutions that will help clients grow and compete in the future. Shakuro is also a technical and creative workshop for their clients. They believe in long-term relationships with clients and are committed to making sure that their products evolve along with the given business.
---
Client Testimonial: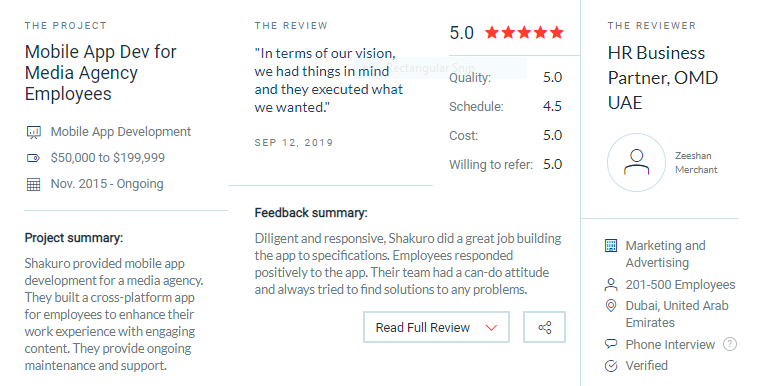 ---
Contact Details:
---
Founded in 2010, Human Made is a leading provider of digital experience platforms for enterprises. Today, they have grown from a small team in Matlock, UK, to a team of 70+ employees worldwide. They have worked with big names in publishing and in enterprise. Their clients include: ABC, News Corp, Skype, Vocativ, BNY Mellon, CFO, Hibu, Indian Express, Fusion, Thunderhead, Sony, News UK, USA Today, Capgemini, Fairfax Media, and TechCrunch.

| | |
| --- | --- |
| Employees | 51-200 employees |
| Headquarters | Matlock, Derbyshire |
| Founded in | 2010 |
| Locations | Matlock, Brisbane and New York |
Human Made work with their clients on any aspect of WordPress development including themes and plugins, decoupled applications, APIs and integrations, and platform development. They have a broad-ranging WordPress expertise and can help you with issues that include infrastructure, architecture, development workflow, best practices, accessibility, performance and security, and the WordPress REST API. They're delivering solutions to clients internationally by building powerful digital solutions for enterprise-clients and big publishers. 
Human Made delivers technically complex WordPress instances at scale and host a number of large scale websites that each get the full attention of the team of AWS certified systems engineers. Your code will receive a full code review, and be hosted on their highly available cloud hosting environments. Human Made manages the code, and reviews changes as they come in, providing training for the clients' developers.
They also provide development tools to match the production environments. Open source underpins their business which is why they give back through writing code, putting on events, and community organising. In 2018, they organized 49 FOSS events and contributed to 12 WordPress.org teams. Also, there were 53 Talks at open source events in 2018.
---
Client Testimonial: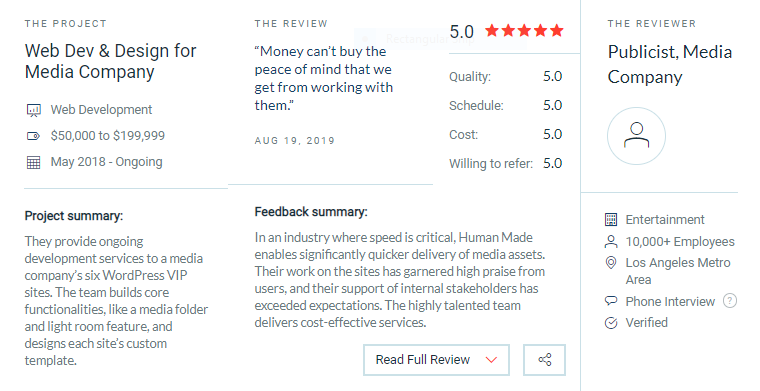 ---
Contact Details:
---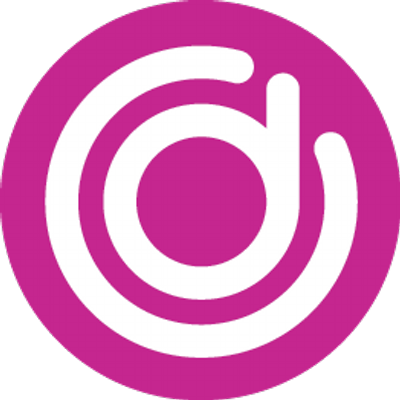 DCSL Software is at the number five in our list of the top web development companies in UK. They design intelligent, cost-effective and intuitive web applications, desktop applications and mobile apps that help streamline processes for businesses. They even create new revenue streams for start-ups and established businesses alike. Since 1994, DCSL has been delivering software solutions to brands like BT, Virgin Media, Lidl, WaterAid, Ikea and the NHS.
| | |
| --- | --- |
| Employees | 11-50 |
| Founded | Dec 15, 2000 |
| Headquarters | Farnborough, Hampshire |
| Locations | Farnborough and London |
DCSL Software takes a unique approach by fusing traditional and new methods to develop quality software at speed, while retaining their personal touch and fastidious attitude to planning. The team at DCSL mixes together all of the ingredients that they believe are required for a successful software development company. They have highly talented, energetic software developers, architects and testers, all recruited through a rigorous process.
DCSL has analytical minds that can understand the nuances of their customer's businesses, the methodical project managers and designers, driven management with a focus on quality and delivery, and the innovators that transform the way we look at things. They have their development centers at Victoria House in Farnborough, Hampshire and Central London (Waterloo).
DCSL Software is a Microsoft Gold Partner for Application Development and ISTQB® Silver Partner. It is also a Crown Commercial Service Supplier . CCS helps public sector organisations save money by providing a route to high quality products and services. Other awards: UK IT Industry Awards 2018 Winner, Inspire 2018 Awards: Business of the Year – Winner,  #1 Software Development company in the United Kingdom, 2018 by Clutch and dozens more.
---
Client Testimonial: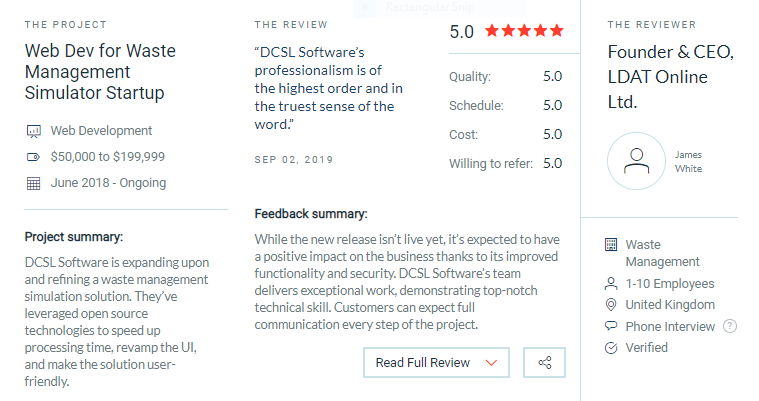 ---
Contact Details:
---
Softermii is a young company that doesn't pursue quantity over quality. Softermii is paying special attention to details and, above all, client satisfaction. Their team of 63 IT experts leans on the brand recognition very strongly, and they do everything to ensure that their clients have only positive feedback about them. Which is why their tech specialists provide only stable and maintainable solutions. Softermii has 1.4 Billions worth of investments and 52+ successful projects. Their offices are located at 4 places: Los Angeles, Tallin, Kyiv and Vinnitsa, Ukraine.

| | |
| --- | --- |
| Employees | 51-100 |
| Headquarters | Greater Los Angeles Area, West Coast, Western US |
| Founded | 2014 |
| Locations | Los Angeles, Tallin, Kyiv and Vinnitsa |
Softermii's services include: Branding and UI/UX Design, Web Development, Mobile App Development, QA Services, MVP Strategy Consulting, AR/VR, Blockchain, DevOps and Product Management. They also provide solutions for these industries: E-commerce Development Solutions, Software Development for Real Estate, Financial Development Services, Enterprise Application Development, Entertainment Development Services and Healthcare Application Development.
Depending on the individual set of priorities, Softermii chooses the management framework that would best fit the business goals of the clients. Also, they reassess the product as it unfolds; take minimum time to ship the product to market and include top levels of productivity with project-based approach. It gives them top results within budget; and all of their milestones are completed within the deadline. Having only productive methodologies, there's no pair programming.
Their goal is to help companies speed up development process while delivering the same quality levels that one can obtain on internal markets. All the while keeping the budgeting 30%-50% lower than onshore and ensuring total availability in the client's time zone. Within a set of meetings scheduled throughout the entire development cycle, Softermii informs the clients on the progress in regards to the project roadmap. Their work will be split into sprints, with the  possibility to be fully up-to-date and make changes in the scope at any stage. Each specialist logs the time spent on their tasks daily.
---
Client Testimonial: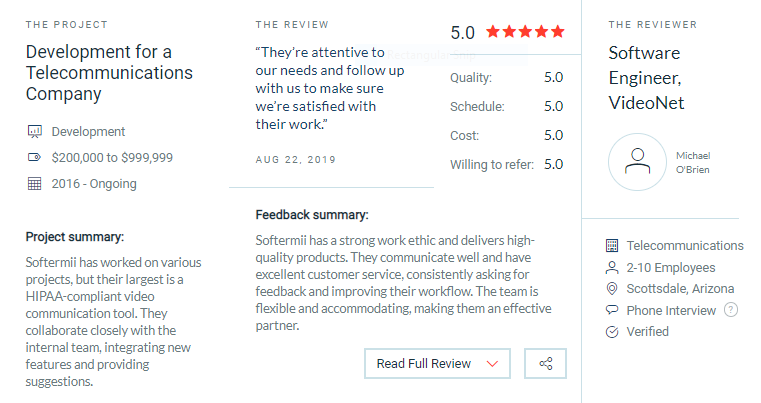 ---
Contact Details:
---
Founded in 2015, Wolfpack Digital is a rather new company. They have a team of 50 strategists, creatives, programmers, builders and masterminds. Did you know that Cluj-Napoca is repeatedly being named as "The Silicon Valley of Eastern Europe"? Well, that is where Wolfpack Digital is based at! They have their office centrally located in Cluj, Romania. Basically they're a team operating from a house with a charming backyard.

| | |
| --- | --- |
| Employees | 11-50 |
| Founded on | March 2015 |
| Headquarters | Cluj-napoca, Cluj, Romania |
Wolfpack Digital has worked with million-dollar startups around the world. They can turn their clients' business ideas into customer-engaging and retaining products. To understand the company's potential, let's take a look at their wide range of clients- The Bosco, Transreport, Makerist, Cheerify, AutoUncle, FirstAgenda, FluidUI, Amplicare, Autoproff, GoodBox, Alcohop, JobNinja, Elevatr, StudioBritish, Storyball, Parisdize, 365 Days Luxembourgish and ZipHire. All of this- in under 5 years!
They have an amazing product-oriented team that constantly works to offer powerful products with clean code and outstanding visuals. They have been featured in the Apple App Store. They have also been mentioned in Forbes and have been the winners of Alpha Hub, Top 50 Developers of Romania by Clutch. Their in-house App Division is Wolfpack Digital Labs.
Working with companies both small and enterprise-level, the web and mobile apps developed by Wolfpack Digital covers industries such as IoT, fintech, health tech, entertainment, transportation, recruitment, marketing or education. They can efficiently work on products with these technologies- Ruby on Rails, iOS, Android, React Native, Angular.js, Ember.js, React, Vue.js, HAML, CSS, Swift, Java, Kotlin, Objective-C, Asana, Trello, Slack, Sketch, Photoshop, Illustrator, InDesign, After Effects, InVision, DigitalOcean, Heroku, Kubernetes, Docker Cloud and Amazon Web Services.
Oh, and here's what they want you to know- They byte!
---
Client Testimonial: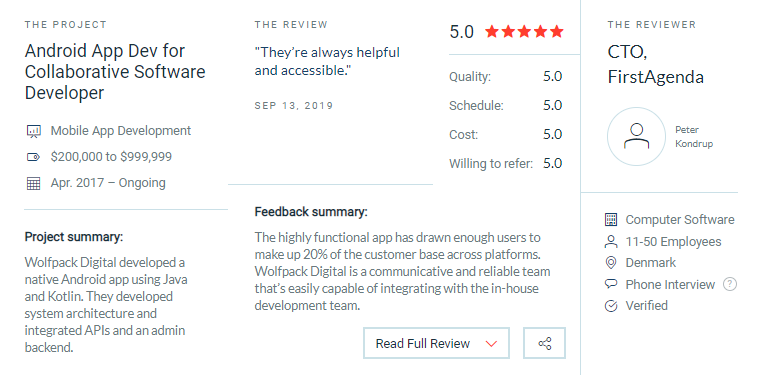 ---
Contact Details:
---
Dept is an international digital agency, headquartered in Amsterdam. They have a team of over 1000 experienced thinkers and makers who have been at the forefront of digital for decades. Initially Dept were a group of specialist agencies that came together in 2016 to form one company excited by the opportunity to join forces and grow beyond limits and geopolitical borders. Recently, they acquired e3creative as part of their UK expansion.

| | |
| --- | --- |
| Employees | 500-1000 |
| Founded | 2016 |
| Headquarters | Amsterdam |
| Founded by | Bart Manuel, Paul Manuel |
| Locations | 18 Locations (View all on LinkedIn) |
e3creative had experienced rapid growth, doubling their revenue in 2017 and growing to a team of over 60 people. Listed as a top 100 Independent Digital Agency by the Drum, the agency's creative, development and marketing teams have scooped over 80 awards for projects delivered for the likes of Sony PlayStation, O2, Royal Ascot and Carphone Warehouse.
As per Dept's LinkedIn page, their offices are located at 18 places. Their services include- Digital Craftsmanship, Campaigns, Social, LinkedIn Marketing, Data Driven Marketing, B2B Marketing, Digital Marketing, Digital Agency, Creativity, Technology, Strategy, Digital, Brand, Advertising, Design, Data, Intelligence, Organisation, UX, Agency, and Content. Dept merges creativity, technology, and data. Their team comprises of experts in creative, digital, marketing and commerce.
Dept works with a range of server-side technologies including .Net, Java, and NodeJS. They use Javascript based frameworks such as ReactJS and Angular to create "Single Page Application" lightweight client interfaces. This allows them to launch and rollout new experiences faster by reusing existing APIs and data endpoints. From static code analysis through to GDPR assessments, OWASP and penetration testing, Dept approaches security as a fundamental component at all stages of our development lifecycle. They have robust testing strategies, and their QA analysts are experts in accessibility, device and functional testing. Dept implements automated testing processes to make them automated and scalable.
---
Client Testimonial: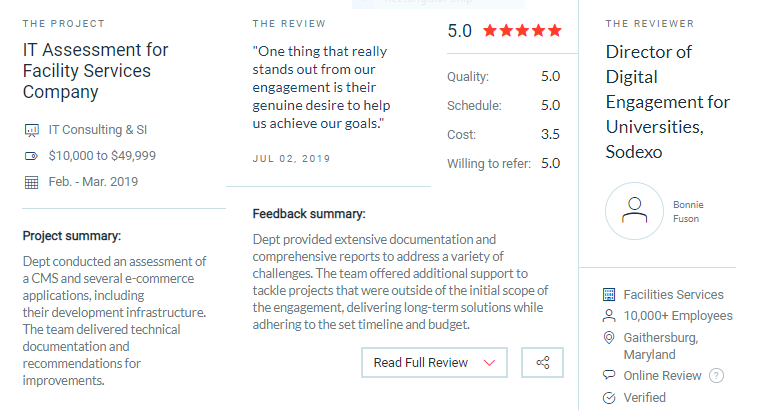 ---
Contact Details:
---
inVerita is a software web development company based in Eastern Europe and founded in 2015. InVeritaSoft has been committed to delivering integrated end-to-end innovations to deliver excellence and value to multiple businesses all over the world. Headquartered in Lviv, Ukraine and being present in Chicago and New York company was founded on unique values, where the quality of delivery, customer satisfaction, and individual employee growth matters prior revenue and profits.

| | |
| --- | --- |
| Employees | 51-200 |
| Founded | 2015 |
| Headquarters | Chicago, Illinois |
| Locations | Chicago and Ukraine |
With outstanding software, high-quality services, solid reputation, and an exhaustive portfolio of successful projects, inVeritaSoft has made a name for themselves in the information technology industry as well as established close relationships with clients and partners. Moving strongly into the future, InVeritaSoft continues to strive for its vision as the reliable software development company in the world to make other businesses successful.
Technologies they use from the client side include React, jQuery, AngularJs, Angular2+ and Vue.js. From the server side, they use Java, .Net, PHP and NodeJS. inVerita transitions the out-of-date systems to newest tech, with version improvement services, re-engineering of apps, database transferring and integration with extant/external systems. inVerita develops client/server, web-based, SOA (Software Oriented Architecture), and SaaS (Software as a Service) applications. They also improve and enhance legacy systems. inVerita's high level of experience translates into application stability, system improvements, and continuous service for you. This includes maintenance for applications and systems, integration of new IT requirements, and technical / functional support.
Their workflow is simple: research – analysis – solution. They will explore all the viable options, from open source to proprietary it solutions like Microsoft.Net and SharePoint. After thorough analysis, propose possible solutions while taking the client's current technology and level of adaptability into account. They have been awarded with Top Angular.js Developers, Top Global B2B Companies and The Clutch 1000 Global.
---
Client Testimonial: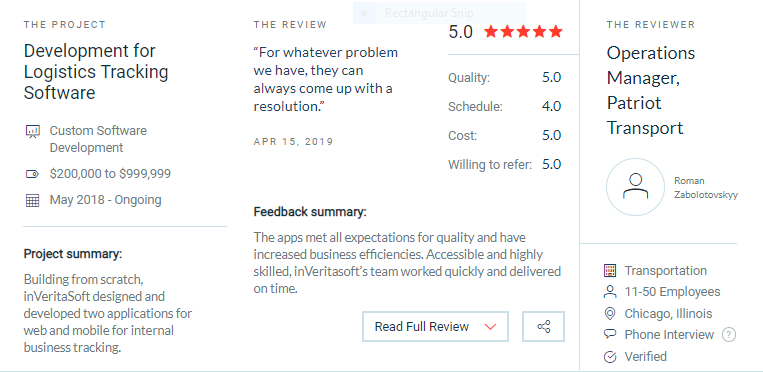 Contact Details:
---
Founded in 2011, Ruby Garage is a software engineering, outsourcing and development house with 8 years of experience. It has a world-class team from Ukraine working globally. The company has 150+ in-house employees and their headquarters are in Dnipro, Ukraine. They have released released 90+ products, with 4 of their own. Several years of work on organization development and service design has let them gain the trust of global businesses.

| | |
| --- | --- |
| Employees | 11-50 |
| Headquarters | Dnipropetrovsk, Ukraine |
| Founded in | |
| Locations | |
Their clients are business owners looking to create new products or improve existing software solutions. They build software for enterprise organizations and applications for startups. RubyGarage has a streamlined process- the more efficient workflow, the more efficient the employees. They have a team of talented multi-dimensional individuals and they invest in them by offering a strong career mentoring and training program.
In software development, the process of work plays a tremendous role in project success. Ruby Garage have five production offices. Each of these offices work according to a well-defined process and uses the best approaches out there to gather requirements, build software, design user interfaces, manage projects, and test functionality.
Programming and Engineering Office

: Their engineers apply the Extreme Programming methodology to deliver quality software.

Design Office

: The UI/UX designers create great products using a research-based design approach.

Quality Assurance Office

: The QA specialists apply manual and automated testing techniques to ensure proper system operation.

Business Analysis Office

: Their BAs cut the development time and cost using world-class business analysis techniques.

Project Management Office

: The project managers are responsible for on-time, on-budget, goal-based delivery.
---
Client Testimonial: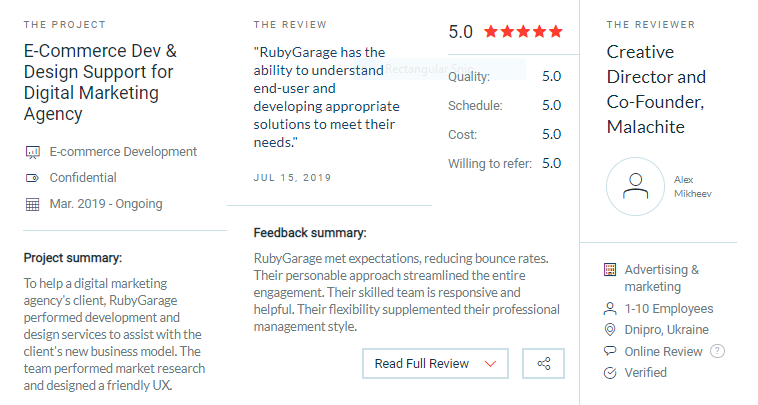 ---
Contact Details:
---
Creative Brand Design are an award-winning London web design agency, committed to creating unique & interactive website experiences for ambitious & established businesses and enterprises. Their collaborative, well-thought-out approach takes into consideration all aspects of web design, branding, SEO optimization, interactivity, and UI/UX to deliver industry leading solutions. Creative Brand Design's goal is to design high performance, immersive digital experiences delivering their clients an competitive advantage and effective ROI.

| | |
| --- | --- |
| Employees | 10-49 |
| Founded | 2013 |
| Headquarters | 77 New Cavendish Street, London W1W 6XB |
| Locations | London and Surrey |
---
Client Testimonials:

---
Contact Details:
Summing Up-
While presenting relevant research and grasping your brand, Supersourcing identifies the most suitable solutions to your problems. Ultimately, this will allow us to answer strategic questions concerning your product vision, target market and more. From a pool of web development companies in UK, choosing the best one for your business can be very tricky and time consuming. You have to be aware about all the necessary details- budgetary constraints, location, trustworthiness, etc.
We hope we have answered all of your concerns about the top 10 best web development companies in the UK. This was our attempt to gather every bit of information available across various renowned websites like Clutch, Crunchbase, Linkedin, Glassdoor, etc.
Just drop a comment in the section below, if you have any other suggestions or questions for us. We will get back to you pretty soon.
---
Recommended Reading for you-