Table of content
Having a restaurant in today's time is no big deal but to amass the customer segment from nearby locations is the top-most priority a restaurant owner always worries about. Nowadays everything is easy for customers whether it comes to shopping online or ordering food, every restaurant is keen to get listed for the sake of having chunks of the customer as well as the much-driven revenues for their restaurant. Amidst iconic food ordering apps such as Zomato, UberEats, GrubHub, Deliveroo, Just Eat, DoorDash have made life easier for customers so much that within the top of any app and applying coupon code can make their favourite dish reach their homes in less time.  Why people search for Food Ordering App Development.
Unexplored Potential Markets are Outside Happening Areas
There are still unexplored markets outside big cities that are happening areas where start-ups are preparing themselves to be more promising serving in the vicinity of the area.
As per the reports of RedSeer Consulting, the pace for the online food ordering sector is rapidly increasing at 15% every quarter.
Food ordering apps are scaling in large and small cities.
Non-metro cities are growing 7 times faster every quarter compared to metro cities which report 80% growth against 12%.
Combination of effective and smart promotional campaigns, the increasing selection of restaurants rising comfort with food ordering apps.
The phenomenal growth of the food-driven apps ecosystem generates thriving opportunities in non-happening areas which have restaurants along with associated sectors such as delivery and packaging companies.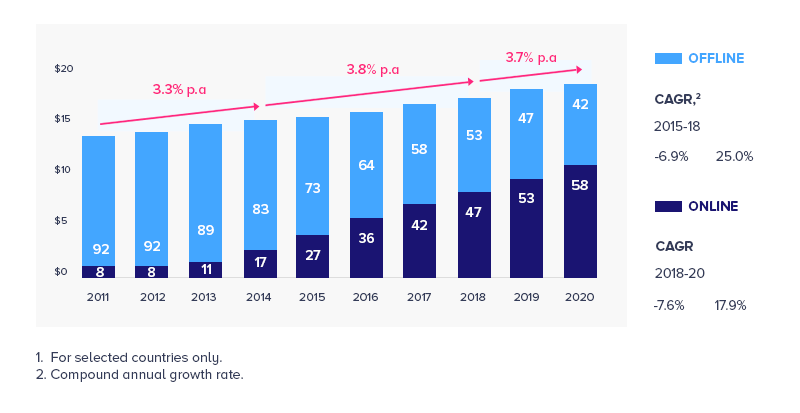 Why Online Food Ordering Marketplaces Work?
With the day-to-day busy schedule of working professionals, it becomes difficult to cook once you get back home especially in the metropolitan & accompanying areas. In order to manage your busy lifestyle, the food ordering apps have come up at the instant service that offers you quick, reliable and guaranteed anytime, anywhere assistance for whichever cuisine you like to order.
Like you need Ola or Uber to hire instant cabs & TaskRabbit to search technicians, you must also be requiring Zomato and GrubHub like apps to fill your instant appetite and in no time.
When you don't have energy and time to cook your delicious food or when guests have crowded at your place or when you don't have time to go to restaurants, you feel that ordering would definitely do wonders at that point in time. That is the reason why you need the service of 3rd party aggregators at one go! Food Ordering App Development
(1) It becomes fast to scroll down the list of cuisines or restaurants or favourite meals on a single marketplace website. One can easily install the food ordering app application from their Play store that gives you a quick start instead of downloading 1000 apps for a single restaurant.
(2) The scalability of customer's reach is fastest at any point of time from sitting anywhere in India. Thanks to the mobile applications that offer more options to explore all the cuisines and restaurants available in the area.
(3) Price comparisons, ratings, and reviews give you an insight into the quality of the food and the restaurant available which are some of the obvious reasons why the 3rd party online food ordering apps and delivery partners get along well with customers.
Why have an Online Food Ordering Marketplace?
The food delivery market is growing at the fastest pace. It becomes of utmost crucial for a restaurant to be "sparkling visibly" online when it comes to extending the customer base and enhancing the stream of revenues. Having an online presence makes it easier to reach out to those customers who have never seen an ad or heard about the business and who are never going to visit your restaurant.
Being online makes sense as you can easily make your customers hooked on to the amazing tales of your restaurant or a much-awaited dish for them to try out.
And when you bring out the much easy-to-use feature for customers like user-friendly ordering food apps from the restaurants, chances are such of jumping to the series of boost-up sales and a sky-rocketing profit margin.
Why miss a chance of getting slipped from the fingers, while just getting been scrolled? Go ahead and take the plunge of getting been spotted amongst the list of restaurants.
Here comes the power of gelling up with the customers online who give you an opportunity to fill up the empty stomachs with your mouth-watering cuisines.
In order to stand ahead of the race of getting noticed in the eyes of customers, all you need is to jump on the board of this online delivering trend. As the tremendous shift of ordering food offline to online is completely transparent, easy and flexible for each and every customer, then why not provide your customer exactly what they want?
As per the statistics of  Online food delivery which shows:
Revenue from the online food delivery apps amounts to US$7,092m in 2019.
The expected revenue to depict an annual growth rate i.e. CAGR 2019-2023 of 9.9%, pushing up the market volume of US$10,363m by 2023.
Features you should have Online Food Ordering/Restaurant Apps?
As a restaurant owner or a food joint owner, you must be looking for ways to have key user-functionalities in your food ordering app that prompts your customers to buy using your app. Let's check out in detail:
Menu Management:

Give your customers access to your menu. Give details of every dish with its review. Entice your customers with picturesque food photography. Categorize the food photographs in a way neatly that will help customers to choose their orders wisely. The display of food categories must be in the best possible way.

Push Notifications

With push notifications, you can share specific menu items, specials or events to your customers to make them engaged. With such online integration, you can inform your customers using a Push Notification feature on the upcoming restaurants with their new menus at intervals.
Offers & Discounts

Pour your customers with regular offers or special discounts, making them impel for repeat orders. Your restaurant mobile app will provide your customers with special deals/offers/ seasonal discounts/happy hours and much more.

Order History

Order history along with tracking keeps your business identified to be trustworthy and reliable. Navigate tracking of which orders have been picked up or delivered. Get the immediate status of the checkout option and order amount status throughout the app to make tracking hassle-free.

Loyalty Program

Induce your customers for repeat orders & retention. Greet your frequent customers and give them a special discount rapidly to facilitate repeat orders. Customers can review the loyalty points and go for redemption for these offers. The Loyalty Program can be customized, and the store owner can turn this feature off or on as per their requirements.

Refer and Earn

Reward your customers as your brand ambassadors by offering them fabulous offers and deals. Customers can use vouchers, earn points or mobilize food deals by referring the app amongst their friends and relatives. They can go redeeming these offers at the time of their next orders.

Multi-Locations

Running all outlets with a single on-demand food ordering app has made life easier. It becomes easy to use Inventory and Staff management options. With the multi-location facility, you can save time by replenishing the inventory in one section, and it will get updated everywhere automatically.

Admin Mobile App

Staff management, Orders, Inventory, and customers get easily managed on the go with the use of your food-ordering app. You can easily keep track of recently placed orders, their delivery process, status, etc. via provided admin mobile app functionality.
Why do you need to hire a development company over a freelancer?
A freelancer is usually hired to complete a specific short-term project. Of course, there will be a bond between a client and a freelancer, specifying the time-duration and precise requirements. On the top, freelancers also work for multiple clients at the same time. It means their time is divided between several projects and jobs in hand. Freelancers do have specific skills and expertise at affordable rates and are much easier to find onboard. Recruitment websites such as freelancer, Fiverr and Upwork are well-established sites where you can find them and select the one that fits your criteria and requirement.
As a businessman you would always look for cooperation among freelancers, at times, it is hard to find but when you hire a development company, you will be obtaining a full-time agreement from the company that within a stipulated time frame you will be getting your tasks done with effective quality. The company from whom you will be seeking services will assign a software developer to work for you who will be entirely responsible for developing on-demand food-ordering apps as per your exact requirements. No doubt, there will be a bond like NDA(Non-Disclosure Agreement) between you and the development company but at the same time, you will be getting product development and product support from the development company, which happens not to be seen in freelancing.
The Food Ordering App development company, you hire employs enterprise-grade tools and software to manage and consolidate your work in order to deliver a high-end product. In freelancing such things don't exist, exceptionally in case you're hiring a top-most freelance agency. So, here are some benefits of hiring a dedicated development company for your food-ordering app development:
Expertise in developing food-ordering apps
Resources along with a well-established development team
Quality & dedication
Reliable & Consistency in their work for you
Availability
Effective communication
Pricing
Maintenance & Support
Why do you need to hire services of an Indian development company?
Every business person looks for quality, expertise and his pocket, after all, to start with. Not every development agency or freelancer can fit with his requirements on what exactly the business person is looking for? There are factors that state to you the reason why you should consider hiring an Indian development company as compared to the others:
Higher expertise:
Get access to a qualified pool of engineers who have BE/B.Tech/MCA degrees from reputed institutions of India. Their working experience gives you an edge over your app development.
Increased Productivity:
The workflow of building apps will go consistently as you will be having a team of developers working on it. Each feature and user-functionality developed will be tested hand-in-hand before it goes live through your consent.
Low Cost:
Every businessman finds ways to save money and invest less in resources obtained. It goes for hiring the services of an Indian development company as well. Hiring an Indian development company will help them to refine their business processes and save both money and time as well. The Indian development companies offer better services at relatively lower prices as the dollar conversion rate and other factors also carry an impact when it comes to the pricing of food-ordering app development. The teams are hired also on the basis of an estimated number of hours spent on a project assigned or fixed project duration.
All this would give a base ground to quote that would help in defining the total cost. No matter food-ordering app development companies give a rough estimate of their business needs and design requirements.
<stron
| | | |
| --- | --- | --- |
| Food-ordering app feature | iOS Hours | Android Hours |
| Booking | 32 | 32 |
| Delivery schedule | 20 | 20 |
| Delivery status tracking | 22 | 22 |
| In-app payments | 22 | 22 |
| Shopping list | 14 | 14 |
| Real-time messages and calls | 32 | 32 |
| Geolocation integrated facility | 26 | 26 |
Focusing on other aspects of your business:
Outsourcing your app development task to Indian development companies gives you room to channelize your energies on focusing on other aspects of your business which are also very much important.
Getting more flexibility and scalability:
Indian development companies are efficient enough to look after your urgent requirements on app development. This flexibility will help you to solve issues for other requirements such as you want the company to fix the bug errors for you. It will be done by them instantly. And the companies are capable enough to deliver the project within your pre-defined task deadlines when you're running on a tight schedule. This will form a trust basis on mutual parties in the longer run.
Time Zone Advantage:
Indian development team also do have set-ups overseas. In case of getting any requirements done or fixing any issues, the already vast team can be accessible from other frontiers, if something urgent comes up. If the Indian development team is working in rotational shifts, then you don't need to worry about, up-scale app development projects would continue getting developed round the clock.
Top food ordering mobile app development in India
We curated a list of Top 20 Food Ordering App Development Companies: so you can find your trustable app development partner easily. Let's check out in detail the top 20 food ordering app development companies that have made a remarkable presence in India:
1. EngineerBabu
EngineerBabu dated back its origin 5 years ago having a crafty team of highly skilled developers, designers, strategists and is headquartered in Indore, the Cleanest City in India.
The development of products is handled and managed with extensive care by the experts' engineers who also empowers Google through Angular, Kubernetes language, etc.
The company helps various start-ups to find an accomplished foothold in the marketplace. The engineers are always helpful to be there for the start-up owners to understand their requirements and incorporate the suggested user-functionalities on the development of their food-ordering apps.
EngineerBabu develops innovative and customized food-ordering apps for several restaurants and food joints. It provides a unique interface where a customer not only gets a pleasing experience in the form of ratings, reviews and customer chat forums- an inbuilt functionality where the customer gets a sense of accomplishment from the restaurant he/she is ordering.
EngineerBabu values every business and takes time to understand their needs and requirements before onboarding with the project of food-ordering app development. So, far now EngineerBabu has served various esteemed clients from across the globe.
Foodappsco is one of the premier online food ordering app development companies which operates through a division of "FABIAN TECHNOLAB PRIVATE LIMITED". Foodappsco is an offshore digital solution provider that provides food ordering app development services across the globe for the past seven years. The highly skilled team of designers and developers work dedicatedly in developing web & mobile app solutions for the Food Industry.
The company has years of experience in developing food ordering mobile apps to cater to the various type of needs of Food Establishments. One such app is the White Label Food ordering app, which has been implemented with Beacon Technologies for creating a strong branding presence in the market.
Founded by experienced e-commerce professional, Infigic is a premier e-commerce agency that specializes in mobile commerce app development. With a team of highly qualified mobile commerce app developers, finding and implementing the best-proven methodologies become easy when it comes to launching the mobile food ordering app and getting the updates whenever needed.
Infigic has been one of the top mobile app development companies in India for food ordering for years and is the preferred choice of mobile commerce agency for most of the businesses across the U.K., U.S., India, Australia, Canada & New Zealand. Infigic develops food ordering apps for both Android and iOS platforms along with a powerful backend.
One such app developed by Infigic technology for ordering sweets online is which enables customers to online sweets at their doorstep.
4. Indglobal
Indglobal is a premier IT company for Food ordering app development in India. Their highly-skilled engineering team is always there to develop the most effective food ordering mobile app for the clients businesses. The company offers a wide range of Food ordering apps development for IOS, Android, Windows platform and build customized apps that can satisfy the requirements of an individual client. The company is specialized in developing a large number of online portals which includes an Online Food ordering apps portal. In order to make the right food ordering mobile app, the company provides a platform to connect the customers and the restaurant seamlessly and get the orders delivered and managed in an appropriate manner. Businesses want to have good quality food ordering apps to get the orders delivered in the best possible manner.
5. WeDigTech
Pranay Mathur founded WeDigTech in 2008. It is a leading mobile app development company in India. The company works towards a mission and focus on expanding its horizons to incorporate the current trends and Technologies to offer holistic solutions.
WeDigTech is also one of the mobile food ordering app development company which works towards providing rich features and customized on-demand food delivery solution to the businesses.
MISRII, India's Homemade Food Community developed by WeDigTech is an Independent food delivery app that brings together hundreds of chefs to provide the tastiest food to its customers in a more convenient and user-friendly way.
Explore IT Solutions Pvt. Ltd is one of the leading best food ordering app development company in India that offers state-of-the-art software solutions which are easily adaptable to implement. The company works with its specialised mobile app development team which works closely to understand the requirement of its clients and provide ultimate solutions for it
Potafo is one such food ordering app developed by Explore IT Solutions which is based out in Calicut wherein every Keralite loves to order delicious cuisine of a variety of choices at their doorstep. Potafo is free to download using IOS and Android applications within few clicks.
Enuke Software is a leading food ordering app development company which provides the interactive and user interactive custom food ordering mobile application for the businesses. The app is created in a manner in partnership proposition with restaurants, food joints, and food aggregators to unite together on a common platform where customers can easily find them in order to satisfy their taste buds on the basis of their particular cuisine, location and budget.
The proficient web developers of the company develop the food ordering apps in a more interactive and appealing way that provides maximum chances of customer visits on such apps.
Enuke Software Pvt. Ltd. holds expertise in developing food ordering apps. Travel Khana – Train Food Service is one of their build-up food delivery mobile application. Through the Travel Khana, the company offers the businesses various technical solutions that can meet their time requirements.
Alongside developing, designing and testing the food ordering apps, the company seeks to offer their clients the most useful business advisory and consulting solutions that assist them to expand their food ordering application reach to smartphone users.
Fablian Technologies is one of the best web development companies in India and also one of the mobile app development companies in India which serves its global clientele & around the USA, UK, Germany, Canada, Singapore, Australia, Dubai.
Fablian team has various domain expertise in every aspect of the online digital world and also offers smart solutions for restaurant owners in the form of developing branded restaurant app, food delivery & takeaway app, table reservation app and order taking tablet apps.
The company provides innovative and profitable food ordering app solutions for Restaurant which includes popular features like Broadcast nearby offers, food ordering, earning of reward points by the customer on each wireless check-in/visit to the restaurant, dine-in registration, digital food menu, delivery app, real-time tracking of online deliveries, push-notifications and much more.
All Fablian restaurant apps are integrated with Smart iBeacon Technology.
9. Peerbits
Peerbits was started seven years ago by four like-minded technocrats. In 2015, Peerbits was nominated as the best mobile app company in Gujarat by GESIA. The company has a team of skilled engineers who are committed to working with excellence in providing its clients with in-app food ordering solutions at the full convenience of their customers.
The company streamlines its food-delivering system with a food ordering app for your restaurant business to ensure the reachability of meals on time to its customers. Peerbits also offer a smart kitchen dashboard UI for streamlining the orders -receiving, processing and serving processes. It also offers an integrated application to connect with a big monitor where all the orders can be viewed and managed. This way it helps the businesses to reach the scalability in their revenues and profitability.
Eat 99 and Five oh are some food ordering apps developed specifically to make the restaurants reachable to every customer on a single tap.
10. Endive Software
Endive Software is one of the best app development companies which also provides web development services with a unique set of technology services to various concerns over a universal domain. The Endive Software has a proficient skilled team of developers and professionals who have adequate expertise in the latest innovative technologies and are proficient enough in delivering state-of-the-art web and app solutions for your every enterprise-specific need.
Endive has a built-in food ordering app named "Dishpal" that is compatible with both Android and iOS. Using this app, the customers can order their delicious menu from a wide array of restaurants located in their neighbouring area. Like Dishpal, the company is also committed to providing on-demand food-ordering app solutions that give a common ground for the restaurants and customers for the facilitation of their needs.
11. Restro App
RestroApp offers a common flexible pedestal to food and technology by helping businesses to get their own mobile application. The company aims towards bridging the gap between restaurateurs & their customers.
RestroApp empowers many small businesses with the power of technology. The company helps them be contemporary businesses that enable the customers to have the convenience of online food ordering and getting the food at their reach, right from their smartphones.
La Pino'z Pizza, Take It Easy, Big Chef and Town's King are the most popular food ordering apps designed by Restro App.
12. Peppy Ocean
Peppy Ocean is an accomplished team of software developers who are packed to offer innovations and technologies for delivering the best result to its clients. The software development team is focused on delivering the best professional results with a guaranteed ROI.
Being a solution provider of every kind of industry, Peppy Ocean offers an interface in the form of food ordering apps that can connect food outlets and restaurant owners with their neighbouring customers.
The company's on-demand food delivery app development named "Chefsy" features the best-in-class facilities wherein the users can not only order their favourite menu by the click of a button but also has the power to rate the menu and the restaurant tried by them. The company develops the food ordering apps as per the client requirements so that they can scale their revenue streams and upgrade their services.
Founded in July 2010 by Rakesh Patel is one of the leading mobile app development companies in India. The company has more than 140 developers working on mobile technologies in state-of-the-art development centres, each in India, the USA, and Canada. The company is dedicatedly involved in steering the ship of creativity to create mobile solutions that solve the real-life problems of businesses and their customers.
Spaceotechnologies highly skilled engineering teams are committed to designing and developing native on-demand food ordering apps on both Android and iOS. The company has developed "Fungry" a common platform that builds up the connectivity of the restaurant with its customers through food aggregators. The company has developed 40+ on-demand solutions for the food delivery industry.
Mobisoft Infotech is the leading global digital product development company. The company has collaborated with businesses of all sizes to build, improve and scale products throughout platforms that optimize disruptive technologies and combine engineering, design, and innovation to make the businesses successful.
Mobisoft Infotech team is highly skilled enough to develop an on-demand food-delivery app that seamlessly connects foodies with the restaurants in the neighbouring areas with a branded food ordering apps like GrubHub. It also specifies the custom integrations and features as per the client's requirements. The company provides an UberEats clone app solution to help businesses instantly connect food lovers with nearby restaurants within minutes.
15. The ninehertz
The NineHertz has the cutting-edge over designing online food delivery apps and provide restaurant mobility solution that generates a perfect combination of technologies and serves the purpose of business requirements which also focuses on the users' perspective and choices. Expanding their business reach with a strong, accurate and easy to navigate application, the company brings high ROI and user engagement to their business. Brew Bistro is one of the food ordering apps developed by the company.
16. Verve Logic
Founded by Mr Abhishek Jain after having significant expertise in the designing world. Verve Logic is one of the mobile app development companies that cater to the services in different verticals of the digital marketing world – spanning from Website Development to graphic designing.  Presently, the Verve Logic offices are sprawled across major countries of the world -India, USA, UK & Dubai.
Verve Logic also offers a food ordering app solution to their clients so as to ensure that the food reaches the customer from the restaurant in just one tap. The highly skilled engineers of Verve Logic are always there for the businesses to develop the food ordering app as aligned to their expectations. They design highly interactive food ordering apps both on the iPhone app and Android app. Amongst their product portfolio – FirstMeal App has been designed by Verv Logic to make the favourite menu reachable to its customer's doorstep.
Master Software Solutions is an ISO 9001: 2005 Certified web-development company with a strong squad of 90+ highly educated and qualified IT professionals. Founded 7 years ago by Mr Ravi Garg, the company have a global clientele that ranges from small startups to large enterprises. Presently, catering to more than 50 countries for software, web, mobile app for food ordering development. Such as, in the US, Canada, Australia, South Africa, Singapore, France, Germany, Indonesia, Kenya, Malaysia, United Arab Emirates(UAE), etc. The company has developed the "Food Delivery" app which is compatible to download in all iOS and Android applications.
Sparx IT Solutions' is one of the android app development companies in India which has lately introduced the concept of online food ordering or booking app development services. It helps the brands to stretch their presence to their extended client base. Their mobile app development services weigh much on features and are budget-friendly to your pocket. The company implements one of their strategies with every restaurant app development service. Every food ordering app development service is for providing an effective end result. It could meet the respective needs of the clients.
Spark IT Solutions extends the guarantee on quality assurance. It becomes possible with the availability of experienced developers that augments the revenue stream of their clients. Home meal, Grocroot, Zaaroz, I'm So Hungry are some of the food ordering apps developed by the company.
Founded by Sathish Kumar Settu in the year 2012 with a 3 Member Team. Alongside,  the mobile application development in 2013, Settu started a new product "Foodroid – A Complete Solution of the restaurant. The company has worked with more than 350+ Applications across the World, in specific US, UK and Middle East.
The company has a full-fledged team for a Food ordering app development company. It connects foodies with their favourite restaurants with customized features. Munchbox is their food-ordering app project that the company can cater to its customers while they travel.
20. Dev Technosys
Dev Technosys is a leading highly accomplished web/mobile app development company. With a legacy of offering bespoke web/mobile app development solutions to several food ventures. At Dev Technosys, the services and solutions are offered by the company. It helps you stay on top of the industry by improving your customer reach. The company provides services that support you in managing your business better. Along with services such as logistics, inventory management, loyalty, feedback, order tracking, delivery, ratings, and reviews, etc.
At Dev Technosys the converging focus remains on delivering the restaurants and food joints the best-in-class products that makes you a business leader in your segment.  Honestbee is one such food ordering and grocery app which the company caters to its customers on time in demand.
Conclusion
The start-ups who are just eyeing developing food-ordering apps should categorically plan their food delivery model as well as budget so as to get started successfully in the market. Proper laid out plans along with venture capital funding can give wings to their entrepreneurial dreams. To support a successfully reach out to the maximum customers at their location doorsteps. With the appropriate analytical tools and restaurant management system, your business can efficiently take care of your finances and serve your customers better.
Due to the immense growth potential of the food processing industry, most of the food start-ups have developed distinctive food arrangement plans. Today which just shows the exemplary achievement of the online food ordering app industry. It has become a huge hit and is now well sprawled in the market as more. However, more companies are adopting this trend.
Keeping this into consideration, reputed Indian development companies like EngineerBabu always effectively keep their business goals aligned with the expectations of each restaurant business and food joint. The company ensures that every restaurant and food joint should have the right functionality in their on-demand food ordering apps that can make their presence reachable to their neighbouring community along with the scalable stream of revenues and profit.