Table of content
Amazon, Flipkart, eBay, and Shopify the foremost trending E-Commerce applications that folks generally used for online shopping. Currently, their way to do the business is different from traditional business methods. Most businesses build an E-Commerce app like Amazon for their own shopping applications to sell a variety of stuff online. The trend of online shopping is increasing because nobody wants to waste precious time standing in long queues at the market place and that they don't want to attend for their turn during payment. Well, with the E-Commerce applications, all are often ready to do shopping from home without wasting fuel and time.
Are you thinking of building your own business application to sell the things online? If yes, then the priority is to understand the way to build an E-Commerce app like Amazon and make an application for it. Application is important to try to do business online either you'll create an internet application or mobile application otherwise create an application for both web and mobile.
Amazon is the simplest player among all the shopping applications like Myntra, Flipkart, Alibaba, and Snapdeal. To build an E-Commerce app like Amazon, it is vital to line the business goals first with clarity.
Market Growth of 'Amazon'
If there's one thing that Amazon's founder and CEO Jeff Bezos is legendary for, it's his relentless specialize in long-term growth. Having ignored critics for years, Bezos' willingness to sacrifice short-term profits for long-term success has paid off success, turning his company into a worldwide powerhouse and making him the wealthiest man on the planet.
Not only has Amazon cemented its position because it is the leading online retailer in large parts of the planet, it's also built an industry-leading cloud computing business, established itself as a serious player in music and video streaming also as within the booming smart speaker market.
The company has achieved all that by rigorously re-investing most of the cash it makes. During the last two years, Amazon's net income exceeded $10 billion annually. This indicates that the company is effectively making more money than even Jeff Bezos with his notorious long-term vision can spend. The below chart illustrates Amazon's strategy by contrasting the company's explosive revenue growth with its relatively modest profit growth.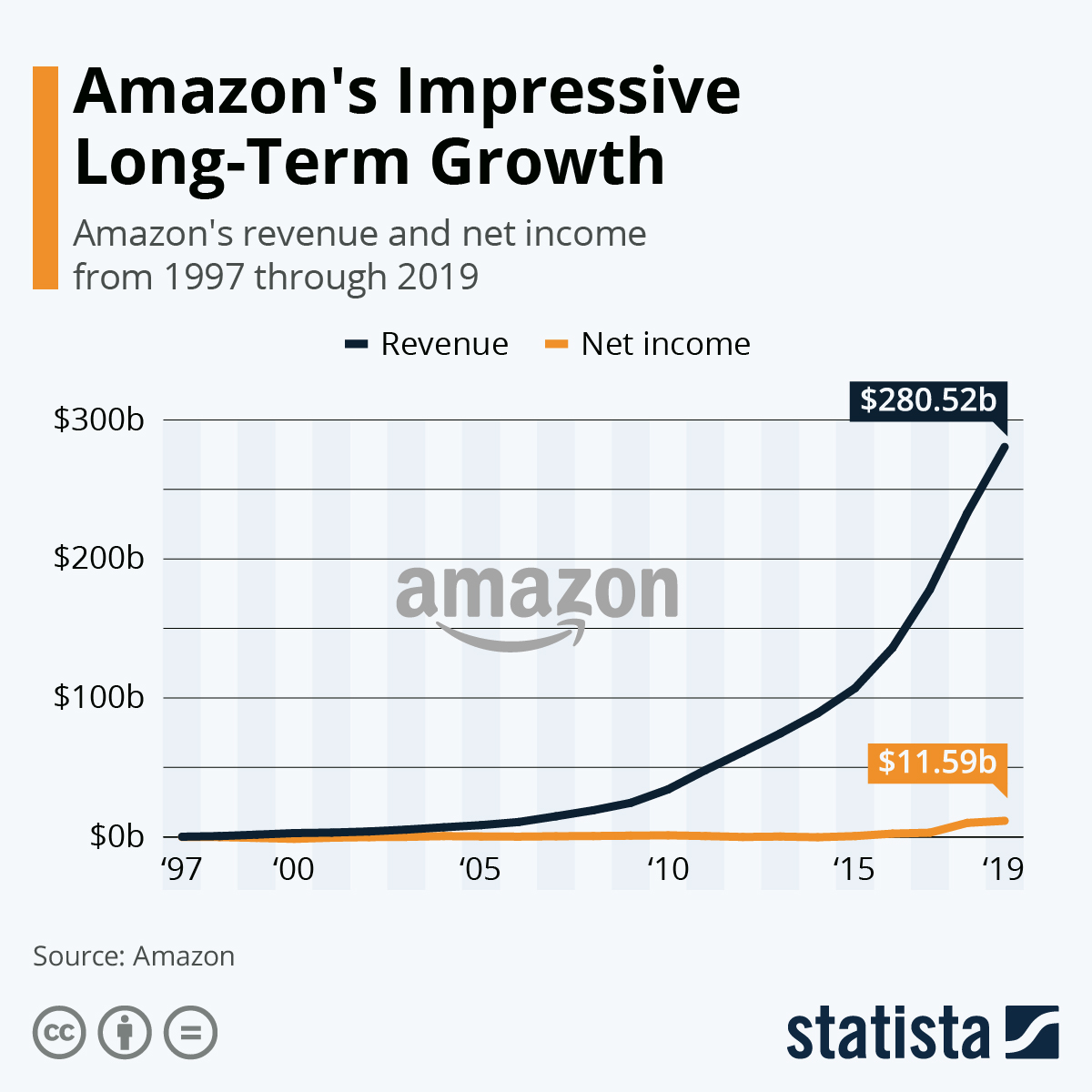 Business Model E-Commerce Companies like 'Amazon' Follow
Amazon's business model is an E-Commerce model, but over the years it's made acquisitions and created a diversified portfolio of business models and revenue streams.
In Q4 2019, Bezos said the amount of things delivered via free one-day and same-day delivery quite quadrupled within the holiday quarter, without providing specific numbers.
As a result, Amazon rejoined the $1 Trillion club (temporarily) on the back of blockbuster earnings in 2019.
Interesting fact: Amazon is the biggest advertiser within the world. Amazon has hiked its ad expenditure almost 20-fold in a decade from $593m in 2009 to $3.3bn in 2014 and $11bn in 2019, according to company filings.
Their record Q4 also saw strong growth in Prime subscriptions, seeing Amazon achieve over 150M paid Prime subscribers globally for their membership program.
In Amazon's 2019 annual report, they recorded income of over $280 billion and net income of over $11 billion. The biggest proportion of sales, fifty per cent, came from their online marketplace.
What is Amazon's Business Model?
The Amazon business model, which was initially supported by E-Commerce, has changed and now incorporates entertainment, music, cloud computing, meal deliveries and far more.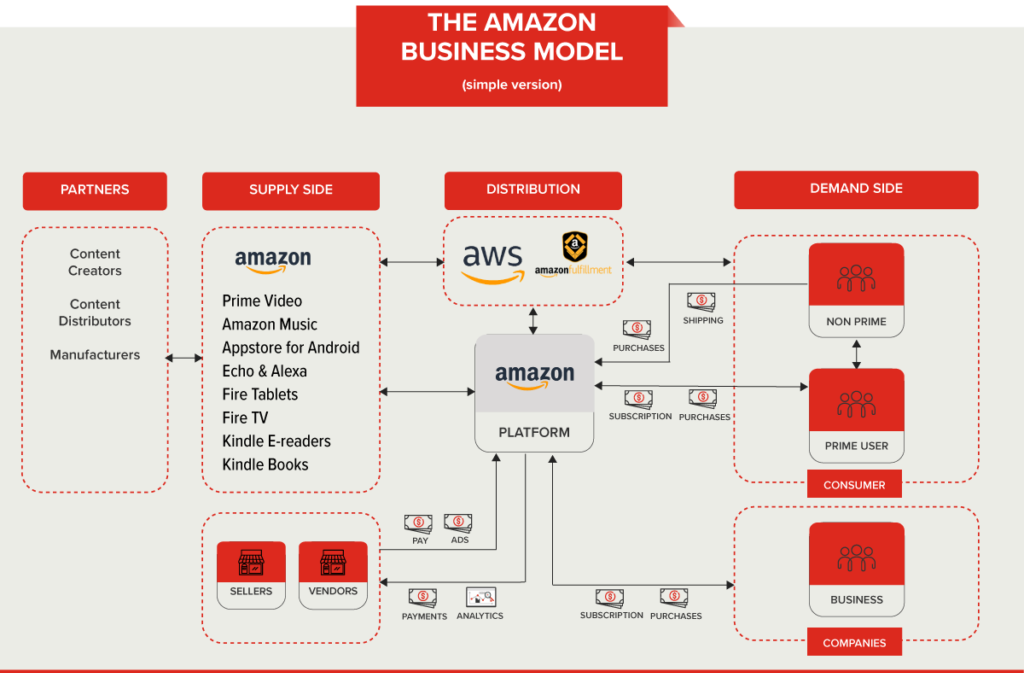 On July 5, 1994, Jeff Bezos incorporated the company that went on to become Amazon. He must have seemed crazy at the time, only a little percentage of the population had the web and it had been a far cry from the speed and style we have become accustomed to today.
At the time only 0.447 per cent of the planet had access to the web however, adoption accelerated and by 1995 it reached 0.777 per cent.
Now, there are more than 4.5 billion users on the web, whereas the social media users have crossed the 3.8 Billion figure.
From a comparatively simple single-sided E-Commerce platform, Amazon has grown into a posh digital ecosystem. The Amazon business model isn't a single entity, but rather a portfolio of business models.
Amazon has rapidly changed, adapted and established itself together with the most important companies in history. Along with AWS, Amazon has a global reach and distribution capability offering both digital and physical products.
As an example, Amazon has harnessed its technology to rework the retail experience with Amazon Go stores. Even traditional retailers like Walmart are not any longer safe from the threat of Amazon.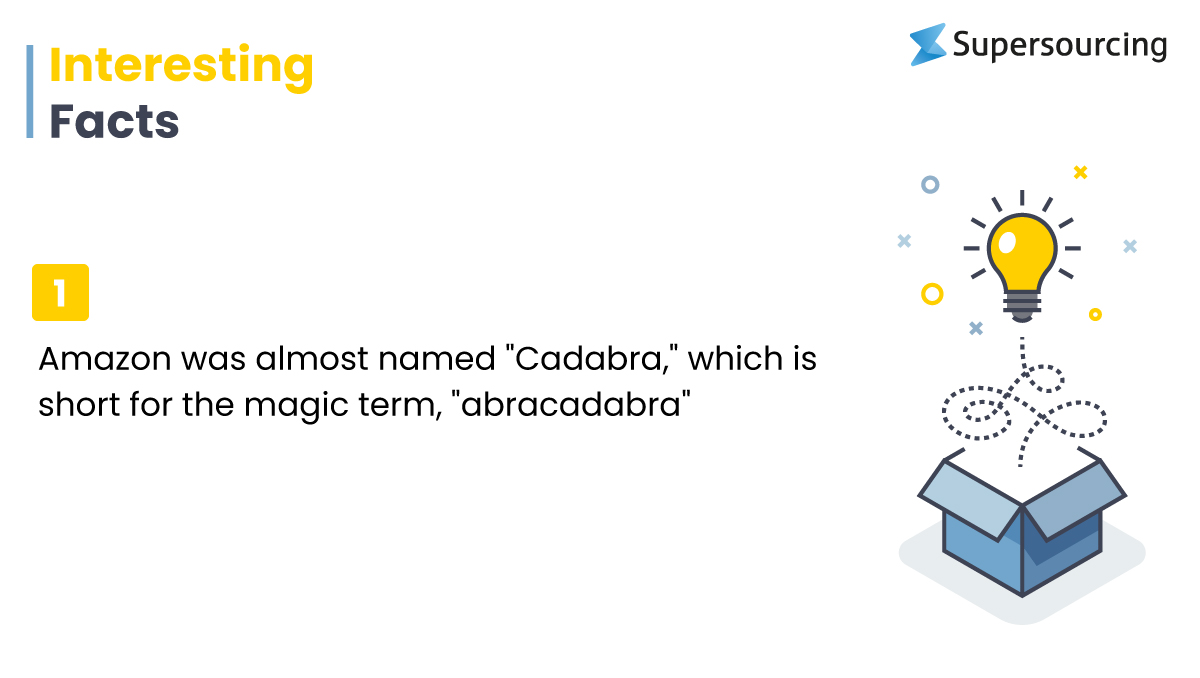 Amazon Business Model: Revenue Streams
1. Amazon Marketplace
Amazon's core business model remains the heartbeat of its revenue. The majority of Amazon revenue (over 50%) comes from the marketplace – sellers and customers.
2. Amazon Books
At just one occasion the bulk of the revenue generated came from the sale of books. Although still significant, the strongest category is now consumer electronics. Amazon marketplace though features a large book depository, audiobooks on Audible and Kindle e-books.
Amazon Music and Video Business Model includes renowned websites like IMDB and twitch.tv. The Music and Video business of Amazon are also increasing the revenue generation. These contribute to the subscriptions revenue stream you'll see within the financial report below. IMDB supports people having the ability to profile actors while watching films and hence delivers a more unique experience.
A little less known part of the Amazon business model is Amazon Game Studios. Amazon Digital Game Store also sells third-party games also.
Much of what we build at AWS is predicated on taking note of customers.
Amazon features a strong range of Fire products which include phones, tablets, TV and Mobile OS.
7. Amazon Prime
Amazon Prime's major source of revenue is subscription; is a part of the Amazon business model. The 2019 result shows a rapid hike in Prime memberships. Amazon Prime provides services of Prime video which is in direct competition with Netflix, Hulu and HBO NOW.
Amazon Business Model – Prime Members Spend More
1. Amazon Tickets
Amazon Tickets was launched in the UK in 2015 and has since expanded to the US, Asia and the rest of Europe. Its global ticketing business remains a piece ongoing . However, this fits with their overall entertainment part of the business model. Amazon Tickets vision – "Our vision goes beyond just selling tickets, as we aim to disrupt the whole live entertainment experience, including what happens before, during, and after the show."
2. Amazon Patents
Amazon holds quite 1000 patents many of which are licensed by other companies.
3. Amazon Advertising
The Amazon Advertising platforms deliver sponsored ads, display, and video advertising.
Not many realized the size of Amazon's advertising platform. In 2019, the majority of the 'other' revenue consisted of ad revenue which grew by 39% vs 2018 to $14 Bn. While comparing with 2019, the Income of Facebook from Ad revenue is $69.65 B and the revenue earned by Google's Ad was $134.8 billion.
Amazon's advertising platform is quite powerful because the platform serves high-purchase intent among peoples. Everyone knows that the shift from advertisement to a landing page or promotional page, involves a higher risk of losing traffic and a handsome amount of potential customers.
However, with Amazon, you are already at the place where you will buy plus people know and trust Amazon. No clicking away to seek out another website, landing page or product. Advertisements are usually a direct target to people who are already within the platform.
How Does Amazon Make Money?
Amazon makes money in five distinct ways. The majority of Amazon's revenue comes from sales on the most sites, either directly or through third-party commissions. Other sales come from AWS, physical stores and subscription services e.g. Prime.
In this section, we'll explore how to build an E-Commerce app like Amazon business model to generate revenue.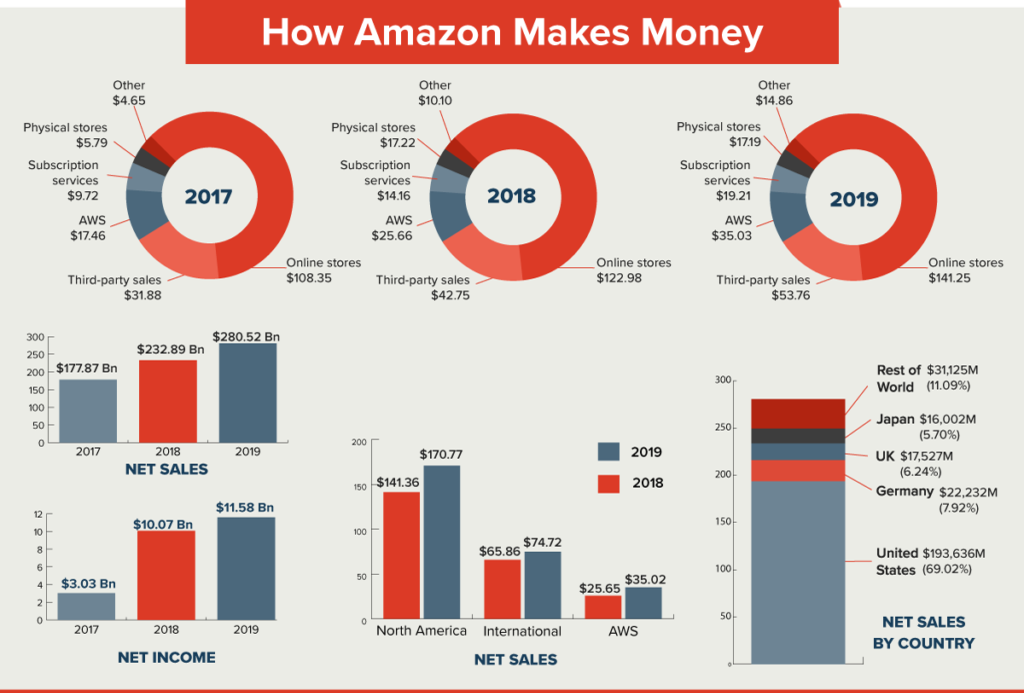 Amazon Service
2018

($M)

2019

($M)

Earn on Yr.

1. Online stores

122,987

141,247

15%

2. Physical stores

17,224

17,192

0%

3. Third-party seller services

42,745

53,762

26%

4. Subscription services

14,168

19,210

36%

5. AWS

25,655

35,026

37%

6. Other

10,108

14,085

39%

Net Sales
2,32,887
2,80,522
Amazon Business Model: The Financial Results
This is a brief break-down of what's included in each of internet sales results.
1. Online Stores
It includes sale of products and digital media content where the record revenue gross rapidly. They leverage the retail infrastructure to supply a good selection of consumable and sturdy goods. The goods have media products available in both a physical and digital format, such as books, music, videos, games, and software. The product sales include digital products sold on a transactional basis. The Digital product subscriptions used to provide unlimited view or use rights are available in "Subscription Services."
2. Physical Stores
Includes product sales where the customer's physically selects items during a store. Sales from customers who order goods online for delivery or devour at our physical stores are included in "Online stores."
3. Third-Party Seller Services
The Commission system and other relevant fulfilment and shipping fees, and other third-party seller services.
4. Subscriptions
Annual and monthly fees related to Amazon Prime memberships, also as audiobook, digital video, digital music, e-book, and other non-AWS subscription services. Amazon's standard Prime subscription rate is $119/year, which might translate into revenue of quite $17.8 billion, although the corporate offers discounted memberships for college kids.
5. AWS
AWS includes the global sales of computing, database, storage, and other required services.
6. Other
Majorly includes the sale of ad services, along with sales associated with other services offered.
Amazon Business Model: Jeff Bezos's Flywheel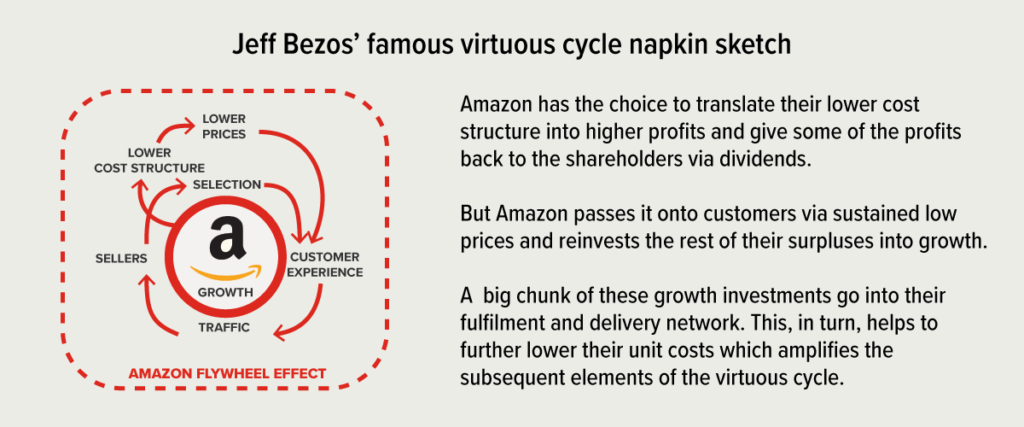 Amazon Business Model – Amazon's flywheel
"Because of our model we are ready to turn our inventory quickly and have a cash-generating operating cycle. On average, our high inventory velocity means we generally collect from consumers before our payments to suppliers come due." – Amazon Report January 2020
Amazon's Cash Machine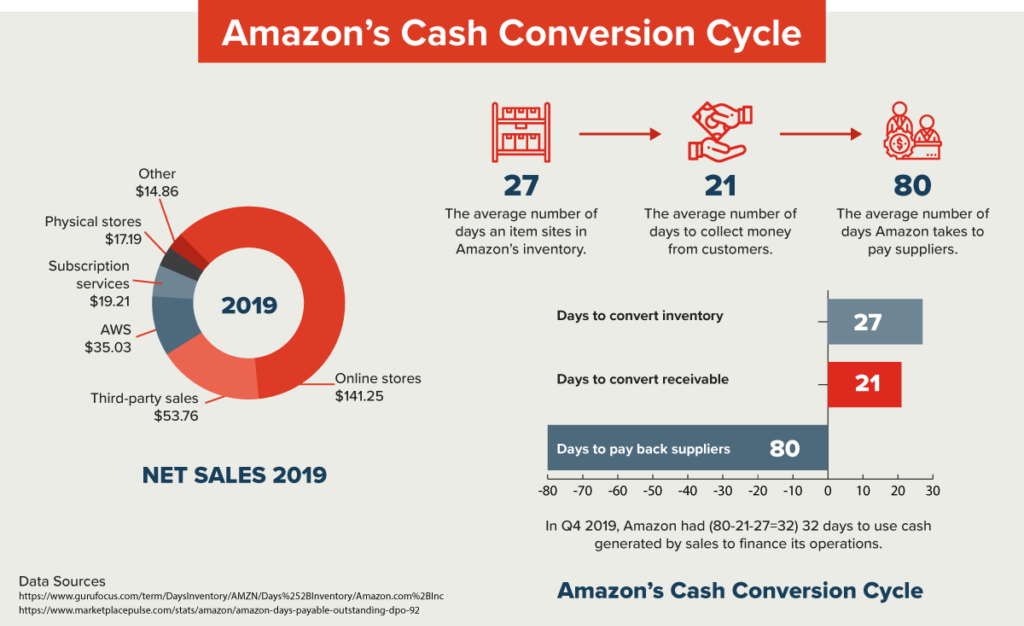 Amazon Business Model – Cash Conversion Cycle
Amazon benefits from its cash conversion cycle. In simple terms, Amazon receives payments from its customers before paying for the merchandise .
Because of our model we are ready to turn our inventory quickly and have a cash-generating operating cycle.
Amazon annual report 2018
By using days payable for suppliers, Amazon is in a position to fund their growth using suppliers' balance. Why is this important? It allows Amazon to possess the cash to take a position in other things and make use of the cash instead of being engaged in inventory.
There are three aspects to require under consideration the cash conversion cycle:
Days Payable Outstanding (DPO)

Days Inventory Outstanding (DIO)

A Days Sales Outstanding (DSO)
Amazon's DPO
Days Payable Outstanding (DPO) may be a standard accounting metric, showing the company's average payable period. Days payable outstanding tells how long it takes a corporation to pay its invoices. The formula to calculate DPO is: ending accounts payable/(cost of sales/number of days).
Last reported quarter 2019 Q4 it was 79.76, up by 3% year-over-year from 77.81.
Amazon's DIO
For the three months ended in

Dec. 2019

was

$19,632 Million

.

Amazon.com Cost of Goods Sold for the three months ended in

Dec. 2019

was

$66,169 Million

.

Amazon's DIO:

Hence, Amazon.com days inventory for the three months led to

Dec. 2019

was

27.07

.
Amazon's DSO
Days Sales Outstanding (DSO) is a general accounting metric, defined as the average number of days a company takes to collect money after a sale. A low DSO price means that it takes a company a few days to collect its unclaimed accounts.
The last quarter reported for

2019 Q4

was

21.72

, an increase of

3%

annually from

21.02

.
Amazon Business Model: Value Propositions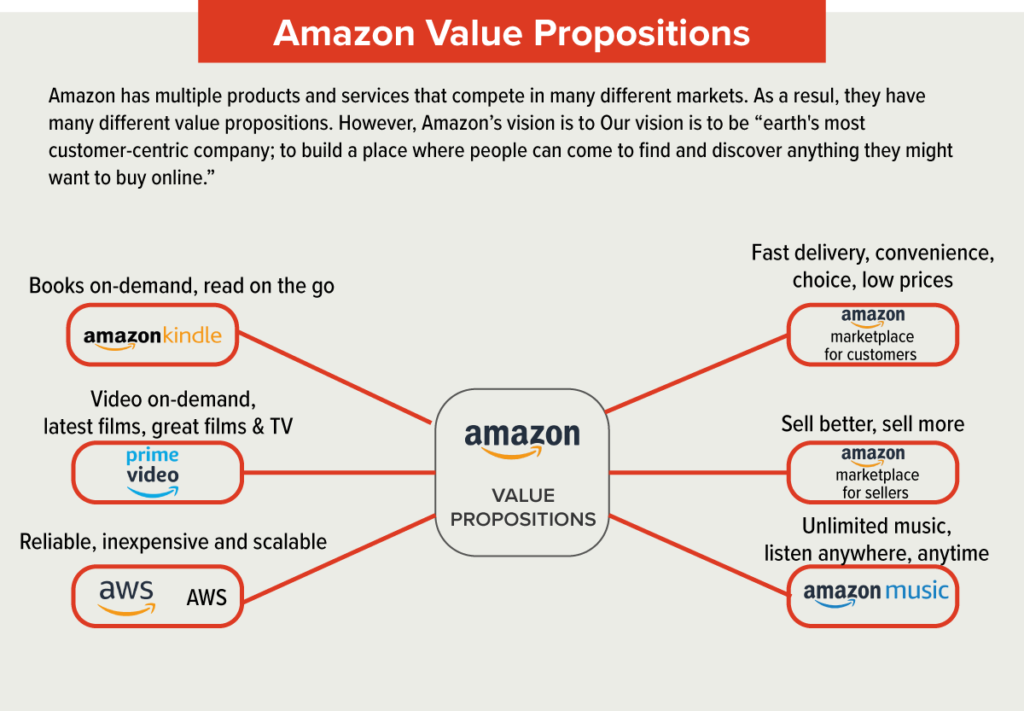 Amazon Business Model – Channels
The company spends a lot of money on ads. Advertising and other marketing costs for market products and services cost Amazon $ 6.3 billion, $ 8.2 billion, and $ 11.0 billion in 2017, 2018 and 2019.
In their SEC fulfillment Amazon says the goals of their communication strategy (not surprisingly) are to:
Increase customer engagement on our websites

Create awareness of our products and services

Improve recurring purchases

Improve product and service revenue opportunities

Strengthen and expand Amazon.com brand name.
Marketplace Strategies
Like many other platforms (e.g. Uber) the Amazon business model is increasingly relying on Artificial Intelligence. It is used to maximize profits through dynamic prices, product packaging and offer customized promotions and recommendations.
These are some of the classic marketing techniques to drive volume and growth. Amazon's business model relies on not only offering lower prices but offering prices that quickly reflect market changes and price changes. Amazon tracks prices across the web to find out its price point and that of its competitors.
In practice, as is common with many online retailers, very low prices for the most popular products, with less popular brands that control the high prices and the Amazon line.
1. Price Dynamism
Amazon makes millions of price changes every day. Some estimate, changing the price of 15-20% of their products per day. Strong prices are also called pricing, real-time pricing or algorithmic pricing where the price fluctuates according to demand, supply, competitive price, auxiliary product prices.
2. Price Rate Strategy
The E-Commerce service company points out that Amazon's "consistently low prices on the most viewed and best-selling products drive the perception among consumers that Amazon has the best prices overall".
3. Demand/Supply Price
It is assumed that commodity prices (supply) and demand affect a strong price. For example, when product spikes are sought in the short term, we, as a result of a promotional campaign, this can lead to price growth. Some accounts claim that Amazon stores additional profits from the Market product instead of transferring it to the seller.
4. Competitive Monitoring
Here is an example of how prices fluctuate in popular items changing within a day as each retailer regularly checks competitors' pricing and responds systematically.
5. Seasonal Prices
Up to 30% of annual sales are focused on the period between Black Friday and Christmas, and some categories are very popular this season.
6. Recommendations
Another trick is to integrate (sometimes with discounts) where Amazon suggests similar products you can buy, e.g. under "customers who bought this item also bought" to build an E-Commerce app like Amazon.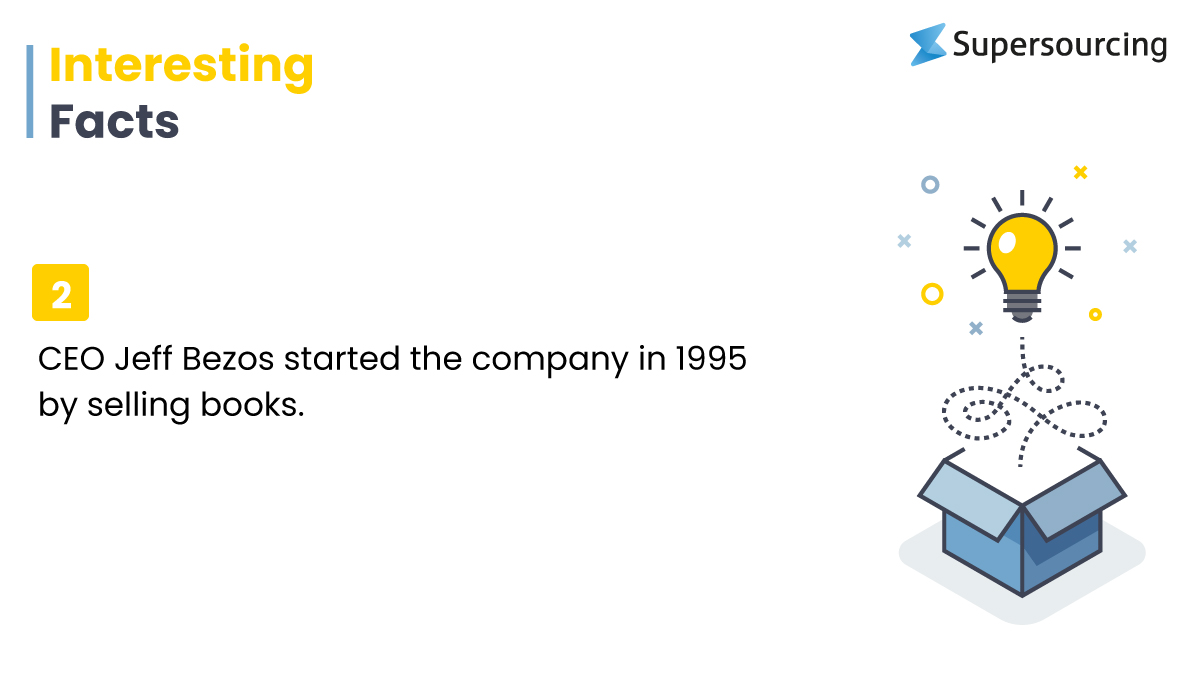 Features Required to Build a E-Commerce App like Amazon
Features and Functionality
The first method of app development is functionality and features. It is up to you to decide what kind of features you want, such as simple, advanced features to build an E-Commerce app like Amazon.
Simple and Important Features:
Mandatory features to build an E-Commerce app like Amazon development are:
User login and subscription option

User profile

Product categories

Exit process

Search bar

Payment Gateway
If you are looking for easy features to build an E-Commerce app like Amazon then the cost of building an app with basic e-commerce features that costs minimal on both iOS and Android.
Advance Features:
If you are looking to build an E-Commerce app like Amazon with advanced features like:
Dialog box

Product Reviews and Ratings

Push Notification

Social Media Integration

Product filter

Many payment options

Wishlist button and many more.
The cost to build an E-Commerce app like Amazon with the above features is even higher. We recommend that you start with a basic app and as long as you can get customer traffic and feedback then go for advanced features.
Requirement of Third-Party API to Build a E-Commerce App like Amazon
What is a Third-Party API?
An API is technically defined as a way of communicating between various software components with a set of tools and agreements that make your mobile app lend unique performance and data to other applications and services.
The API provides a library of resources that developers can use and provides an overview of what each one does. Developers do not need to know, for example, how the OS builds and launches a Chat function (just as you do not need to know how your pie is made). They just need to know that it is accessible for use in their application, thus saving valuable time and energy.
Join the Third-Party API Group
There are some common pitfalls to consider (e.g., security, customer side issues, slow loading time, etc.), but when fully tested and implemented, the benefits of using a third-party API integration far outweigh the risks. Some of the top reasons identified include:
Save Money –

Buying or getting coupon code is much cheaper than following built-in software.

Save Time –

Soup in nuts, creating a web app is a time consuming task. With customers thinking "I need you now", it's no surprise that many businesses choose to integrate third-party customized APIs.

Easy-Peasy –

APIs have stripped its rookie status among web users many months ago and established a reputation for ease of use with integration and plug-ins.

Designed for Tailor –

Most APIs are customizable, a useful advantage for your developers who may need to generate code during integration.

Compatible –

Collaboration makes the dream work. The apps are designed to jive third party integration with a wide range of development technologies.
Steps to Build a E-Commerce App like Amazon
Key Features of build an E-Commerce app like Amazon:
1. Market Planning and Research
Almost all businesses begin their work by analyzing the needs and requirements of the customer business.
The first thing you need to know is what customers want and what kind of product you want to sell? Do you want to sell all kinds of goods or something? If you want to sell all kinds of goods then create a management category so that customers can easily find the products they want to buy.
Analyze patterns and behaviors of the target audience. Know their basic needs, age, interests, likes and dislikes. This will help you make the best decision to build an E-Commerce app like Amazon with the best features.
2. Competitor Analysis
Once you've figured out what kind of goods you want to sell, the second thing is to get better information and focus on competition analysis. Create a separate list of all competing sites and find out why they are the first choice for consumers.
Never copy their features or business model, just take their reference and try to create your own best ideas and designs. With better ideas do in-depth research on how to build an E-Commerce app like Amazon and see what they offer and how to customers.
You can follow their marketing strategies, how they promote their use and use keywords to target audiences.
3. Choose a Platform
Android Development or iOS Development? By choosing a platform you need to do market research to make it easier to choose a platform for your target audience to use.
You can choose any of them, Android or iOS or both to build an E-Commerce app like Amazon development platforms, depending on the type of goods and target audience.
4. Advanced Technology Integration
Try to make a bad application and in this case, you should install future technology. You should know the latest technology and try to use your app on it.
For a better technical experience try taking information about Technology Stack. The technology stack will provide you with information on framework, frontend technology, backend technology, information, programming languages   and server side languages.
It's up to you which kind of application you want for sustainability: go for native application and if you want a better time to market the hybrid application.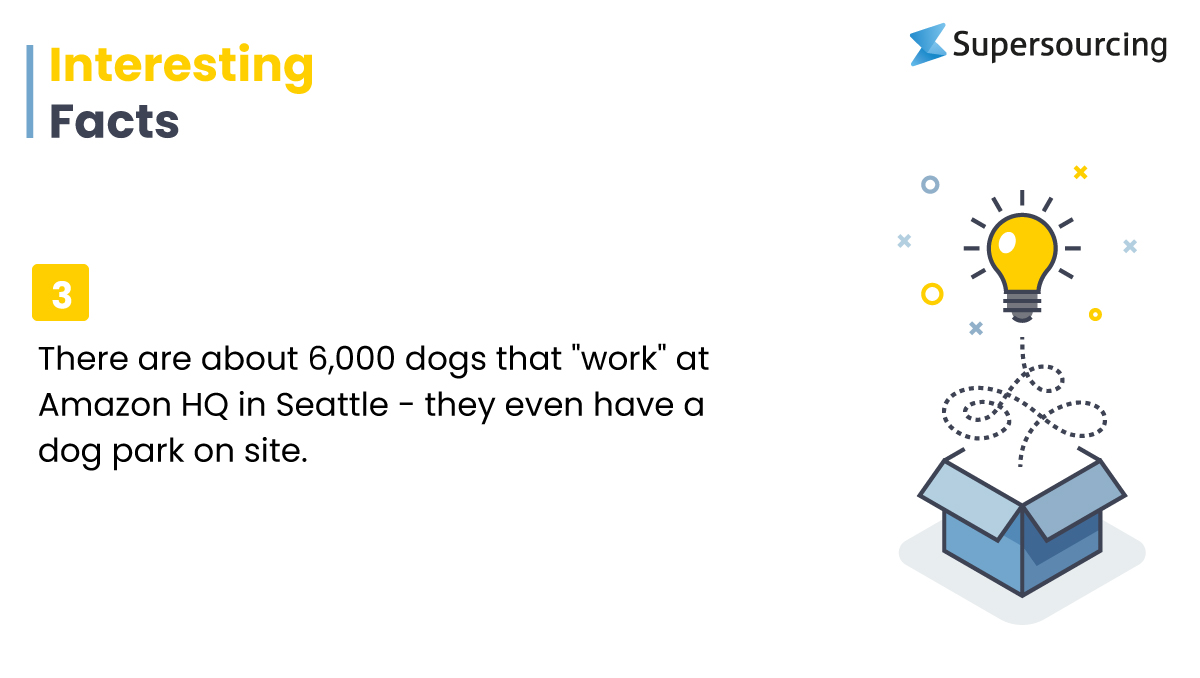 Why require Product Requirements Document (PRD) for Managers?
It is best to always have a complete picture of what is happening in front of your eyes. The PRD is an overview of the most important details needed for a potential project development. This document covers key objectives, implementation goals, expected outcomes, time required and other additional technical requirements.
Why does an effective product manager need a product document to build an E-Commerce app like Amazon? The main purpose of PRD is to define the product you want to build: from its objectives to features and functionality.
This document is not a product manager's secret as it should be shared with technology groups and businesses.
A well-designed PRD provides clear direction to product branding.
Wireframe to Build an E-Commerce App like Amazon
Every good website starts with a plan. Likewise a plan is required to build an E-Commerce app like Amazon. Developers call this a wireframe or site map (don't get confused with a site map .XML, and XML file that helps SERPs crawl and locate your site). It does not have to be an official document; it is simply a view of your site that will provide you with a guide(s) for your developers and where to start.
Just as a business plan provides potential investors with an understanding of your goals and offers. A site map gives the developer an idea of  what you are looking for and the information needed to meet your vision. You can create a sitemap on your own or work with your developers.
Here are a few questions to consider when designing your site to build an E-Commerce app like Amazon:
What individual pages do you want? What content will be on those pages?

How can you sort those pages into categories? (These sections can represent your homepage menu – if it helps to think about it that way.)

What is the page management section on your site?

How will the pages come together?

What pages and sections are important to your site and user experience, and which ones can be removed or merged?
Also, it is a good idea to connect with other groups within your organization. If you have an SEO and/or content team, their input will be important in building links and categorizing your pages to build an E-Commerce app like Amazon.
Sample Product Screens: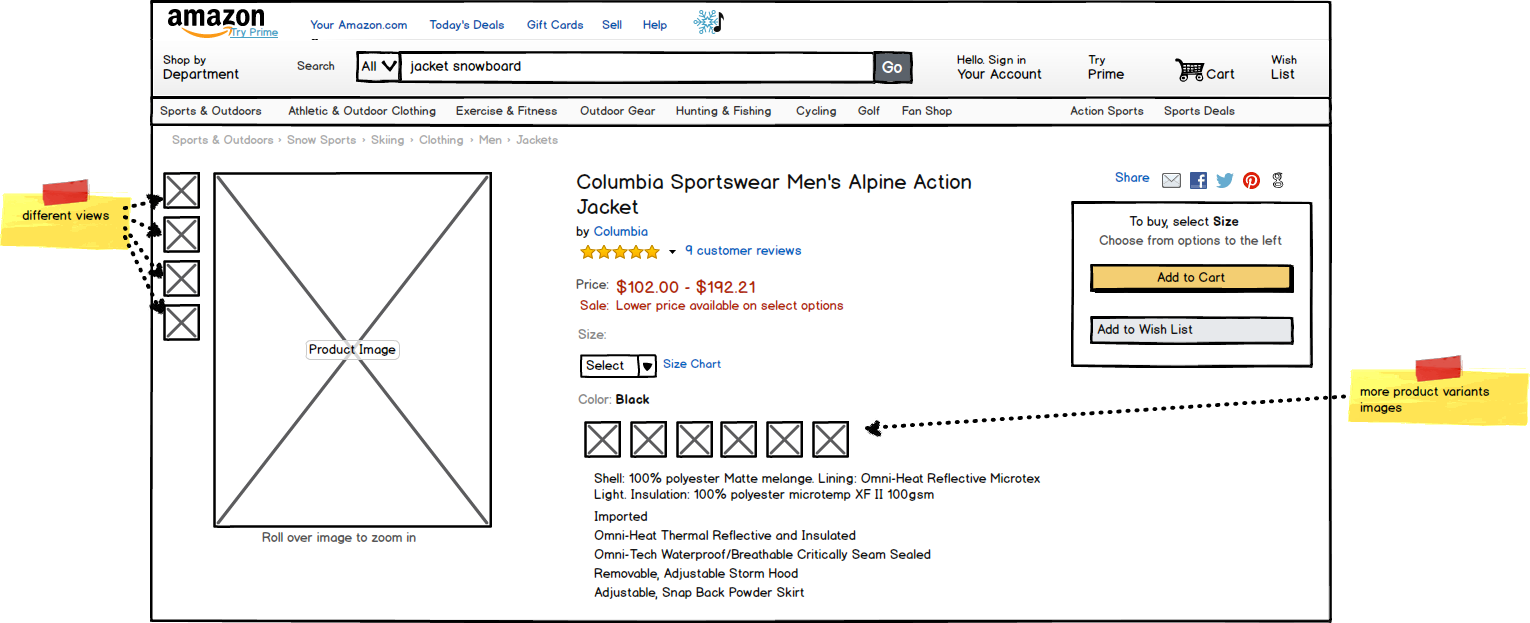 Sample Mobile Screens: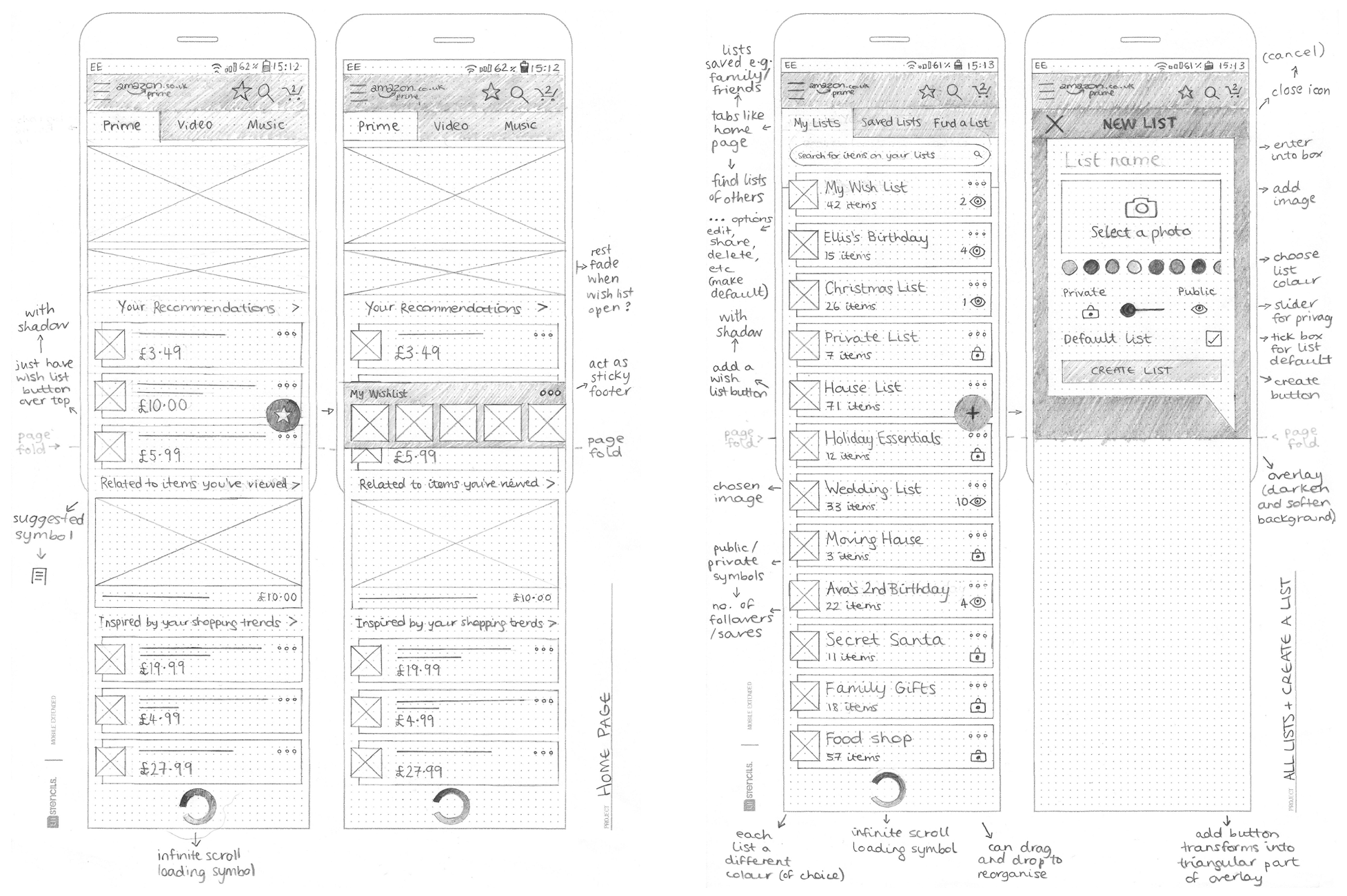 Designing Prototype
Prototyping is an experimental process in which design teams submit ideas in tangible ways from paper to digital. Teams develop prototypes of various levels of reliability to capture design and testing concepts for users. With prototypes, you can refine and validate your design to build a E-Commerce app like Amazon so that you can develop the right products.
Actual Prototype to Build an E-Commerce App like Amazon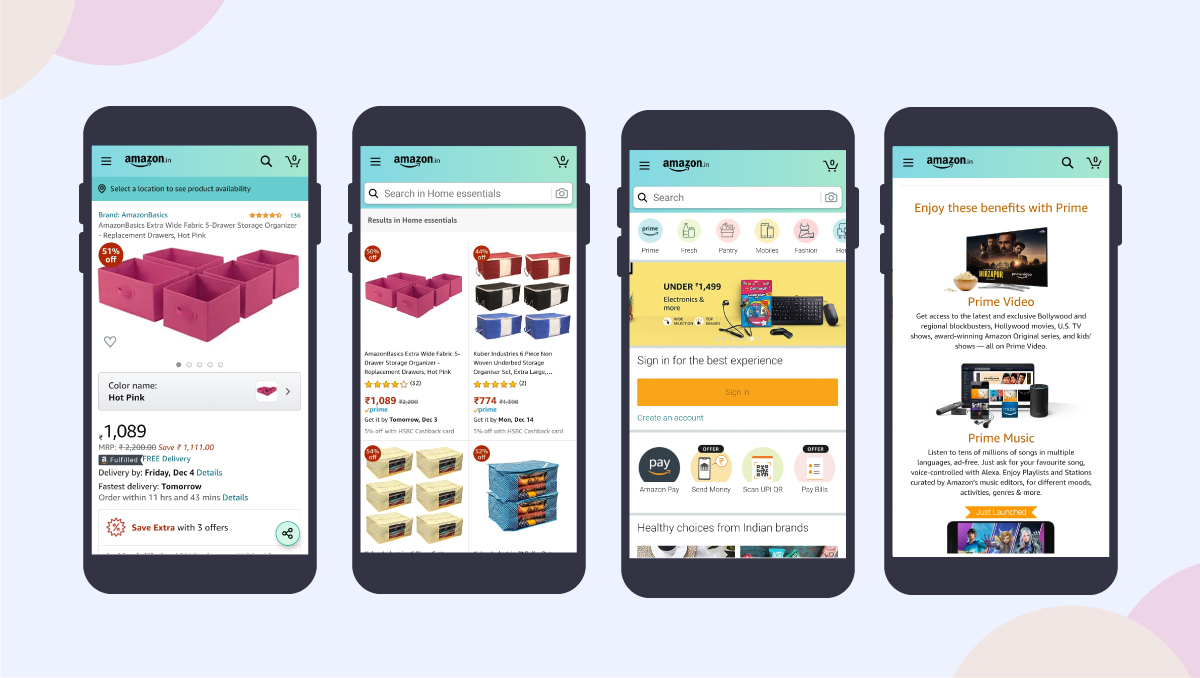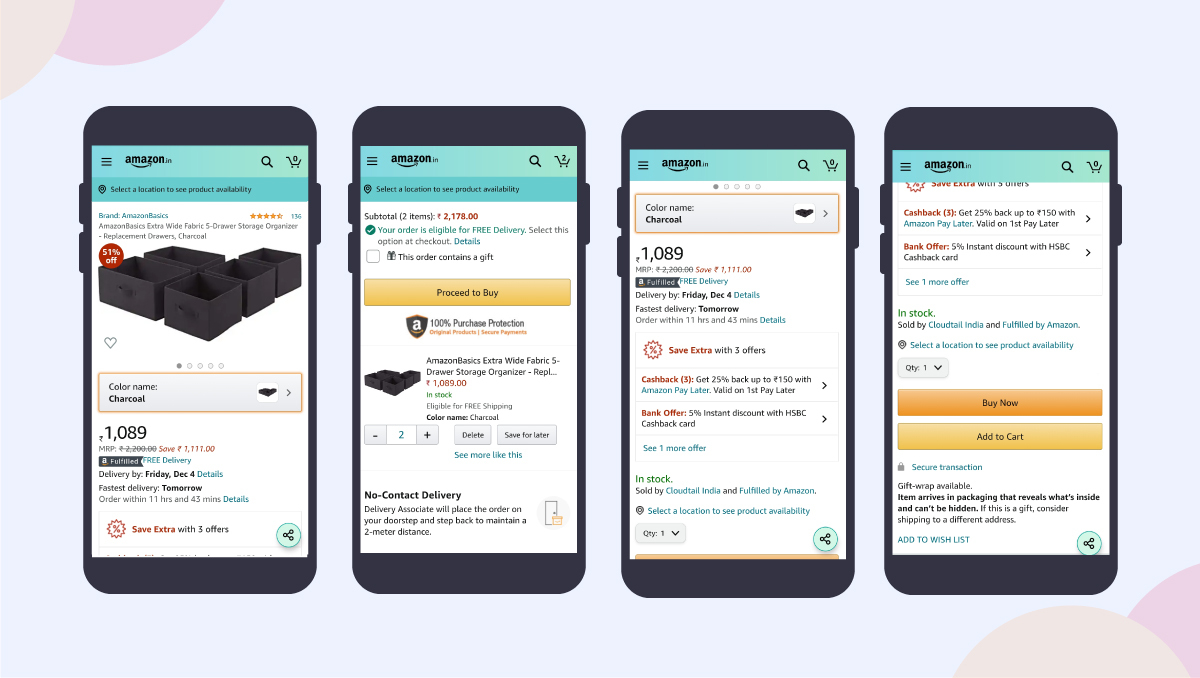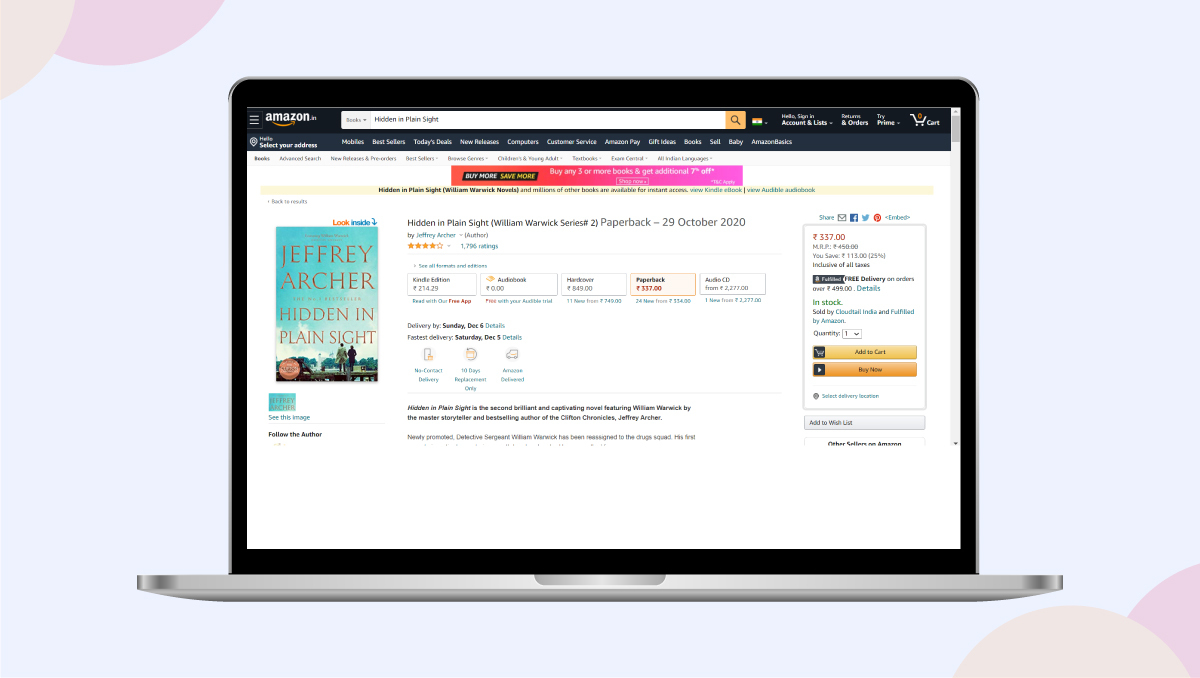 Some designers classify high fidelity as "mid-fidelity" (where prototypes can have basic digital communications or wire frames) and "high-fidelity" (when they are very close to the final version). Interactive prototypes produce very useful results in user testing.
However, reliability is limited – the vertical performance of the landing page, for example, is higher reliability than cut-out sketch users can walk. All in all, you should always be committed to reflecting the needs of the users in mind, especially in the eyes of the user.
Process of Software Development
The App Development initiative enables full-fledged design by software developers and comes in two parts:
1. Code the Back-End
Finally, after performing the steps outlined above, you can finally proceed to reverse the development and encoding. Remember that you need to complete the whole process with great accuracy to get the best results. You should understand that many parts of an app that works well depend on the performance of its background code. Backend is responsible for creating APIs, storing and retrieving data, making a lot of business rules.
The best ways to create a flawless backend to build an E-Commerce app like Amazon:
Developers can rely on one of two methods when it comes to backing up their app.
Background service providers are used

Creating a custom backend from the ground up
BaaS or Backend as a Service
Selecting one of the backend service providers allows you to use task automation, user authentication, automation backup data, social media login and much more. The advantages of choosing a BaaS over a custom backend are these:
Rapid development leading to rapid market launch.

There is no need for businesses to store cloud resources.

Cost savings as your engineers do not need to spend time on repetitive tasks.
Custom Backend Development
The only benefit of choosing to encrypt custom back is that it offers greater freedom for developers to integrate more functionality. Excessive costs, however, mean that many companies avoid spending excessive amounts of money with limited freedoms. Plus, if you're wondering how to build an E-Commerce app like Amazon in a short period of time, you should stick to reverting back to service providers with the best result.
2. Code the Frontend
Frontend development refers to the development of those parts of the app that consumers directly communicate with and engage with. It is probably the most important part where flawed coding is the key to success. In addition, anything you develop earlier should be eye-catching, providing a user-friendly and clean look.
However, before further development, you should understand whether you want to create a Hybrid, Native or Web application. When designing to build an E-Commerce app like Amazon, many companies choose hybrid apps, for the following reasons.
Hybrid apps are those apps with a standardization process common to both iOS and Android platforms.

Hybrid upgrades reduce your total cost of creating an E-Commerce app.

When there is no Internet, hybrid programs still work to ensure a better overall experience compared to web applications.
While native and web applications are also useful in some instances, you would do well to steer clear from them when designing to build an E-Commerce app like Amazon.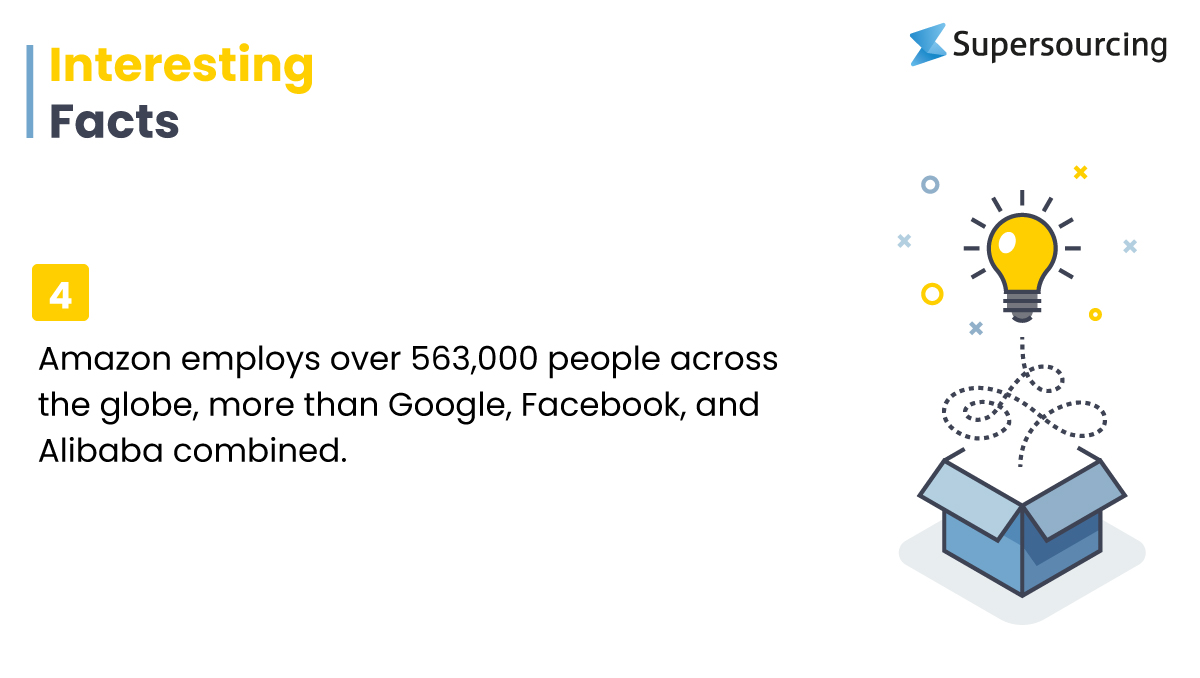 Quality Analysis & Testing
The workflow and testing phases of E-Commerce applications can vary depending on the method you are using, Agile or Waterfall. In total, the categories will include:
Demand Analysis:

Domain information is essential for accurate collection of needs. In the Agile model, key stakeholders including business analysts, developers and evaluators are involved in collecting needs and documentation.

Review:

Written requirements need to be reviewed and verified to ensure that it does not affect workflow.

Database Testing:

This is one of the most important aspects of E-Commerce app testing. It is done to ensure data integrity, data upload, migration, stored steps, validation and legal testing.

Integration Testing:

As mentioned earlier, integration testing is required to ensure that all components are working properly together and are validated.

Practical Testing:

This is where testing activities such as exam preparation, review of test cases and preparation of test cases are performed.

Security Testing:

Security testing ensures that there are no security errors in the software. The QA team needs to include both probable and positive situations in which one can break the system and report it, so that the evidence fails.

Regression Testing:

All discharges, large and small need to be combined with adequate deferred testing to ensure that the new functionality does not violate any functionality. Regression testing is particularly important for E-Commerce applications due to the high reliance on customers for 24/7 availability.

Performance Testing:

Since E-Commerce applications work for different customers on multiple devices, the usability test ensures that the app works for different groups of users. This is done by business users.

User Acceptance Test:

UAT aims to ensure that end user needs are met in real-world contexts.
Deployment
It is the stage at which an E-Commerce app like Amazon solution is released for use by end users. It is an important aspect as it helps in attracting a large number of customers to utilize their financial transactions most effectively.
Though an application can be deployed on multiple platforms, such as web server, android, iOS, and other platforms. It requires different procedures and terms and conditions to be followed to deploy and build an E-Commerce app like Amazon.
a) Deploy Application on Web Server
With a web server in place, your app is responsible for handling the custom stuff, which is specific to your project. The web server makes sure that requests which are meant for it, arrive at your application and forward the results back to where they are expected.
The application will stop performing if the background server is malfunctioning or overloaded. To avoid such issues, make sure the server is well-equipped to meet all the application requirements and meet the needs of the users.
b) Deploy Application in Google Play Store or iOS App Store 
Once the application is done with the best configuration and features of the app, the app can be installed from the Android Play Store or iOS App Store. Hence, to make it possible, different Google and Apple application processes can be followed. However, to fulfill the guidelines of both platforms to build an E-Commerce app like Amazon, you might require to make some changes and make it available for users on the Play Store and App Store.
Unlike Play Store, the Apple App Store reviews apps manually, so it is important to follow all the guidelines and adhere to the rules without any delay to make the app visible on the platforms.
Promotion of Application
The successful deployment after building an E-Commerce app like Amazon will never be a guarantee of your application success as well. Therefore, it is important to promote and market the application in a guided manner. There are various ways to promote your app and gain the frequent, long-time and short-time user.
Before and after the official release of an E-Commerce app like Amazon, there should be active and aggressive marketing and advertising so that a large number of tech-savvy customers get to know about your product with the provision of enough feedback.
The current world is digital technology so the E-Commerce industry should focus on promoting their financial products on social media and can also enlist the help of successful journalists and bloggers through advertising and email marketing. However, it is difficult to reach total costs and should be balanced within the budget.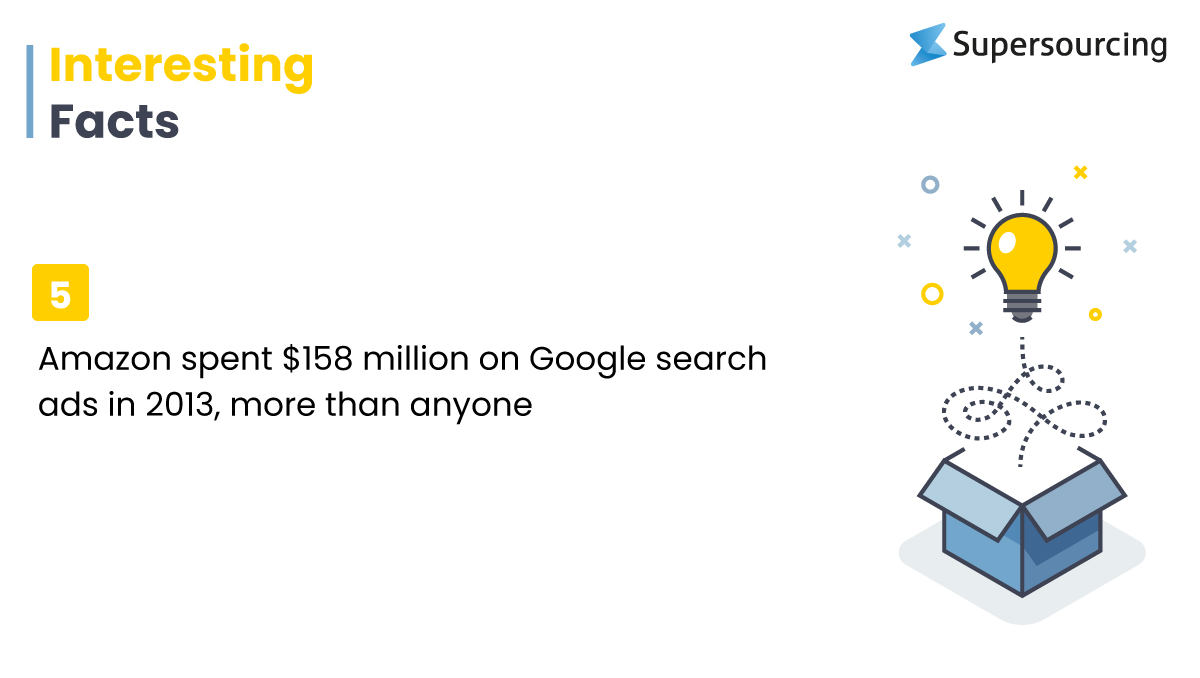 Operations & Maintenance
As a business owner, you need to focus on investing in long-term care that can keep your app up to date, while looking to build an E-Commerce app like Amazon. 
1. Keep Mobile Apps Updated and Reduce Uninstallation
It is wise to feel the beat of the users and the curate features that reflect what they like and dislike.
So, the fact is that you need to constantly monitor your user preferences and expectations – and update your app.
If you get a dip in your app ratings, the platforms may choose to go to a clean drive and remove your app from their stores. It would be wise to consider updating your app with new features and APIs.
2. Delivering the Best User Experience
To build an E-Commerce app like Amazon, a good user experience helps you:
Improve long-term relationships with users

Get better feedback and better reviews

Improve user retention

Increase customer loyalty
With such benefits, it makes sense to put in more effort and give users an incredible experience.
3. Increased ROI in Long Run
If you regularly update your app, you can reap many financial benefits, such as increasing ROI. It will also help to keep looking for new ways to reduce costs and find new users to build an E-Commerce app like Amazon.
4. Reducing Leisure Time and Loss of Money
Any break time can mean a great loss of income. Big companies such as Bank of America Online Banking, Blackberry, and Amazon Web Services have lost huge sums of money due to downtime.
When your team manages to handle such moments effectively, it is easier for you to minimize big losses and get even happier users.
5. Protect Mobile App from Cyber Threats
With the growth of the mobile app, there is also a growing desire for cyber security. An app developer is responsible for the security of apps and websites.
As hackers continue to search for loopholes and discover new ways to steal your personal and financial information – you can continue to monitor app care and update apps with the latest security agreements.
Measure Time & Budget to Build a E-Commerce App like Amazon
The budget is a big deal to build an E-Commerce app like Amazon. Need to decide how much money to invest and who to invest in? Both of these things are in your hands, but before you make any decision try to do a proper budget analysis.
Points to keep in mind to build an E-Commerce app like Amazon:
1. Features and Functionality
The first method of app development is functionality and features. It is up to you to decide what kind of features you want, such as simple, advanced features.
Simple and important features:
Mandatory features to build an E-Commerce app like Amazon:
User login and subscription option

User profile

Product categories

Exit process

Search bar

Payment Gate
If you are looking for easy features in your E-Commerce app then the cost of building an app with basic e-commerce features then the cost will be minimal on both iOS and Android.
Advance Features:
If you are looking to build an E-Commerce app like Amazon with advanced features like:
Dialog box

Product Reviews and Ratings

Push Notification

Social Media Integration

Product filter

Multiple Payment Modes

Wishlist button and many more.
The cost to build an E-Commerce app like Amazon with the above mentioned features is even higher. We recommend that you start with a basic app and as long as you can get customer traffic and feedback then go for advanced features.
2. iOS or Android platform
A platform like Android, iOS, etc. depends on the target audience and the type of business. Selecting a platform means choosing the input areas. As we know there are more than 80% android users and rest are iPhone users.
So, Android will help you reach a wider audience and iOS has a higher value for customer life because iOS users often have higher education levels, higher incomes and more engagement which means more profit for your business.
3. Phone Frame
Wireframe is a rough drawing or feature of the app that can be used first. It's a visual build of app programming.
The cost of phone frames depends on the app, for a simple 2-3-page application the cost of a wireframe is less than $ 500 and for complex applications with more than 3 pages the cost is up to $ 1,500 depending on the number of pages.
4. App Design
The design costs to build an E-Commerce app like Amazon depend on the growth, flexibility, performance and versatility. The average cost of building an application falls between $ 2,000 and $ 35,000.
5. Developer Expenses
The cost of upgrading your application depends on the number of developers, application size, and performance. Depending on the different parameters the cost to build an E-Commerce app like Amazon development is between $ 1000 and $ 100,000.
6. Maintenance
App maintenance is important because Apple and android regularly update their app. To make your app work properly after a system update, you need to determine the cost of further upgrading your E-Commerce app.
The maintenance budget for any E-Commerce app varies from 20% to 30% of your total app development budget. Suppose your app growth costs are $ 100,000 and your maintenance costs are $ 20,000.
7. Other Costs to build an E-Commerce app like Amazon
Software License Fees

Cost of Marketing and Advertising

Store Operating Costs

Payments Database and Server

Resources Working
The cost of each parameter is between $ 500 and $ 2,000.
Factors Influence The Cost of E-Commerce App Development
As you read above, there are a number of factors that can influence the cost of eCommerce apps. Following is a list of some major factors that contribute to the final price tag.
1. Location
On an hourly basis, the bulk of India's application development agencies/companies charge between $25 and $50 in India. In the United States, on the other hand, hourly costs run from $150 to $170. Because of the low cost of app development in India, it is the greatest and most acceptable solution for clients.
The cost of developing an on-demand eCommerce app varies from one company to the next because each has its own average hourly rate. The cost varies as well from one location to the next.
2. Wireframe Costs
Just like before building a piece of real estate, a blueprint is needed. Similarly, before starting the developing or designing process of an app, it is necessary to build a wireframe. A wireframe acts as a skeleton for the UI/UX of the app and give designers and developers an idea of what is to be created.
The cost of building a wireframe depends on the number of screens and their complexity for which it is to be created. Mostly the development of wireframe is charged on hourly basis.
It might take 1-2 hours to wireframe a unique screen, and half an hour to wireframe a supporting screen. So the prices for creating wireframes for applications with 2-3 screens may reach $500, and costs for apps with more screens can range from $1500 to $2500.
3. Configuration Cost
It is the whole cost of application configuration, including development and design, that a company pays to its developers/engineers.
4. UI/UX Design Cost
After assembling team and creating wireframe, the next step is to design the
UI/UX for the app. Hiring UI/UX developers of an application is a major determining factor of its success. It is necessary to create a visually attractive, appealing interface and give the user a smooth, optimal experience.

The typical cost of UI/UX design is between $2000 and $2500. For high-complexity applications, it might cost up to $30,000.
5. Development Cost
Developers in the United States often charge between $200 and $300 per hour, whereas designers in Europe average between $100 and $200. Due to the high development costs, a large percentage of consumers prefer the Indian market and engineers because of their inexpensive hourly rates, which vary between $20 and $100. The cost varies depending on the engineer's expertise, mastery, and experience.
It depends on the complexity and the timeline of your project to determine the number of developers needed for your project. It can take anywhere between 600 and 900 hours to code a typical eCommerce app. Usually the cost of developing an eCommerce app falls in the range of $10,000 to $30,000.
6. Staffing Cost
It covers the cost of staffing the whole product design and development team. Staffing cost considers investing money in meetings, designer meetings, and lastly assembling a team. It also includes the cost of the numerous license's required to recruit more workers in order to shorten the development cycle.
7. Testing and QA Cost
Testing is required prior to deployment. If the program encounters too many issues after distribution, it might cost a lot of money. Testers are in charge of app testing and ensuring that the software is bug-free, and they may charge roughly $20 per hour.
Testing requires around 10%-20% of the hours spent on development. The average cost of testing generally falls between the range of $1000 to $2000.
8. Upgradation/Update Cost
An eCommerce app should be maintained and updated with new and exciting components on a regular basis. This application upgrade is significant in terms of the cost of developing an eCommerce app. The cost of the eCommerce app can be calculated depending on the type of update. The yearly cost of general maintenance ranges between 15% to 20% of the initial development cost.
9. Google Play Store/App Store Costs
For your app to be available on Play Store/App Store, you need to pay a registration fee. For the Play Store, you need to pay a one time fee of 25$ whereas it is 99$ yearly on the App Store. Additionally you also need to pay a service charge for in-app payments. It is 15% of the total revenue for the App Store, and for Play Store it is 30%.
10. Payment Gateway Costs
Payment gateways take a share of each transaction made through your app/website. Generally the share ranges between 1.5%-3% per transaction.
11. Hosting, Domain and SSL Costs
You need to renew your domain, hosting and SSL services periodically. These services can cost between 25$-30$ per year. The cost of hosting may vary depending on the traffic load experienced by your app. Also, the price of a domain can be significantly higher for the first time if it is a premium domain.
12. Other Costs
There are other costs associated with the application like E-mail service and SMS service whose costs vary from country to country.
Overall Cost of the App Development
After considering the processes involved in the development of an eCommerce application, it can be estimated that its total cost can range from $20,000 to $350,000. The final cost depends on the complexity, functionality and features of the app you want.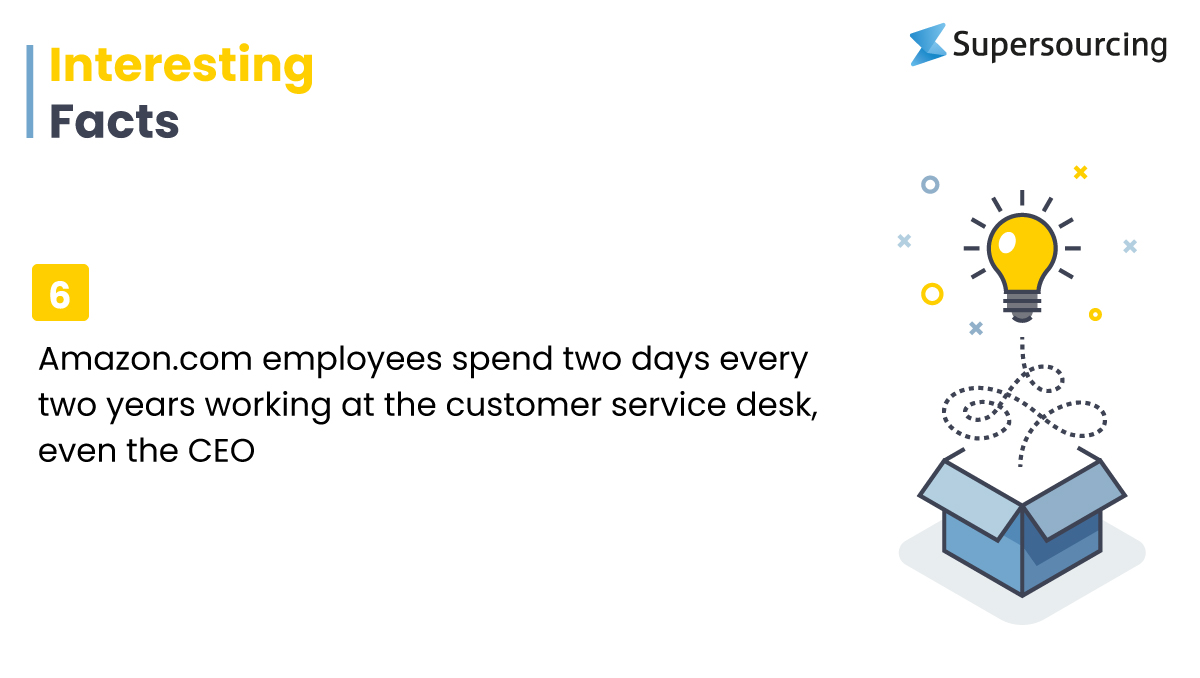 Technologies Involved to Build an E-Commerce App like Amazon
Making the shopping cart work can be difficult and confusing. Any type of E-Commerce business should not only be able to promote their products, but also provide an easy and clear way to shop. Some of these requirements can be met in the mobile e-commerce app:
1. Exit Process
Exit navigation may be the most common type of communication for users when they visit your E-Commerce system. A well-organized exit process will ensure that the customer spends less time checking in and returning to your app with better experience, so integrating all the basic navigation processes will make your transaction experience less seamless. Providing basic guidance on your exit will go a long way in making shopping easier for everyone.
2. Payment Options
One of the critical business aspects to build an E-Commerce app like Amazon is the payment options that users offer. Failure to offer payment options is a major mistake that can leave your customers facing many problems. Setting up a payment gateway as part of the E-Commerce solution, in this context, means flexibility in payment options. Do this by giving users a choice of payment methods, not just one. After that, provide a valid network connection to anyone who needs to pay.
3. Social Sharing
In many cases, social sharing is one of the most appealing features to build an E-Commerce app like Amazon, so bring this feature to your product. Emerging interactions allow your customers to promote your product. In addition, this will help users find their way to your app. If users search for your product online, they will definitely find your E-Commerce store.
4. Target Push Notifications
With the notification service, your product details and sales details will be presented to your customers in a timely manner. Additionally, product users will not be required to sign in with their email accounts every time they need to be notified. Therefore, when your customer clicks on your push notification, they will be able to quickly see product details on your E-Commerce site, without having to search for it.
5. Accurate Filters and Search Bars
Allow users to identify the products you want using only multiple filters such as cost, product category, feature products, ratings and more.
6. Live Chat Support
The live chat option allows your key users to chat freely with your customer support team regarding any product question or other issues. Using advanced technology, you can also incorporate AI-driven conversations into your mobile app to ensure effective success.
7. Order Follow-Up
In addition to the easy opt-out option, you should also allow your customers to track their shipping as soon as they place their orders. Order tracking gives them specific information about their product, and gives them an estimated delivery time. Thus, users can reschedule their delivery as their convenience.
How to Hire an Agency or Dedicated Developers to Develop an App like Amazon?
There are plenty of agencies offering such services,  but with so many options in hand it can get overwhelming to decide which is right for you. The best way to find a suitable team for your project is to list down development agencies and developers that are experts in the same domain as of your project and look for the one that understands your vision and fits your budget.
On Supersourcing, you can find expert development agencies and developers that have years of experience in their domains. We have made a list of some of the top E-commerce app development companies and developers of the market that you can get started with right away. 
Apart from that, you can follow the following steps to make the hiring process easier and more effective for you.
Prepare a product scope document for your project that clearly states your project's requirements and vision.




Mention your team requirement like the expertise in technologies, minimum experience, projects done in the similar domain.

While interviewing an agency, ask questions that will give you insights of their work process, experience and expertise in the same domain like:

What system design and development pattern do they follow?

How many projects have they completed in this domain?

What are the biggest projects they have completed in this domain?

What are your previous clients' reviews on their work?

Since how long have they been working in this domain?

What is their success rate in their previously completed projects expressed in quantifiable factors? For example how many users are using the products they've developed, how are the user reviews on the products, etc.

What are the tools and technologies they use for similar projects like hosting, frameworks, applications, etc.

Discuss deployment process.

Talk about the number of developers required, their roles, responsibilities, and pay etc.




Discuss your budget and payment process with the prospective agency.



By following these simple steps, you can hire developers or an agency much more efficiently and quickly.
Find the Best App Development Agency to Build an E-Commerce App like Amazon
There are four main types of application developers, or you can find many subsets within this to build an E-Commerce App like Amazon. In general, companies at the business level tend to cost more but have more powerful and faster ways to improve the app, while boutiques are more like small business professionals, and the latter category works on its own.
1. Business (In-House Development): Large companies usually do everything from designing your app to building, testing and publishing it. They tend to require the largest budget, and their designers and codes especially staff.
2. Enterprise (Outsource): This allows for greater flexibility – you probably already have a User Interface, or you have writing skills but would like something built-in. And it drives low costs – app development by these companies is usually cheaper.
3. Freelancers: You can find one person who is willing to do everything (designing, coding, testing, publishing) but the truth is, people who can do all this and do it well are few and far more expensive. It is impossible to build an E-Commerce app like Amazon with freelancers, but it can add a lot of work and uncertainty.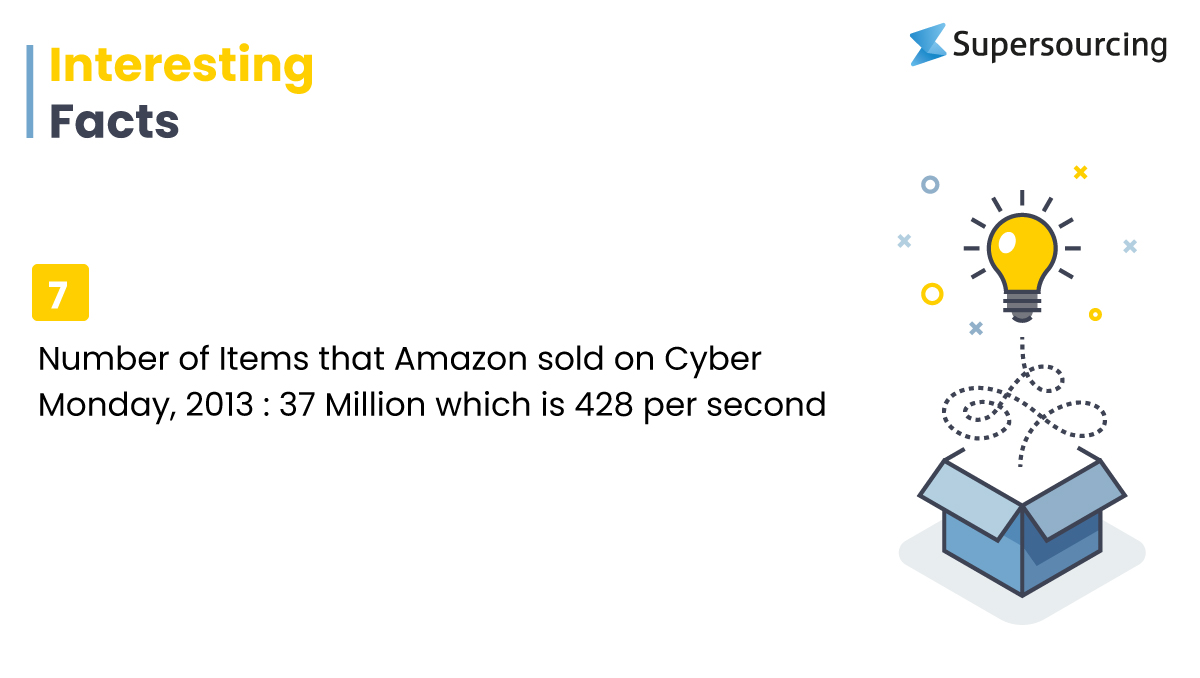 Conclusion
If you decide to build an E-Commerce business, you have every opportunity to make a successful and profitable business. Of course, there will be many challenges on your way to success. How do you build an E-Commerce app with the right technology? How do you create an E-Commerce app or the new ideas that will withstand market competition? All of these challenges and many more can easily be fought by the right team at your side.
But, while going through this blog a lot of your queries and doubts have definitely been cleared. It works as a helping hand to you while building an E-Commerce app and attracting users for the same. If everything is done properly and accurately, then it will definitely provide a great experience to all its users.
An idea to build a E-Commerce app like Amazon will definitely stand a high chance of growth in this changing world. As, we have already discussed in detail the features, functionality, budget, time, and many other details of what it takes to build an E-Commerce app like Amazon. These details make things obvious that these apps require a strong database and need to be user-friendly.
Lastly, to turn your ideas into full-fledged products it is important for businesses to hire professional engineers and build an E-Commerce app like Amazon with exclusive features and best quality to maintain the customer base.
I hope this article has introduced a brief understanding of how to build a E-Commerce app like Amazon and a website and will continue to do so.
Help us keep it updated by sharing your experience with us here.
FAQs:
1. How does an eCommerce application benefit my business?
In today's world, every kind of business is going digital. E-commerce has emerged to be one of the most beneficial concepts to business owners. It gives the business owners several kinds of benefits over a traditional store. As people have become more accustomed to technology, applications have become their first choice for virtually everything. It is necessary for every business to listen to its customers' demands.
From a business owner's point of view, an application has several benefits that even a website doesn't have. It gives you the chance to send notifications and push messages about ongoing offers/sales, new product launches etc. It allows business owners to give their customers a more personalized experience leading to better sales.
2. How long does it take to build an eCommerce application?
Depending on the complexity of the app you need, it can be anywhere between 3-12 months. The time required can be even more if the app to be built is highly complex and of large scale.
3. How much would it cost to develop an eCommerce application?
The cost of developing an eCommerce application depends on the complexity of the app and the timeline that it is needed to be built in. The average cost of developing an eCommerce application can be anywhere between $20,000 and $350,000.