Table of content
ServiceNow, an intriguing term that has been increasingly gaining popularity among IT professionals in the last couple of years. But, what is ServiceNow, what is ServiceNow development, why do you even need to know about it, and most importantly, how is it beneficial for you or your business? 
Social Commerce has been rapidly developing all through the advertising scene. Advertisers from all over the globe are taking advantage of its latent capacity and delivering better audience experience, just as their own main concerns, with the assistance of this development.
The usage of Social Media is increasing with each passing day, and as every stage develops and improves. Overall, the brands are discovering ways of selling their products and services directly to those clients without removing them from the platform. That implies more conversions, and less things everlastingly left in the shopping cart.
Assuming you need to entice your buyers to purchase items and further improve your brand's conversion rate, then, at that point, it's about time to execute a social commerce plan for your brand.
Currently, the Social Commerce market is about $89.4 billion. However, it's projected to develop to $604.5 billion in a decade. Clients are currently searching for the simplest, engaging in, and most significant shopping encounters that offer greatest benefit with least or no challenges.
The advancement of ecommerce to social commerce platforms came into reality as brands found a solution that can drive brand deals, growth, success and deliver important customer shopping experiences.
Further, in this article, you can understand the meaning of Social Commerce, its benefits, and why small or established businesses should care about or consider the Social Commerce market to ensure business growth and success.
What is Social Commerce?
Social Commerce is the method of purchasing and selling of goods and services directly within the social media platform. This method of buying & selling has transformed social media platforms beyond its conventional job. Whereas, it has empowered users to complete the whole purchase process without leaving their favored social media applications. 
Business owners predominantly accept that social commerce apps are driving an expanding part of their organization's marketing driven income. Around 8 out of 10 hope to sell their services or products through social platforms within the coming three years. 
However, in 2020, Facebook, Pinterest, and Instagram launched their renovated social commerce market tools to assist retailers streamlining their online shopping experiences amidst the Covid-19 pandemic. These elements introduced the need of new digital stores that can be found naturally or supported through paid advertising.
Difference Between Social Commerce & Ecommerce
The number of smartphone users has brought about an ultimate accomplishment of the social commerce market over ecommerce business. As only one out of every odd ecommerce platform is mobile and user friendly. The social media platforms are designed to be mobile friendly, making social commerce apps available and simple to use for almost everyone.
With ecommerce, brands need to influence the users and direct them towards their site through different advertising and marketing methodologies. Though, with social commerce apps, brands don't need to stress over any of that. It permits brands to reach their target audience by harping on their standard social media activities. 
"The dissimilarities don't simply end here. With online business, clients needed to go through overpowering items looking and investigating. Then, at that point, in any event, when they'd discover something worth purchasing, they would need to confront the endless buy excursion of filling in the extensive location and contact subtleties structures."
It takes such a long time that most clients would get diverted before arriving at the checkout page, influencing the brands' transformation rates. 21% of US customers used to abandon carts because of a complicated checkout process. 
That is when social commerce platforms came as a definitive breakthrough. It provides a seamless shopping experience while interacting with the business scene and leads the potential clients to the buy page within a few simple steps, without leaving the social commerce platform and social media platform.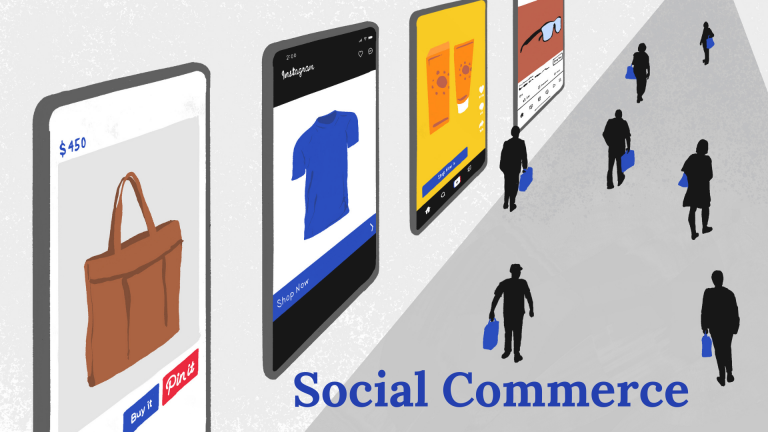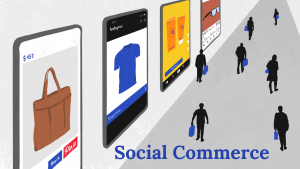 Business Benefits Of Social Commerce Platforms
Various organizations have effectively begun practicing social commerce on their distinctive social media platforms and creating profits for a wider scope.
Notwithstanding, in case you're actually wondering how social commerce apps will help your brand or business, then, you are at the ideal spot! These are a portion of the things that social commerce platforms can assist your brand accomplish.
1. Boost Engagement & Traffic
To expand your brand's conversion rate, contact the widest target audience through social media platforms. By carrying out a social commerce plan in your business strategy, you're making content that is bound to be interacted with, which assists you with enhancing the brand's visibility and awareness.
The social media platforms permit your clients or visitors to reach out to your brand easily and quickly. Social commerce apps empowers this with a brilliant experience of the customers with your brand will likewise make them to recommend your brand to others also, bringing about increasing engagement and natural/organic traffic on your website.
2. Increase Your Audience
The social media platforms like Facebook and Instagram have tremendous user bases that are still expanding. Organizations can grow only when you recognize your target audience, influence them on their favored platform, reach out to them, and afterward sell them any service or the product.
In case you're ready to work effectively by focusing on the right audience group at a specific social media platform, you can consistently develop by getting your products and channels before the perfect individuals and delivering what they need. Social commerce platforms facilitate this cycle by offering clients a seamless purchasing experience.
3. Analyze ROI
A social commerce market strategy, whenever planned and executed in a definite manner, will procure a positive and improved returns on investment. On business, the social media platforms like Facebook or Instagram, have in-built analytics provisions to assist with ensuring you're monitoring your campaign, and a tool like Socialbakers analytics can go much more profound when it is about analyzing or measuring social media apps marketing ROI.
You can acquire experiences on engagement rate like which content type is performing better relatively, number of views for your feed in the last couple of days or months, number of click-through rate for your Shoppable posts, and more.
Why Should Businesses Consider Social Commerce?
The following are 4 motivations behind why the social commerce market is worth a shot. 
1. Social Commerce Market Makes Shopping A Social Encounter
Shopping via social media platforms makes the experience substantially more interactive than a common ecommerce platform.
Buyers can reach out for a talk with their friends on making such purchases. Flaunt those hip new high-tops, remark on the aunt's new "I Love My Niece" t-shirt. In addition to that, audit comments and feedback from other savvy products, and communicate directly with the brands you love.
For the people who miss the social part of a day out at the shopping center, social commerce platforms may be the next best thing.
2. Reach Potential Customers Directly 
The conventional brand loyalties are trembling as individuals purchase more online. Among 3/4 of U.S. purchasers who changed their shopping behavior since the beginning of the pandemic. Hence, 40% have shifted their preferences of brands to more readily suit their online shopping habits. On the other hand, almost more than half of shoppers get exposed to new brands via social media. Thus, now is the ideal opportunity to begin reexamining your profile experience.
You just get one initial feeling. With regards to brand reputation, the purchasing experience is just as significant as the product itself. Social commerce apps smooth out that first purchase, making a winning customer experience that people need to repeat.
3. Convert Customers from Where They Are
Social media utilization is blooming. A larger part of buyers say that their usage has increased over the last year. Whereas, many anticipate a proceeding with an increase throughout the following three years. To meet your customers where they are, you should intend to offer more opportunities for engagement via social media.
Social commerce market features make a characteristic subsequent stage for customers who already love your content awareness. Eliminating a step in your purchasing process can lessen friction in your sales channel. However, capturing income that may have been lost if a buyer didn't follow through on a redirect.
4. Hyper-Target Your Prime Audience
With a mind blowing availability of client data on social platforms, you have a great chance to upgrade and target your advertising.
Social commerce apps offer the opportunity to get explicit, ready-to-buy items in front of the particular individuals who might cherish them. Such that a traditional ecommerce business and marketing can't do.
Wrapping Up
Social media has the ability to attract the maximum crowd towards your brand. In this cutthroat world, it becomes fundamental that you follow best practices to attract and retain your customers.
This mix of social media platforms and ecommerce is assisting brands with accomplishing their objectives. It is done by making the purchase process a lot simpler for their customers. Thus, if you are looking to explore such business enhancement options and give a new dimension to your business, then you can definitely prefer social commerce.
Thus, to make your business activities more fluid Supersourcing provides you multiple options of such expert hands. Here, you can find top social commerce expert agencies that can give a new direction to your business. Go through their details and find the most suitable business partner.