Table of content
In this evolving digital world, your presentation and appearance on the internet is crucial for any type of business. Whether it is a small company or an established organization, its digital presence is a token to success. Therefore, software development companies are very much in demand. So, to ease your search for such reliable names, here is a list of the top 10 software development companies in Delhi.
It is a bit tedious job to develop a perfect website with elegant designs and required features. Hence, maintaining all the limitations in the development can only be handled by a well-established organization. Such companies can yield good results and for that, the software development companies in Delhi are the most preferred in the market.
Below is the list of software development companies in Delhi will help you make an informed decision while considering all the essentials. So, if you've been looking for a software development company for a long time, you've come to the right place!
We understand that today there are a big number of software development companies in Delhi and choosing one among them is a tedious job. Therefore, to assist you in your hunt for the right tech partner, we've bought you this list of the top 10 software development companies in Delhi. You can read about each and every one of them and then decide which would be the best for your project.

Here is the list of Top 10 Software Development Companies in Delhi
Kellton Tech Solutions
Kellton Tech is a publicly listed company, CMMI Level 5, and ISO 9001:2015 certified global company. They provide cutting-edge digital transformation solutions and services in strategy, consulting, digital, and technology. With its service vision of "Infinite Possibilities with Technology" and specialization in digital transformation skills across all business functions.
The company works at the intersection of business and technology to deliver sustainable business value to its clients. With such quality work, it is one of the names in the list of the top software development companies in Delhi.
Kellton Tech Solutions having a global workforce of 1400 employees. They all work together with clients—startups, SMBs, and Fortune 500 businesses—to drive innovation and deliver on promises to stakeholders.
Founder: Krishna Chintam, Niranjan Chintam
Company Website: https://www.kelltontech.com
Price Model: Hourly based
Charges Per Project: $25 – $49 / hr
Top 5 Customers: Aviva, Max Life, PVR, The Times Group, Coca-Cola
Number Of Employees: 1400 +
Revenue Generation: $ 117M Annually
Ratings & Reviews: 4.7/5 on Clutch and 5/5 on Goodfirms
Employees Verbatim:

"Flexible timing is the best part of this place, need not apply half day for 2-3 hours work as it can be done by flexible timings."
"Great people, encouraging work environment."
"Nice office, Facility given to employees, Good team members, Get chance to learn, explore as you get opportunity to work at client office."

Clients Verbatim:

"I really feel I have a good team of people on Kellton's side. I highly recommend them." by Founder & CEO, Send Mammogram
"They have an excellent ability to speak to us in a language we understand." by Co-Owner & Director, Berrison Ltd.

Technologies They Work On: AngularJS, CSS, HTML, JQuery, JavaScript, PreactJS, ReactJS, VueJS, Java/J2EE, Microsoft.NET, Node.JS, PHP, Python, Ruby On Rails
Industries From Where Their Clients Belong:

Banking And Financial Services
Chemicals
Distribution
Education
Energy and Utilities

Awards & Certifications:
Top Software Developer (Goodfirms)
Experion Technologies
Experion Technologies focuses on building digital software solutions and products for medium-sized businesses and startup companies. Since 2006, it has successfully operated 130+ clients across the United States, Australia, Europe, Africa and Asia. As a result of the delivery of high quality work it is among the top software development companies in Delhi.
Experion Technologies' digital software solutions and services delivered to customers are from a variety of sectors, such as HealthTech, InsureTech, FinTech, Supply Chain, Transportation, Retail, Logistics, and more.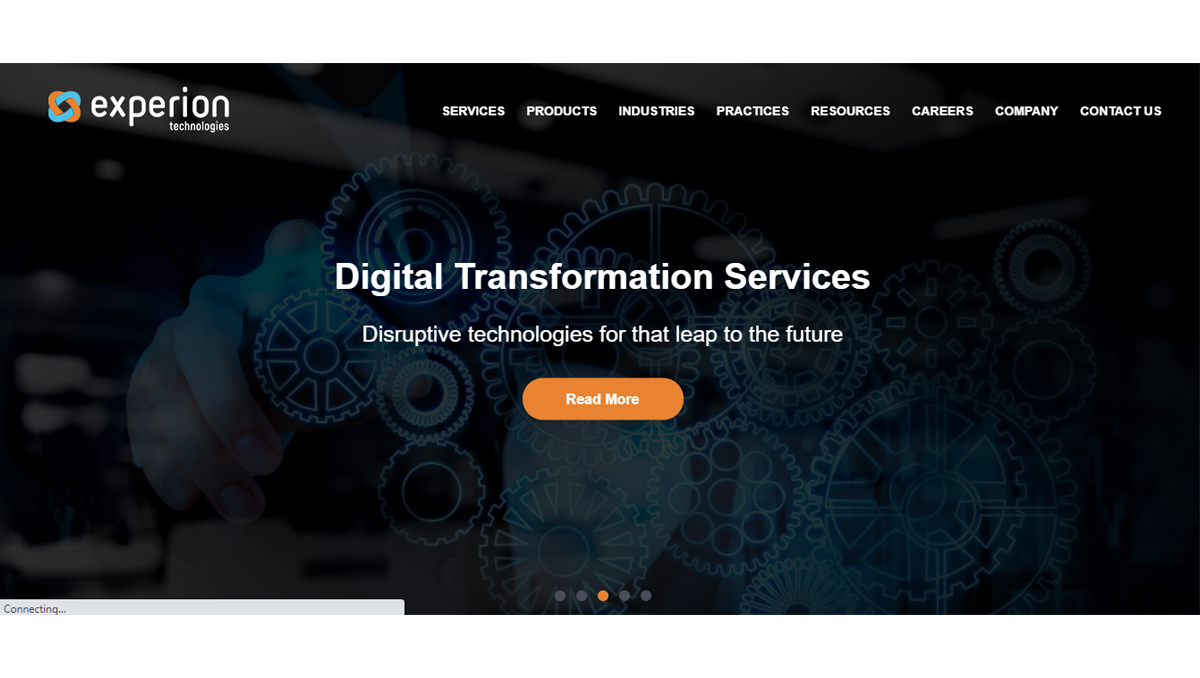 Founder: Binu Jacob
Company Website: https://www.experionglobal.com/
Price Model: Hourly and Project based both
Charges Per Project: $25 – $49 / hr
Top 5 Customers: Duracell, Speedo, TopGolf, Bacardi, Tyson Foods
Number Of Employees: 501-1000
Revenue Generation: $5 M Annually
Ratings & Reviews: 4.9/5 on Clutch and 5/5 on Goodfirms
Employees Verbatim:

"Employees are friendly, good working environment."
"Environment and work culture is very friendly."
"I love working at Experion!, it's a great place to work. I've been on great teams and managed by some of the best managers I've ever had. Everyone is super helpful and supportive of one another."

Clients Verbatim:

"They deliver on their promises and have a great business acumen for fast-paced product development." by CEO, Hospitality Technology Company
"They're extremely competent, professional, attentive, and capable." by Owner & Broker, Gaylord Property Group

Technologies They Work On: Microsoft .NET, Java, PHP (Laravel), Python (Django, Flask), Golang, JavaScript, HTML5, CSS3, Bootstrap, JavaScript (JQuery, Angular, React, Vue.JS, Backbone.JS, Electron)
Industries From Where Their Clients Belong:

Retail
Transportation and Logistics
Healthcare
PropTech
FinTech

Awards & Certifications:

Top Software Developers 2020 (Clutch)
Top Web Developers India 2019 (Clutch)
Technology Fast 50 Indian Winner 2019 (Deloitte)
Mind IT Systems
Mind IT Systems is a boutique consulting firm specializing in Service Management and Cross-Media Production Services. It combinedly took forward a range of partners, consultants, and capabilities specifically for the client's project. Thus, this hard work makes Mind IT Systems to be enlisted in the top 10 software development companies in Delhi.
The team of Mind IT Systems is capable of delivering multiple services, such as IT Service Management (ITIL), Cloud Service Management, Agile Service Management, and DevOps.
Mind IT Systems also represents a number of innovative companies in the cross-media and broadcast space, namely vMix, Birddog, Magewell, X-Keys amongst others.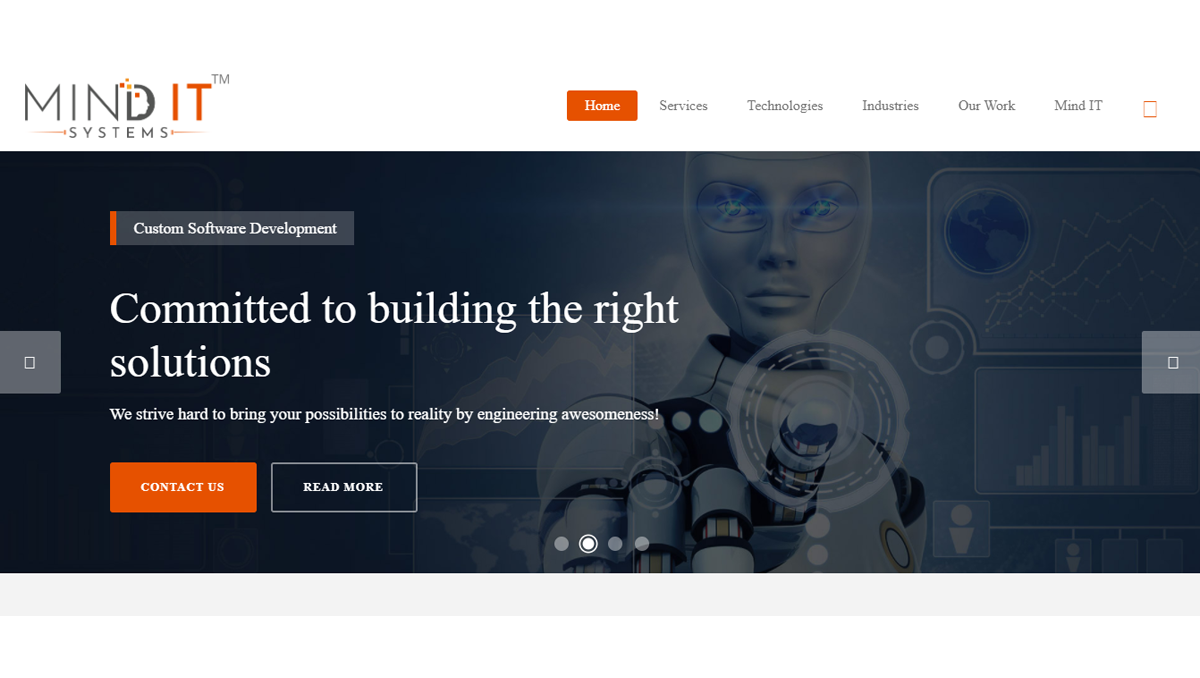 Founder: Shailendra Gupta
Company Website: https://www.minditsystems.com/
Price Model: Hourly based
Charges Per Project: $25 – $49 / hr
Top 5 Customers: M1 Xchange, Ascendas, GetConvi, Niyo, eCPAT
Number Of Employees: 11-50
Revenue Generation: $4 Million Annually
Ratings & Reviews: 5/5 on Clutch
Employees Verbatim:

"Friendly environment and good work culture. Supportive colleagues. Quality focused, I've learned a lot in just a few months of service. The company provides career improvement training and on-time salary."
"Growing company, consistent in growth, Very focused on the kind of projects they take; Warmth; Culture – Process based, yet very personalized feeling. Overall is excellence oriented culture. Variety of Projects – All types, small and big, front-end only, core programming, Edge technologies; So many opportunities to learn; I have made friends here. Could not do that in the previous two companies."

Clients Verbatim:

"I have not come across a challenge they couldn't resolve." by CTO, India Shelter Finance Corporation Limited
"I suspect that they have a strong management team that holds their developers to high standards." by Director, Software Development Company

Technologies They Work On: AngularJS, ReactJS, NodeJS, .Net, Java, SQL Server, Oracle
Industries From Where Their Clients Belong:

Healthcare
Education
Publishing
Supply Chain

Awards & Certifications:

Top Software Developers India 2020 (Clutch)
Top Developers 2019 (Clutch)
Clutch Top 100 Companies Global 2019 (Clutch)
PixelCrayons
PixelCrayons is a reliable name in continuously meeting the needs of small businesses, agencies, and startups locating all across the globe with its innovative software and application development services. Therefore, it is one of the names among top software development companies in Delhi.
Since their establishment in the year 2004, they wonderfully provided services to 6800+ customers from 38+ countries. Based in the capital city New Delhi, India. They gain high acknowledgement among all clients for their agile development process, SLA driven approach, and on-time project delivery.
They are having one of the best client-retention rates (97%+) across the industry. In the current scenario, they are backed by a team of 500+ professionals. Along with that, they are able to achieve 70%+ CAGR over the past 3 years.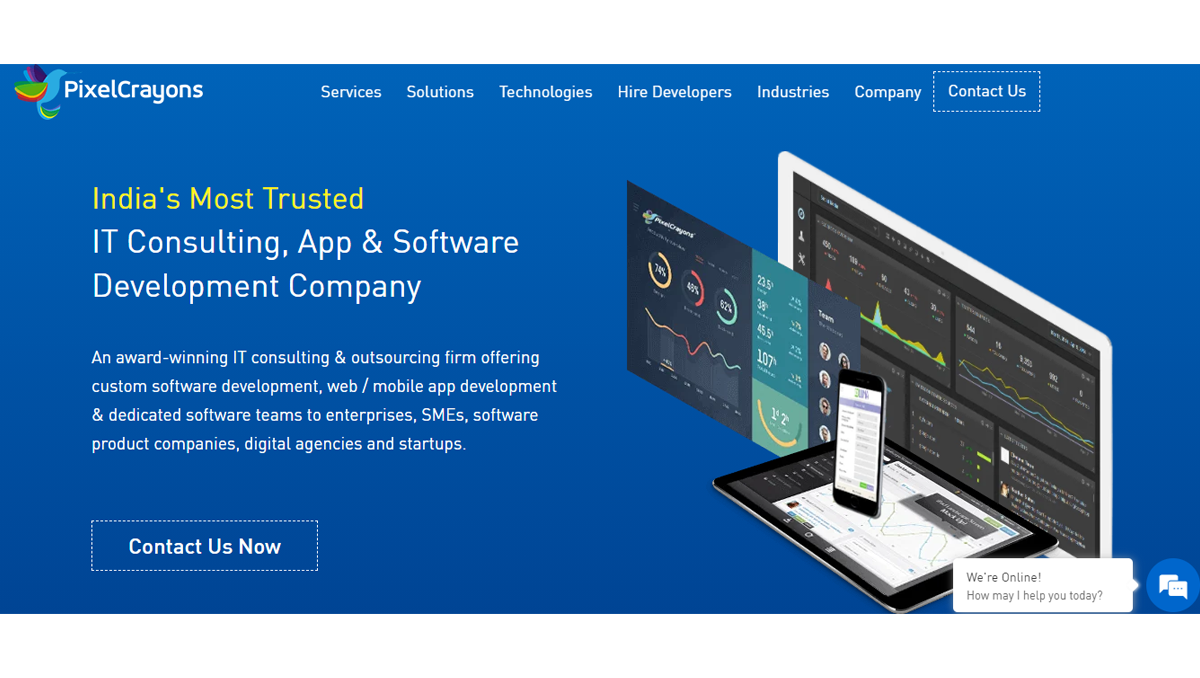 Founder: Yash Arora
Company Website: https://www.pixelcrayons.com/
Price Model: Hourly based
Charges Per Project: < $25 / hr
Top 5 Customers: HP, Adobe, Vodafone, Tesco, eBay
Number Of Employees: 201-500
Revenue Generation: $1 Million Annually
Ratings & Reviews: 4.9/5 on Clutch and 4.79 on Goodfirms
Clients Verbatim:

"The most impressive part of the company was the quality of the service they provided." by Content Writer & Marketer, Feeding Trends
"The most impressive part about PixelCrayons was firstly their affordable costs and no hidden charges." by Social Media Strategist, Invoice Era

Technologies they work on: PHP, .NET, Java, Python, Angular, ReactJS, VueJs, Node.JS, MEAN Stack, MERN Stack
Industries From Where Their Clients Belong:

Healthcare
Retail and E-Commerce
Travel and Tourism
Banking and Financial Services
Education and E-Learning

Awards & Certifications:

Technology Fast 500 Asia Pacific Winner 2012 (Deloitte)
Technology Fast 50 India 2012 Winner (Deloitte)
Classic Informatics
Classic Informatics is a web and mobile application development agency, providing technology solutions for businesses, digital agencies and startups. Its services focus on web development, mobile app development and business app development. High quality customer service is one of the top software development companies in Delhi.
In Classic Informatics, customer needs are studied, researched, organized, and structured to deliver targeted delivery. The company's strengths depend on its culture of constant learning and the improvement needed to progress and explore new ways in the competitive world.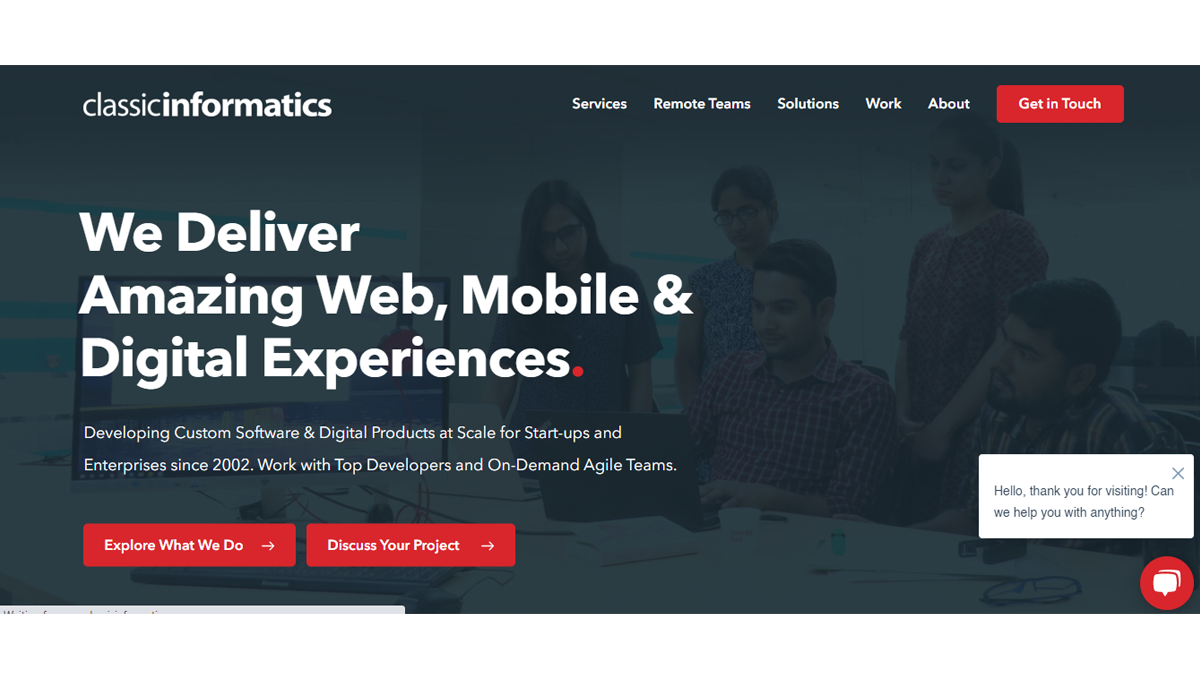 Founder: Rajiv Mehta
Company Website: https://www.classicinformatics.com/
Price Model: Hourly based
Charges Per Project: $25 – $49 / hr
Top 5 Customers: MarketMeter, Condexo, Crane, Franklin Covey, Udenom Banken
Number Of Employees: 51-200
Revenue Generation: $4M Annually
Ratings & Reviews: 4.8/5 on Clutch and 5/5 on Goodfirms
Employees Verbatim:

"Comfortable working environment, laptops (for Gurgaon location) & the freedom to work from anywhere (remotely, from home, cafes or wherever)"
"Great work culture and lots of growth opportunities, Very good place to learn latest technologies and seniors support is very good"
"Friendly Atmosphere, Well Experienced Mentor."

Clients Verbatim:

"Their ability to give solutions and actually be part of the process impressed us the most." by Managing Director, Typing Company
"They make relevant suggestions to the project and bring in their expertise and experience beyond the job at hand." by Co-Founder & Product Director, Zonka Feedback

Technologies They Work On: HTML 5, CSS 3, JavaScript, TypeScript, React, Angular, Node, .NET, C#, PHP, Java, Scala
Industries From Where Their Clients Belong:

Travel
Logistics
E-Commerce
SportsTech
Healthcare

Awards & Certifications:

Google Partner
The Clutch 1000 Global 2018
Top App Developers (Goodfirms)
Finoit Technologies Inc.
Finoit is an IT company that provides strategic and technical consultations in the field of Web, Mobile and Software. We focus on designing and developing user-focused products and start-up applications to cater to business groups around the world. Therefore, it is among the top software development companies in Delhi.
A group of people with a variety of operational and technical expertise focused on solving business problems by developing customer application and e-business solutions. Finoit is a place where one learns the craftsmanship, ethics, values   and importance of customer needs and how to solve them efficiently using their product technology and engineering.
A dedicated team of professionals with unique business experience, who are dedicated to identifying and analyzing needs and suggest the best technical solutions to make businesses run better. The team, ready to pull off with our customers and incorporated our knowledge of age, diverse backgrounds, education, and a burning desire to solve/simplify their business affairs.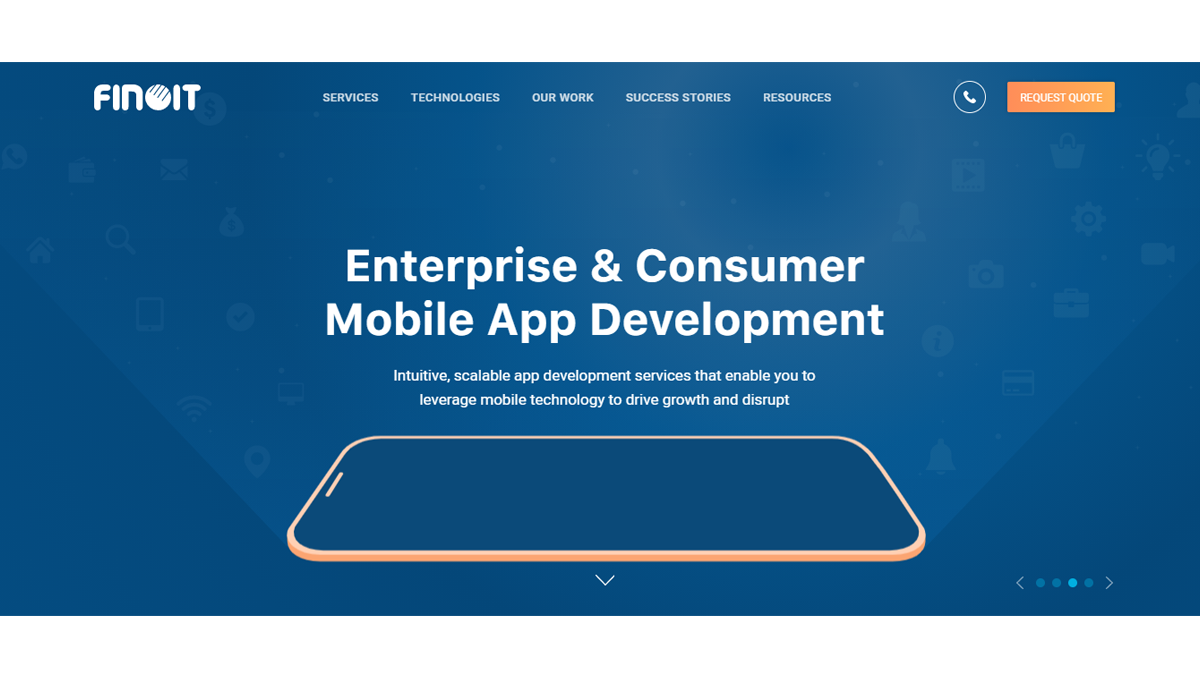 Founder: Yogesh Choudhary
Company Website: https://www.finoit.com/
Price Model: Hourly based
Charges Per Project: < $25 / hr
Top 5 Customers: Eicher, Loreal, IDBI Bank, ICICI Bank, MySway
Number Of Employees: 51-200
Revenue Generation: $8 M Annually
Ratings & Reviews: 4.8/5 on Clutch and 5/5 on Goodfirms
Employees Verbatim:

"Very nice company if you want to learn a technology deeply."
"Work culture is not at all stress loaded."
"A good place to learn and work on latest technology projects."

Clients Verbatim:

"Communication is quick and professional. I have worked with many companies and [Finoit] is one of the best." by Owner, Hardware Controller Company
"Our project manager has a good work ethic, is trustworthy, and treats the project like his own." by Founder, Venture Capital & Private Equity Firm

Technologies They Work On: Angular 7, HTML 5, CSS 3, React, Java, Python, Microsoft, PHP, NodeJS
Industries From Where Their Clients Belong:

Finance
Transport
Foods and Beverages
Construction

Awards & Certifications:

ISO 9001 Certified (Quality Management System)
ISO 27001 (Information Security Management Certified)
NASSCOM Accredited Company
Appinventiv
Appinventiv is a strategic planning, design, and development strategy based in Los Angeles. They work for new business companies and new high-end enterprises looking for a product strategy, which brings them a number of business consultation strategies with business-level managers, communication consulting systems, including the first UX approach to one of the world's best digital product teams.
In the software development industry, Appinventiv is one of the most familiar names among software development companies in Delhi. It is one of leading global app and software development companies in Delhi. They are Empowering Disruptive Startups & Fortune 500 companies in bridging the gap between Ideas and Reality through innovative Mobile solutions.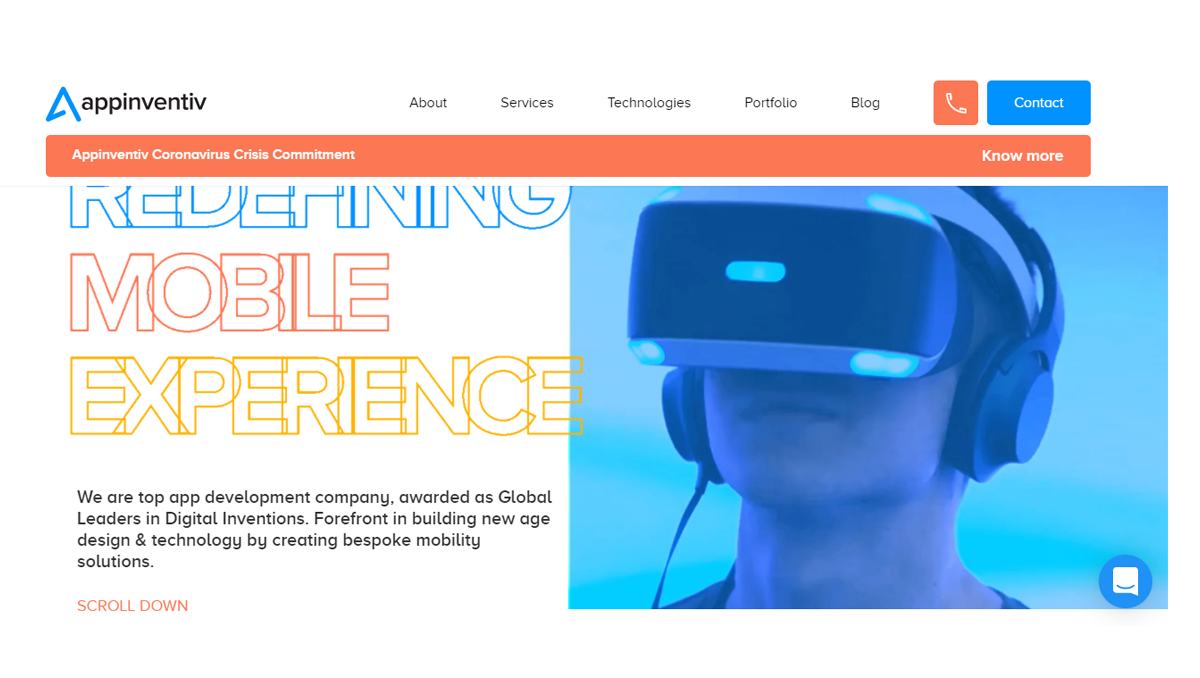 Founder: Sudeep Srivastava
Company Website: https://appinventiv.com
Price Model: Hourly based
Charges Per Project: $25 – $49 / hr
Top 5 Customers: Dominos, Google, NCRR, Roammate, Karavan
Number Of Employees: 201-500
Revenue Generation: $56.1 M Annually
Ratings & Reviews: 4.71/5 on Clutch and 4.7/5 on Goodfirms
Employees Verbatim:

"Awesome work culture and great learning."
"I have been working here for 8 months and liked the overall work environment."
"This is one of the fastest growing companies in the domain."
"Provides a great opportunity to grow, learn, and excel in the career."

Clients Verbatim:

"They have very skilled iOS developers — we use tools to measure the code quality and it's very high." by Project Manager, Cellink Life Sciences
"Clear management Diversified skill set No language barriers Integrity with team and Head office Solid focus on niche." by Veme Founder

Technologies They Work On: JavaScript, TypeScript, HTML 5, CSS 3, Angular, React, Ruby, Node.JS, Elixir, Ruby on Rails, Phoenix
Industries From Where Their Clients Belong:

Healthcare
Education
Transportation
Travel
Retail

Awards & Certifications:

#1 App Development Company in FinTech 2019 (Clutch)
Top Blockchain App Development Company 2019 (MAD)
#1 Mobile App Development Company 2018 and 2019 (App Futura)
Dew Solutions Pvt. Ltd.
Dew Solutions is the premier provider of strategic IT services specifically designed for large businesses and medium and start-up organizations. It is one of the most rated software development companies in Delhi, India, USA, and Canada.
The expert team tailored services are based on in-house technical expertise, business software licensing, managed operations, IT infrastructure, network solutions, web application development, and project management. Dew Solutions distinguishes itself in the market for efficiency, flexibility, value for business, and reliable for the success of our customers.
Their ability is to deliver business value through efficient and well-designed IT solutions is the basic and important strategy followed by them to build long-term customer relationships and to become a trusted advisor.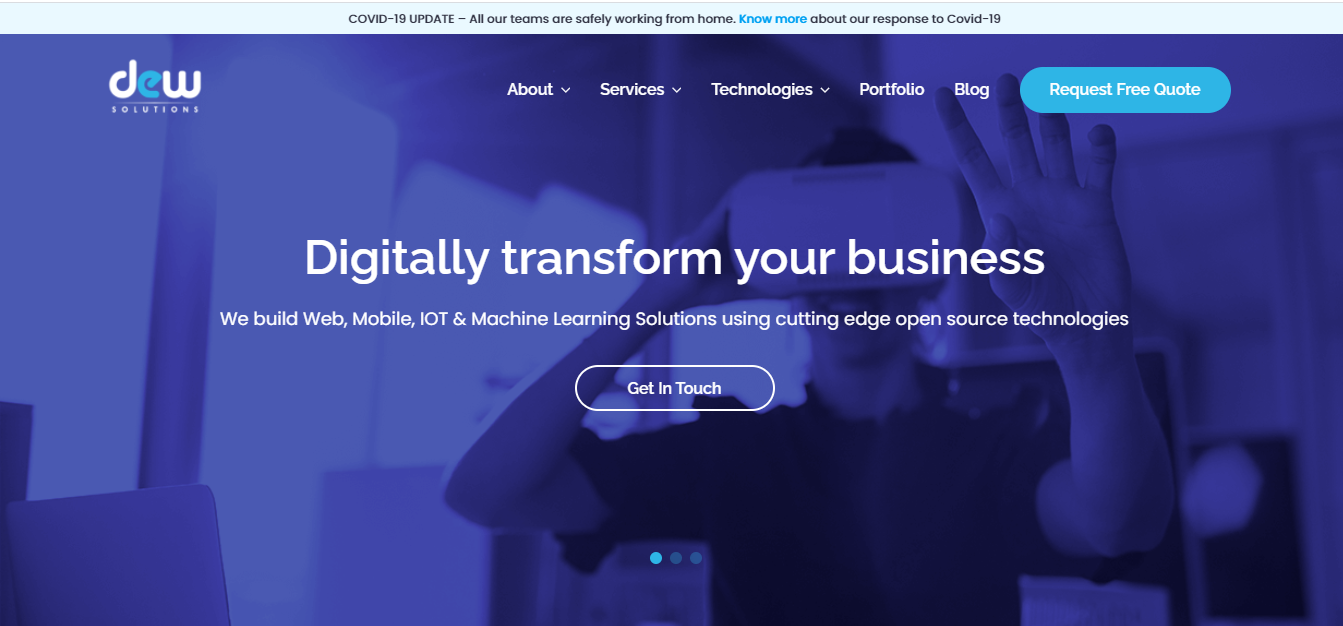 Founder: Dhiraj Chauhan, Gaurav Jain
Company Website: https://www.dewsolutions.in/
Price Model: Hourly based
Charges Per Project: < $25 / hr
Top 5 Customers: TimesClub, Sploot, Centrl, TataCliq, PopMoney
Number Of Employees: 201-500
Revenue Generation: $7 M Annually
Ratings & Reviews: 4.9/5 on Clutch and 4.85/5 on Goodfirms
Employees Verbatim:

"Great Work Culture , Work Life Balance , Good Management."
"Best team and working environment."
"I like the way management handles the concerns. Organization allows the team to think out of box to prove their skills. Project timings are flexible."

Clients Verbatim:

"They invested time understanding our core pain areas before coming up with the ideal solution." by Founder, Maxonic Consulting Pvt. Ltd.
"Because of how well they work and how clean their code is, they've been a big part of our company's growth." by VP of Engineering & CTO, CENTRL Inc.

Technologies They Work On: Java, NodeJS, Python, .Net, Firebase, Angular, React, VueJS, JavaScript
Industries From Where Their Clients Belong:

Fashion
Healthcare
E-Commerce
Education
Travel

Awards & Certifications:

AWS Partner Network
Microsoft Partner Network
Aalpha Information Systems India Pvt. Ltd
Cyberduck Interactive is an expert in delivering interactive business solutions for companies and web- and communications agencies. Their major focus is on the production of WordPress-based websites. Being a quality business solution provider, they are considered in the list of top 10 website development companies in the UK.
Cyberduck Interactive is an expert in building sites from scratch, either from the finished design sketches or they also extend support to shape the design. Overall, their main aim is to yield results that should be great on the outside as well as on the inside. Hence, the site should not look good in outer appearance but also be user-friendly for each visitor. Apart from that, the site has to be as simple as possible to maintain and update for the administrator.
The team is equipped with modern technologies such as responsiveness, CSS3, and HTML5. These are the major natural elements included in their site construction. They also provide extended SEO optimization to gain and maintain high rankings in the search listings.

Aalpha Information Systems India Pvt. Ltd is an ISO 9001-2000 certified company that provides maritime assistance, software delivery, application development, export product development, e-commerce, and wireless/mobile solutions to help your business meet technology expectations.
It is one of the most valuable amongst the top 10 enlisted software development companies in Delhi. They had a team of top-rated software development experts supported by an agile process of development. It is a global pioneer in delivering IT consulting services and custom software development outsourcing.
Their team is efficient in working over numerous technologies and services, such as IT services, software development, web and mobile app development, IoT, and Blockchain development services.
Founder: Pawan Pawar
Company Website: https://www.aalpha.net/
Price Model: Hourly based
Charges Per Project: < $25 / hr
Top 5 Customers: Wurkr, InstaClinix, Lydia, RCL, BLYF
Number Of Employees: 11-50
Revenue Generation: $7M Annually
Ratings & Reviews: 4.8/5 on Clutch and 5/5 on Goodfirms
Employees Verbatim:

"I have worked with aalpha since last 2 years, I find it one of the best places to work in Hubli. I joined as a fresher, I sharpened my skills here at aalpha. I would not hesitate to recommend it to anyone."
"Management is very helpful, people new innovative ideas."

Clients Verbatim:

"Aalpha and I have developed an excellent relationship despite our geographical differences. Aalpha has done excellent work helping my company create custom software through many complicated revisions. My company is constantly evolving and I have full faith in Pawan and Aalpha to take us where we need to go." by JEFF SCHREIBMAN, CEO at Hands Free Poker
"I would say Aalpha has the best web development team. My both complex projects were developed to my satisfaction and the final outcome of the project was what I had initially in mind when starting these projects. They advise/suggest you wherever necessary during the development process which is really great. I would not hesitate recommend Aalpha." by TARANG SHAH, Owner at Edge (International) Ltd.

Technologies they work on: AngularJS, Ember.JS, BJS, Knockout.JS, HTML, CSS, JavaScript, ReactJS, VueJS
Industries From Where Their Clients Belong:

AgriTech
Education
Finance
Healthcare
Hospitality

Awards & Certifications:
LeewayHertz
LeewayHertz is headquartered in San Francisco and founded in 2007. It is one of the first companies to build and launch a sales app on Apple's App Store. This innovative work enlisted it among top software development companies in Delhi.
The developer's team comprises certified designers and developers who have designed and developed more than 100 digital platforms in Mobile, Cloud, AI, IoT, and Blockchain. LeewayHertz has expertise in developing digital solutions for Fortune 500 companies and startups to reduce their business operations with the latest technology.
Some of its famous clients include ESPN, NASCAR, Hershey's, McKinsey, P&G, Siemens, 3M, Pearson, and more. As an award-winning software development company, they have also proven their expertise in blockchain development and have worked on more than 20+ blockchain projects.
The company has created blockchain producer staff who can build blockchain applications on various blockchain platforms such as Ethereum, Hyperledger Fabric, Hyperledger Sawtooth, Hyperledger Iroha, Hyperledger Indy, EOS, Stellar, Tron, and Corda.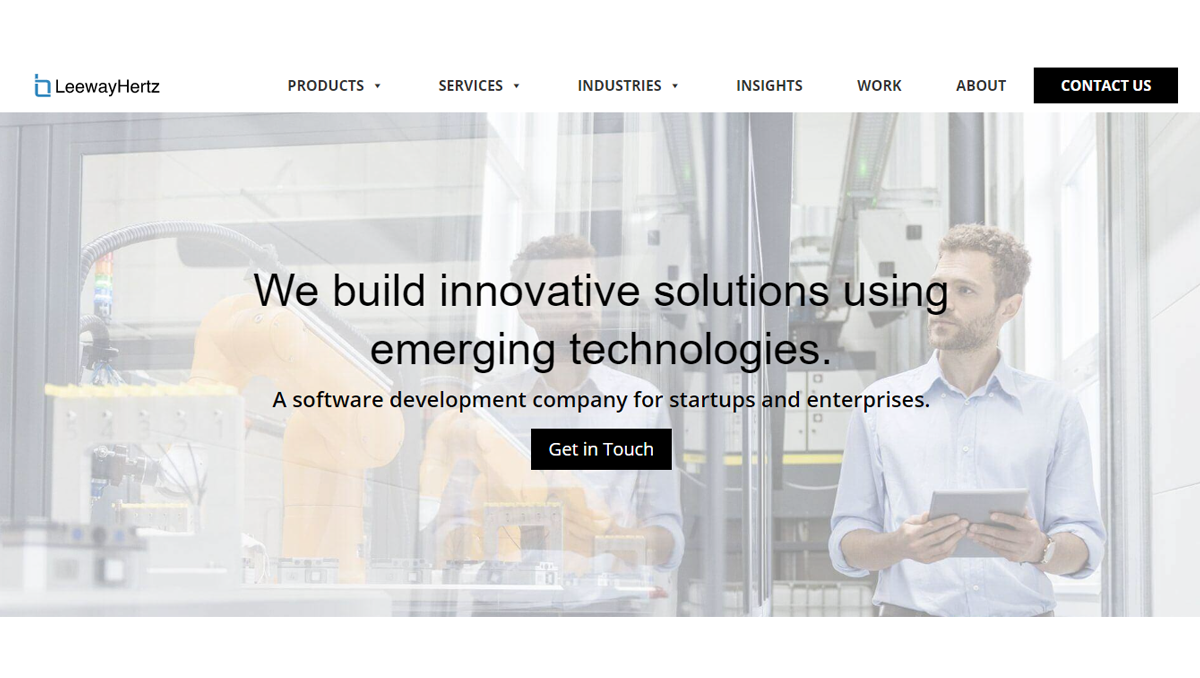 Founder: Akash Takyar
Company Website: https://www.leewayhertz.com/
Price Model: Hourly based
Charges Per Project: $50 – $99 / hr
Top 5 Customers: 3M, ESPN, Siemens, Hershey's, Genze by Mahindra
Number Of Employees: 51-200
Revenue Generation: $5 Million Annually
Ratings & Reviews: 4.7/5 on Clutch and 4.96/5 on Goodfirms
Employees Verbatim:

"Flexible timings which will give you a huge relief."
"The manager was very supportive and I got to learn a lot in a few spans of time."
"Motivation, Appreciation, Great work life balance (due to Work from home), Generous Compensation."

Clients Verbatim:

"Their commitment ultimately made us look good in the eyes of our investors." by CEO, TraceRx
"Working with LeewayHertz has been wonderful. LeewayHertz has been a great business partner." by President, Getthereferral.com

Technologies They Work On: AngularJS, JavaScript, React, Bootstrap, Vue.JS, NodeJS, Python, ExpressJS, Java, Spring
Industries From Where Their Clients Belong:

Electronics
Healthcare
FinTech
Insurance
Logistics

Awards & Certifications:

Top Developers 2019 (Clutch)
Best Software Development Agencies in San Francisco 2020 (Expertise)
Conclusion
Today, there are many software development companies in Delhi that offer IT solutions for small startups and large business executives not only in Delhi but globally. Without a doubt business owners have seen the tremendous power of mobile applications, software, websites, and other digital products that lead to digital transformation.
Global IT spending is expected to look at double-digit growth rates, and major Delhi and global software development companies are expected to continue their dominance in the industry due to strong market share and technological evolution.
These Delhi software development companies believe in incorporating all aspects of their work into their software acquisition and placement of software developer clients to choose from. The above-mentioned software development companies in Delhi offer stable, attractive, and powerful solutions for customers worldwide.
Supersourcing also invites new and established software development companies in India and other parts of the world to participate in future analysis processes by providing proof of their effectiveness and being listed.