Table of content

When we talk about product designing, the terms UI (User Interface) and
UX (User Experience) are often used and heard. Both are very much
interlinked to each other or we can say are the two faces of a coin.
They are usually put together as UI/UX design and are seen as describing
the same thing. Hence, it is important to understand what is UI and UX
design and UI vs UX.


People often consider UI design and UX design as the same but there are
numerous analogies that explain how both concepts are different but fit
together well. However, in recent decades, the UI design and UX design
both have grown and become more popular in the tech industry. With the
help of UI and UX design the designers solved the biggest puzzle when it
comes to developing a product that attracts users and a lovable product
too.


Well now it's time to understand UI vs UX and what is UI design and what
is UX design. Let's understand both the concepts in detail that help you
to build a user-friendly and an attractive product.

What is UI Design?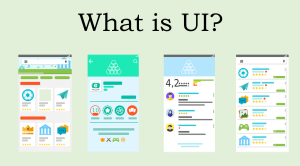 UI Design, means User Interface Design. UI Design is a process which is
used by designers to construct interfaces between software's or software
and computerized gadgets.  Basically, UI Design focuses on looks or
style of the software. It develops and improves the nature of
communication or interaction between software and users.


UI is majorly used by digital industries or
software development
agencies. The

UI Design

is a specifically designed plan by the developers that enables users to
interact with.
The UI design process improves the format of every element of the
product like text, images, buttons, and other visual interface elements
with which users interact.

UI Design ensures to provide the best look of your product and give an
easy to use feel to users. The UI design of your product is also
responsible for its interactivity and responsiveness. The UI makes
possible how the website and its content (text, image, video, animation,
etc.) get adapted to different screen sizes.

What is UX Design?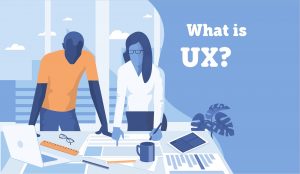 User Experience Design, or UX Design was developed for the improvement
in UI Design. User Experience is the experience that an individual has
as they interact with the product. The term UX was introduced by 'Don
Norman', during the 90's when he worked at Apple.


UX Design begins with thorough user research. UX designers need to
understand their target group and distinguish precisely what they need
from the product they're planning. As UX designers understand the
requirement, they make user personas. Personas help users see
objectives, desires, and limitations of target users. These
understandings assist them with proposing design solutions that work the
best for their users.


UX Design is the overall experience a user has with an organization's
products or services. Good and bad UX design is controlled by how simple
or not it is to interact with every element or aspect of a product or
service.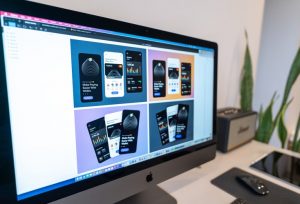 UI vs UX Designers: How do they work together?
Both UX and UI are systematically designed disciplines with a similar
aim. It prepares a path for the phenomenal final product. In UI vs UX,
it wouldn't be incorrect to say that UX and UI design are integral parts
of website design, where one is incomplete without the other.
As mentioned above, both of these can't work without one another. While
a UI Designer is liable for making designs that a user finds agreeable
and likes to engage with. Whereas, a UX Designer ensures they're
developed in the most productive way for ideal results. Thus, regardless
of what job role you're considering getting into. Discover how
interlinked these jobs are and how they cooperate to yield the best
final result.
1. Start with Discussion Process
In the initial phase, it is important to conduct a team discussion when a
new product or a feature is build. The discussion involves the company CTO
and web development
team along with the UI and UX designers.
When the introduction of any product or feature is under discussion, then
the User Experience designer analyzes what is feasible and what not. On
the other hand, User Interface designers perform the research work and
share with the team what the target users like and what not.
It is important to have a thorough discussion and research with the team
before starting something new as it will save time and manpower. The
discussion process also helps to estimate the amount of work and resources
required for that specific project.
2. Research in UI Design and UX Design takes place
Once the discussion takes place, the research work takes place for User
Interface design and User Experience design.
The UX designer can simply discuss the scope of the work with its team
and plan the next few weeks of work required in the project. However, the
UI designer needs to do in depth research work. The purpose of in-depth
research is to understand the user behavior, problem, responses, and their
needs. This data gathering and analysis can be done through various
surveys, interviews, focus groups, etc.
The level of research work and data gathering is based on the nature of
the projects, its target audience, budget, its requirements, and other
features. Apart from that, the crucial part of research is to find out
whether the users are going to like the new features or not, what type of
user experience they are expecting from the product, and other
details.
3. Present the Findings
Once the individual research is complete for UI design and UX design.
Now, it's time to present all the findings with the team. At this point
the exact expectations of the client, findings of the UI design team, and
ideas of the UX design team are presented to formulate a plan in designing
a concrete UI UX design.
Before that all team members were building designs on mere assumptions
and user behavior. It could be risky, so at this point, the UI designer
gives insight to the rest of the team. It is based on the detailed
research they performed. Based on the research work, the web development
team helps the team to understand the practicality of the plan. It can
suggest some points of improvements as well.
4. Design Testing
After a long struggle of research and designing product as per target
users requirement. Finally it's time to see how your users react to the
product. Initially, it is released with limited users or this testing
can be done in person or over the internet.
Take the feedback from users like your product, easiness to use or not,
and other points whatever they feel about the product. After that, the
User Interface design and User Experience design can be updated based on
user's feedback, if required. User likes and dislikes about the product
needs to be prioritized and make changes accordingly.
5. Deriving Final Design and Implementation
Once testing is done
and the final prototype is prepared, it's time to design the final product
and hand over it to the web development team. If required, then UI and UX
designers have to make design compatible based on the developers
feedback.
Now, the final product gets introduce to the public and focuses on the
targeted users. The UI and UX designer needs to be in touch with the team
to avoid time loss in making updates.
Overall it can be concluded that, UI design and UX design are closely
tied together, so as the designers. Till the product exists and to the
tech team to ensure the quality product delivery.

UI Design vs. UX Design: Different Disciplines that Work in
Harmony
UI vs UX; both are different yet similar to each other. It require to
implemented together to ensure each other's success. UI design and UX design
are dependent on each other to make the product a success.
A design needs to be beautiful and attractive, yet easy to use,
understand, and navigate. Failing to do so, will leave a bad impression
on the user's and might forbid them from visiting aging. Hence, both UI and UX design
needs to be flawless and complement each other with users expectations
to deliver an excellent user interface and experience. As both UI and UX
design are align properly, it will undoubtedly yield astounding
results.
Hence, if you are also concerned about your product's quality and
unable to understand UI vs UX and its advantages for your product. Then
Supersourcing can be the right platform for you. Here, you can find
expert and experienced agencies and designers to build top-class UI and UX design. For any further queries you can contact us, and also reach out to
agencies for further details and discussion to get your idea live.